Valiant Wings Publishing | Airframe Extra No. 2: The Korean War
Reviewed by Kevin Futter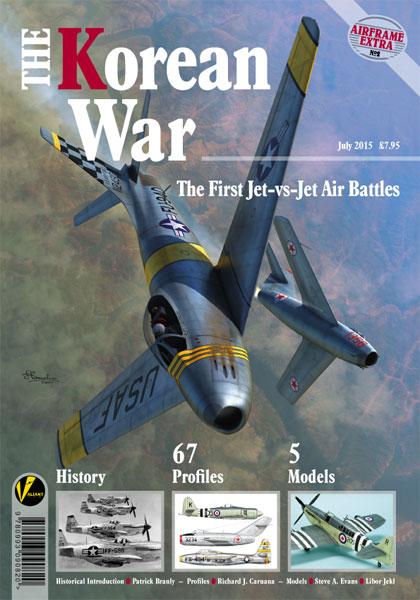 UK-based publisher Valiant Wings Publishing has just released the second title in its new quarterly Airframe Extra series. Issue No. 2, entitled The Korean War: The First Jet-vs-Jet Air Battles, covers 82 pages that combine historical narrative, profile artwork, and five model builds.
The specific structure of the contents is as follows:
History
Assorted Profiles (mostly USAF)
1/72 MiG-15bis Build
1/72 Seafire FR Mk 47 Build
US Navy and Marines Profiles
1/48 F7F-3N Tigercat Build
1/48 Firefly FR Mk 4/5 Build
Colour Reference
North Korean Air Force Profiles
1/32 F-86F Sabre Jet Build
Commonwealth Profiles
There's also a brief foreword from publisher Mark Peacock, followed by a table of contents. It's then on to the main content sections.
History
This 14-page section is written by Patrick Branly, a newcomer to the Valiant Wings author stable. Branly winds his way through a chronological narrative of the war, starting with the circumstances brought about the conflict, to the cessation of hostilities in mid-1953. While hardly the most in-depth, detailed or comprehensive examination of this forgotten war, it is nevertheless extremely interesting, and a handy primer for the key events and dates.
USAF Profiles
As with all the profiles in the book, this section is illustrated by Richard Caruana, and features 10 pages of colour profiles, covering F-51s, F-82s, F-80s, F-84s and F-86s in USAF service. There's also a lone B-29A, a black-and-red B-26B, and a pair of Mustangs in Republic of Korea Air Force markings. Natural metal finishes are predominant, but most of the aircraft depicted feature colourful ancillary markings, and would look great in model form.
1/72 MiG-15bis Build
The first model build in the book is Libor Jekl's impressive take on the Eduard 1/72 MiG-15bis. The build is depicted in typical magazine style, with step-by-step photos and captions, fleshed out by an explanatory narrative. His nine-page build is based on the ProfiPACK version, and the finished result completely belies its small scale.
Each of the model builds in this title end with a section entitled "Historical Significance", wherein that particular aircraft's role in the conflict is elucidated. It's a nice touch, and saves the historical section from becoming bogged down with such tangents.
1/72 Seafire FR Mk 47 Build
Next up Jekl tackles the Special Hobby 1/72 Seafire FR Mk 47 kit, augmenting it with CMK resin sets for the interior, armament, and engine. The end result, with exposed engine and hatches, is most impressive. The style and length are the same as the previous build.
US Navy and Marines Profiles
This section features four pages of Glossy Sea Blue Corsairs and Panthers, complemented by a pair of Skyraiders, a lone Skyknight, and single examples each of the Dragonfly helicopter and the Martin Mariner flying boat. While it's fair to say that this group of profiles lacks a bit of variety in the camouflage and markings stakes, that's the nature of US Navy aviation in the 1950s. There are still some attractive schemes depicted, however.
1/48 F7F-3N Tigercat Build
The next section is another model build, this time featuring Italeri's 1/48 F7F-3N Tigercat, by Steve Evans. The style is similar to the previous builds, with Evans even showing how to correct the kit's anaemic nose and oddly-shaped propellor blades. The result is excellent.
1/48 Firefly FR Mk 4/5 Build
Steve Evans is back, this time building the Special Hobby 1/48 Firefly FR Mk 4/5 kit. The style, combining narrative text with photos and captions, is by now familiar. There's plenty here to guide anybody building this kit. And Steve's finished model is, as expected, terrific.
Colour Reference
A surprise section that's not listed on the contents page, this single-page reference is one of the most concise colour charts I've seen. It lists each of the major colours used by both Royal Navy and U.S. aircraft, and matches them against paint numbers from seven different brands - four acrylics (GS Mr Aqueous, Lifecolor, Tamiya & Xtracrylix) and three enamels (Humbrol, Revell & Xtracolor). Terrific stuff, and a fantastic bit of value-add.
North Korean Air Force Profiles
The next set of profiles covers a small selection of aircraft flown by the North Korean Air Force. At a mere two pages, only a Yak-9U, an La-9, and three MiG-15s are covered.
1/32 F-86F Sabre Jet Build
The final build of the book features Steve Evans again, this time tackling the Italeri F-86 Sabre kit. Evans correctly notes that this is a re-boxing of the Kinetic kit, but then goes on to assert that the Kinetic kit is in fact a re-working of the old Hasegawa tooling. This is, as far as I'm aware, not the case. Shapes, dimensions and parts-breakdown between the two kits are different, and not at all indicative of any commonality between the two.
Aside from that, the build itself is very impressive, with a gorgeous multi-hued and weathered natural metal finish. If this doesn't inspire you to build a Korean War Sabre, nothing will!
Commonwealth Profiles
This is the final section of the book, which is three pages covering a range of Commonwealth aircraft. The first two pages feature FAA and RAN aircraft, including a Seafire FR Mk 47, a Firefly FR Mk 5, and several Sea Furies. The final page features two RAAF Mustangs, a SAAF Mustang, and an RAAF Meteor F Mk 8. The Mustangs are natural metal, while the Meteor is in High Speed Silver.
Sample Pages
Below is a selection of sample pages from the book, courtesy of Valiant Wings:
---
Conclusion
I enjoyed this title much more than I expected to. Its blend of interesting history, attractive artwork, and impressive model builds is nearly perfect. The magazine format is highly accessible, and can be used as a launching pad for more comprehensive research into the period covered. It will be interesting to see what's in store for subsequent issues. Recommended!
Thanks to Valiant Wings Publishing for the review sample.
© Kevin Futter 2015
This review was published on Friday, September 18 2015; Last modified on Saturday, September 19 2015