Fantasy Printshop | FPAF 32-001: Hawker Hunter in UK Service Pt1 Single Seat Variants
Reviewed by Kevin Futter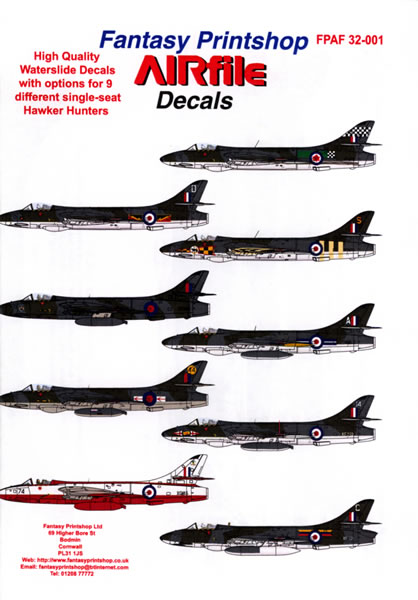 Fantasy Printshop is a UK-based decal producer that not only sells its own range of decals, but also provides the decals for other manufacturers such as Alley Cat and airscale. The company has recently released a pair of decal sets for UK Hunters, as part of its AIRfile range. These decals are designed to complement the book of the same title, written by Neil Robinson and illustrated by John Freeman. Here we examine part one, Single Seat Variants.
This set contains three separate decal sheets, along with a full-colour placement guide, with the contents safely ensconced in the now-standard resealable clear plastic bag.
Sheet 1 contains most of the individual aircraft markings, along with a few letters and registration codes in white: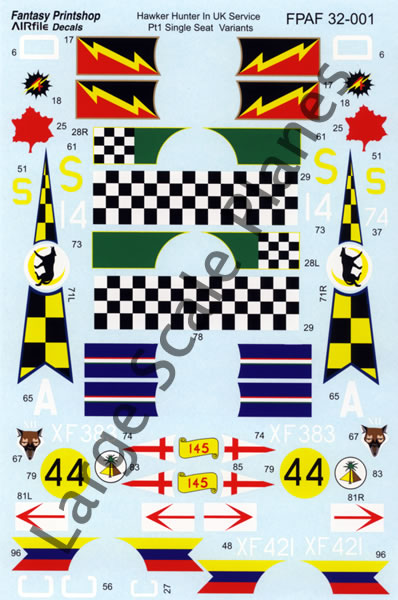 This is one colourful decal sheet! A total of nine aircraft are provided for:
Hawker Hunter F.Mk.4, XF976, 'B', 3 Squadron, May 1957
Hawker Hunter F.Mk.5, WP130, 'S', 34 Squadron, November 1956
Hawker Hunter F.Mk.6, XF383, 12 Squadron, July 1984
Hawker Hunter F.Mk.6, XJ680, 'A', 20 Squadron, June 1959
Hawker Hunter F.Mk.6, XK149, '44', 79 Squadron, late 1970s
Hawker Hunter F.Mk.6, XF383, '14', 20 Squadron, August 1960
Hawker Hunter F.Mk.6, XG185, '74', 4 Fighter Training School, 1974
Hawker Hunter FGA.Mk.9, XF421, '14', 8 Squadron, August 1962
Hawker Hunter F.Mk.4, WV275, 'D', IV (AC) Squadron, August 1956
Sheet 2 contains the national markings: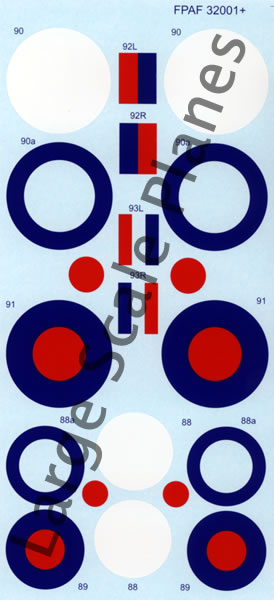 Note that there's only enough national markings for a single aircraft, so if you'd like to build more than one of the subjects featured, you'll need to source additional national markings from elsewhere. It's worth pointing out that Fantasy Printshop makes both this sheet and the codes sheet available for purchase separately, providing at least one solution to the problem.
There does appear to be an omission on this sheet, however. According to the instructions, decals 93L and 93R should be backed by 93La and 93Ra respectively, to form the white portion of the fin flash. These two backing decals are conspicuously absent from the set. This is a shame, though hardly a show-stopper, since the white portions can easily be masked and painted before applying the decals. Still, they should be present as indicated.
Sheet 3 contains all the black codes and registrations: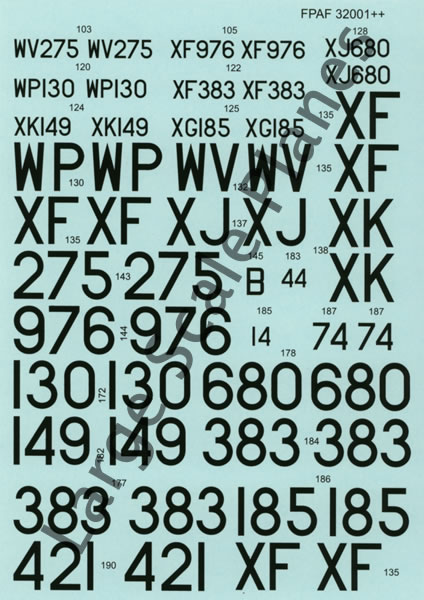 This is a straightforward sheet that does what it says on the tin.
All decals throughout the set are beautifully printed, with excellent colour density and perfect registration. They appear to be quite thin, and feature the absolute minimum of excess carrier film. There is carrier film in the artwork voids, however, so all the usual precautions to avoid silvering are still required.
The instruction booklet consists of three folded A4 sheets, printed on both sides, except for the middle sheet. This makes for 10 A5 pages in all. Left and right profiles are given for each scheme, while the middle pages show the upper and lower plan views.
Conclusion
There are some seriously cool Hunters featured in this set, and I'd build the "Raspberry Ripple" Fighter Training School scheme in a heartbeat. Production quality is top-notch, with only the omission of the white backing decals for the fin flashes to mar an otherwise perfect score. Recommended!
Thanks to Fantasy Printshop for the review sample.
© Kevin Futter 2015
This review was published on Tuesday, September 22 2015; Last modified on Saturday, January 13 2018