Fantasy Printshop | FPAF 32-002: Hawker Hunter in UK Service Pt2 Twin Seat Variants
Reviewed by Kevin Futter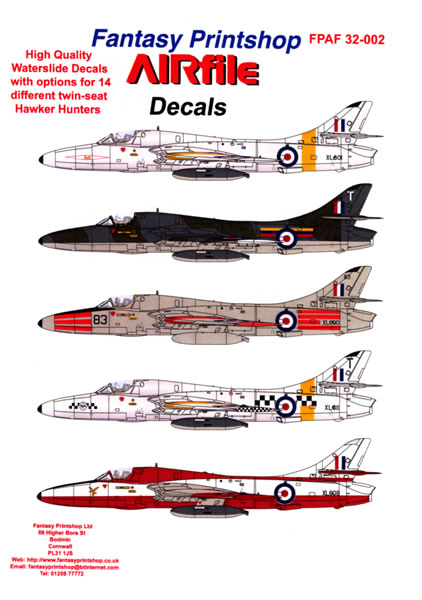 Fantasy Printshop is a UK-based decal producer that not only sells its own range of decals, but also provides the decals for other manufacturers such as Alley Cat and airscale. The company has recently released a pair of decal sets for UK Hunters, as part of its AIRfile range. These decals are designed to complement the book of the same title, written by Neil Robinson and illustrated by John Freeman. Here we examine part two, Twin Seat Variants.
This set contains three separate decal sheets, along with a full-colour placement guide, with the contents safely ensconced in the now-standard resealable clear plastic bag.
Sheet 1 contains most of the individual aircraft markings, along with a few letters and registration codes in white: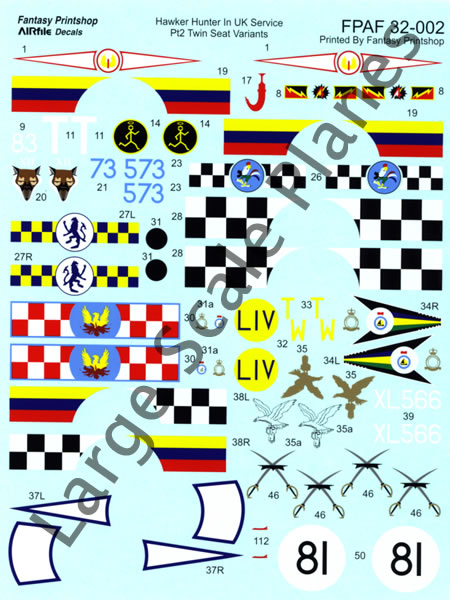 This is one colourful decal sheet! A total of 14 aircraft are provided for:
Hawker Hunter T.Mk.7, XL601, 1 Squadron, late 1960s
Hawker Hunter T.Mk.7, XL596, 'I', IV (AC) Squadron, September 1970
Hawker Hunter T.Mk.7, XL612, 'T', 8 Squadron, 1967
Hawker Hunter T.Mk.7, XL600, '83', RAF Wattisham Station Flight, 1970s
Hawker Hunter T.Mk.7, XL573, '573', 12 Squadron, early 1980s
Hawker Hunter T.Mk.7, XL611, 'T', 43 Squadron, 1959
Hawker Hunter T.Mk.7, XL596, 54 Squadron, March 1960
Hawker Hunter T.Mk.7, XL609, 56 Squadron, 1960
Hawker Hunter T.Mk.7, XL620, 66 Squadron, 1960
Hawker Hunter T.Mk.7, XL566, 'T/W', 1417 Flight, 1967
Hawker Hunter T.Mk.7, XL609, 216 Squadron, 1980
Hawker Hunter T.Mk.7, XL573, 237 Operational Conversion Unit, 1983
Hawker Hunter T.Mk.7, XL573, 'WC', 237 Operational Conversion Unit, July 1987
Hawker Hunter T.Mk.7, XL621, '81', 4 Flying Training School, 1973
This represents an extraordinary number of subjects, and the range of colour schemes on offer should cater for most preferences, covering everything from all-over High Speed Silver, to wraparound green-and-grey camouflage, and of course the striking "Raspberry Ripple" options. There are also a number of variations to provide further interest.
Sheet 2 contains the national markings: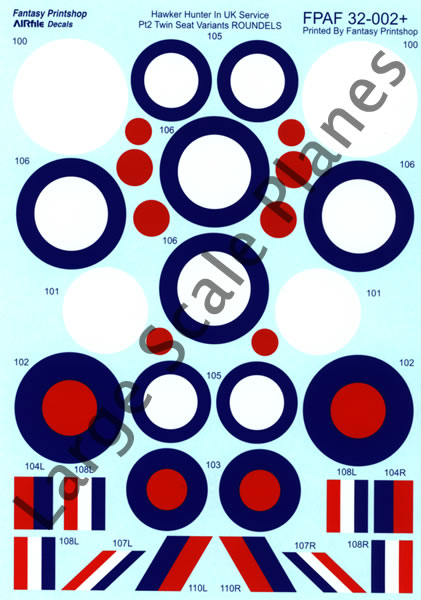 Note that there's only enough national markings for a single aircraft, so if you'd like to build more than one of the subjects featured, you'll need to source additional national markings from elsewhere. It's worth pointing out that Fantasy Printshop makes both this sheet and the codes sheet available for purchase separately, providing at least one solution to the problem.
Sheet 3 contains all the black codes and registrations: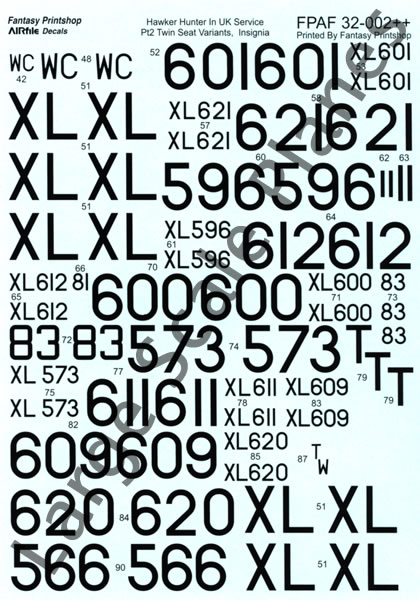 This is a straightforward sheet that does what it says on the tin.
All decals throughout the set are beautifully printed, with excellent colour density and perfect registration. They appear to be quite thin, and feature the absolute minimum of excess carrier film. There is carrier film in the artwork voids, however, so all the usual precautions to avoid silvering are still required.
The instruction booklet consists of three folded A4 sheets, printed on both sides, giving 12 A5 pages in all. Left and right profiles are given for each scheme, while the middle pages show the upper and lower plan views.
Conclusion
There are some seriously cool Hunters featured in this set, and I'd build any of the "Raspberry Ripple" schemes in a heartbeat, but the High Speed Silver options are also quite attractive. Production quality is top-notch, with the only drawback being the requirement of the Fisher T.Mk.7 conversion set to go with your Revell Hunter. Of course, this set is aimed at extending the available decal options for those wishing to execute this conversion, and it does so brilliantly. Recommended!
Thanks to Fantasy Printshop for the review sample.
© Kevin Futter 2015
This review was published on Tuesday, September 22 2015; Last modified on Saturday, January 13 2018