Kitty Hawk Model | KH32008: 1/32 F-86K "Sabre Dog"
Reviewed by James Hatch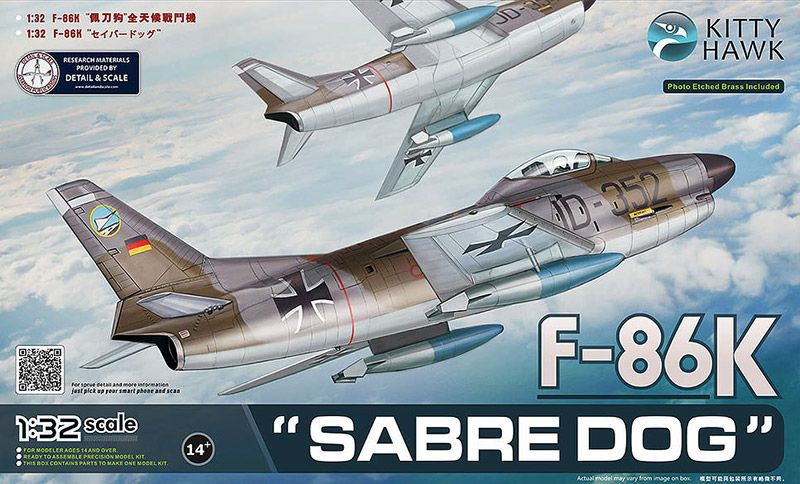 The F-86D, and subsequently the 'K' version, was a major redesign of the F-86 Sabre that performed with distinction in the skies over Korea in the early 1950s. This redesign, although at first looks, is most definitely 'Sabre' in design, was more or less an entirely new, uprated airframe, being greater in length than its forebear, due to its larger afterburner. The nose shape was quite distinctive too, with its radome and pinched-in intake, perhaps giving a slightly canine appearance to the aircraft. The type's original designation of F-95A, for political reasons, was changed to F-86D, in a cynical plot to gain the type more support if it was seen by Congress to be a development of an existing machine, and not a new type, which it mostly was. Unlike the F-86, which was fitted with six Browning machine guns, the new 'Sabre Dog' had no such armament. Machine guns were ditched in favour of a retractable rocket tray that sat below the cockpit section of the forward fuselage. This rocket tray carried 24 x 2.75 inch 'Mighty Mouse' FFAR rockets, and the developmental version of the new Super Sabre, the YF-95, was actually designed around the carrying of this new weapon.
Whereas the original F-86 Sabre was generally classed as subsonic, the new F-86D was classed as transonic, although to be fair, the original Sabre was also within the window of performance that was classed as transonic too. Development of the new 'D' variant was begun not long after the Sabre project itself, with the two types having their maiden flights only within two years of each other. The North American F-86D 'Sabre Dog' first took to the air in 1949, and entered service in 1951. Pilots tended to find the new machine a little sensitive on the stick, and take-off/landings took some getting used to, with the landing distance being higher than was preferred. Problems with electronic fuel control system also dogged the 'Dog', as did crashes that were attributed to engine problems. Despite these issues, the F-86D was successful enough to attract the attention of foreign purchasers. The F-86K, the subject of this kit, was the export (NATO) version of the F-86D, and differed in a number of ways from the US-operated type. Firstly, the retractable rocket tray was deleted in favour of the re-introduction of guns, with there being 4 x 20mm M24A1 cannon fitted into the forward fuselage cheeks, as was the machine gun setup on the original F-86. A fire control system was also installed, helping the pilot with target elimination accuracy. Other changes over the 'D' included an extended wingspan and a longer fuselage. The latter was due to the centre of gravity needing to be reinstated after the installation of the cannon, and the differential in weight between this and the rocket installation, meant that an 8 inch plug was introduced to the forward fuselage in order to retain the original centre of gravity. The F-86K was introduced into service in 1955, and around 340 were built, with the initial machines constructed by North American, and the remainder assembled by Fiat.
The Kit
This is a first for me, as until this kit landed on my doorstep, I've never actually looked at a Kitty Hawk release. I've seen plenty written about them, and a fair few finished models completed, mostly from their 1:48 range. As a result, this was quite an exciting package for me. This one arrived in treble-quick time from Kitty Hawk in the US (at current time of writing, not yet available here in the UK), and the first thing that hit me was how attractive the package actually is. Fairly muted colours overall, but beautifully presented. A Luftwaffe operated F-86K adorns the lid top, and ends, with the FIVE colour schemes occupying the other lid sides. Interestingly, one of these is for an American machine, yet the F-86K was an export type. Spending an hour looking through reference shows this may have been an 'L'. Not a problem to me though, as I'm in it for the Luftwaffe wings!
As I have already alluded to, this is my first KH kit, so I can't really draw any comparisons with the earlier F-86D release, other than I can glean from internet photos and previous reviews. Therefore, I can't compare physical dimensions between this and the earlier release. I do welcome anyone who can provide me with comparison overlaid images.
This kit contains SEVEN light grey sprues and a single clear sprue. The latter is packed within its own box, to protect it further from the rigors of bumping, banging and clumsy handling, whilst the majority of the kit has its sprues individually bagged, apart from one bag that contains two sprues. In the bottom of the box lie the instruction manual, two decal sheets and a small fret of photo-etch parts. There is a label on all sprues that tells you what kit the parts are designed for. On this release, they all say F-86K, but I do know that there are sprues on the previous F-86D release that are also labelled as 'K'. From that, my sleuthing tells me that this release contains two sprues that are different to the original release, namely the wing and forward fuselage sprues. The remainder appear to be identical.
Sprue A
Wings! This sprue, new to this release, contains just four parts, namely the upper and lower wing panels. The leading edge slat is a separate part, and Kitty Hawk have incorporated the actuators integrally to the upper wing panel, which then also slightly sit through notches on the lower panels. Their appearance, along with the other detail in this area, looks entirely convincing and is beautifully engraved. General surface detail is also extremely fine, with narrow panel lines and rows of rivets that look perfect for this scale, not being too pronounced or understated. On the undersides, a little moulded detail can be seen pertaining to the roof of the main gear wells. This looks perhaps a little weak, but I won't be able to tell until I see how it looks when built up with the surrounding detail.
---
Sprue B
Apart from the pitot tube, this sprue concerns itself solely with moving flying surface parts. Here you can see the leading edge slats that are suitably thin, superbly riveted and look fantastic! Landing flaps and ailerons are included here, and are both moulded as upper and lower halves, again with subtle riveting and panel line/access port detail. Where possible, sprue gate attachment points are on the joint faces and not on the detail surfaces. This is an approach I'm seeing more of, and that I prefer.
---
Sprue C
Another new sprue, and when you look at what it contains, you'll see why. The F-86D had only a retractable rocket tray for armament, and as this was fitted with cannon, the fuselage halves now have an aperture for the installation of these weapons. There are also a number of other differences from the previous release, such as panel line changes and the position of openings etc. Of course, the fuselage parts are for the forward section only, with the rear section being on a different sprue. I am very impressed with the recreation of the external detail. I know I've already mentioned the fine riveting, but I really do think KH has got this pitched perfectly, along with filigree engraved detail such as panel lines and ports. A number of intake ports are also moulded 'open', and just need a little clean up to make them look perfect. Weapons bay doors are also as fine, with their own fine louvre detail, moulded as proper openings.
Another new part on this sprue is the lower, forward nose part that contains the opening for the nose gear. The previous release had the rocket tray opening in this area, and here it's replaced with some excellent panel line and louvre detail.
The majority of the remaining parts here are concerned with the cannon weapon bays. These are pretty complicated, with not only the weapons to install, but the cabinet itself and the ammunition feeds and containers also need putting together. Normally, I'd expect to find a box-like structure into which you fit the guns etc. so this multipart assembly for the box itself is quite surprising. However, the levels of detail within would sort of indicate the designer's rationale here. Of particular note here are the twisted ammunition feeds. They really do look great!
---
Sprue D
If you like a high parts count and component breakdown, then the General Electric J47 engine will really help to satisfy your needs. There is no doubt that the final result will be every bit as impressive as the sheer number of parts here. By estimation, the engine has well over 50 parts! This is broken down into multipart combustion chambers, exhaust tunnel, ancillary equipment and the bulkheads at the fuselage joint area. I would perhaps think that all you may need to add here are a few lengths of wire for plumbing etc. What's really a shame is that you aren't going to see most of this unless you find a way of cutting various panels away. The design of the kit does also dictate that you'll need to put the majority of the main engine components in place for everything to assemble the way that it was designed. Still, it's an impressive inclusion.
Two nose wheel options are supplied here, moulded alongside the nose wheel strut. One thing I have notice here is that KH has used some external ejection pin tabs, which is good, and there are a number of ejection pin towers that need cropping from the internal areas of parts, such as those inside the combustion chamber halves.
---
Sprue E
This is a general detail sprue that contains parts for the cockpit, engine (yes more parts!), radome, etc. As a cockpit lover who likes to see a busy, well-designed pit as the basis for a good project, I'm certainly more than happy with what I see here. The cockpit tub and side consoles are moulded separately, which of course leaves the way open for the aftermarket guys, but what I see moulded is certainly not disappointing. Detail is sharp, fine and certainly worthy of use, even if you like to add PE and resin. Instrument panel detail is also extremely fine, with blank instrument faces that are perfect for adding individual decals. Kitty actually supplies both instrument panel and console decals as complete items. I'm always really wary of this approach as you'll need so much decal setting solution to make them conform, and I imagine they'd look a little false. You can punch out the individual instruments, or perhaps use something from Airscale's expansive range.
The pilot seat is also superbly retro in appearance, and from the instructions and parts appearance, I can't see any reason to replace it. Note also on this sprue the fuselage airbrakes, with excellent detail both internally and externally.
---
Sprue F
This sprue was common to the previous release also, and contains, among other parts, the rear fuselage halves. I really don't know if this section is supposed to be removable, but if so, there is no internal constructional detail inside, so it may be useful to fit this permanently, unless you intend to add scratch detail. As with the forward fuselage, external detail is first class, with fine rivet and panel line detail, plus port and fastener detail. Note that the fin is moulded separately too, with a separate rudder. Horizontal tail surfaces also exhibit that quality and style of detail, including some rather nice vortex generator detail. I don't know whether there will be any PE upgrades from aftermarket companies, but I would be more than happy with the Kitty Hawk representation.
Lastly, you specific nose intake part and intake channels are included here, moulded as upper and lower halves. Integrally moulded to the lower, forward part is some of the nose wheel bay ceiling. The style is very similar to the relief shown on the inside of the upper wing panels, for the main gear wells.
---
Sprue G
Kitty Hawk has chosen to mould the parts for the main gear and gear wells on this sprue, which is predominantly the weapons/stores sprue. Wheel bay detail is pretty damn good, with neat side wall and ceiling detail, again only requiring a little lead wire to finish. Undercarriage legs are quite simple in appearance, and the wheels, moulded as halves with integral hubs, are provided in weighted format.
Under-wing pylons are moulded here, and included are both drop tanks and Sidewinder missiles.
---
Sprue GP
Packaged into a clear plastic sleeve, and then popped into its own box, the clear sprue is certainly protected properly. The main parts are the forward windscreen and main hood. Frame line definition is excellent, with fastener detail, and the non-clear portions are frosted too. These parts, and all others, are superbly clear, and perfectly moulded.
---
General Plastic Observations
There are small amounts of flash to be seen in places, but certainly nothing startling, but the mouldings themselves are excellent throughout. I can't see any other flaws on my sample, such as sink marks, short-mouldings etc. and ejector pin marks are intelligently placed, or indeed, placed off the part, on a small tag.
Photo-Etch
This fret really is TINY! It includes parts for the seatbelts and airbrake areas. I do think the seatbelts look under-scale, and would look at Eduard's options for these.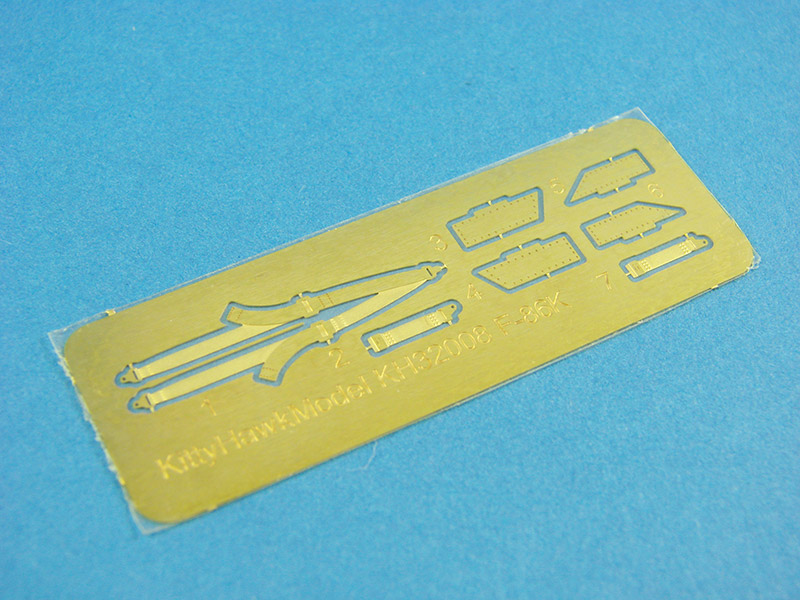 Decals
These are sealed within a zip-lock sleeve, and are further protected by a glossy film that easily peels from them. Decals themselves have a gloss finish too, and feel a little thicker than mainstream ones that we see from the likes of Cartograf. I don't know where these are printed, but the quality is still excellent, with good solid colour, fairly minimal carrier film, and of course, they are in prefect register. If your markings overlie the airbrakes, you will need to slice and dice them yourself as they aren't provided as parts.
Stencils are provided, and the markings themselves look great. Some utilise bands of clear carrier film to hold together various elements, so you will need to be careful when sliding them from the sheet and onto the model. The FIVE schemes supplied are:
F-86K, JD352,3, JG 74, Neuburg der Donau, 1964 (Luftwaffe)
F-86K, E.C.T.T. 1/13, Colmar, 1957 (Armee de l'Air)
F-86K, XII Gruppo/36° Stormo, (Italian Air Force)
F-86K, Royal Norwegian Air Force
F-86L. 3556th CCTSQDN, Perin AFB, Texas, 1960 (USAF)
---
Note the USAF machine is an F-86L. This is not possible with this kit due to the lack of the rocket tray, and the fact that this kit has cannon included.
Instructions
Kitty Hawk's instructions are printed as an 18 page manual, with foldout, colour profile sheets at both the start and end of the publication. Drawings within look a little retro, but pleasing to my eye, with black/white line drawings, with a little shading added here and there. Colour refs are given throughout in both Gunze and FS codes. Colour profiles look great, wit clear colour notation and decal placement indicators.
---
Conclusion
For my first Kitty Hawk release, I'm very impressed. This looks very buildable, and with engineering that doesn't look too problematic, being both conventional in style and approach. The kit is every bit as detailed as I would now expect to see from modern toolings, and some great schemes are included too, in terms of national variety. I'm not great with NMF finishes, so no doubt, I'll be going Luftwaffe with this. This kit really does scream to be built, and as soon as my current project is complete, this will be on the bench.
---
Highly recommended.
My sincere thanks to Glen at Kitty Hawk Model for sending this over for us to take a look at.
© James Hatch 2015
This review was published on Tuesday, October 27 2015; Last modified on Monday, April 25 2016