Aviaeology | A0D32008: 143 Wing (RCAF) Typhoons: 1944 thru to Bodenplatte Part 1 and 2
Reviewed by Ron Patterson
This addition from Aviaeology is a two part series depicting 143 Wing RCAF Typhoons of the 438, 439 and 440 Sqns from 1944 through to Bodenplatte.
Part 1 of the series offers 7 out of a total of 12 different subjects to choose from in both series including the infamous MN311 "Pulverizer" and MP149 "Pulverizer II".
Each decal set come in three separate sheets. They are packaged with a very stout sheet of cardboard to insure there will not be any bending damage during shipping. Under close inspection I find these sheets flawless in execution, the color appears correct, they are printed in very crisp detail and in absolutely prefect register. Very nice stuff.
Part 1 Provides markings for the following airframes
JR500 5V-X of the 439th
MN413 I8-T of the 440th
MN957 F3-N of the 438th
MN716 F3-A of the 438th
MP149 I8-P of the 440th
MN311 I8-P of the 440th
MN426 F3-A of the 438th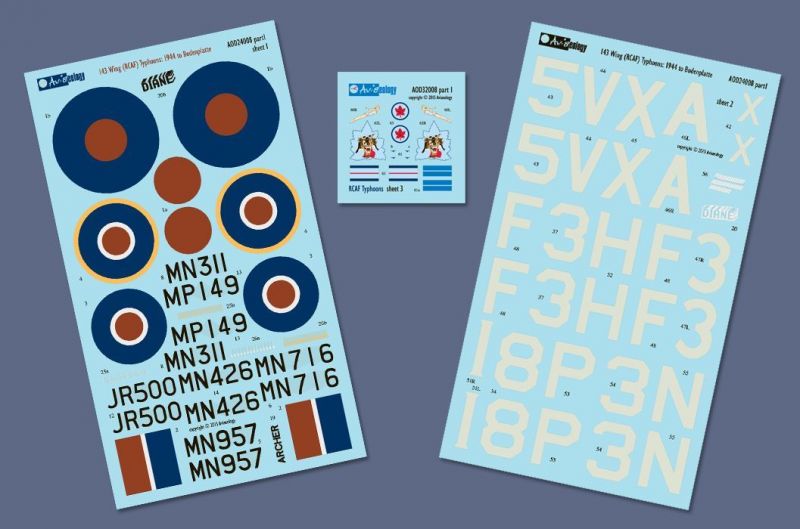 Part 2 Provides markings for the following airframes
JR249 F3-P of the 438th
MN345 5V-G of the 439th
MN518 R-D of the 438th
MP149 I8-P of the 440th
RB205 FGG of the 440th
MP131 F3-J of the 438th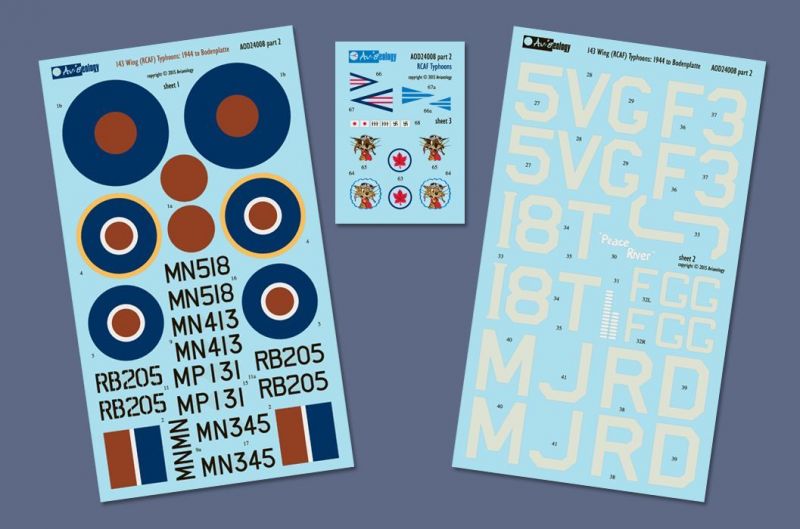 The comprehensive instruction sheet is printed double sided on five letter sized sheets of paper in black and white. The instructions for each set are basically identical containing the same information for all 12 airframes but simply identifying which scheme comes in which set. An interesting feature when ordering from Aviaeology is that after you confirm your order they e-mail you a full color instruction set in PDF format as well.
When I say comprehensive instructions, I mean very comprehensive. These instructions leave absolutely no guess work when it comes to depicting all of these airframes. They are very complete and contain many photographs of the actual aircraft. Information includes:
---
Decals available directly from the Aviaeology eBay Store. Please note these sets have very limited availability, if you are interested act now! Both sets also available in 1/24th scale.
Highly recommended.
Review sample and images compliments of Aviaeology.
© Ron Patterson 2015
This review was published on Sunday, November 01 2015; Last modified on Sunday, November 01 2015