Kitty Hawk Model | KH32004: 1/32 OV-10A/C Bronco
Reviewed by Iain Ogilvie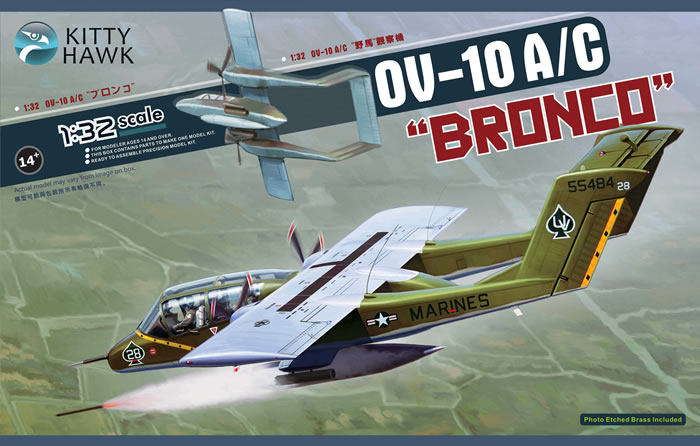 This is yet another subject that, a few years ago, if you'd told me a new large scale Bronco kit would be available, I'd have smiled politely and poured you another double!
Well, Kitty Hawk came up trumps at the end of last year with their superb OV-10D kit - reviewed here by Paul back in November 2014.
Now, we modellers are a perverse lot. Often new releases are greeted with a 'Meh - would have been better in 1:** scale, or should have done this version instead'. Now, I'm a little guilty here as I've always wanted to do a Vietnam era, short-nose OV-10A; partly for historic relevance in my collection, but also because part of me likes the looks of this one better, more aesthetically pleasing to my eyes!
Well, here it is, last years excellent mouldings - now with added short-nose loveliness!
What's New?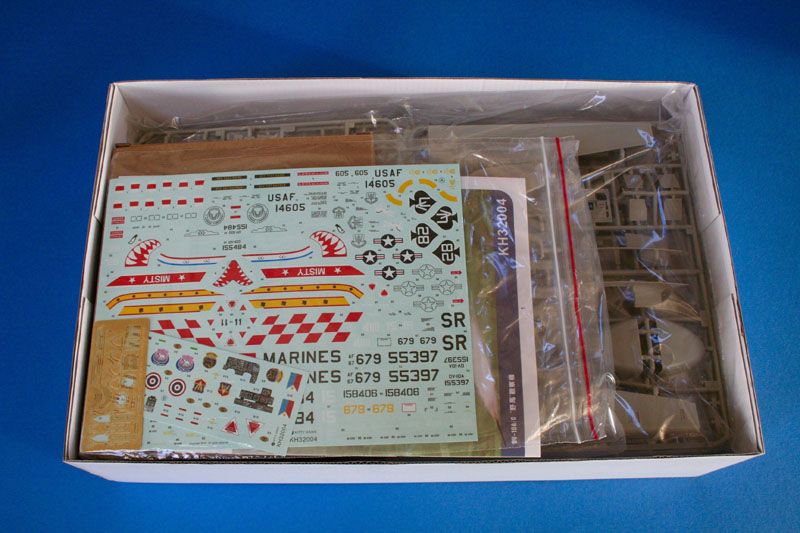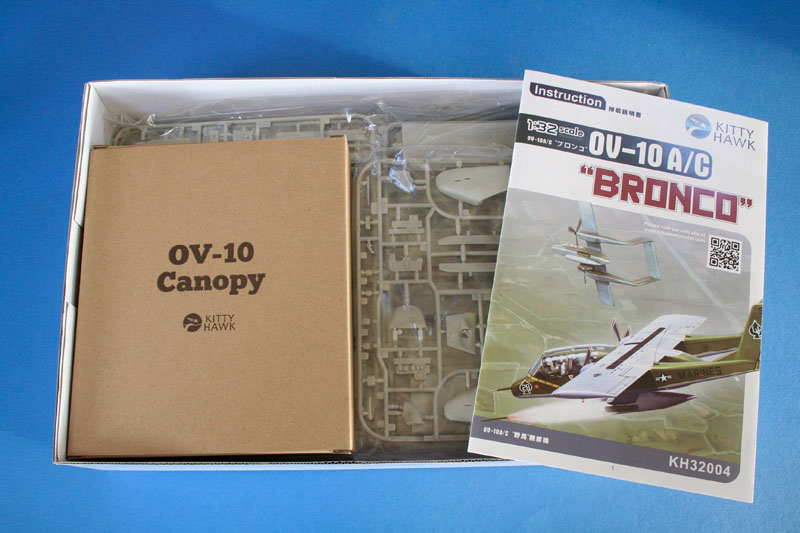 ---
As we've reviewed the basic mouldings before in OV-10D form I'll concentrate on the new parts and just provide the common parts with the other boxing pictorially.
A new, replacement, 'A' sprue is provided, with the new nose and a number of other components relevant to the OV-10A and OV-10C. The sprue for long nose of the 'D' boxing and related parts is not included in the box. There is a very small amount of flash which really shouldn't be a problem. A little flash aside, the parts are cleanly moulded with really nice, delicate, surface details that will look great under a thin coat of paint.
---
And the parts common to both kits, including crystal clear canopy components:
---
Etched Fret
A small etched fret is included with grills, actuator, spoiler segments and straps - adding some very useful detail to the model.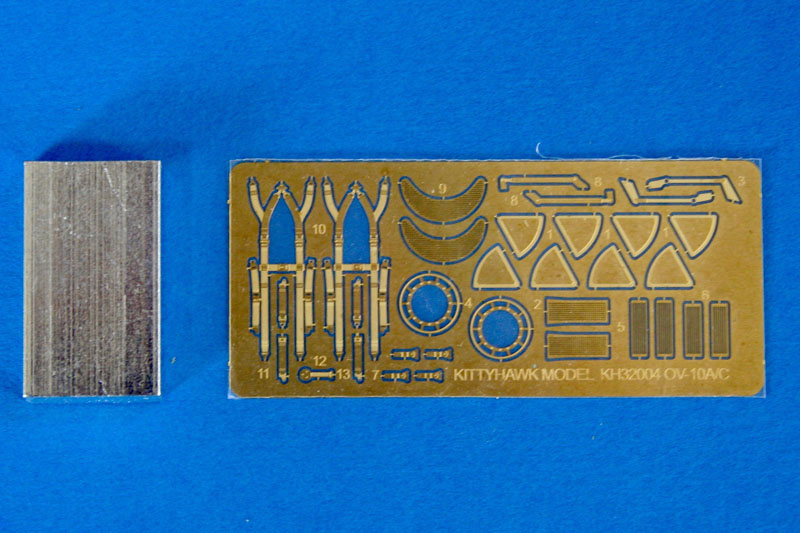 Oh, and a useful nose weight is included too!
Instructions are clear and concise and walk you through what looks to be a reasonably straightforward build.
---
Markings Options
Six different colour schemes are offered in the box - as follows:
OV-10A 55484 VMO-5, US Marines
OV-10A 14605 549th TASG, USAF
OV-10A 67-679 USAF
OV-10A 55397 VMO-5, US Marines
OV-10C 158408 Thai Air Force
OV-10C '679' Philippine Air Force
Would have been nice to have had a few more details on each subject, such as location and date, but the all-colour placement guides look pretty clear and give Federal Standards (FS) call-outs for the colours - always a favourite with this plastaholic.
---
Decals are on two sheets of cleanly printed, matt finished, markings that look to have good colour density, tone, detail and registration. As well as the main airframe markings and stencils the decals include a pair of instrument dial faces and a radio front.
---
They do say the proof of the pudding is in the eating and, whilst this reviewer hasn't built the kit yet, forum member 'mr b' has done a beautiful job with his kit - building the Philippine Sharkmouth option.
Overall a really nice and pretty complete package - congratulations to Glen and his team on this one. Really nicely done.
Review courtesy of my wallet and a deal I could resist, from some dodgy West Country bloke called Andy (Mr Antics), whilst setting up the stand at Telford. As I promised my wife, I wasn't going to buy anything - honestly!
© Iain Ogilvie 2015
This review was published on Sunday, November 15 2015; Last modified on Saturday, February 27 2016