Trumpeter | 03213: 1/32 Junkers Ju 87A
Reviewed by Iain Ogilvie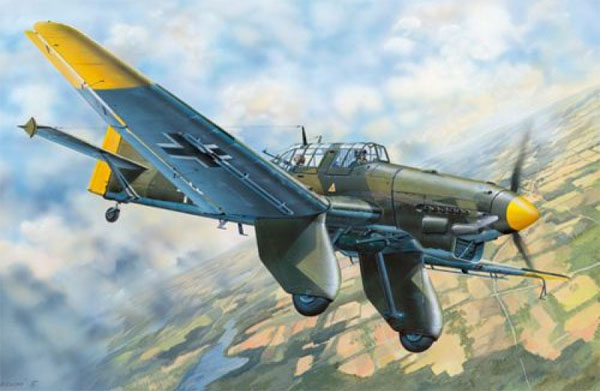 The Plastic
Wow - another subject that I thought we'd never see in my favourite scale. Yes, it's been available for a couple of years, but I've only just acquired one and, well, it appears that we've never reviewed it before. This is a subject so full of character; one of the world's ugliest aeroplanes, the Stuka, gets beaten even more by the ugly stick in it's early, 'Anton', version.
So ugly it's way cool - to my eyes anyway!
The kit is the now fairly standard Trumpeter fare, cleanly moulded in grey styrene, with engraved panel lines and a matt surface. All sprues are individually bagged in the brand's usual sturdy box - so the parts are pretty well protected.
Parts breakdown is fairly normal for a kit of this type, with some great details in the cockpit. The wing structure features a stout looking spar that should ensure that the wings are mounted straight and true, and that the resulting structure is nice and strong.
Accuracy-wise this kit has it's share of 'interesting' features - those that want to improve the look of their early Stukas may want to replace the spinner, make some changes/improvements to the cowling and re-shape the wheel spats (fortunately a case of generally removing material, rather than adding). None of these changes should tax the average modeller, but, once again, it's a pity Trumpeter couldn't go that extra bit and get everything looking as it should.
For a heads-up on some of the improvements that can be made to the kit, take a look at John's superb build.
---
Clear Parts
These are important on a subject like this with a large canopy and I'm pleased to report that these components look good, being thin and nicely clear.
---
Tyres
These 'rubber' tyres look OK, but, like most modellers, I'm wary of their longevity and possibility of reaction with the wheel hubs. I'll be replacing mine with resin items.
---
Etched parts
The kit includes a small etched fret:
---
Instructions
Typical Trumpeter fayre, the instructions are straightforward and clear.
---
Decals
Decals look OK quality-wise and the film looks nice and thin.
---
Schemes
Schemes are a little bland - two fairly boring Luftwaffe machines - it would have been nice to have seen a Spanish Civil War Legion Condor scheme included.
---
Conclusion
Whilst this kit has a few disappointing features it is the best 1:32 Ju87A on the market (it's also the only one!) and, subject to a few relatively easy 'tweaks' I can actually recommend this kit to all fans of ugly, characterful, mid '30s, Spanish Civil War period aircraft.
An 'Anton' at last!
Recommended - with caveats.
Review model courtesy of my wallet.
© Iain Ogilvie 2015
This review was published on Monday, November 16 2015; Last modified on Tuesday, December 08 2015