Pheon Decals | Felixstowe F.2A Photo-Etch Parts (For Wingnut Wings Kit)
Reviewed by Mike Swinburne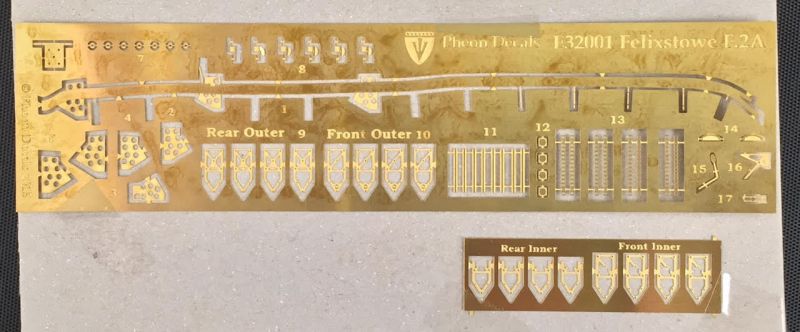 Rowan Broadbent, the man behind Pheon Decals, has managed to make quite a name for himself in recent years with a slew of WWI decals in 1/32, 1/48, and 1/72. With the release of two limited edition decal sheets for Wingnut Wings' massive Felixstowe F.2A flying boat, Pheon has also released their first photo-etch set which has been designed to add detail to several areas of the kit. When ordering this set, what first caught my attention was the brilliant phrase on Pheon's website stating that the set includes "only etched parts which will improve the model's scale appearance – no 'brass for the sake of it'!" - Bravo, Pheon, for not going overboard!
Item # e32001 consists of one main fret and one small supplementary fret. The frets are taped onto stiff cardboard in a zip-lock bag, itself inside a top-sealing plastic bag with what appears to be a well thought-out instruction booklet. Parts are included for the prominent cable tray with cable straps, longeron frames, engine bearers, Norman gun sights, a few bits for the bomb sight, and also the pilot's switch panel with separate switches. Pheon thoughtfully includes two extra switches in case you accidentally feed a few to the Carpet Monster.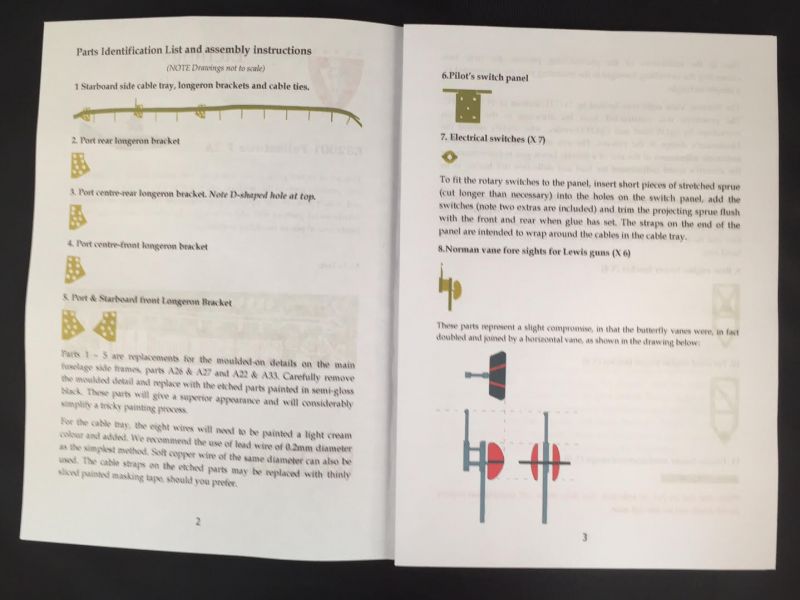 Parts appear to be quite well designed and they do seem to add detail. The instruction booklet is eight pages long and includes some background history on the Norman gun sights as well as construction notes at each step. While you will need to remove some molded-on plastic to attach parts like the longeron frames, this also means that you can paint the wood and metal separately and not have to mask or carefully hand paint to keep your details where they should be.
Well, I'm sold! If I ever get through my early F.2a build and go to build a late model as well, I will definitely be purchasing another of these sets, and I recommend this to any builders tackling the huge flying boat.
Pheon's Felixstowe photo-etch set can be ordered directly from Pheon Decals with no additional postage if purchased at the same time as a decal sheet. Note that this is a limited edition item; I do not know the size of the production run but one of the two Felixstowe decal sheets has already sold out of the print run of 125 so act quickly if this is of interest to you.
© Mike Swinburne 2015
This review was published on Monday, November 23 2015; Last modified on Wednesday, February 07 2018