Aviattic | 1/32 Gotha Propeller Hubs and Backplates
Reviewed by Mike Swinburne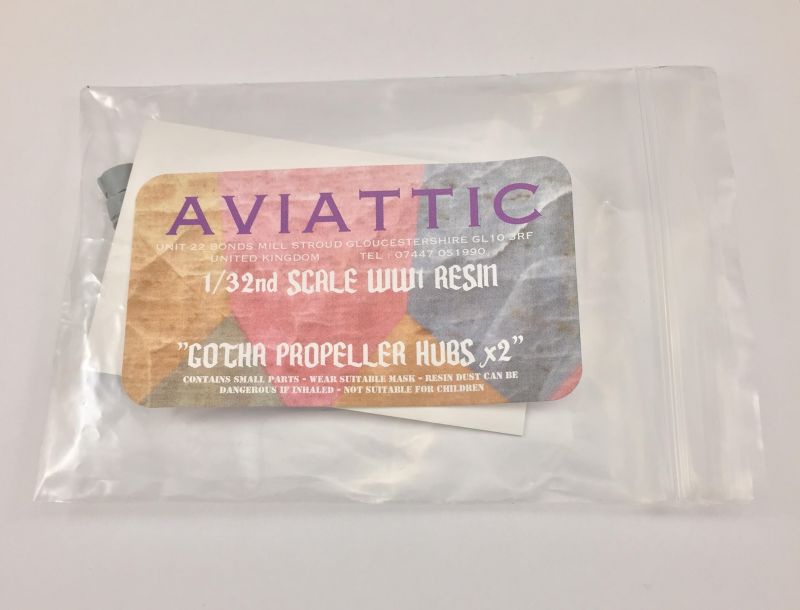 Face it - it's pretty darn hard to improve on a Wingnut Wings kit, even the early releases. Aviattic recently accepted the challenge and released a simple 4-piece resin set to replace the hubs and backplates on the Gotha G.IV propellers. As is common for smaller items from Aviattic, these parts come packaged in a small zip-lock bag with product label attached. Items were well packaged for the voyage across the Atlantic.
The Wingnut plastic parts are nicely detailed, however there are two limitations to molding this in plastic. The first is that there are lightening holes in the front face of the hub where wood grain will show through and it can be difficult to mask or hand-paint everything to look even. The second limitation is in the level of detail itself, in this case on the plastic parts where the nuts and bolts are simply raised round lumps when you look closely.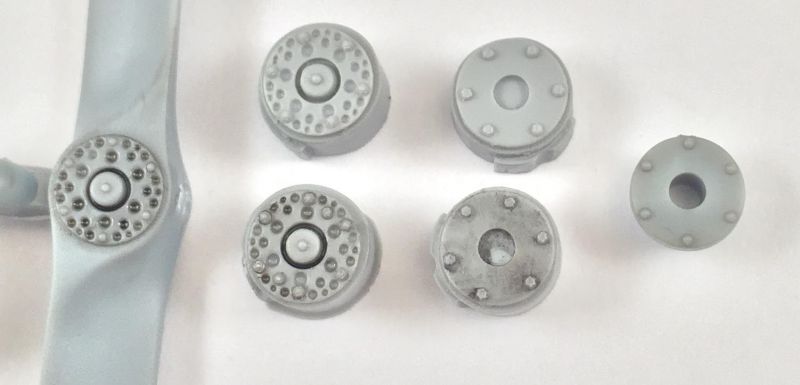 Both of these issues are addressed with the Aviattic parts - if you look closely, hexagonal nut and bolt heads are visible and quite sharply molded. You'll also be able to simply sand off the kit plastic hub, paint the entire piece with your preferred wood technique, and then attach the resin hub in it's place once removed from the pour stub.
For only a few extra minutes of work, you'll be able to add some needed detail to the very visible and large propellers of your Gotha bomber, and I highly recommend this set to anyone looking to add that little something extra. Aviattic products can be purchased directly from Aviattic's website; please mention your seeing this review on Large Scale Planes!
© Mike Swinburne 2015
This product is available from the following LSP sponsors
This review was published on Monday, November 30 2015; Last modified on Monday, November 30 2015