HpH Models | 32040R: 1/32 Focke-Wulf Ta 154 Moskito
Reviewed by Kevin Futter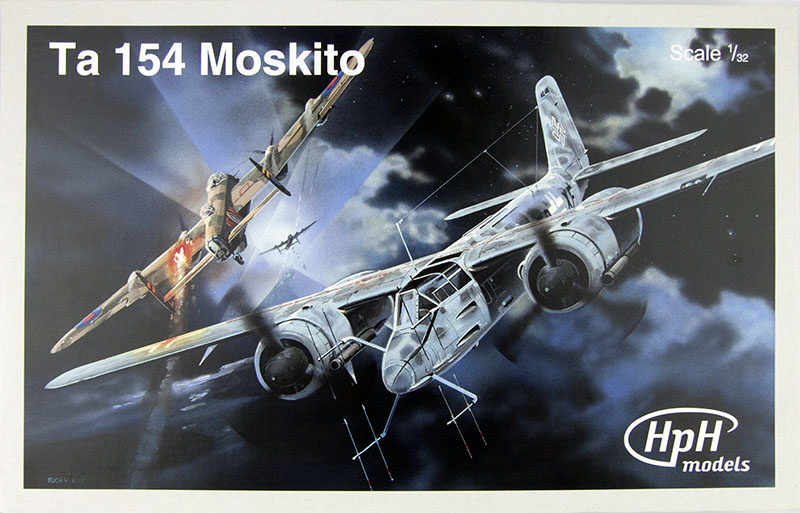 HpH Models hails from the Czech Republic, and produces an extensive range of resin aircraft kits in a variety of scales. The company has a particular focus on 1/32 scale, and one of its latest offerings is an impressive Focke-Wulf Ta 154 Moskito.
The kit ships in a petite, but robust, plain cardboard box. In a break from the company's usual colour-profile-based artwork, the box top takes a more traditional approach with a painting of the aircraft in action. And very nice it is, too! Internally the box is divided into several distinct sections, each densely but neatly packed with one or more bubble-wrapped sets of components.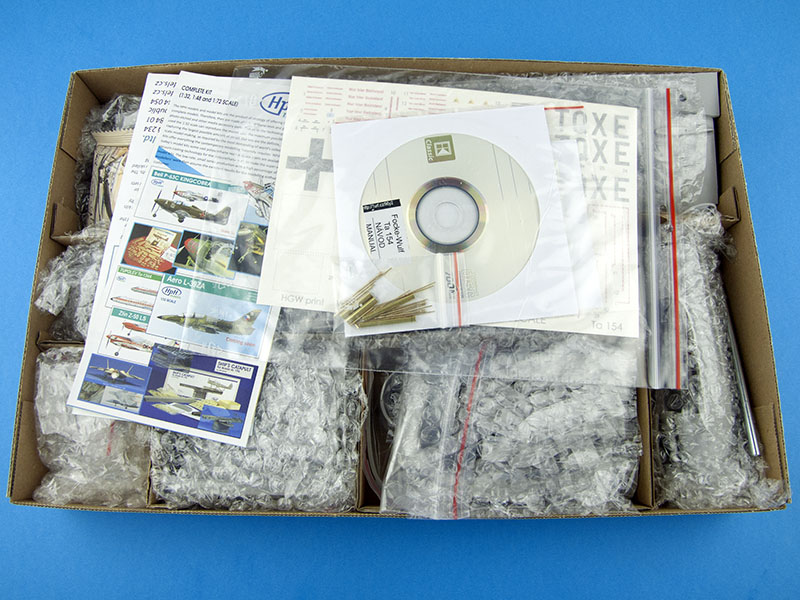 Also present is a pair of resealable bags containing the decals, canopy masks, seat belts and photo-etched sheets, as well as a set of turned brass components. The instruction manual is provided on CD as a series of JPEG images (should you have any issues with the disc, these JPEG images are also available on HpH's website). Rounding things out is HpH's now famous inclusion of a Belgian chocolate!
---
Major Components
Fuselage
The fuselage is broken down conventionally into left and right halves, with a thin casting block (more of a sheet, really) running the full length of each part.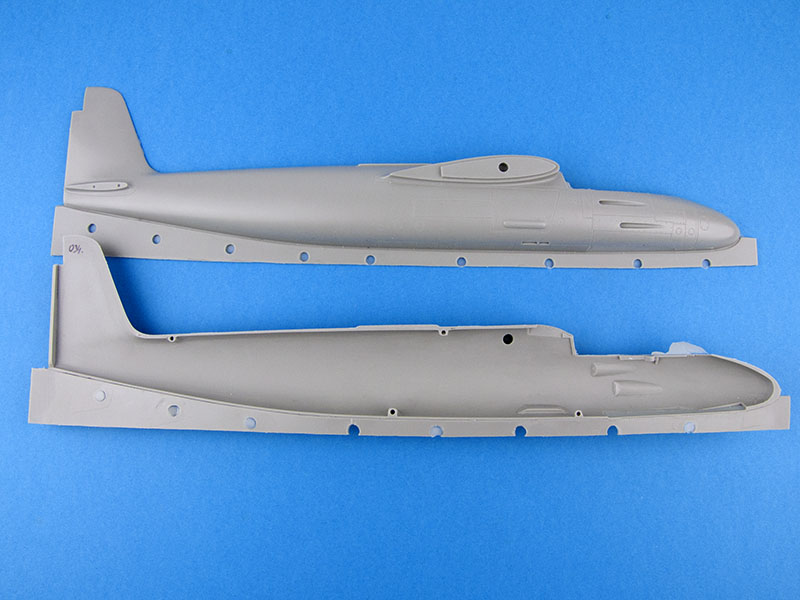 Helpfully, this casting sheet features a thin separation line to assist with its removal: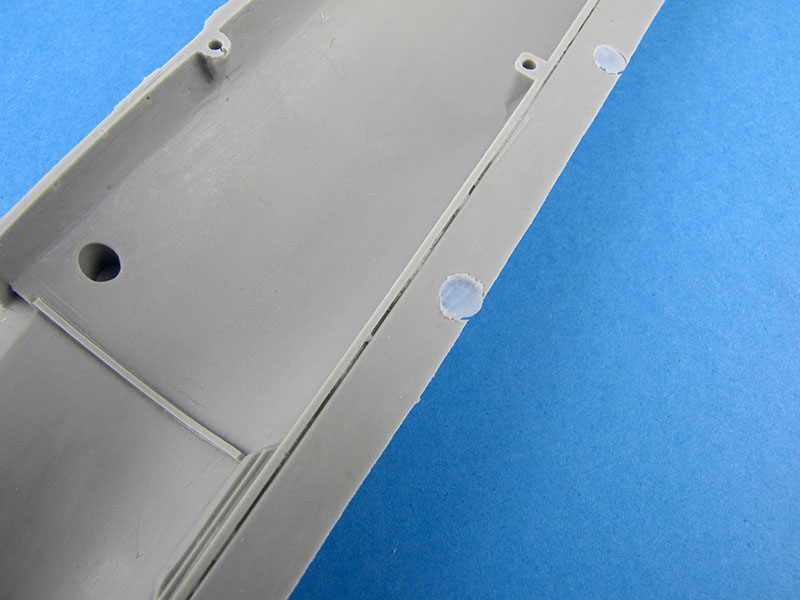 Some gentle scoring with a #11 blade or a sharp scribing tool should allow it to be snapped off neatly. Some clean-up of the affected area will certainly be required, however.
The surface detail is really quite impressive: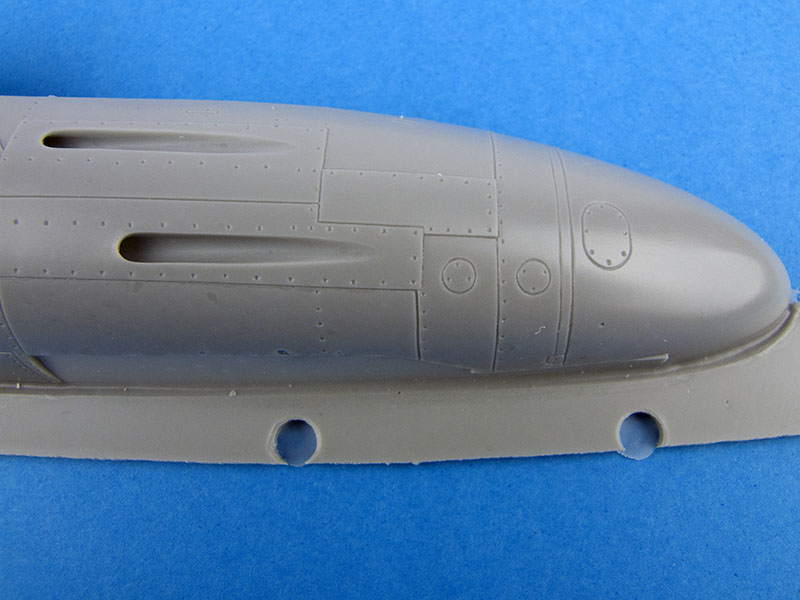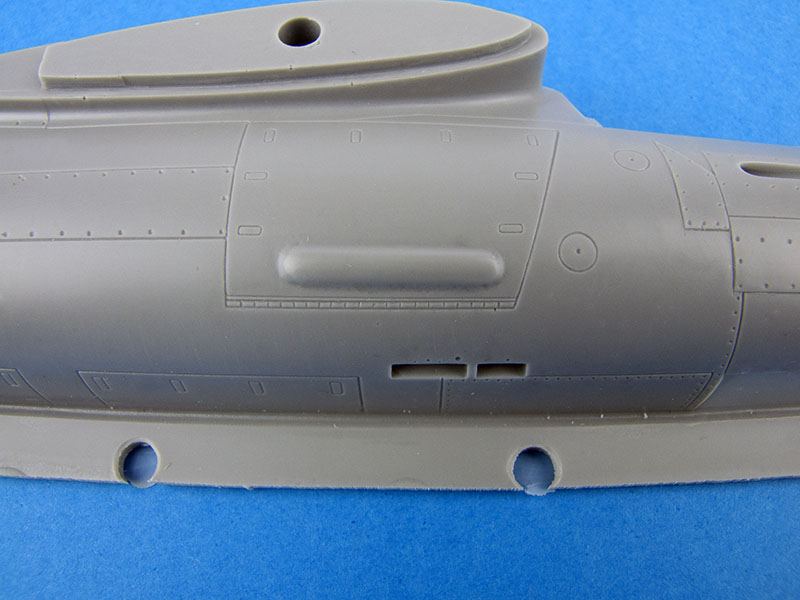 Some of the panels that straddle the fuselage join are likely to need reinstating after the two halves are joined and the join cleaned up.
Wings
The wings come in four pieces, representing upper and lower halves for each side. They're designed to attach to shoulder mounts on the fuselage.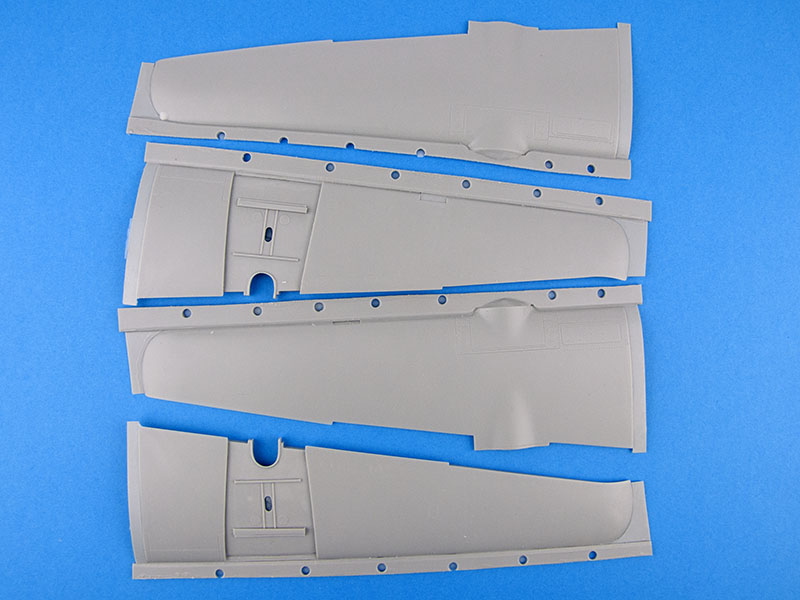 To provide the requisite strength that such a shoulder-mounted joint requires, HpH has thoughtfully provided a metal rod (aluminium?) that inserts through the fuselage, onto which the wings are mounted: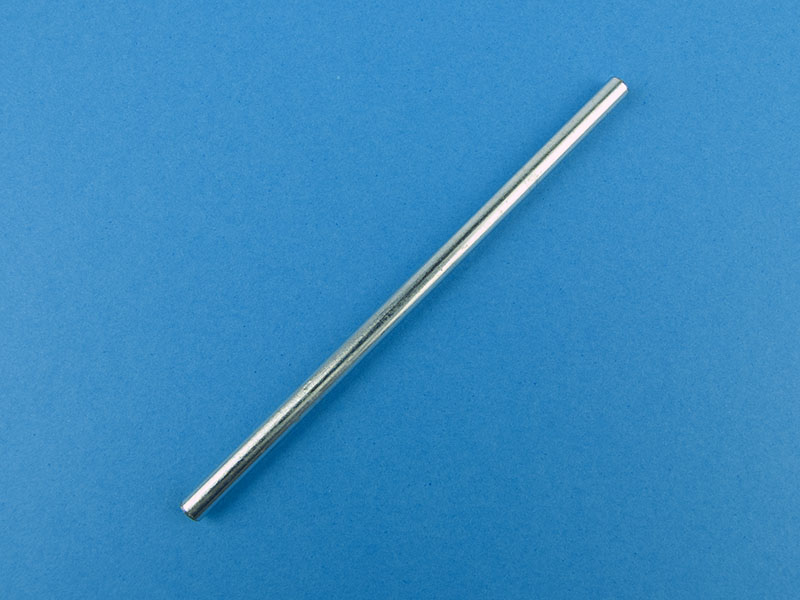 Once again, surface detail is really terrific: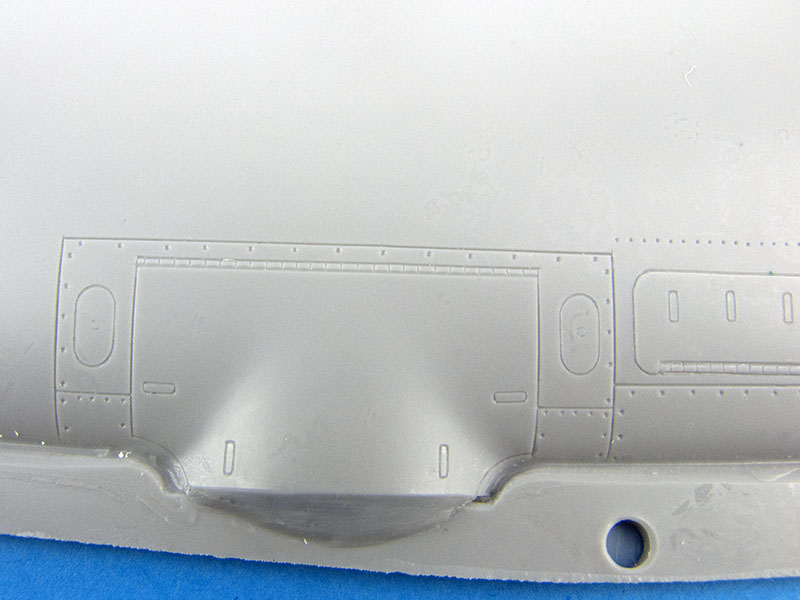 Much like its British counterpart and namesake, the Moskito was a mostly wooden aircraft, and this is neatly reflected by HpH in the lack panel lines and rivets on the majority of the wings' surfaces.
Engine Nacelles
The engine nacelles are also supplied in four parts, two for each full nacelle. These are split conventionally into left and right halves: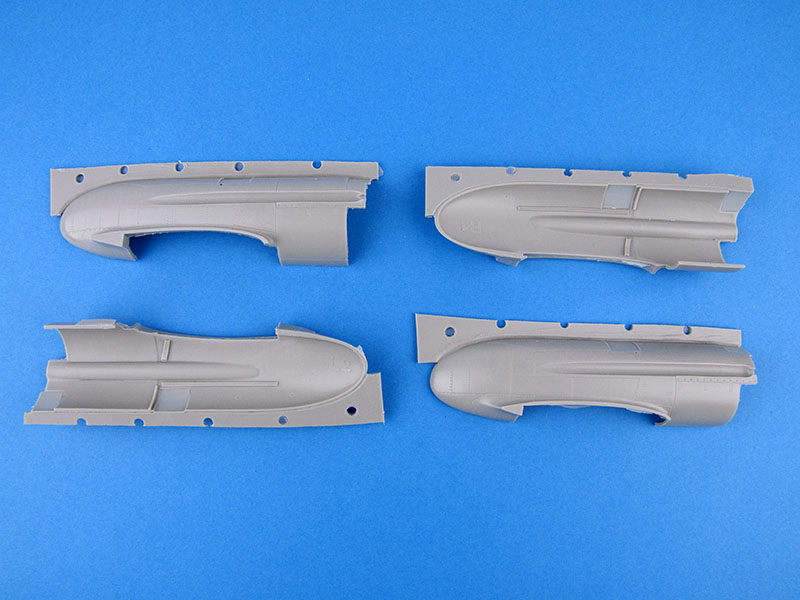 Detail Components
This is where things get serious with this kit. The breakdown is as follows:
6 resealable bags of resin components
1 resealable bag of canopy components in clear resin
1 photo-etched fret of detail components
1 set of laser-cut seat belts from HGW
1 set of pre-cut vinyl canopy masks
1 small resealable bag of turned brass barrels
1 cast metal nose weight
1 turned metal wing support rod
Resin Bag #1
Engine nacelle and wheel bay detail parts: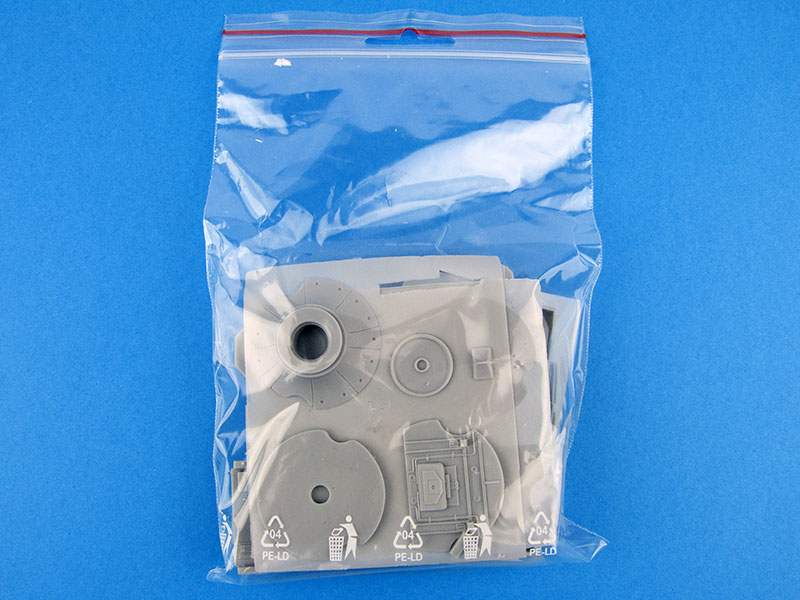 ---
Resin Bag #2
Landing gear detail parts: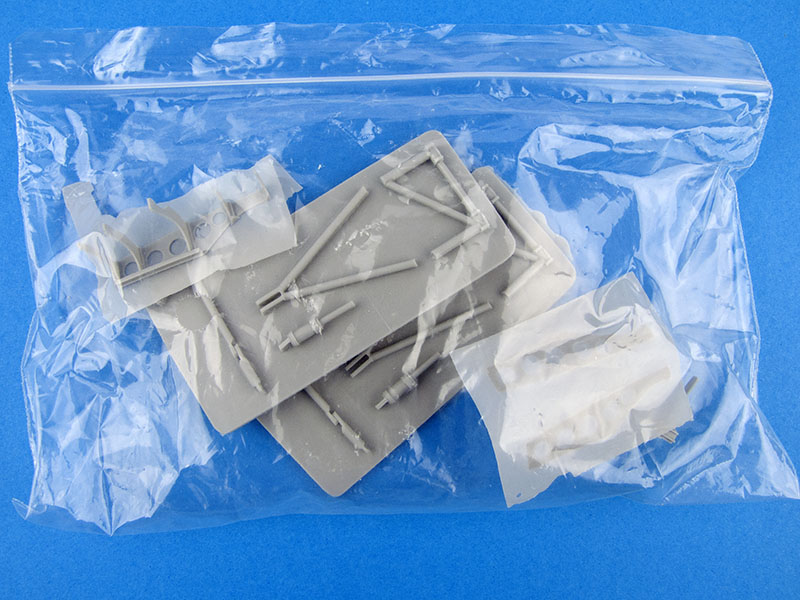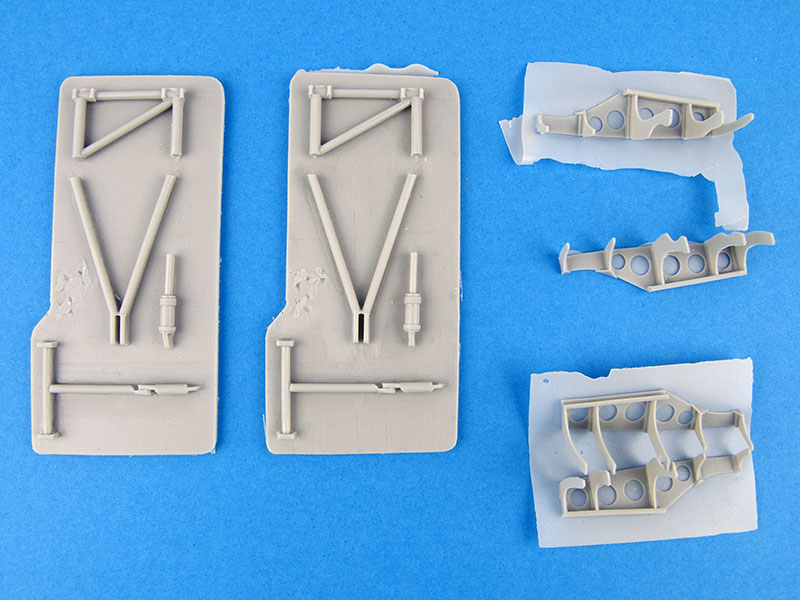 Resin Bag #3
Nose wheel detail parts: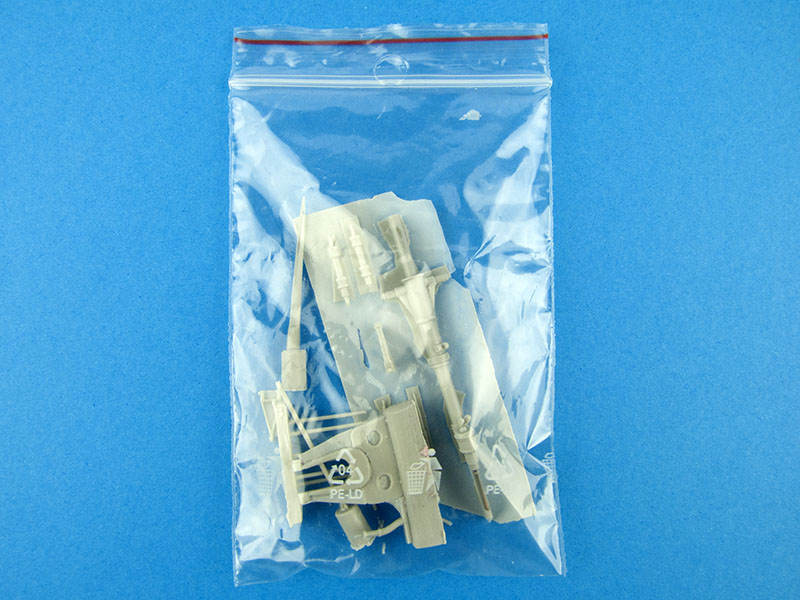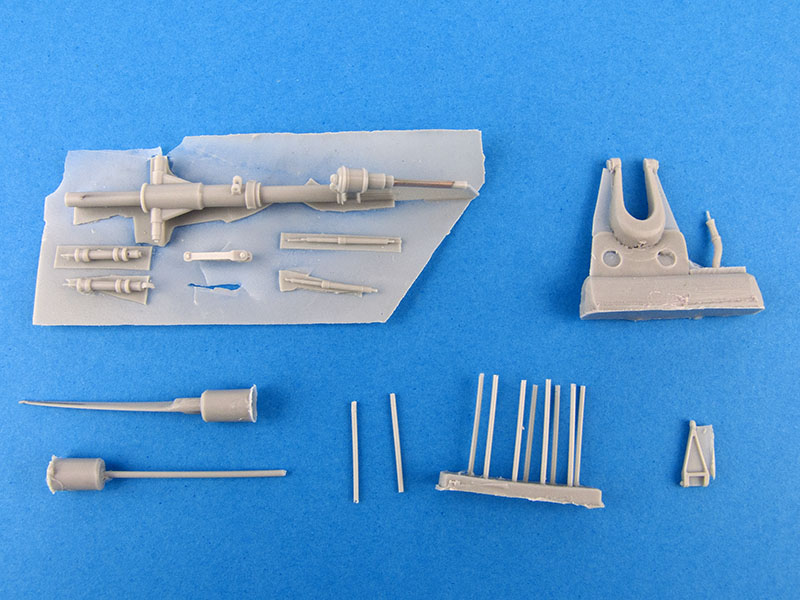 One of the parts in this bag appears to be some kind of blade antenna, but has a minor casting flaw on my sample: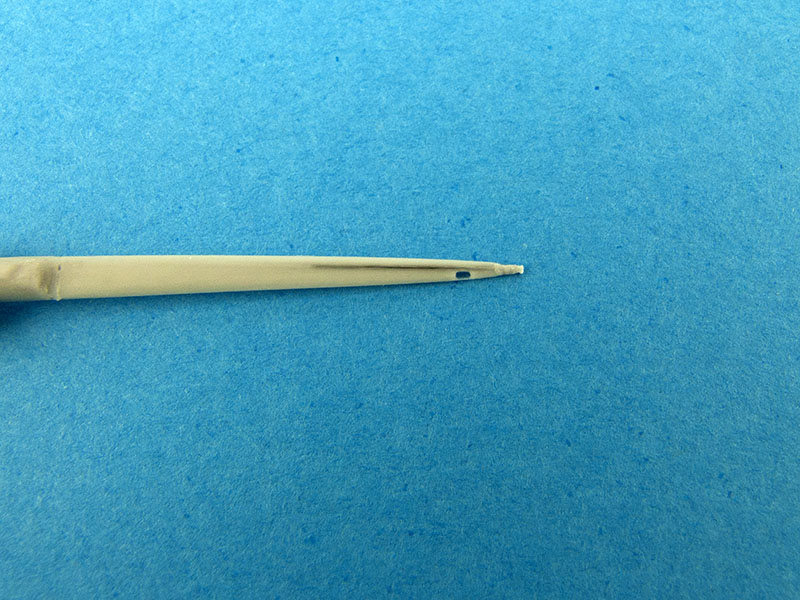 It also appears to be reinforced with brass rod or wire, as is the nose wheel leg, also included in this bag. HpH has certainly designed this kit with strength in mind.
Resin Bag #4
Control surfaces: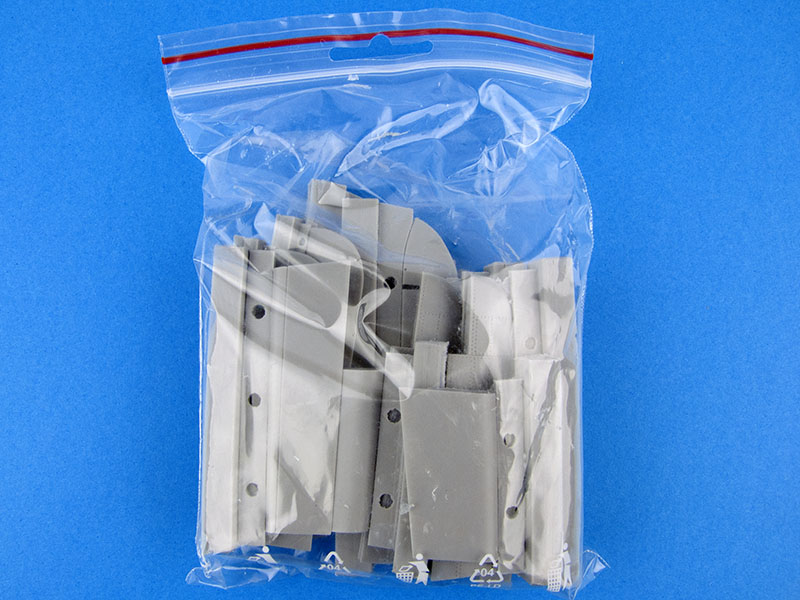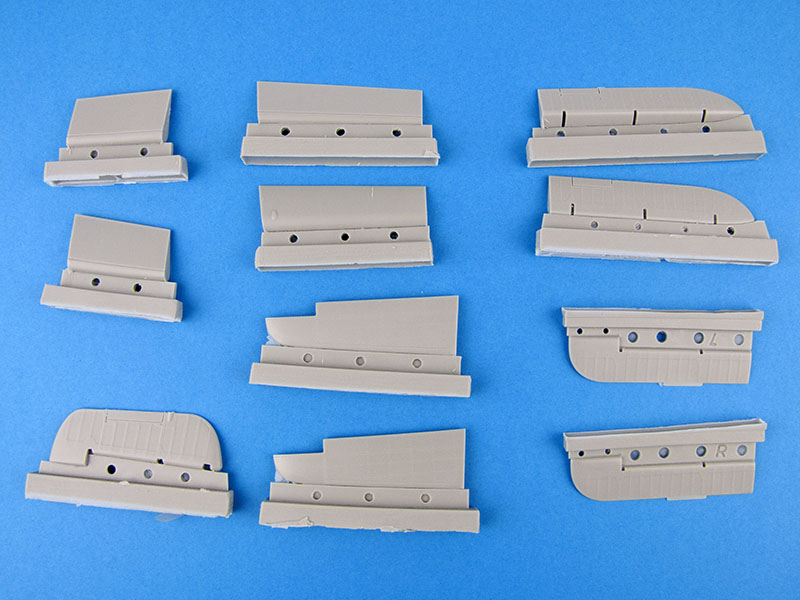 The fabric-covered areas feature some beautifully rendered rib and tape detail, which is actually a good deal more subtle than the photo below suggests: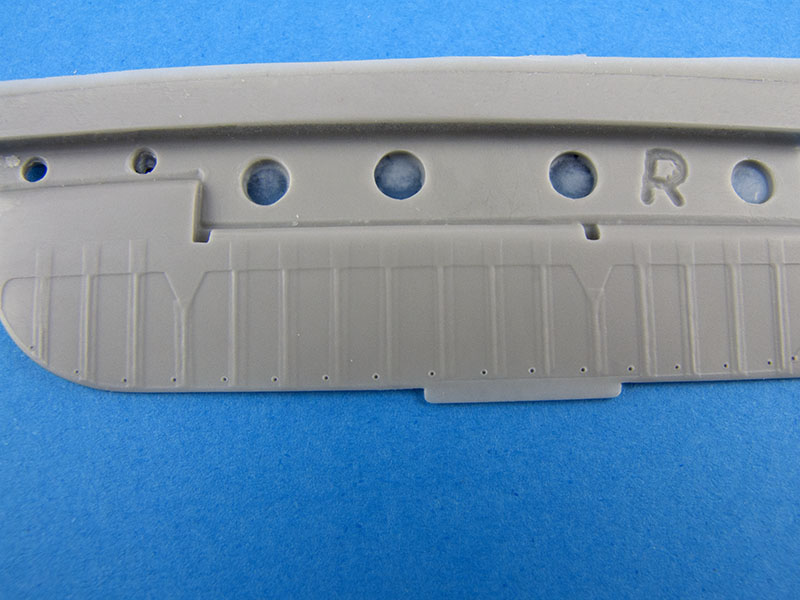 And as you can see, they're helpfully labelled as to which is left and which is right.
Resin Bag #5
Wheels and engine cowlings: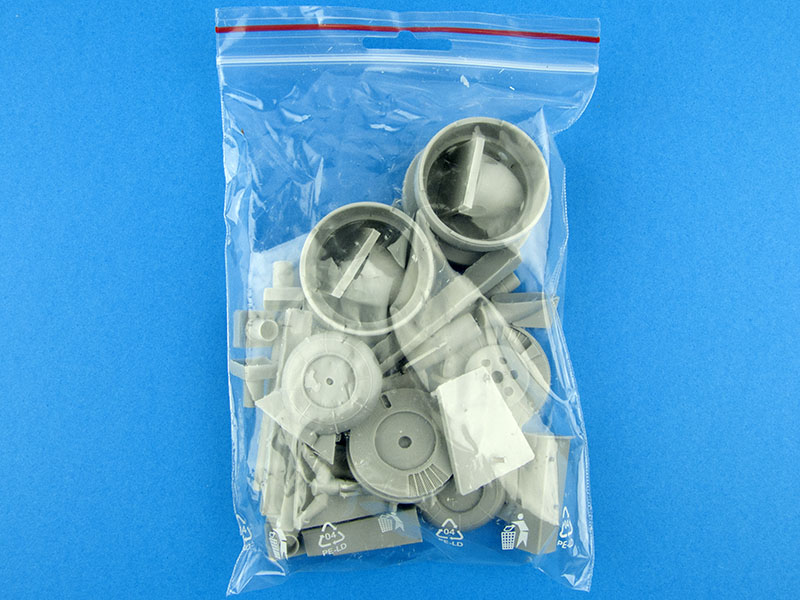 ---
Resin Bag #6
Miscellaneous Details: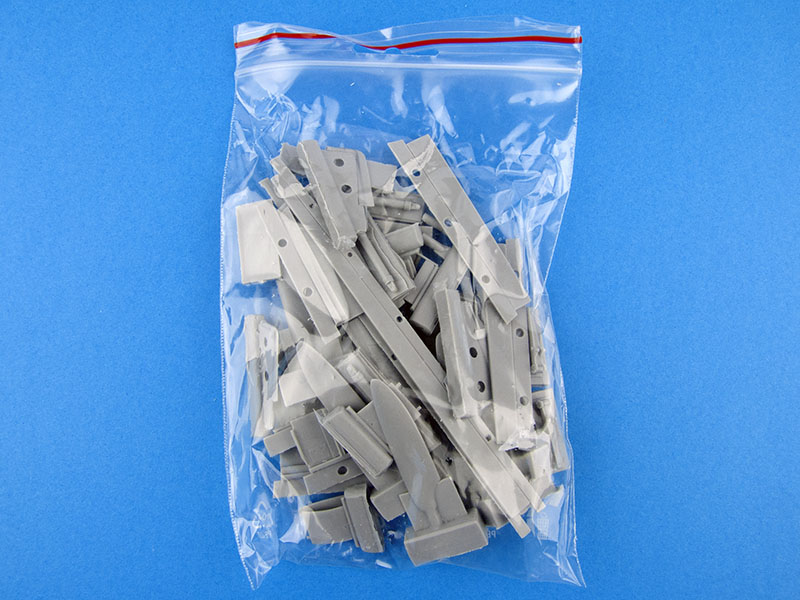 ---
Resin Bag #7 - Clear Parts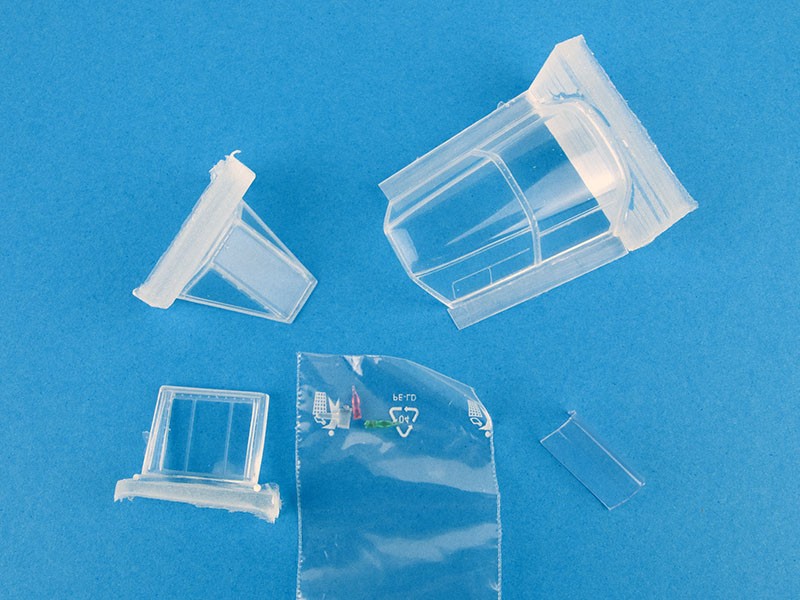 The clear parts are cast in clear resin, except for a pair of red- and green-tinted wing-tip lights. There's also a small piece of formed acetate sheet to act as the landing light cover for the wing leading edge.
While not quite as crystal clear as the very best injection-moulded canopies, they still pass the clarity test with flying colours: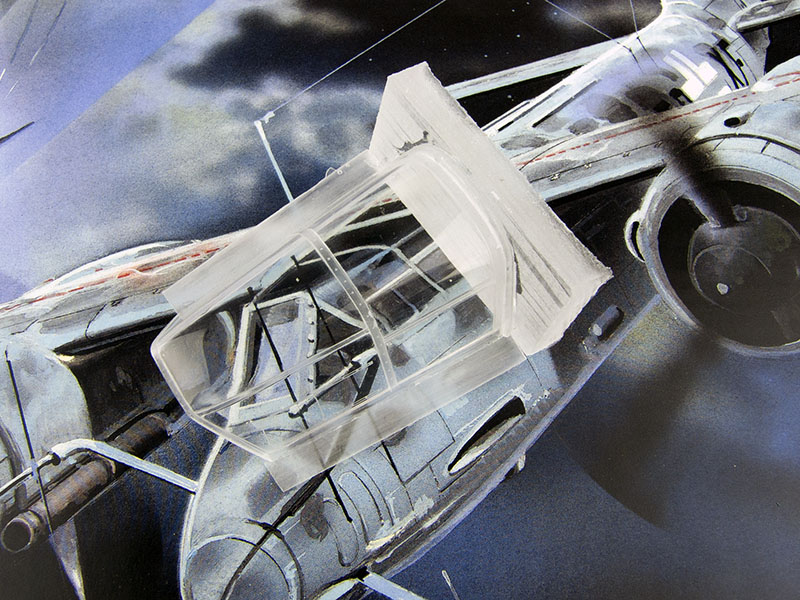 Photo-etched Parts
The kit provides a single fret of photo-etched parts. In the past, these have been manufactured for HpH by Eduard, but in this case they appear to be done in-house.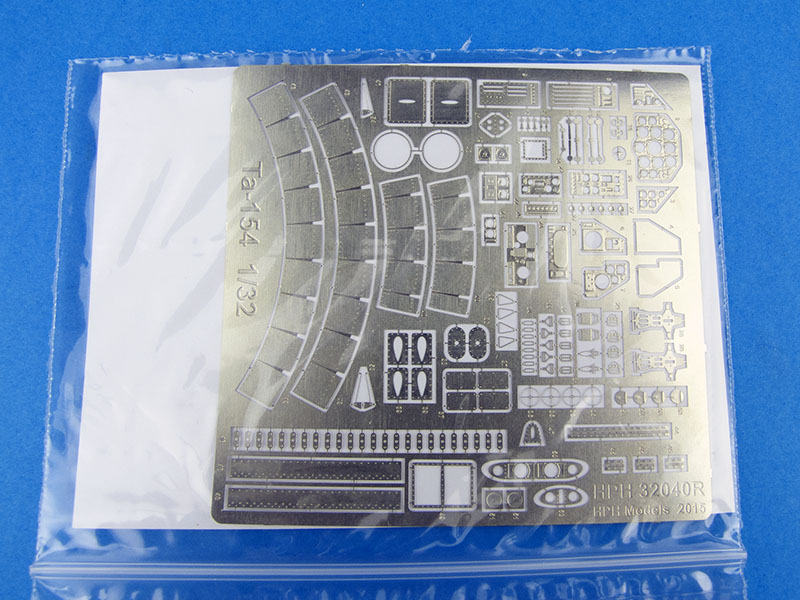 Most of the parts pertain to the cockpit, but there's also a set of cowl flaps for each engine.
Canopy Masks
A full set of pre-cut vinyl masks is provided for the canopy, which should make masking the extensive canopy parts a great deal easier. There is no indication on the sheet that this has been provided by a third party, so I'm assuming it's an in-house production.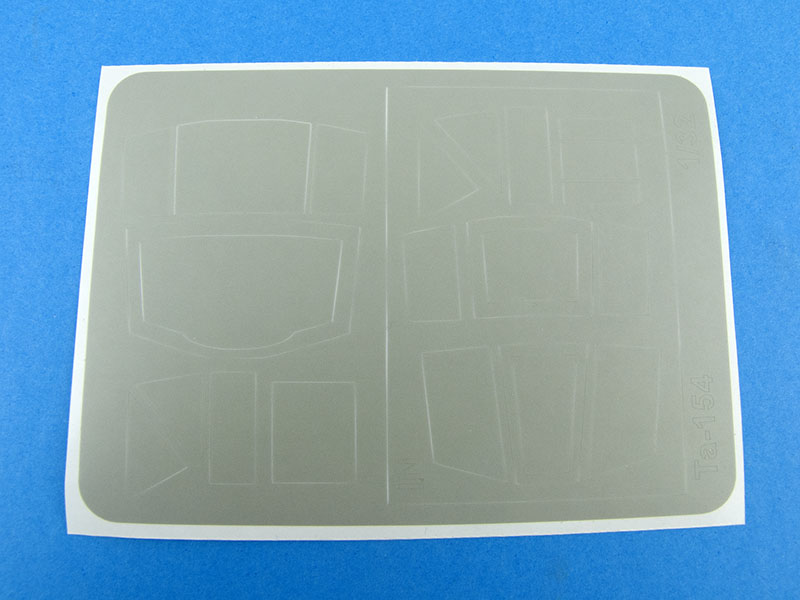 Seat Belts
A set of custom laser-cut seat belts has been provided by HGW, which is a very nice touch. It would have been easy for HpH to simply add seat belt parts to one of the photo-etched frets, but these laser-cut textile harnesses provide a much better result, and HpH is to be congratulated for their inclusion.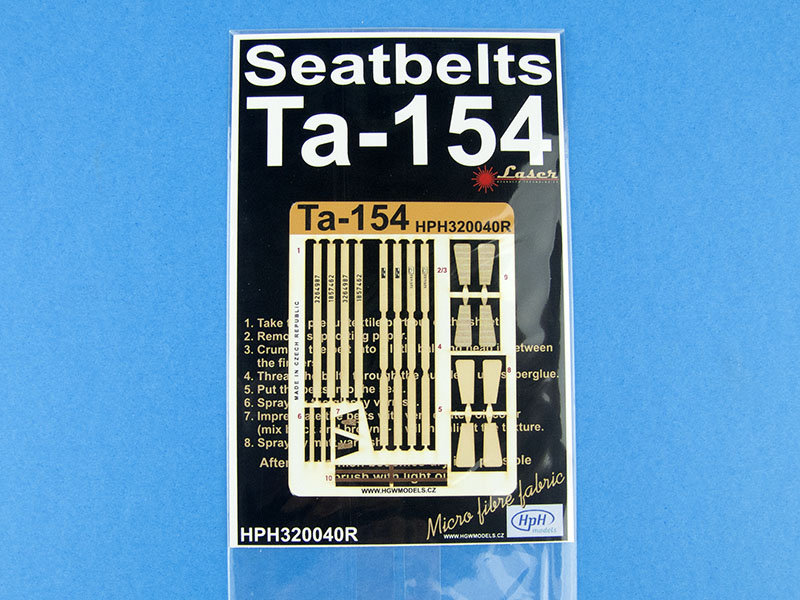 The photo-etched buckles for these seat belts are provided on the photo-etched fret (see above).
Nose Weight
Since this is the first kit from HpH that I've encountered with a tricycle undercarriage configuration, I've not been aware that the company provides the following item with all such kits: a solid cast metal nose weight: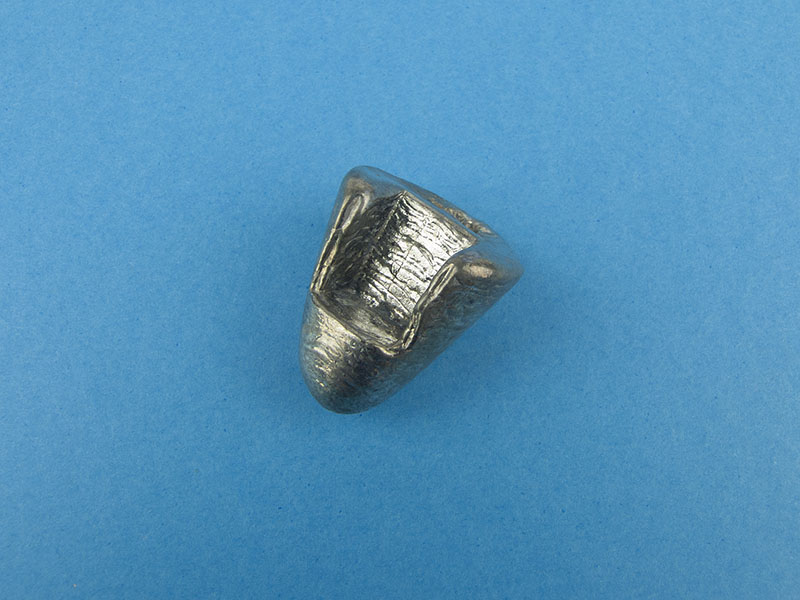 This is a thoughtful and most welcome addition, as the Ta 154 is almost the ultimate tail-sitter.
Turned Brass Components
In keeping with HpH's traditional approach of providing a variety of multi-media components, a small resealable bag of turned brass pieces is included. These encompass the fuselage gun barrels, and the radar antenna array. There's no indication of their provenance, but they appear to be very nicely done indeed. And providing the delicate radar assemblies in brass is a great choice by HpH, as it will not only provide superior strength, but also a better scale appearance.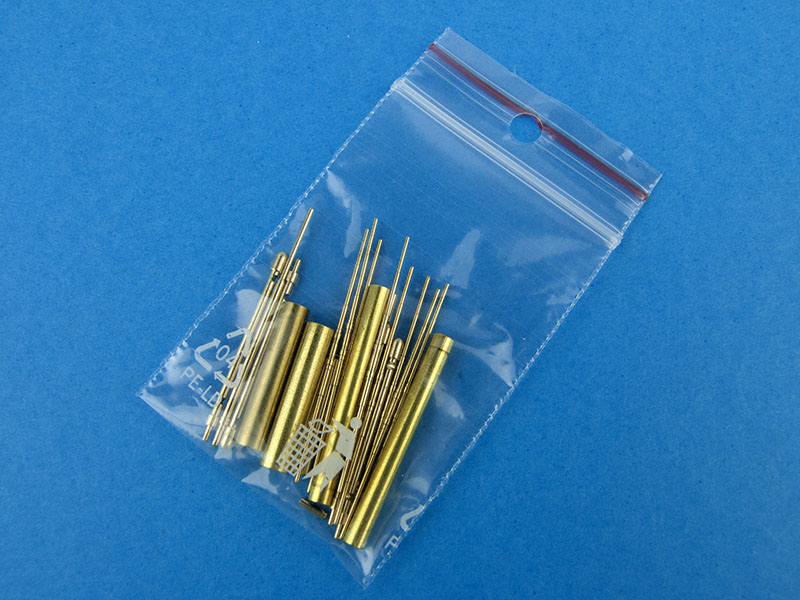 Decals and Markings
HpH has extended its partnership with HGW for the decals in this kit, which are now provided using the latter company's 'wet transfer' technology. With this approach, the carrier film is over the printed artwork, rather than under it. The decals are applied normally like traditional waterslide transfers, and once dry, the carrier film is carefully peeled off the model, leaving what in effect looks like a dry transfer. HpH has posted on its website a useful tutorial on working with these decals.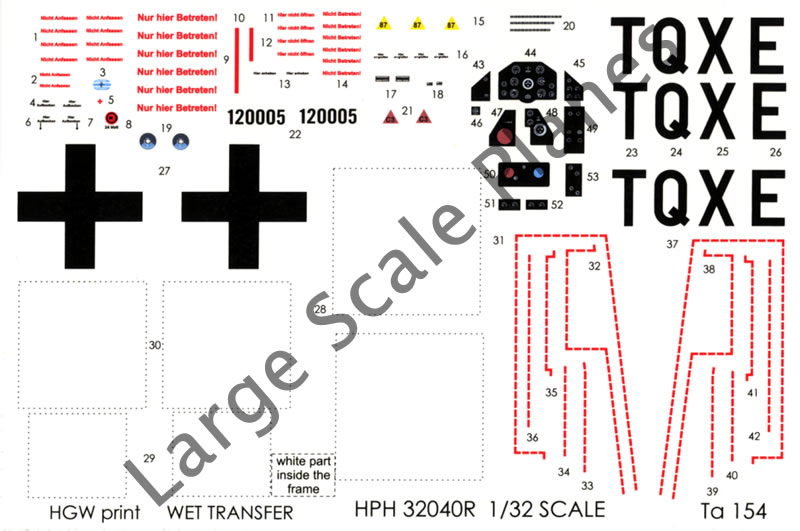 The seemingly blank areas surrounded by dashed squares are in fact the white balkenkreuz markings, which all but disappear against the white backing sheet.
Markings a provided for a single aircraft:
Ta 154A-0 (TX+QE), production No. W.Nr. 120005, 1944-45, Germany
Instructions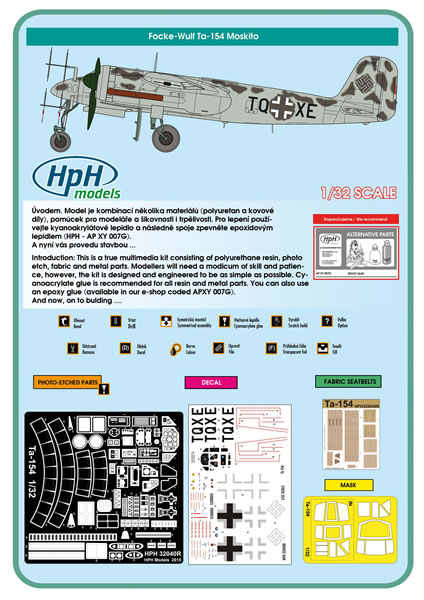 As noted earlier, the instructions are provided in digital format for reading and printing from your computer. They are comprised of 35 pages rendered as individual JPEG images, and put the efforts of some mainstream manufacturers to shame. The assembly sequence is shown using a combination of photographs of the actual kit parts, and diagrams. Each sequence is extensively labelled and annotated, with warnings, hints and tips aplenty.
---
This instruction booklet has been very thoughtfully produced, and is a real testament to the approach HpH takes with its kits.
Conclusion
While it's true that, by its very nature, this kit will be a challenging build, HpH has done everything possible to ensure that it's as straightforward and trouble-free as possible. Sure, it's an expensive kit, but if you want it and can afford it, the combination of top-shelf resin parts and best-of-breed accessories makes it a must in my opinion.
I couldn't (and wouldn't) recommend this kit to a beginning modeller, but for everyone else, and especially those who desire a 1/32 scale Ta 154, it gets my hearty recommendation.
© Kevin Futter 2015
This review was published on Sunday, December 06 2015; Last modified on Wednesday, December 09 2015