HpH Models | HPH32002R: 1/32 Aero L-29 Delfin
Reviewed by Iain Ogilvie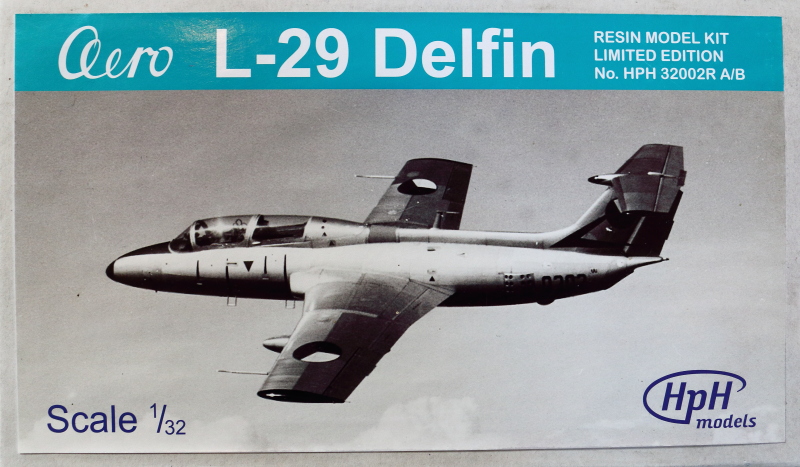 One of HpH's first 1:32 scale kit releases the L-29 Delfin has been available for a few years now, but is well up to the high standards of moulding and detail we have become accustomed to with their more recent releases.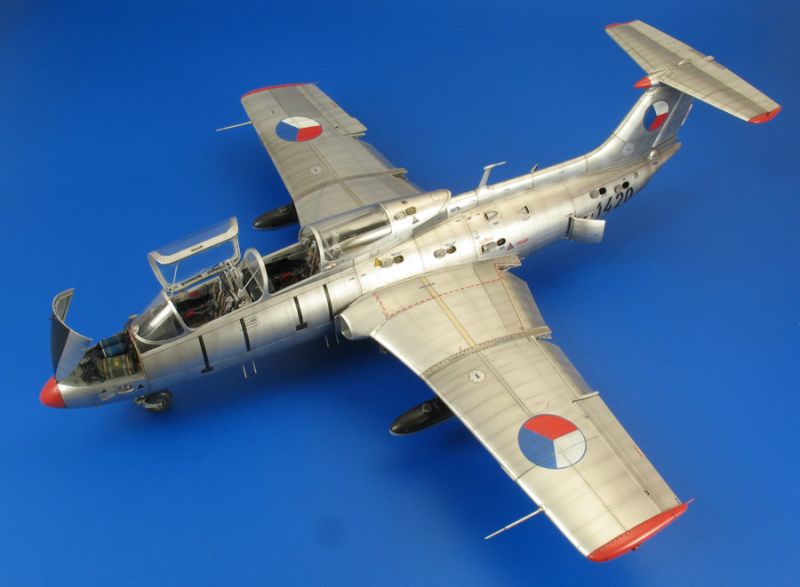 The above image is from the HpH website and shows one of these kits made up. Speaks for itself really!
In addition, Mirek posted a build thread, which will be of interest to anyone who's tempted to build a Delfin.
I purchased this one a few years ago at the IPMS(UK) Scale Modelworld show at Telford - and was just a little blown away by some of the details provided. HpH make full size gliders (sailplanes) as well as their range of models - and it shows.
The small box is packed to the brim with parts. Being one of their earlier kits instructions are provided as a printed booklet rather than on a CD, but more on that later.
---
Fuselage
The two largest mouldings in the kit - neatly packaged on each side of the box. The castings will require a little clean up (nothing onerous) but the surface detail is absolutely exquisite and will look gorgeous under a few coats of Alclad!
---
Wings and Tailplane
These parts will require a little more clean up and are, at least on mine, moulded in a natural coloured resin, rather than the grey of the fuselage halves. Again - surface detail is astounding, probably the best I've seen in 1:32.
---
General Parts
What can I say about these, other than there are a huge number of detail parts in this kit and the quality is superb. I really think you'd be hard pressed to think of anything to add that isn't in the kit, but I'm sure the fastidious could find something!
Components are all neatly bagged and feature a mix of parts on backing films of resin, as well as those on the more normal individual pour stubs. Clean up should be straightforward, if needing longer than an injection moulded kit.
---
Canopy
As with other HpH kits the clear components are supplied as clear resin castings. As other reviewers here have done in the past - you can't beat a quick clarity test - and these pass muster! Typical of HpH attention to detail some of the clear parts are also pre-coloured. All very neat!
---
Nose Weight and Masks
Buried away in the box are simple nose weights that will take the stress out of an C of G concerns and the kit includes a nice set of pre-cut masks for the canopy.
---
Decals
There are a few differing boxings of this kit - the one reviewed her features decals for a Russian and a Slovak example. They are cleanly printed and include all necessary stencil data. Excellent!
---
Photo Etch
Courtesy of Eduard, these kits include some very nice pre-coloured etched frets for cockpits, seats etc., yet again illustrating just how complete HpH offerings are.
---
Instructions and Decal Placement
Did I just say complete? Well, another example is the superb instructions that would put most injection moulded manufacturers to shame. Clear and concise they appear to provide everything you'll need to know to assemble your Delfin - including any additional pipework.
Stencil placement details are clear and you even get a drawing illustrating the differing metal finishes applicable to a natural metal airframe. All really helpful stuff!
---
Conclusion
Whilst not cheap, I do believe the HpH range of resin kits represent good value because they are such complete packages. Add to that subjects that are off the main-stream beaten track combined with the hand made nature of these products and you really are getting something special. Given the importance of the type as an eastern block trainer during the Cold War and it's great to see a kit of the subject in my favourite scale!
For further information please visit the HpH website. Not sure if the two-seater featured here is currently available, but the single-seater appears to be.
Yes, HpH models aren't cheap, but boy are they a complete package!
Recommended!
Review courtesy of my wallet.
Iain
© Iain Ogilvie 2015
This review was published on Tuesday, December 08 2015; Last modified on Sunday, December 27 2015