Kitty Hawk Model | KH32016: 1/32 Vought OS2U 'Kingfisher'
Reviewed by James Hatch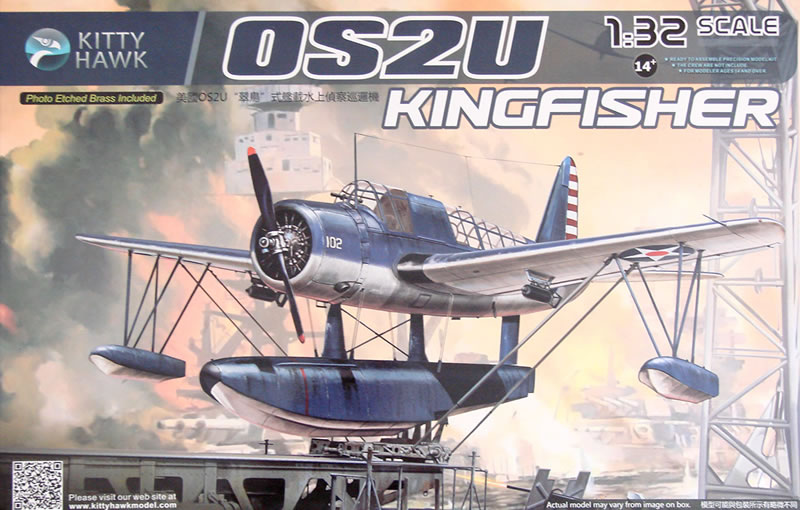 The Vought OS2U Kingfisher was an observation floatplane that first flew in 1938. It was designed to be catapult-launched, but could also operate using fixed or wheeled landing gear, and was generally considered to be underpowered despite it being the primary shipboard observation aircraft of the USN. Power was supplied by a single 450hp Pratt & Whitney R-985-AN-2 radial engine. Designed by Rec Beisel, the Kingfisher was the first ever aircraft to be assembled using the new spot-welding technique that was designed to reduce airframe drag due to the resultant smooth surface. The airframe was designed with a number of unique and unusual lift creating features such as spoilers and drooped ailerons, assisting the relatively slow take off speed of this type of aircraft. Defensive armament was provided by the installation of two .30 calibre machine guns. One of these was installed on a flexible mount in the rear cockpit, and the other was fixed and forward firing. Bombs and depth charges could also be carried underneath the wings. The type gradually began to be phased out towards the end of WW2, with them last seeing service in Cuba in 1959. When production stopped, over 1500 of all variants had been built.
Kitty Hawk's new release is packed into the same size box as the P-39 and F-86K releases, with a super glossy lid with an artwork depicting a Kingfisher on a catapult, with some serious warfare going on around it…Japanese fighters attacking the carrier, and plumes of smoke with reddened skies. I quite like the style of art that Kitty use on their boxes. I'm a recent newcomer to the brand, with me owning the P-39, and recently reviewing the F-86K. The box art is bold, attractive and engaging. There are a whopping SIX schemes from which to choose, with one of these being a machine without floats. As this is still shown as assigned to a battleship, I'd sure like to see photos of this one fitted with a standard undercarriage. Anyway, I digress. There are FIVE light grey sprues in this kit, each packaged separately in a clear bag. A very nice touch is the cardboard box that protects the clear sprue from any damage. In the bottom of the box lies a large decal sheet with a second, smaller supplementary sheet, plus a small PE fret and the instruction manual.
SPRUE A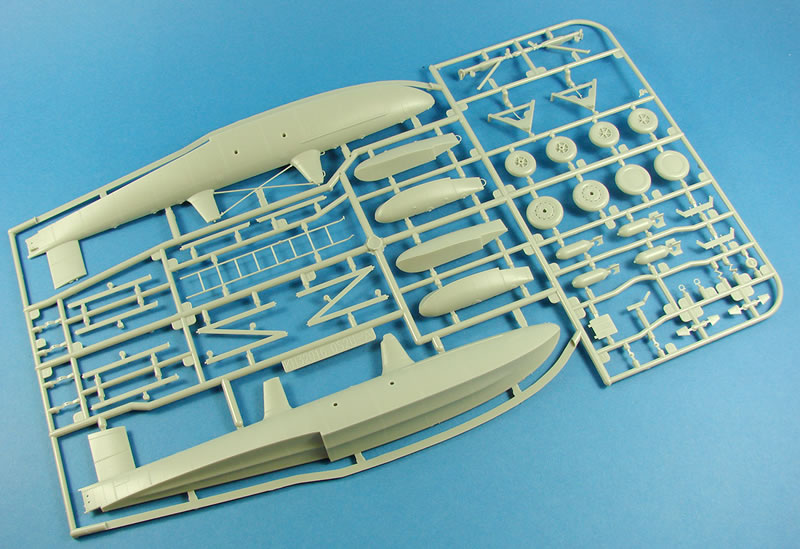 If there was ever any question of this aircraft's role, then seeing the huge main float here will immediately put you right. This is split into traditional halves, with the bracing struts integrally moulded to the flat attachment. Be real careful here as the sprue connects to this fragile detail. I would use a razor saw and immediately sever that connection to prevent possible damage from the sprue flexing. Surface detail is very restrained with finely engraved panel lines and also riveting. Riveting, I hear you say? Well, I'm not too sure if these represent rivets or small indents that can result from high current spot welding. I don't know in honesty, but I do know that Kitty have created a nicely subtle surface rendition. This level of finesse extends to the two outrigger floats which provide some stability on take-off/landing.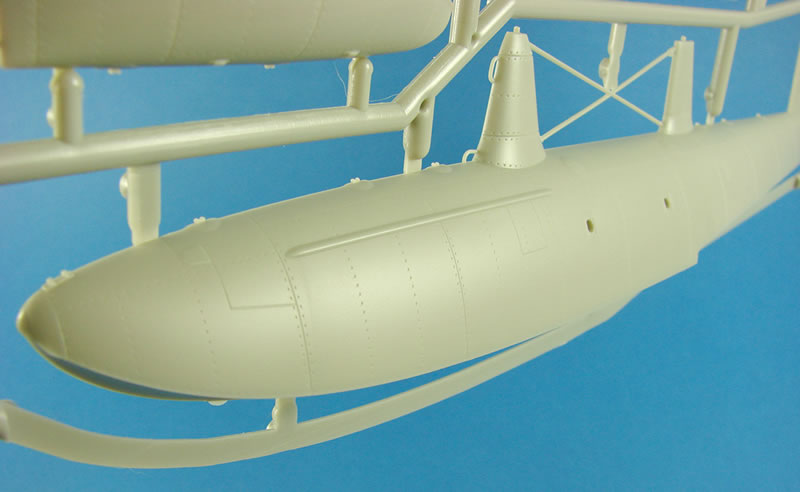 Notice two sets of wheels on this sprue? One of these is for the standard undercarriage and the others are to be fitted to the centreline float for ground taxiing. These are fitted to two frames that clip to the float, and they also have what appears to be brakelines. Wheel detail looks quite basic, but I think this is through necessity. Each set is also weighted. Aiding alignment of the standard undercarriage, the axle hole has a flat side. After all, it's embarrassing to have a flat on top of the wheel! Been there, done that and brought out the razor saw to fix.
Other parts on this sprue are the various float struts, fixed undercarriage legs, boarding ladder, oleo struts, bombs, carriers and sway braces.
---
SPRUE B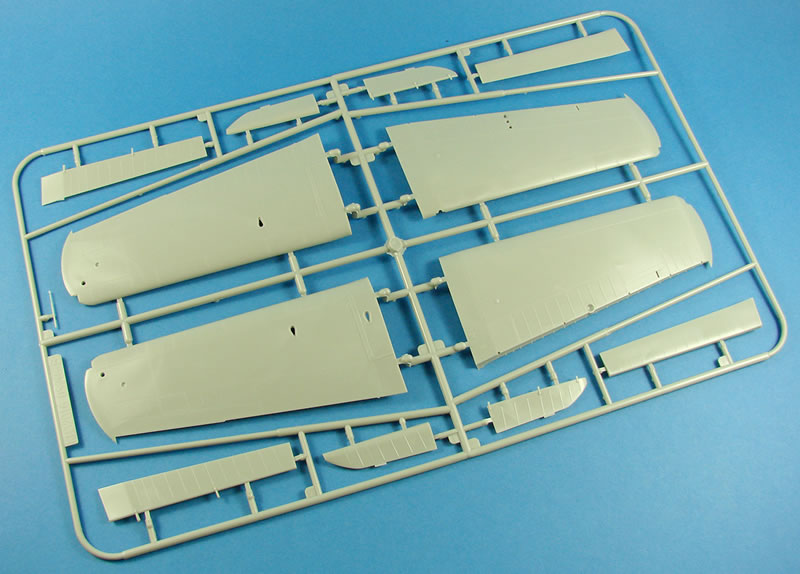 This sprue concerns itself solely with the wings and their separate control surfaces. There are only a few rivet lines here, running along the outer edge of what appears to be a main single upper wing skin, plus some on the inboard wing area, presumably where the internals required a stronger mechanical connection where they meet the fuselage. Definition is very good, and they are fine enough to hold a wash maybe, but without looking like divots. Leading edge plating is also riveted, but the rear of the wing panels is ribbed to represent the fabric here. No sagging at all, and the ribs dive away towards each end. The same representation extends to the ailerons and landing flaps that are moulded as upper and lower parts.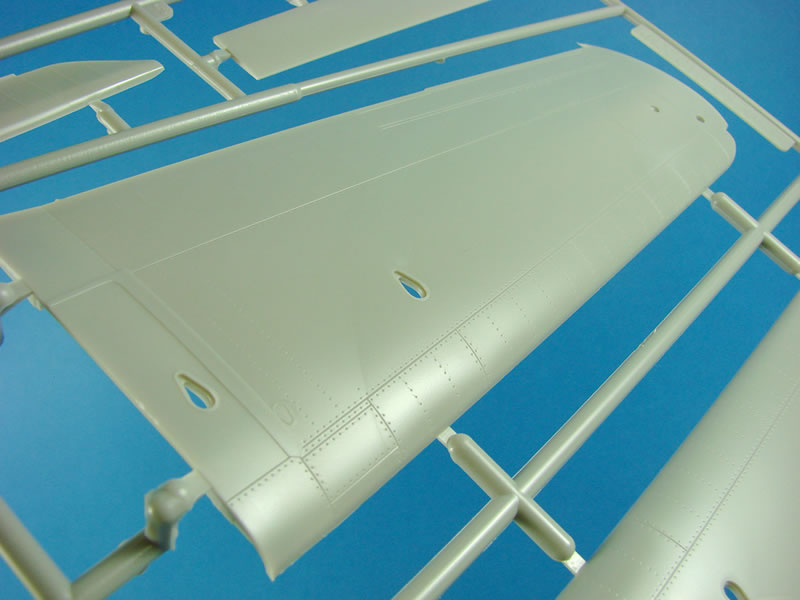 Other wing surface detail includes recessed and open locations for the wing top lights, and other various places for a multitude of other clear parts. I have to say that the rear wing edge has some beautifully fine rib detail where they force up into the fabric covering. Also of note is that the wings don't have any tabs to connect them to the fuselage. Kitty Hawk has moulded these as separate parts that fit within the wing halves and protrude. My only thinking here is that the slightly angled wing root area didn't easily allow for this to be integrally moulded. Still, it looks a perfectly workable solution. Depending on if you'll fit bombs, or the floats for the sea version, you will need to open up the correct holes from the outset. The instructions don't make this very clear, so be prepared.
---
SPRUE C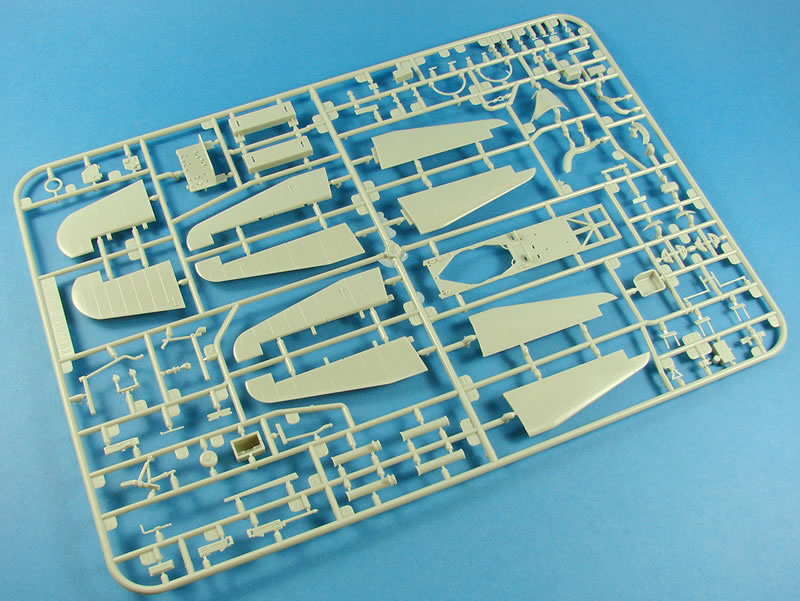 The last control surfaces are moulded here, including the separate rudder. All are traditional upper and lower parts, with the same rib detail as we saw on the ailerons and landing flaps. Elevator trim tabs are moulded in situ with their actuators. Stabiliser detail is commensurate with that seen on the wings and main float, with finely engraved panel lines and subtle riveting. With my limited experience of Kitty Hawk kits, I have to say that I very much like how they depict their panel lines, access ports and riveting. For me, beautifully balanced and attractive in execution. Another large part is the rear internal decking for the gunner/observer position. A small number of ejection pin stubs exist on the lower side, but will still of course need removal and clean up.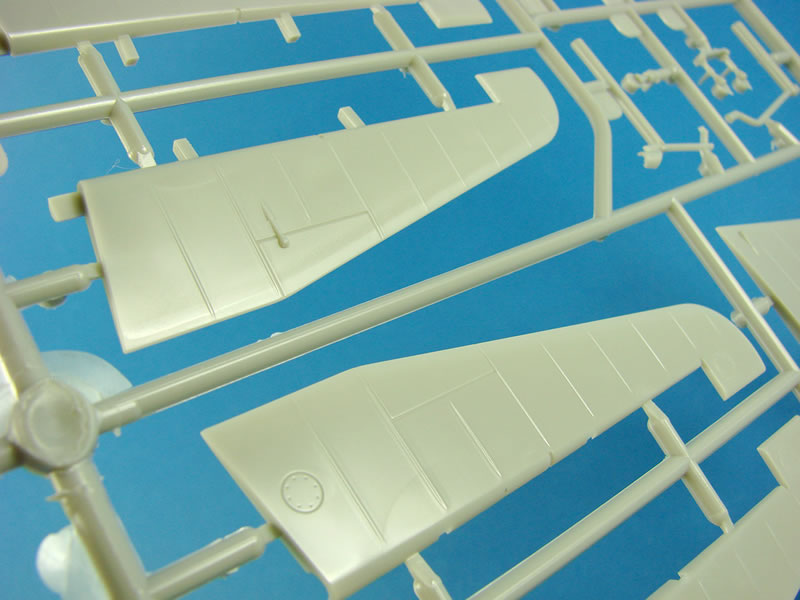 This is a pretty busy sprue, and despite there only being five grey sprues included in this kit, don't think that you'll be sold short on parts count. Whilst I don't have an overall figure (and NO I'm not going to count them!), a couple of sprues in this kit are absolutely chock full of parts with almost every conceivable space containing a multitude of parts. You can pretty much say that his sprue is the main detail sprue, but its not alone in high parts count.
On this sprue, you will find instrumentation, avionics, instrument panel coaming, avionics carriage/tray support, levers, as well as a host of parts that go into the assembly of the rear gunner seat. This in itself is a mini project, and this is supported with some rather nice photo etch. The gun itself is also moulded here as a multipart item. I would have thought this would've looked a little bigger, but it does look proportioned, and I will put this down to my lack of knowledge on the subject.
Note that Kitty has also included the tail wheel and fork here. A section of exhaust is also to be seen, with both ends of the tube having a separate part to aid the hollow representation required on these broad orifices.
---
SPRUE D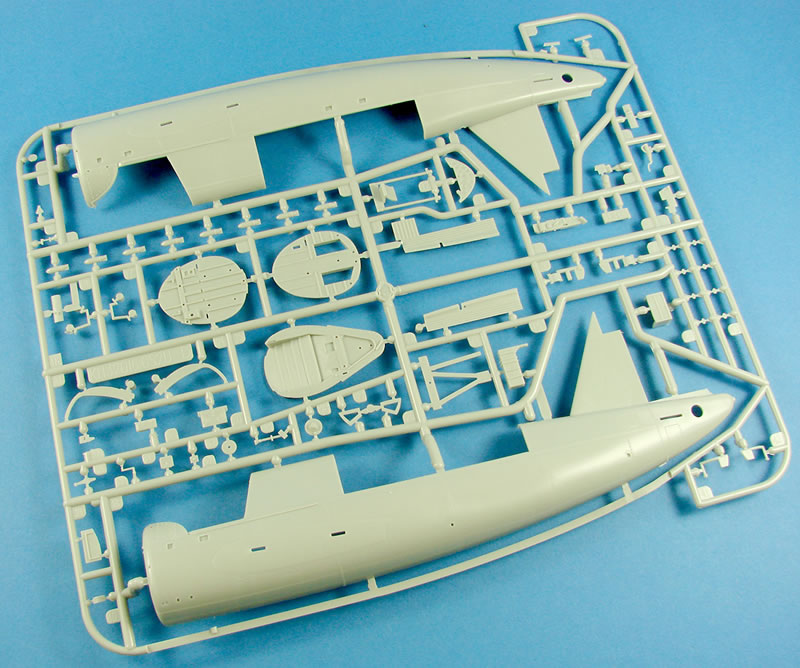 Aha! The fuselage halves are now up for a visual. As the kit is designed with a full engine, the fuselage is moulded sans cowls. Also the rudder is moulded separately, as we saw on a previous sprue. Now, along with the subtle panel lines we are now used to, and rivet lines that only accompany the panel joint areas, the void in between them is just that…a void. Kitty have correctly shown that this aircraft was spot welded, by simply leaving these panels bare. It'll feel off not having to go to town and start my own riveting on this one, but that's nature. Check out those wing root areas with the raised plate and neat rivets around the circumference. One thing I note on my sample is that the underside of the fuse has a mould seam that actually has a slight raised edge. No biggie as it can be removed with a sanding stick in under a minute.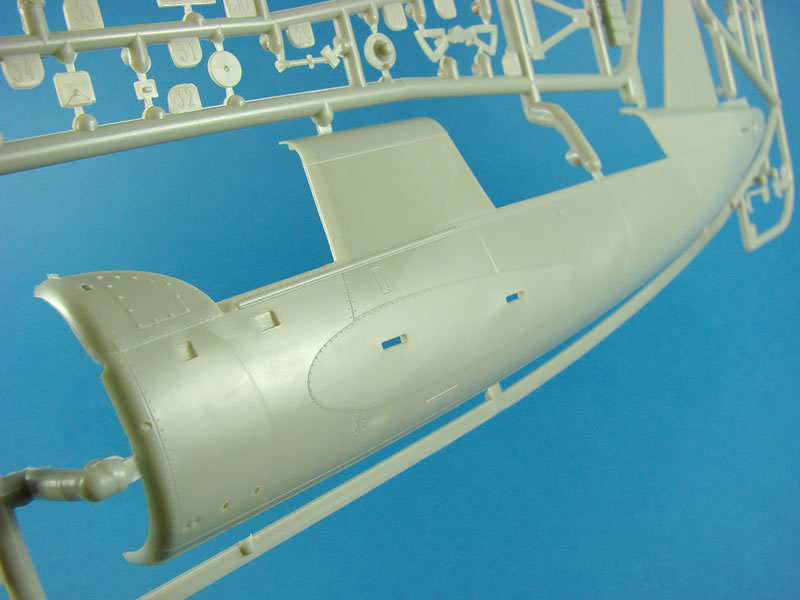 Internally, the fuselage is resplendent with detail, including former detail and numerous locations for the internals to either connect or slot. There are a number of elector pin marks in here, but quick inspection shows that they are deep in the fuse, and/or hidden by extra details. Not all, but most. A small number will need a little attention. Certainly nothing to worry about. Note that if you do plan to do the wheeled version, you will need to cut away the plastic that webs over the tail wheel bay. On these main parts, the sprue gate connector is moulded to the joining face, and not on the surface. I prefer this approach as I find it easier to level the joint edge than to shape the external plastic with a sanding stick. Depending on which version you'll build, there are some holes that will want uncovering too.
Look around here and you'll find several bulkheads and frames too, with any pin marks carefully relegated to the invisible faces of these. Detail is sharp and locating holes are well-defined. More internal parts too, such as foot boards, instrument panel (with blank instrument faces), consoles, avionics, throttle quadrant, stowage lockers etc. I also see a run of what look like incendiary bombs, but can't see them on the instructions at this point.
---
SPRUE E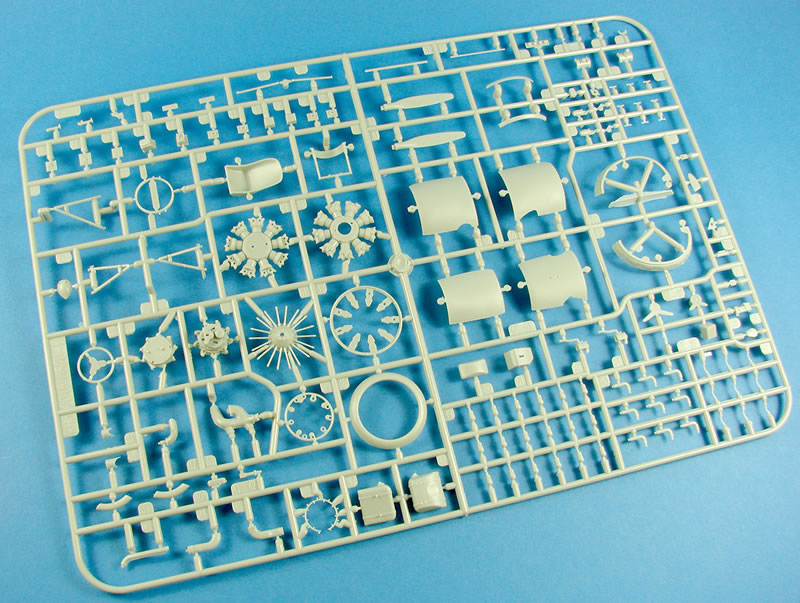 The last grey sprue, and apart from the readily recognisable engine parts, this one is a mixed bag of components from various areas of the airframe. Firstly though, that engine. This is actually the first thing up for construction and contains almost 30 parts. The single radial bank is moulded as front and rear halves and is then supplemented by a whole array of parts to both front and rear of this, making up a fully detailed engine that can be displayed without any cowls. Even the prop and hub is broken down into a further eight parts and the hub detail alone makes it worth the engineering investment worthwhile. The whole kit looks like a builder's building project, through and through. I know it can be a put off for some, but as long as the engineering is sensible, I really don't mind a high parts count. Engine detail is excellent with refined cooling fin detail etc.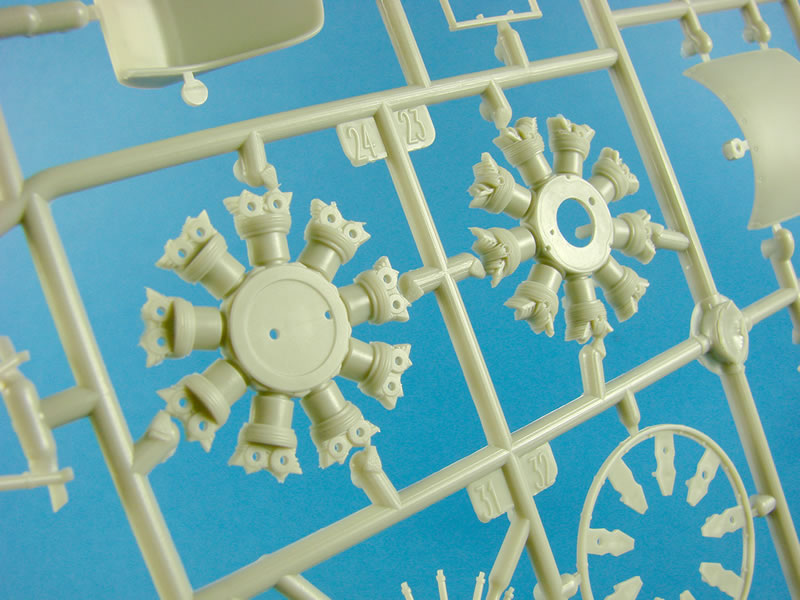 Cowl parts are to be found here too, although there is no moulded detail on the interior of them, so be careful how you pose them if you want to show them removed. Radiator flaps are moulded in the open position.
Note that the pilot seat is moulded here, as are a number of internal ancillary parts including the oil tank. Yet more internal parts for the crew area too, such as the framework for the gunner's station.
---
SPRUE GP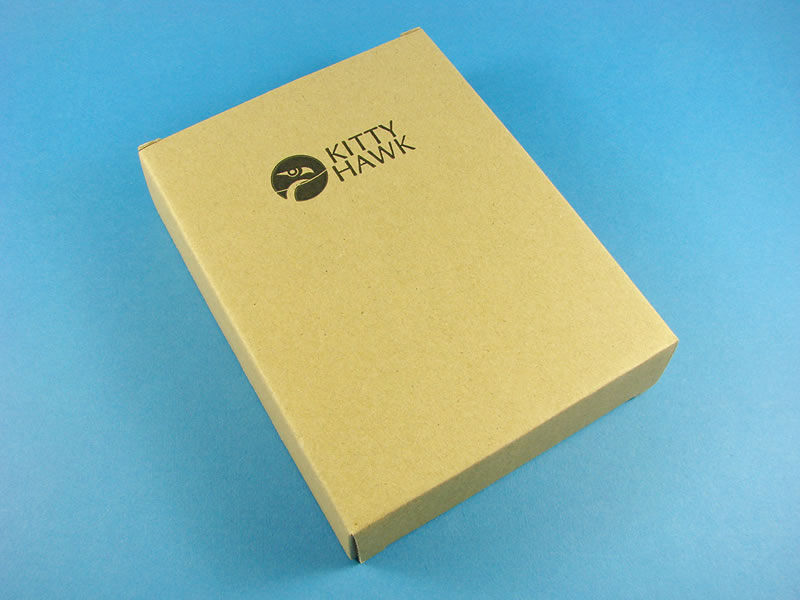 A whopping TWENTY parts are moulded here on a sprue that has a very good level of clarity. A little distortion can be seen through the upper windshield panel, but this shouldn't be too noticeable when everything is in situ. There are a few very low level abrasions evident too, but these will disappear under a polishing stick or some Klear. Frame lines are nicely defined and should be easy to mask up against. The canopy is a five-part affair and the remaining 15 parts are the numerous lights that fit the wing and fuse spine.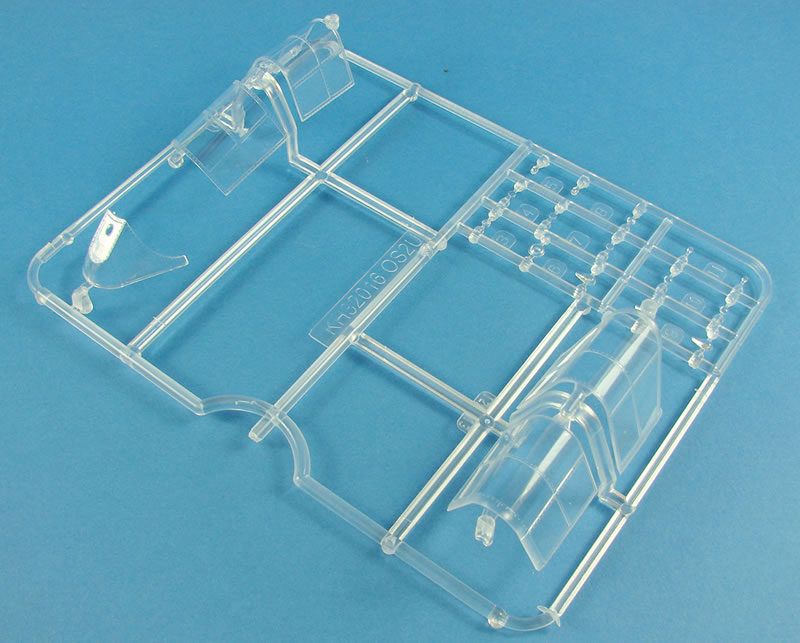 Plastic Summary
Moulding quality is very high, with no flaws (except for the fuse mould seam line) to be seen. There are a number of raised ejection pin 'towers' that will need snipping off, especially on the engine sprue. I can't see evidence of sink marks, short shots or any other issue with my sample. Seam lines are very slight, and flash is a rare sight.
Photo Etch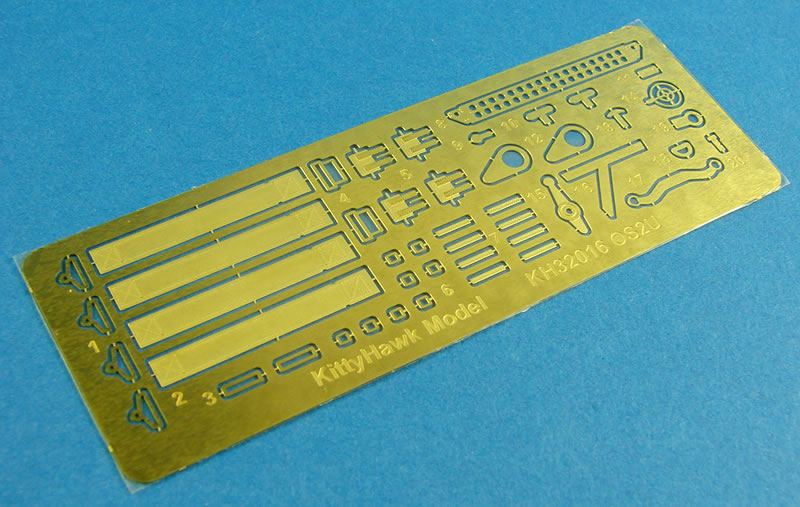 One small fret is included that contains parts for the pilot seatbelt (straps and separate buckles), gunner lap belt, flexible gun mount, cockpit levers etc. There are almost 50 parts on this small fret, and all superbly etched, with tiny connecting points that will be dead easy to cut through.
Decals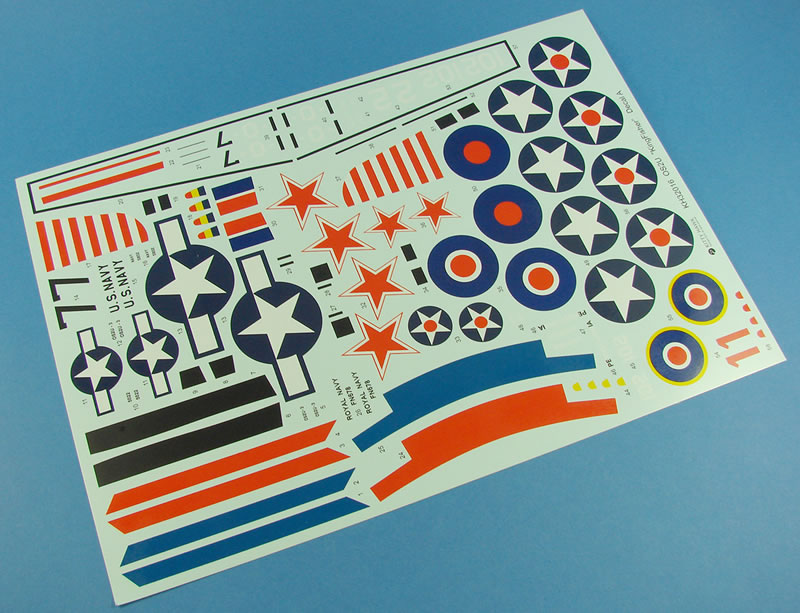 The largest sheet here contains not only the main national markings, serials and codes for the various machines. There isn't really anything in the way of stencils, but there are numerous coloured bands and walkway lines. I can't vouch for the red colours on the various main markings. The Russian red stars look a little bright and the red portions of the roundels look the same. They are the same tone as the bars on the tail fin of the US machine, so may have been used to cut print costs. I don't know. The red looks little 'orangey' to me too. A smaller sheet contains some emblem decals and also decals for the instrument panels and consoles. I would perhaps prefer to use individual Airscale decals instead of the one-piece instrument panel pieces, but your mileage may vary.
Printing quality is actually very good as the decals are nice and thin, and have minimal carrier film. Everything looks in register too.
---
The SIX schemes in this release are:
OS2U-3, Naval Air Station Corpus, 1942
OS2U, VO-1 aboard USS Arizona (BB39), 1941
OS2U, VO-1 aboard USS Pennsylvania (BB38), 1940
OS2U-3, Soviet Union, based on ex-Italian light cruiser Milwaukee, 1944
OS2U-3, US Navy, 1941
OS2U, FN768, served in No.765 Sqn, Royal Navy, Sandbanks, 1943
---
Instructions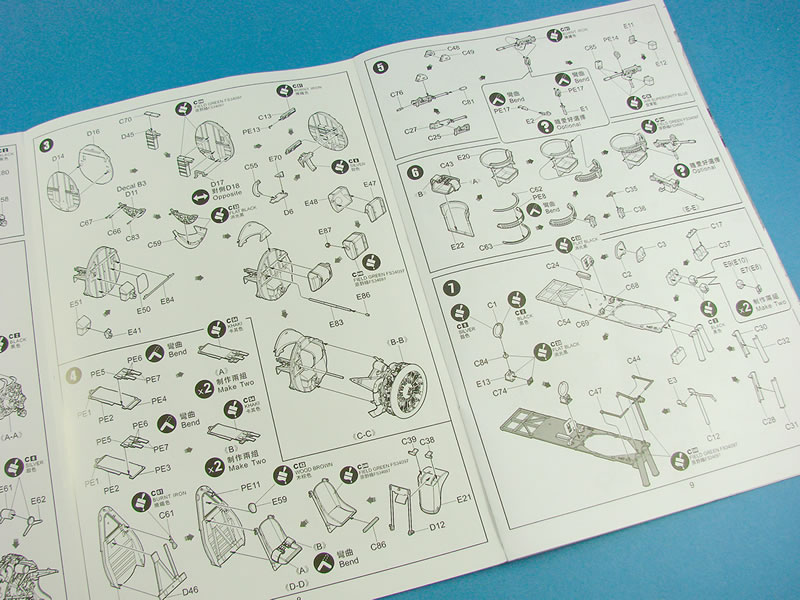 I quite like this attractive style of booklet with its glossy cover and full colour, glossy colour scheme fold-out sheets. Sequence illustration is in black and white line drawing format. Some colour reference is supplied during construction and appear to be in GSI Creos/Mr Hobby format. Nothing here should be difficult to follow.
Conclusion
After seeing the P-39 and F-86K, I really am becoming a fan of Kitty Hawk model kits, and this release only reinforces my initial thoughts. I have still yet to build and complete a KH kit, but I have taped together the F-86K and tested overall fit with no problem, and as you can see from my taped images here, this seems to be a trouble free pursuit also. Detail levels are exactly what I'm looking for personally, and I imagine that there is enough included out of box to satisfy the majority of modellers. No doubt there will be a suite of aftermarket available for this pretty soon, but whatever is released, it will only serve to make an already superb kit, a really outstanding one. I also have to give some serious kudos to Kitty Hawk for being bold enough to release this particular kit in this scale.
VERY highly recommended.
My sincere thanks to Kitty Hawk Model for this review sample.
© James Hatch 2015
This review was published on Friday, December 11 2015; Last modified on Saturday, February 27 2016