Aviattic | WWI "Marienfelde" German Lorry (Daimler 4-5d LKW truck)
Reviewed by Mike Swinburne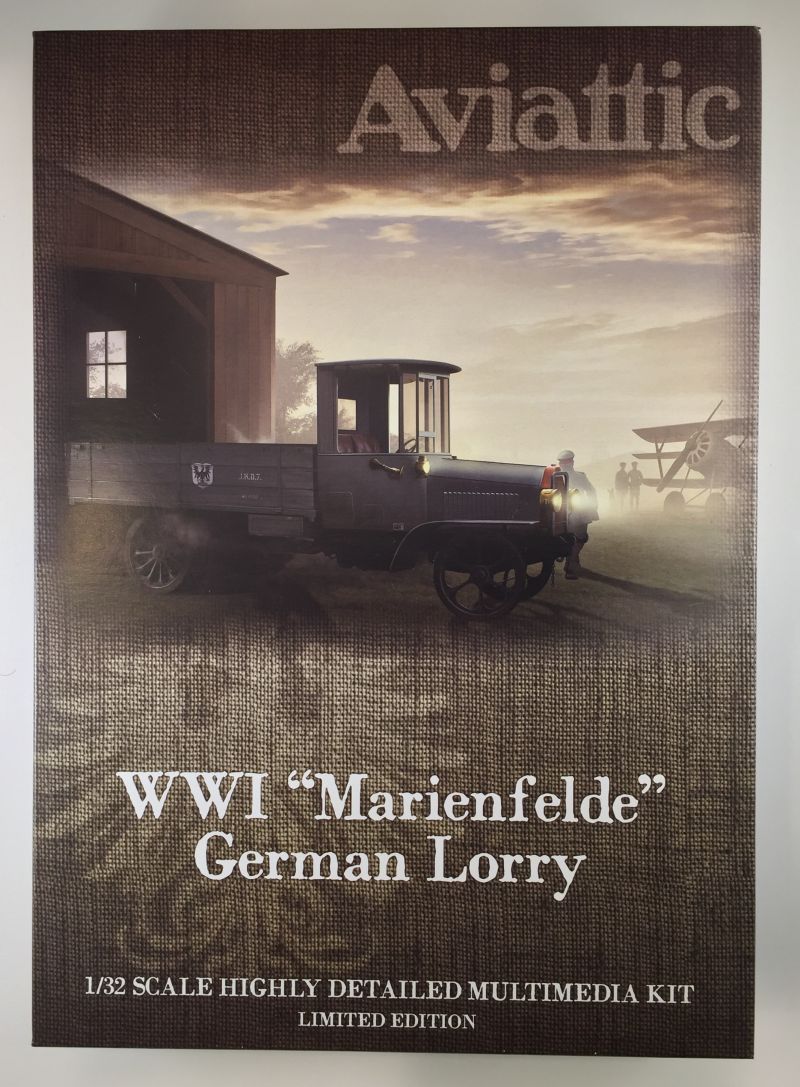 The latest and most elaborate release to date from Aviattic is not an aircraft but rather a 1/32 scale 1917 Daimler-built 4-5d LKW (4000-5000kg) "Marienfelde" lorry. You may be thinking "A truck on Large Scale Planes??" and while your point would normally be a very valid one, there are many opportunities to feature this kit in dioramas and other displays, in "our" scale rather than "ground targets" scale. Marienfelde trucks were workhorse with the Germans in the First World War as well as seeing some use as late as the Second World War as mobile workshops. Multiple photos exist showing aircraft being transported on these lorries and towed behind, so if you can't decide how to display you Wingnut Wings or Roden kit, this may be the answer for you.
First Impressions
I was surprised by the size of the box when my example arrived - it's about the same size as a Roden WWI kit, not too much smaller than Wingnut Wings single-seater boxes. The box features art by Ron Cole integrated into a canvas-looking background. The bulk of the kit is cast in resin and additional details are provided with a photo-etch sheet, metal chain, acetate windows, foil, and various sizes of brass and aluminum rod. Parts are carefully packed in a multitude of zip-lock bags, sandwiched between a zig-zagging length of bubble wrap which completely fills the kit box. The large pieces (chassis, truck bed, and wooden bed sides) are all taped onto pieces of foam board to minimize warping. This kit is modelled with the bonnet closed and the botth of the engine sump visible underneath; what is referred to as a "curbside" model in auto-modelling world.
Detail on the resin components is superb and crisply-cast, with the transmission, rear suspension and engine sump all cast with the chassis. There are hints that throughout the kit that components were 3D-printed, though nothing that a coat of Mr. Surfacer or similar primer won't hide. My chassis and truck bed pieces have very light warping despite the best efforts in packing, a hair dryer and/or hot water should be more than enough to correct this. Flash on the large pieces is very minimal, I chose to remove most of what flash was present on the larger pieces before photographing for this review.
---
If you appreciate the quality of a Wingnut Wings instruction manual, then you will also love this one. The manual is printed on similar glossy thick paper has the look of an old leather-bound book with very large, clear, and simple to follow CAD drawings. Various photos are included throughout as well as a colour chart and profiles for two marking options. These options are for an Imperial German Army lorry sometime in 1917-1918, and a Freikorps vehicle in 1919 with skull and crossbones on the side.
---
Smaller Parts and Details
The Marienfelde kit comprises of nearly 50 resin pieces, 27 photo-etch, 7 clear acetate, plus the aforementioned chain and various metal rods and foil. My example of the kit has a few backup pieces for more brittle parts like the handbrake, and this is a welcome addition for a builder as clumsy as myself. The resin muffler and petrol tank have lines in them reminiscent of 3d-printing; you'll want to use a product like Mr. Surfacer to blend these in (or scratchbuild your own) as these lines, while faint, will likely show under a simple coat of paint. Aside from normal and expected portions of flash here and there on other pieces, the other resin pieces look superb.
Photo-etch pieces include the radiator grille, Daimler emblem, tie-downs and latches for the sides of the truck bed, and the front fenders. To my eye, everything looks good here. You will need to bend the fenders to the desired curve before attaching to the model. You may even want to take the opportunity to create some dents in these pieces to add realism to a battle-weary warhorse. A thin aluminum pip is among the metal parts included and this is destined to be cut into two pieces and bent/curved to represent the exhaust system. From experience, hollow rods will kink if bent sometimes, so you may want to consider inserting solder to help hold the internal shape before curving the exhaust. Fine metal chains hold up "sprags" which look to be something amounting to a claw brake to me. A piece of copper foil is included if you wish to have roll-up curtains in the lorry side windows. Rounding out the included pieces is a clear acetate sheet with 5 windows and two circles (headlight lenses) printed on.
Driver
A driver figure is included, sculpted to be leaning over his right shoulder, looking out the window with one hand on the steering wheel. The figure appears expertly sculpted, with the fine details captured in the resin casting. Facial features look great and there is even texture to the beard. I found only one air bubble (on the driver's rear end - not exactly one that will be seen!), though my sample does have a mold seam on the back of the head and neck that will need careful removal.
---
The Marienfelde lorry can be purchased directly from Aviattic's website. This review sample is courtesy of my own wallet and if waiting for a review has kept you from ordering so far, I can confidently say that I feel the quality is well worth the investment. If you have some experience working with multimedia, then this kit should be a very easy build. Very highly recommended!
© Mike Swinburne 2016
This review was published on Saturday, January 09 2016; Last modified on Saturday, February 27 2016