AK Interactive | The Eagle Has Landed: Armour and Aircraft Dioramas by Aitor Azkue
Reviewed by Kevin Futter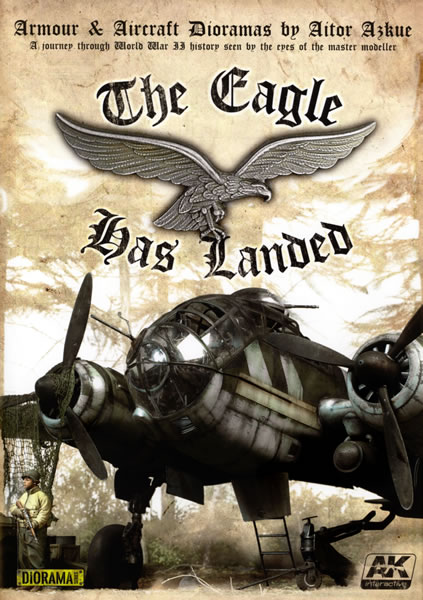 Spanish firm AK Interactive has, in a relatively short space of time, become quite well-known for its finishing and weathering products, of which it sports an extensive range. It also has a burgeoning selection of publications, and while many cater for armour and diorama builders, the company's latest title aims to be more inclusive of aircraft modellers.
The blurb on the company's product page summarises things nicely:
If there is one modeller that has distinguished himself over the last decade, due to his amazing dioramas, it is Aitor Azkue. This book shows off the very best of all of his work. With spectacular dioramas, more than 1800 images, step by step guides, and all of his tricks described in detail, there is no book quite like this. Inside the 292 pages of this essential book, there are 10 complete dioramas looked at in total detail.
What that blurb fails to make completely clear, however, is that eight out of the ten dioramas featured in the book are based around aircraft. And even better for our purposes is that they're all 1/32 scale models.
There's very little ancillary material, other than a foreword by the author, and a small Table of Contents below it. The one common thread running through all the dioramas, whether they feature aircraft or not, is that they're based around the German armed forces in WWII. The author himself notes that this his primary area of interest, but you certainly don't have to share that interest to get something out of this book. The techniques described within its pages, and the sheer inspiration derived from the dioramas themselves, are applicable to a wide range of modelling subjects and scenarios.
General Notes
A step-by-step approach, consisting of photos and captions, is taken to show how each of the major elements of each diorama is constructed. While mostly successful, there are a couple of minor problems. Firstly, the caption numbers that key the captions to their respective photos, are quite faintly rendered, and hard to read or even notice at times. Additionally, on left-hand pages, these numbers are often located to the right of the caption, and are buried in the spine of the book, exacerbating the issue.
The second issue is that the English translation is idiosyncratic in places, with some words and phrases not making immediate sense (for example, the extensive use of the word crystal to indicate canopies or panes of glass). While not insurmountable by any means, these two problems combine to make tracking through the step-by-step material less effortless than it could have been.
In the spirit of step-by-step exposition, many of the dioramas include special sequences that expound on a specific challenge, such as the one included here on constructing building facades:
Each chapter is rounded out with a photo gallery of the finished diorama, followed by a section entitled "Chapter Resources". This section features a combination of equipment colour profiles, and period photos with descriptions, depending on the nature of the diorama itself. It's meant to serve to reinforce the idea that research and planning are vital elements to a successful diorama, and referring to photographs of real scenes is essential to being able to replicate one that is convincing in miniature.
Let's take a brief look at each of the included dioramas:
Germany 1945
The book opens with a diorama depicting a devastated Berlin street scene in the closing stages of the war, wherein a small group of Wehrmacht soldiers and their vehicles, rallies itself for a final defense of their position. As with all the dioramas in the book, it contains a small description of the scene itself, and what the author was aiming to depict.
There are no aircraft in this one, but some amazing scratch-built buildings and environs. This is another hallmark of this book, with the author masterfully scratch-building almost all the non-vehicle elements in each diorama, and heavily modifying most of the kits and figures that are used. It's inspiring and intimidating in about equal measure.
Autobahn Stuttgart-Munchen 1945
This diorama is the first to feature an aircraft, and is built around Trumpeter's 1/32 Me 262A-1a kit. It depicts the machine as abandoned, parked amid the trees on the edge of a forest by an autobahn, and being inspected by Allied troops and their surrendered German captives.
Here, the author turns his hand to the effortless construction of amazingly convincing trees and groundwork, as well as the usual vehicles and figures. We are also shown how to replicate the trademark concrete surface of an autobahn.
The Trumpeter Me 262 is depicted fresh off the production line, unpainted except for national markings, with the nose guns and one engine exposed. While the author does walk through the basics of building and detailing this kit, it's worth noting that all the aircraft builds in this book are more about how to integrate aircraft into a diorama setting, rather than being extensive construction articles on the kits themselves.
Booby Trapped
The aircraft stakes are raised significantly in this diorama, which features an abandoned, bombed-out Luftwaffe hangar, in front of which sits Revell's Ju 88 and Dragon's Bf 110. This is a large diorama! Neither of these kits is simply built straight out of the box, either. The Revell kit is turned into a Ju 88G-6 using the AIMS conversion set, while the Dragon kit employs the set from Large Scale Conversions to turn it into a Bf 110G-4. Both feature an exposed engine and other modified elements. It's impressive stuff.
The non-vehicle diorama elements are handled with the same aplomb that we've already seen in the preceding chapters. Figures are an important part of most dioramas, and this one features no less than six. There are two special features in this chapter, one focussing on painting Verlinden's Luftwaffe auxiliary carts, and the other on using and modifying pre-printed bases for the concrete hardstand.
Hamburg 1945
This is the only other diorama in the book that doesn't feature any aircraft, but it does feature a scratch-built submarine section! As the name suggests, it depicts the British arriving to take control of Hamburg port at war's end. While none of the content in this chapter relates to LSP modellers specifically, it still contains some seriously impressive—and intimidating—modelling. In the special section, the author details how he scratch-built the submarine section.
Never Ending History 1945
We now return an aircraft-centric diorama, and this one goes all out, depicting a segment of a Luftwaffe junkyard at what appears to be the rear of a derelict building. It features no less than four 1/32 aircraft models, including a Ju 87G, an Fw 190D-9, and Fw 190A, and a Bf 109G-6, all from Hasegawa. The author is obviously fond of very large dioramas! Each model is augmented with engine sets and other details from Aires, Verlinden, and Voyager Model. The special section takes a detailed look at weathering aircraft for the junkyard look.
Norway 1943
This is the first diorama to not depict a very late-war scene, and is in fact the author's quite famous depiction of a He 111 that had crash-landed in a Norwegian river. The featured aircraft model is obviously Revell's He 111 kit, and it has been heavily modified to not only represent a crashed and damaged aircraft, but also the correct version for the scene itself. There are no buildings in this one, and the only other vehicle involved is a Cabriolet from Bronco. There is, however, a great deal of groundwork and scenery involved, with much of the chapter devoted to the creation of the river and surrounding environment—including a special section on creating a river with resin. The construction of the He 111 is shown in good detail, too, so there's definitely plenty to learn from in this chapter. The result is one of the most impressive and eye-catching dioramas you'll ever see.
Tempelhof 1945
Here we return to an urban environment, with a diorama that depicts preparations for a last-ditch defense of the Reich at Tempelhof airport. Once again we have a mix of aircraft, vehicles, buildings, and figures. The two aircraft models featured are Hasegawa's 1/32 Fw 190A-8 and Bf 109G-6 kits. Each model is heavily modified, with additional engine and other internal details. Equal space is given to each of the major elements in the diorama, including the vehicles, figures, and building structures. Something about this diorama didn't appeal to me as much as the others, but it's still undeniably impressive.
The Fallen of the Eagles
Continuing the theme of end-of-war Luftwaffe scenes, this diorama features a bombed-out hangar in Czechoslovakia, in 1945. A contingent of Luftwaffe personnel awaits the impending arrival of Allied forces, while keeping their aircraft company. These consist of Zoukei-Mura's massive He 219 kit, and Trumpeter's Me 262B. The Me 262 is depicted on its belly, wingless and forlorn, its wings stacked against a hangar wall. The big He 219 has lots of panels and hatches open, and an engine out for maintenance.
Only the construction of the hangar and Me 262 are dealt with in any detail, though the special section details how to highlight panel lines with pastels, using the He 219 as its subject. It's a fabulous diorama, with palpable atmosphere and presence, and probably my favourite in the book.
Tirstrup 1945
This diorama features the by-now familiar theme of Allied forces taking control of a Luftwaffe air base. This time, though, the featured aircraft is a Mistel, comprising Revell's Ju 88 and what appears to be Hasegawa's Fw 190A (the brand isn't mentioned). In keeping with the other dioramas in this book, hatches are open, and engines are exposed and detailed. The hangar is fully scratch-built, of course, and includes what appears to be a fully-equipped workshop. Wow.
Along with the hangar and its aircraft, there's also a pair of British soldiers arriving in a Dingo, and a damaged Opel Blitz. The entire scene is capped off with some exquisitely painted figures, and you can almost see the resignation on the faces of the Luftwaffe personnel. In terms of the construction photos, the focus is on detailing the aircraft, and includes a special section on dealing with pre-printed brickwork for some of the walls. It's another jaw-dropping diorama, from which there is much to be learned.
Winners and Losers
This is the diorama featured on the cover, and is very atmospheric. A pair of Allied soldiers guards an abandoned—but still fully-armed—Ju 188, while some refugees trudge past with their belongings. The Ju 188 is based on Revell's 1/32 Ju 88 kit, using the AIMS Ju 188 conversion. As a fully outdoor scene, the construction photos provide some detail into how the groundwork was created, with a special section on how to fashion both birch and pine trees. This kind of work is largely unfamiliar to aircraft modellers, and so this makes for a most welcome tutorial on bringing nature to your dioramas.
Most of the rest of this chapter is given over to showing the Ju 188 conversion process, along with building the crashed SDKFZ 253 that complements the scene. The result is full of latent drama, and makes for yet another impressive diorama.
Horton 229 (Wood Imitation)
This chapter isn't actually a diorama, but a tutorial about how the author replicated the wooden outer surfaces on his build of Zoukei-Mura's 1/32 Ho 229 kit. He also discusses how he achieved the weathered metal effects on and around the engine sections, one of which is exposed for effect. It's a really good read, and suffice it to say that I now know how to use my RB Productions wood grain template properly.
Author's Gallery
The final chapter of the book is also not a diorama, but a photo gallery of many of the author's works—some seen in this book, and others not. While they're all unsurprisingly impressive, this section feels a little like filler, and doesn't really add any real value, in my opinion. Still, its value as eye-candy is undeniable!
Sample Images
Here's a small selection of sample pages that I borrowed from the AK Interactive website:
---
Conclusion
This is a book of no small ambitions, and it is, for the most part, successful in achieving its goals. The dioramas are all amazing, no question. As mentioned earlier, some of the tutorial material is hindered by translation issues, as well as some less-than-optimal design and layout choices. On balance, though, the level mastery on show can't help but inspire all but the most jaded modeller, and with many of the diorama techniques shown being potentially new to aircraft modellers, it makes a great starting point for anyone wanting to start incorporating their aircraft models into a diorama setting.
And if that's you, I can highly recommend this book! And if it's not, I suspect reading this book may just change your mind; I know it has mine.
Thanks to AK Interactive for the review sample.
© Kevin Futter 2016
This review was published on Friday, January 15 2016; Last modified on Saturday, January 16 2016