Robin Koh | 1/32 de Havilland DHC-1 Chipmunk
Reviewed by Kevin Futter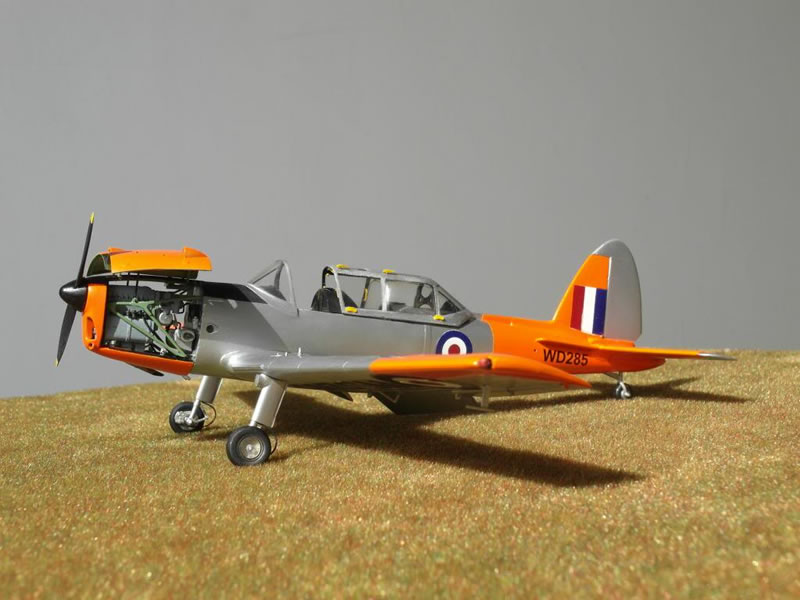 LSP member Robin Koh began scratch-building a 1/32 Chipmunk in the forums in August of 2014, announcing shortly after that he intended for it to serve as the master for a resin kit. Fast-forward to early 2016, and that kit is now a reality. Anyone who followed Robin's build thread will already have an idea of the level of detail involved, and what the built-up model will look like. Robin kindly sent me one of his first kits for review, so let's take a look at the final result in kit form.
As already noted, this is a resin kit, and being essentially a garage kit, contains no photo-etched or white metal parts. Let's take a look at what you get in the box:
8 resealable bags of assorted resin parts
2 clear resin canopy parts
1 set of flying lights in clear resin
2 decal sheets
2 printed instrument panel backing sheets
1 length of wire
1 sheet of vinyl canopy masks
1 sheet markings profiles in black-and-white
One thing you do not get in this kit, rather surprisingly, is a set of instructions. Robin is hoping to leverage his build thread as a de facto set of assembly instructions. It's certainly true that the build thread contains more than enough information to build this kit successfully, and the kit is aimed at advanced modellers anyway, but some customers may prefer to work with a traditional set of instructions, so it would be nice to see some made available at some point. (As an alternative I have produced a downloadable PDF from an edited version of the thread.)
Resin Parts
The resin parts in this kit are supplied in several heavy-duty resealable plastic bags, and are quite thoughtfully packed. There's no commercial box or box art as such, but in my case, the bottom and sides of the box were protected by some foam padding, and everything was held securely in place. That's certainly a good start!
---
Casting is generally very good, though there is quite a bit of flash to clean up on the smaller parts. The rear of the propellor will require a bit of work, however: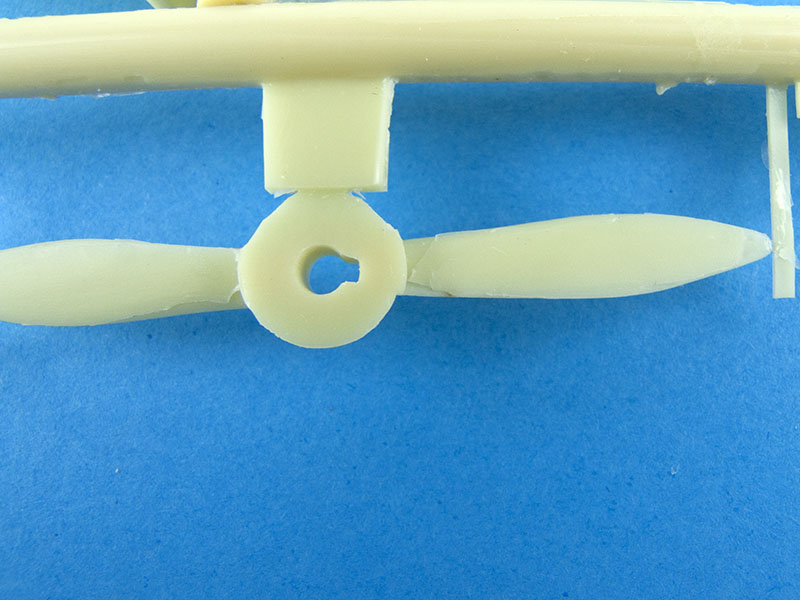 As can be seen in the photos, this kit takes a slightly unusual approach with its casting blocks, arranging them in the manner of injection-moulded sprues. This certainly helps keep small parts protected, and everything generally in order, but it remains to be seen whether it creates any impediments to the clean removal of parts. Resin parts always need careful removal from their casting blocks, however, and this unusual arrangement won't lessen that requirement. It will certainly be more convenient than sorting through a bag of loose components, however!
The kit features a lovely little Gipsy Major 8 engine, which can be exposed via open cowl panels if desired: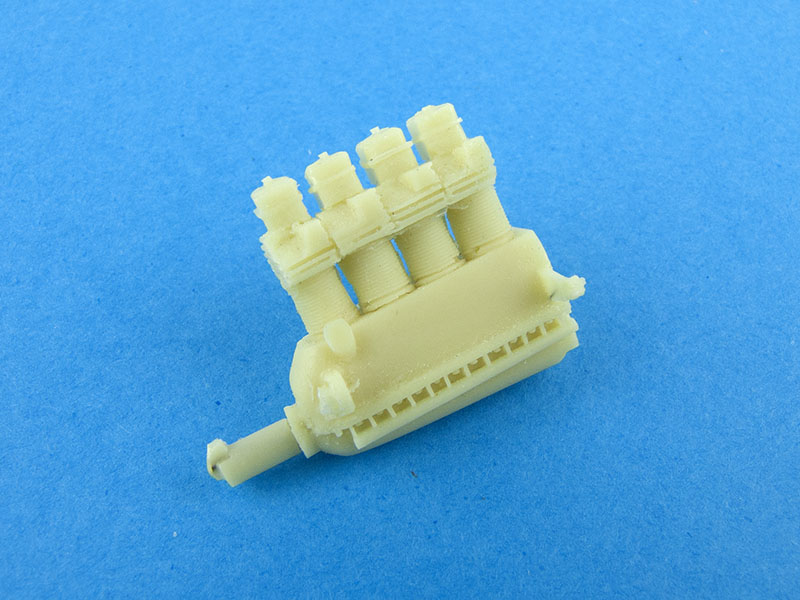 The cowl panels themselves are thinly cast and finely detailed: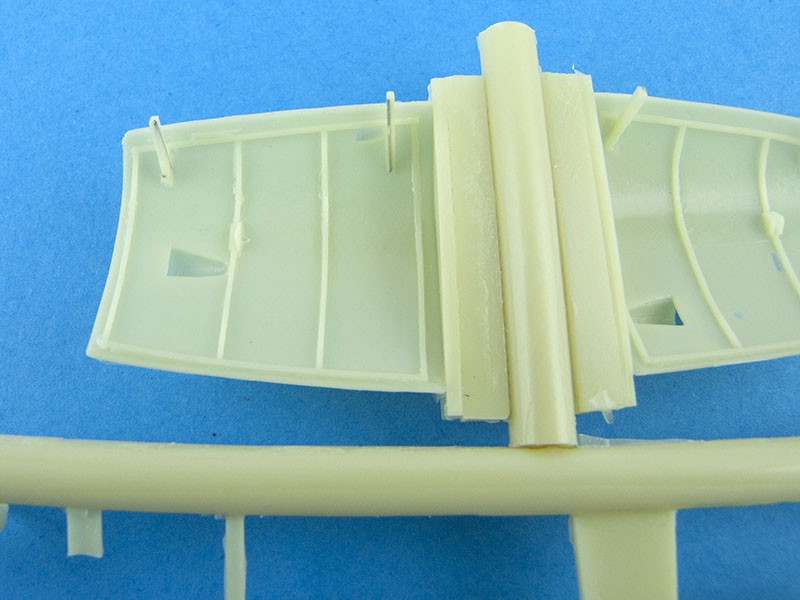 The cockpit walls feature some simple structural detail, which is nicely done: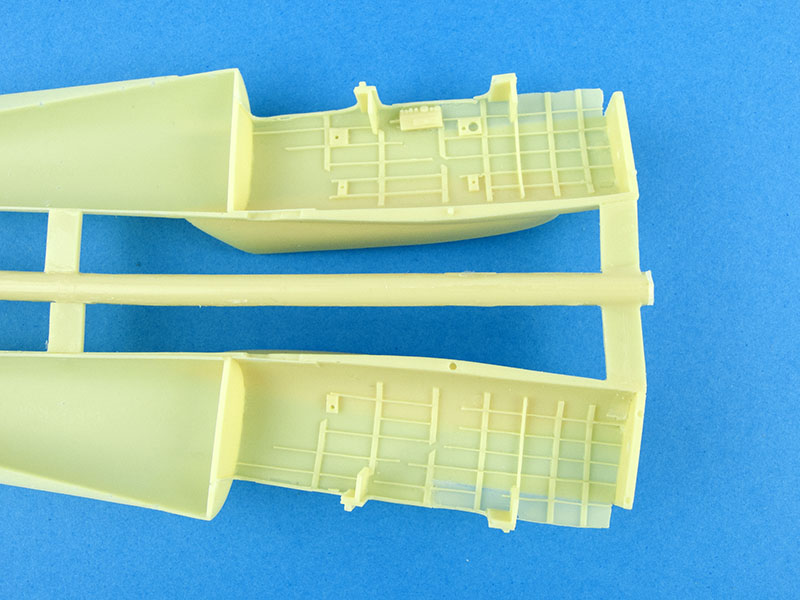 Surface detail is suitably limited and restrained, as befits a fairly simple aircraft: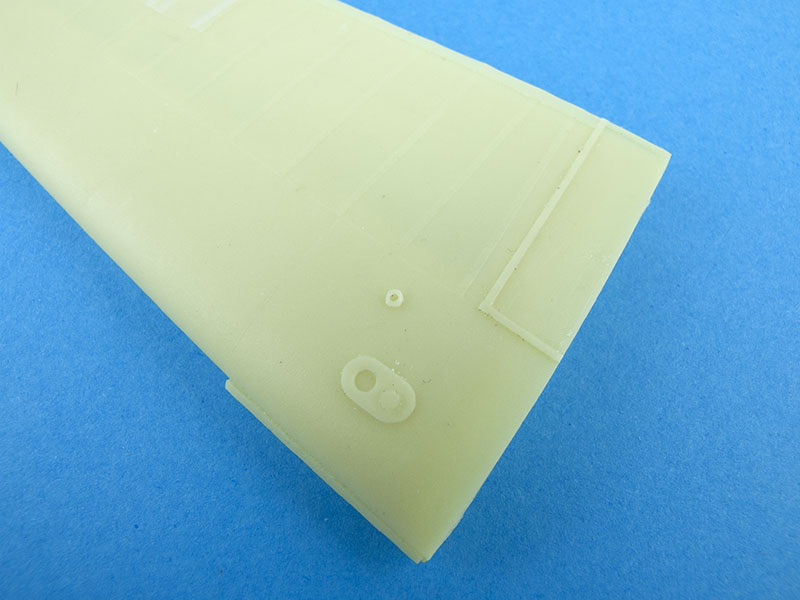 The wings feature some moulded-in mounting holes, matching the corresponding holes in the fuselage wing roots: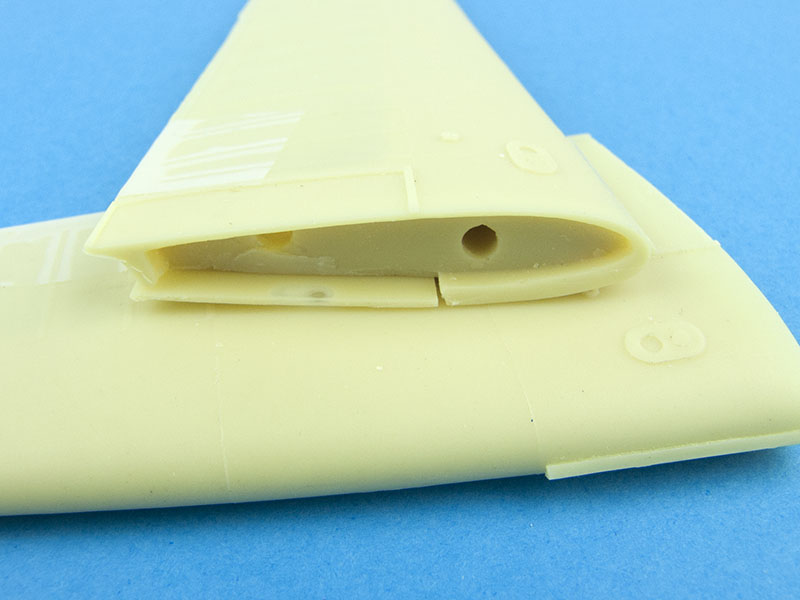 Four short resin mounting rods are supplied to mount the wings to the fuselage with, though they could also be conceivably substituted with brass tubing for additional strength.
One particularly clever piece of engineering, just visible in the photo above, is that the main wings have been cast with a hollow box-frame structure, and a separate panel fits the lower section of each wing to complete the outer surface. This makes each main wing part relatively light, without making them unnecessarily complicated to build.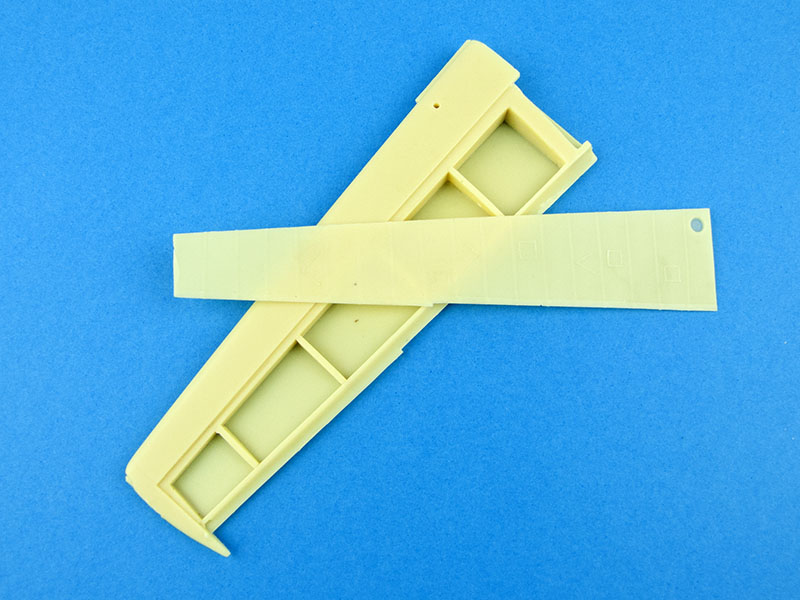 Clear Parts
The canopy parts in this kit are supplied in clear resin, and are very nicely done indeed: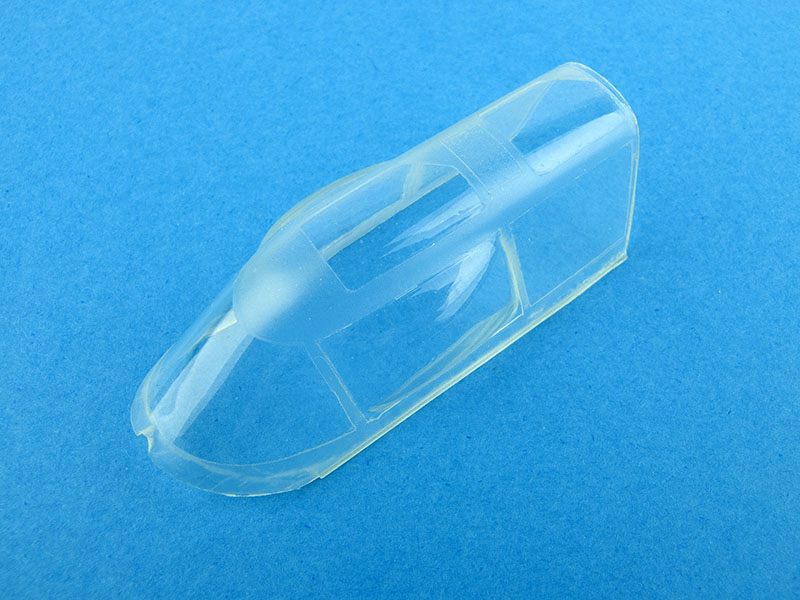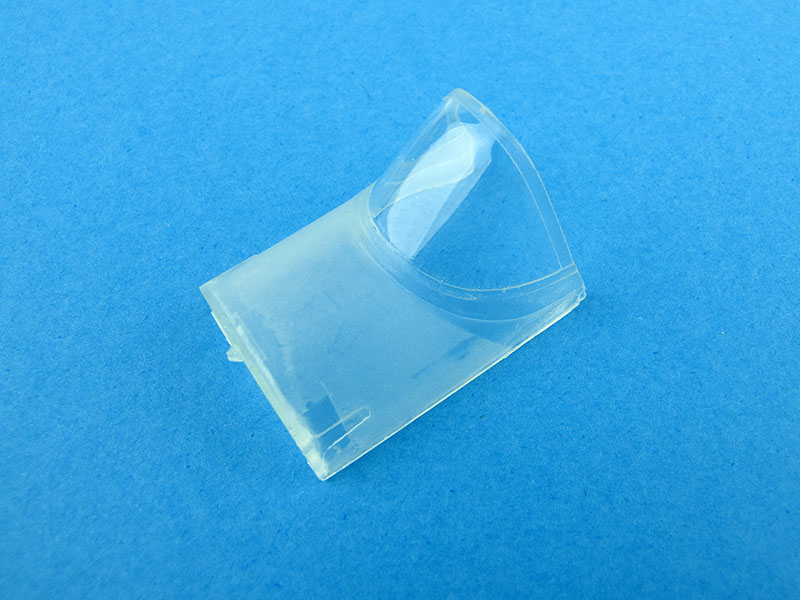 There's also a selection of clear resin flying lights (wing light, landing/taxiing light, tail light) embedded into small sheet of hard foam-like material.
Ancillary Items
Along with the aforementioned flying lights, a small 'extras' bag contains two printed instrument dial layouts (to be used in conjunction with the supplied resin instrument panels), and a length of wire to fashion some lever connecting rods for the cockpit.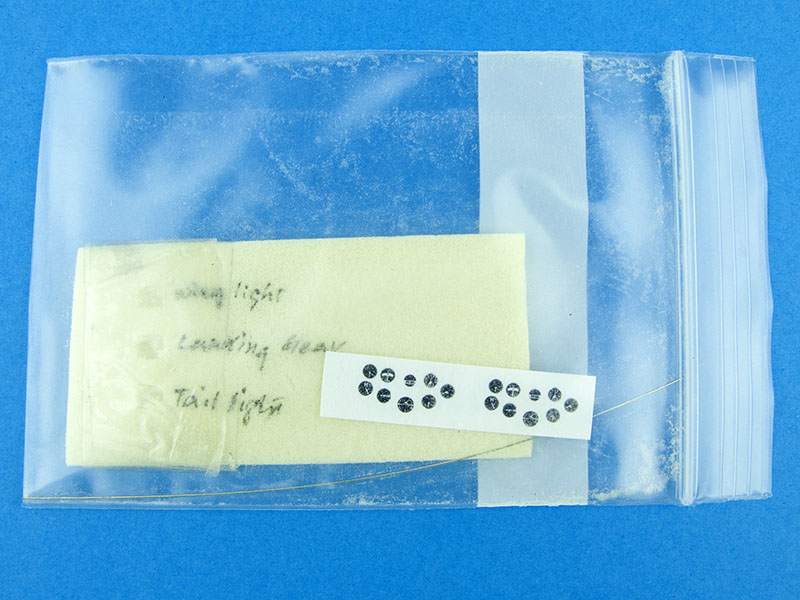 Decals and Markings
Two decal sheets are supplied with the kit, one containing mostly code letters and serial numbers, while the other contains all the national markings and stencils: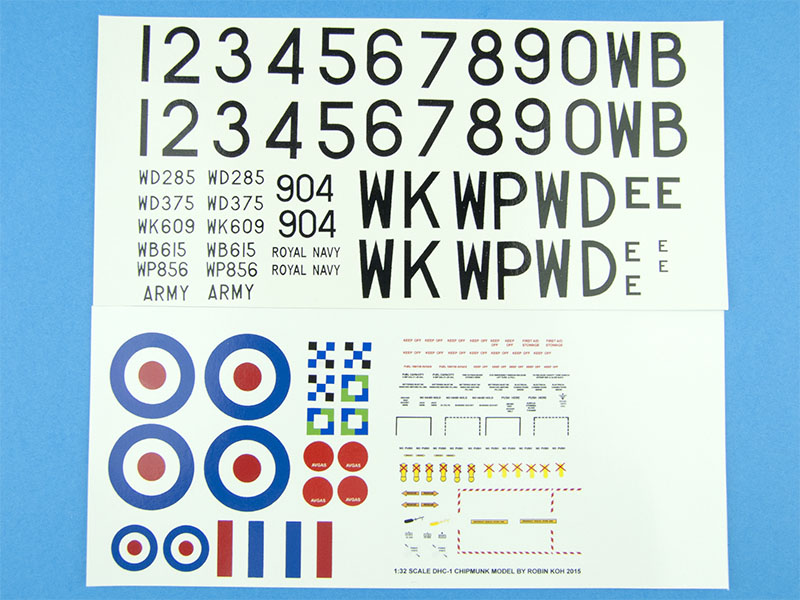 These decals are inkjet-printed, and unfortunately the edges on some of the code letters are a bit untidy, appearing to have been somewhat smudged: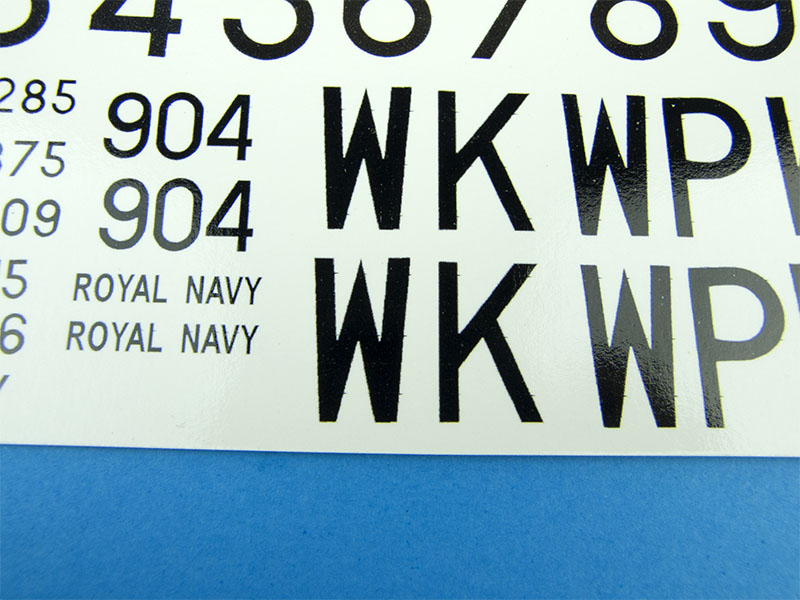 While this is a shame, it shouldn't prove much of an obstacle to the kind of experienced modeller this kit is aimed at. Problematic decals can be closely trimmed before application (which is required in any case, as both sheets feature continuous carrier film), or used as templates to cut paint masks. It's also unlikely that every sheet will exhibit these issues. Just remember to coat the decals with a liquid decal film prior to using them!
Another unexpected bonus is the sheet of vinyl masks, which I first mistook for canopy masks. They are in fact designed to allow the modeller to paint a white underlay underneath the main insignia decals, protecting them from any translucency issues - especially across colour boundaries. Nice one, Robin!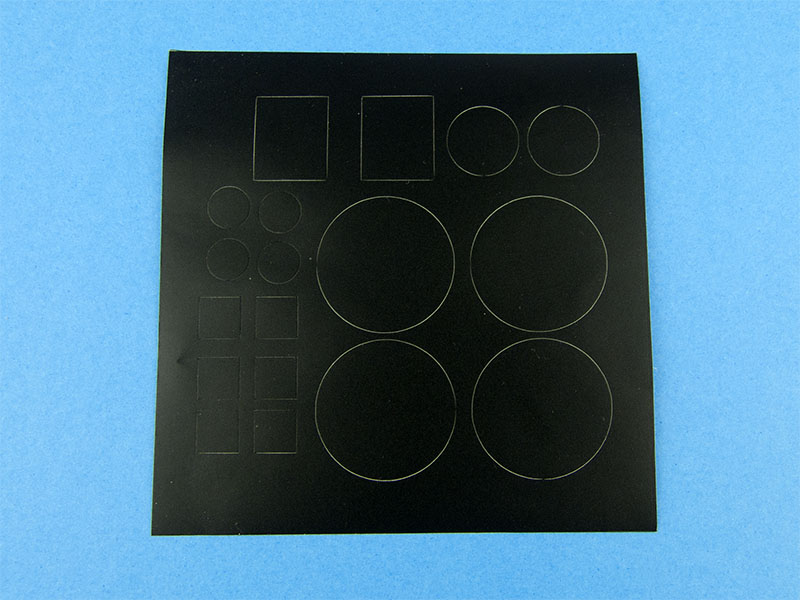 While there are no instructions included in the kit, it does come with an A5 sheet of black-and-white profiles, representing the five aircraft that can be built using the provided decals. They're useful as a rough guide to the decal placement, and a general overview of the depicted colour schemes, but you'll definitely need further reference material to do them justice.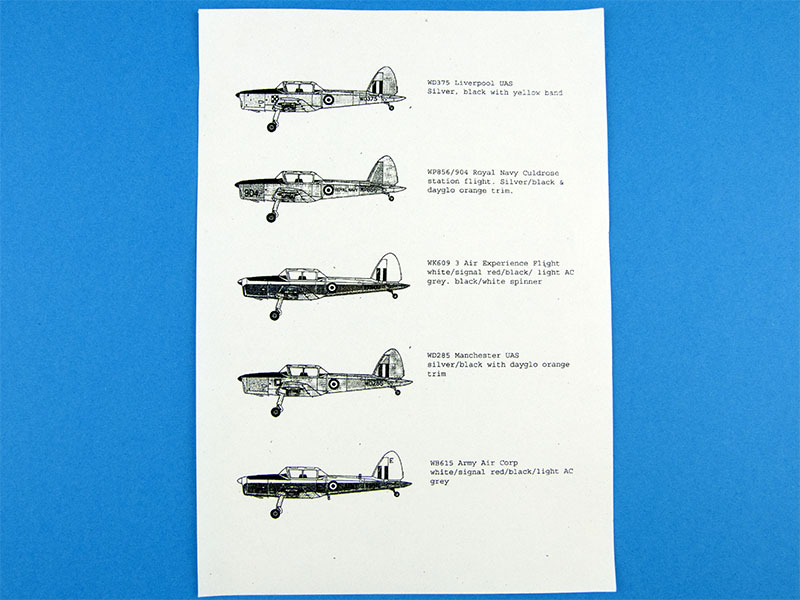 Conclusion
While this kit has a few flaws that reflect its garage-kit nature, overall I think it's a commendable effort for a first kit from an independent producer. It has all the ingredients for a really fine model, and Robin's finished example certainly testifies to that. Some will find the lack of instructions frustrating, but hopefully the linked PDF will go some way to addressing that. Having said that, this kit is definitely not for beginning or inexperienced modellers, though I'd have no hesitation in recommending it to an experienced modeller as their first resin kit.
To order this kit, please send an email to Robin care of kthrobin@gmail.com. The kit will retail for US$90, and payment is made via PayPal using the same email address.
To assist with building this kit, here's a handy list of resources:
Thanks to Robin Koh for the review sample.
© Kevin Futter 2016
This review was published on Wednesday, February 03 2016; Last modified on Thursday, February 11 2016