Kitty Hawk Model | KH32014: T-28B/D Trojan
Reviewed by Brian Leitch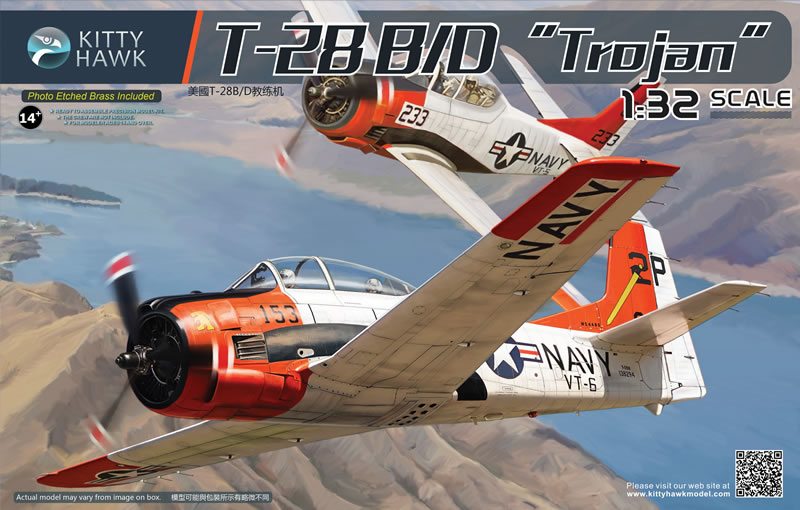 Packaging & Contents
The Kitty Hawk Model (KHM) T-28 is a brand new tool injection molded 1/32nd kit, and is the latest in a series of modern generation, detailed 1/32nd aircraft kits. Let's start off with what you get.
KHM provides some nice packaging here, and to be honest, their art-work has dramatically improved with each consecutive release. The T-28B/D is no exception with some very nice in flight box art, that is very colorful, and really makes you want to pick up the kit. There is a front in flight depiction, and the box sides depict color side views of all 6 schemes.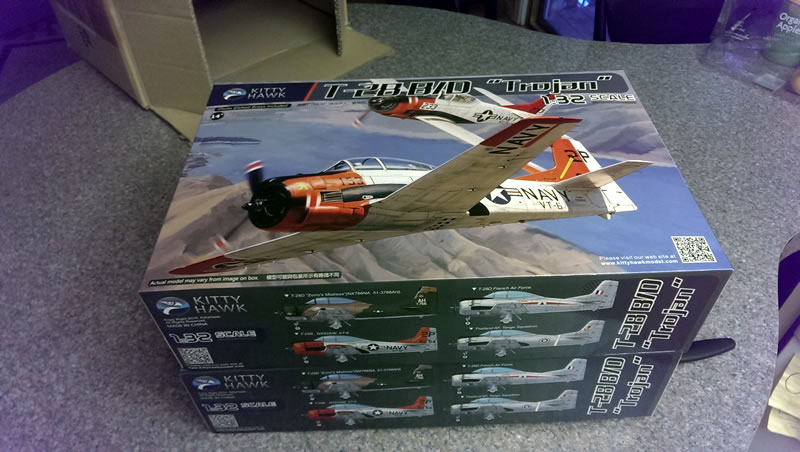 Upon removal of the box top, you find a sturdy hard-sided box containing all parts for this 1/32nd plane, with 5 large gray sprues, 1 clear sprue (in a bag in a box), 2 photo-etch sheets, 2 decal sheets including instrument panel decals, and 2 solid metal nose weights. In typical KHM fashion you get your larger sprues in big clear bags, your clear parts in a plastic bag inside of a sturdy smaller separate box, and your decals and photo-etch come in a resalable bag.
---
Parts Detail
The first gray large sprue bag contains the fuselage. KHM seems to have done some re-engineering on their engineering I'm thinking, as there definitely seems to be many less panels to close up on this model than some previous. The main fuselage is nicely detailed, and the rivets are restrained and not terribly deep. There are a lot of them on this one, maybe more so it seems because their last kit was the OS2U and it was not festooned in any way.
The detail here on the fuselage is nice looking, and seems to be getting better with each release.
This sprue also contains the two 4-part instrument panels, as well as the two overall side consoles. These side consoles are actually pretty decently detailed if you look at them for OOB. I don't think its bad at all for what it is. I know there are not many who seem to like it, but the decals over the molded detail trick seems to work well in my experience with KHM decals. A bit of some Solvaset and it seems to react well. It's a good solution for those who are not great with mini detail painting like 1/32nd scale instrument panels, or those who want a quick out-of-the-box build. Those super-detailers are likely to want to paint this up themselves, or likely scratch up, or buy an aftermarket cockpit.
---
Although I still don't like the multi-part cowl assembly that KHM uses here, the detail on the cowl seems to match the fuselage. The same sprue the cowl sections are on also contains the engine halves as well. These are not complete individual cylinders, but joined half sections of the engine with the cylinder divider/coolers molded into each cylinder. The detail here is actually not bad, and for the cost of the kit is fine. I definitely think that a complete AM engine however would fit the bill nicely here, as the big ol' radial does stick out way up front and is VERY prominent. The exhaust stacks are also on this sprue, and do have a hollow "look" to them but a mini twist drill might really bring them to life. The props are also here, and you get the full B model flat wide chord props but you also get a set of thinner chord props as well.
---
Next up is the wing sprue that also contains the ailerons and flaps. There are some very odd molding irregularities here that appear to be in sheen only, and do not seem to be IN the plastic. I would however give them a good rubdown and even a bit of a polish before paint. The rivet detail here is good also, and restrained as well, but if you are building a trainer and you are not going to be installing pylons, I'm not really sure how the holes for the pylons are going to be handled. I will cross this bridge when I come to it. The ailerons and flaps look to have good detail to them, and appear to be easy to pose (I hope).
---
The next sprue has the rudder, elevators, vertical and horizontal stabilizers on it, as well as some misc. gear door and interior parts. These too look really nice and I think will go far in the look of the model in the end.
---
The last large sprue has all of the stores on it, as well as the gear, pylons wheels and tires. You get your choice of multiple front tires, separate inserts for the wheels on the mains, and separate brake calipers.
---
The clear parts are in fact very thin and delicate, and caution must be exercised, but they are much more realistic looking to my eye. KHM provides a nice frosted area for the paint demarcations as well but no paint masks for any of the clear parts, which in this case would be MOST welcome.
---
The photo-etch that KHM provides is relatively nice, and some of the smaller screens are very delicate looking.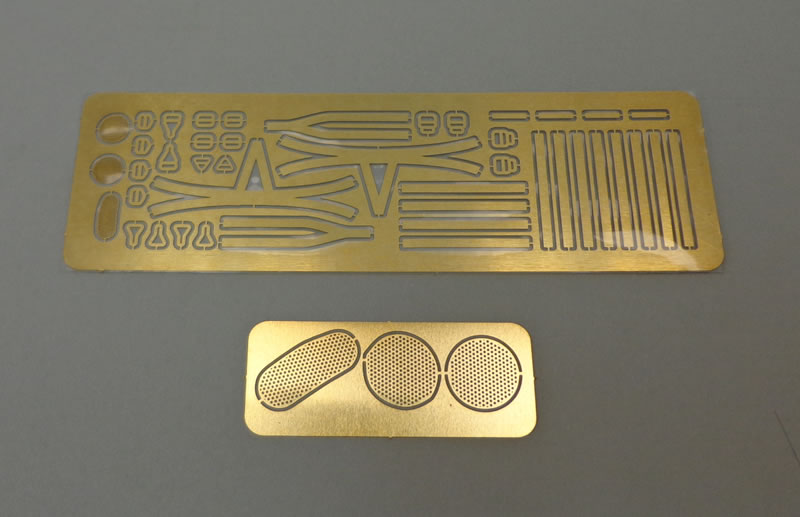 Decals & Instructions
The instructions that KHM gives you with the T-28 are slightly heavier in stock than previous ones if feels like to me, and some of the illustrations seem clearer, if not less "old school" looking. It seems like the instructions might be a bit more concise, and simplified, if the not entire kit. You also get the prototypical multi page full color profiles mixed in with the instructions which have grown on me a bit. You can also see the installation of the two solid metal nose weights behind the cowling. This I'm sure is to facilitate the opening of the cowl panels. On my build I will however be trying to put a touch more "insurance" weight more up front, as I will be having my engine cowling closed, and don't want to take any chances with this one being a tail sitter.
---
The decals are on two separate sheets, one large and one smaller sheet containing nose art with some naked girls on them which are nicely done, and the instrument panel decals. All are done well, and in register, with very muted tones to them unlike some past releases. There are however some shiny spots/imperfections on the red stripes you can see at the top, as well as some of the Japanese hinomaru, that I hope some decal solution or a clear coat would take care of.
---
Conclusions
There is some typical KHM flash to be reckoned with on this kit, not unlike past releases, and they are still using a frustrating amount of sprue runners and connection points for their parts, so if you're expecting perfection here you will be disappointed. This kit is by no means perfect, and I do not claim to be a T-28 expert, I just know what I like and what I like to build. There are some funky plastic areas on the wings and flying surfaces, the canopy and glass parts are thin and very delicate, and can be broken. KHM also did not include a gun sight for the armed versions either.
This is an oversight on their part, but none of this in my book gets it anywhere NEAR a deal breaker for me. I also have not put this model up against any known good drawings of the T-28, so I can't speak to overall accuracy. However, if you want a great looking kit, that seems to have solid, crisp molding, some colorful schemes, and plenty of opportunity to make what you want of it, OR make an out-of-box stunner, the new KHM T-28B/D is for you, and I think it looks to be a heck of a lot of bang for your modeling dollar.
On a 1–10 scale, with 10 being perfect and 1 being useless, the KHM gets a solid 8. I think this one will be a BIG winner for KHM, and will be able to be made into a real stunner right out-of-the-box.
HIGHLY recommended!
Thanks to Glen at Kitty Hawk Model for the review sample.
© Brian Leitch 2016
This review was published on Saturday, February 13 2016; Last modified on Saturday, February 27 2016