Silver Wings | 32-018: 1/32 PZL P.11c
Reviewed by Kevin Futter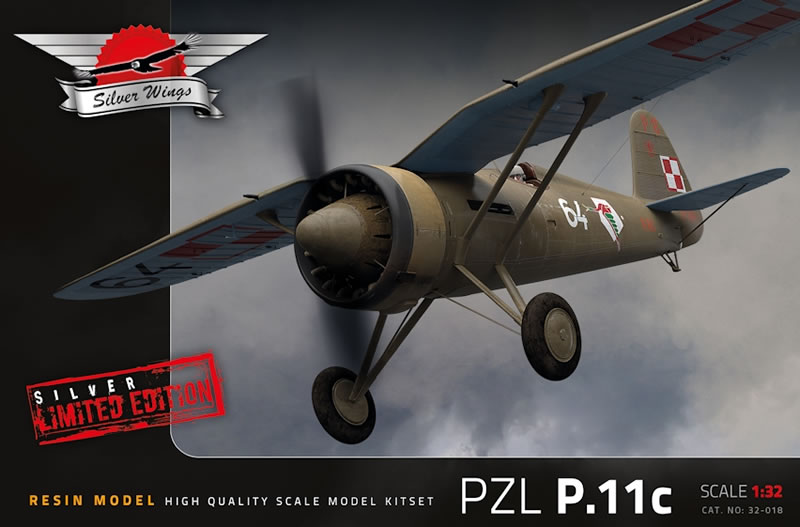 Polish kit manufacturer Silver Wings has an enviable reputation for producing superb resin kits of neglected between-the-wars aircraft, and their latest release - the Polish PZL P.11c in 1/32 - continues that tradition. (For a potted history of the P.11c itself, check out the relevant Wikipedia article.)
The kit comes in small but sturdy cardboard box of the traditional variety - no end-opening nonsense here! Being a resin kit, there are no sprues inside, but instead a series of resealable plastic bags containing all the kit parts, which themselves are protected by bubble wrap bags. As you can see from the photos below, many of the parts are small and delicate, so kudos to Silver Wings for taking the appropriate care in the their packaging.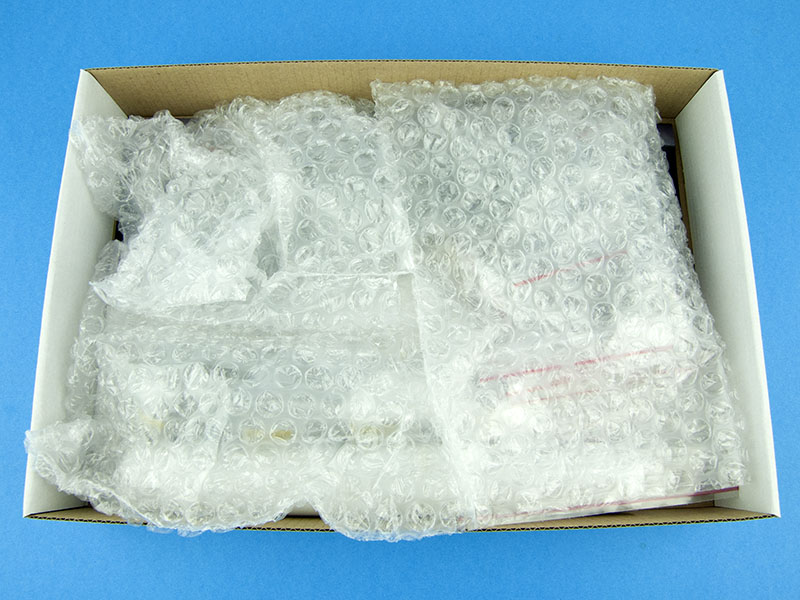 The Kit
The small box and blanket of bubble-wrap at first give the impression that this is a modest kit. Nothing could be further from the truth! Inside the box we find the following components:
3 resealable bags of 142 parts in grey resin (one of which is packed with several more bags)
1 windscreen part in clear resin
1 photo-etched fret
1 set of brass machine gun barrels from Master Model
1 main decal sheet
1 printed acetate sheet of instrument dials
1 small decal sheet of instrument dials
2 mini DVDs of reference photos
1 instruction booklet
1 small poster of the box artwork
1 PZL logo sticker
The nested collection of resealable bags belies just how many parts there actually are in this kit.
The Wings
The wings are in left and right halves, and each is cast as a single piece: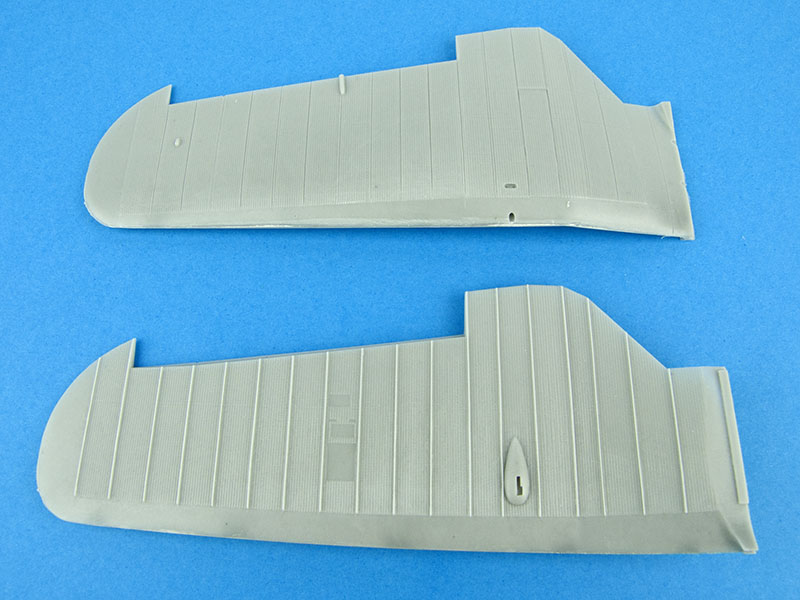 While the leading edges will require some minor clean-up, the casting is otherwise seriously impressive, as evidenced by the delicate corrugation work on the surface: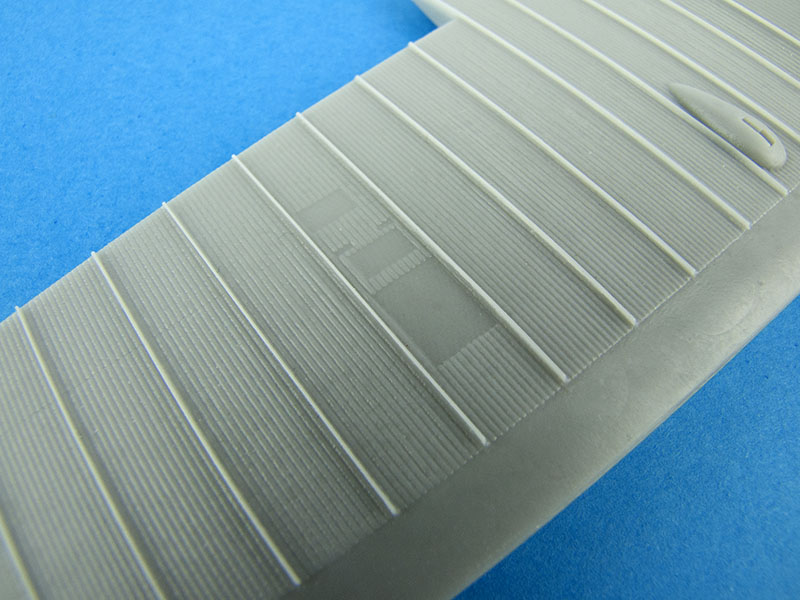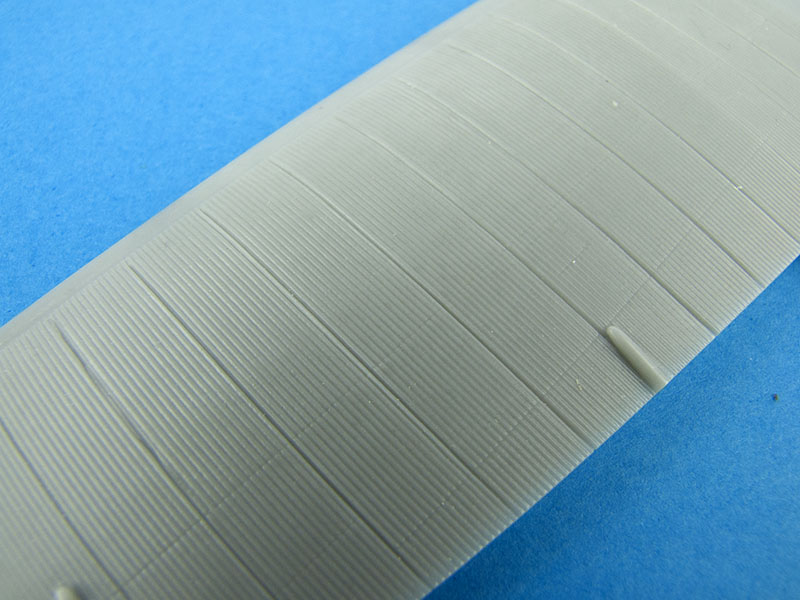 The control surfaces are separate parts, and feature equally fine surface detailing: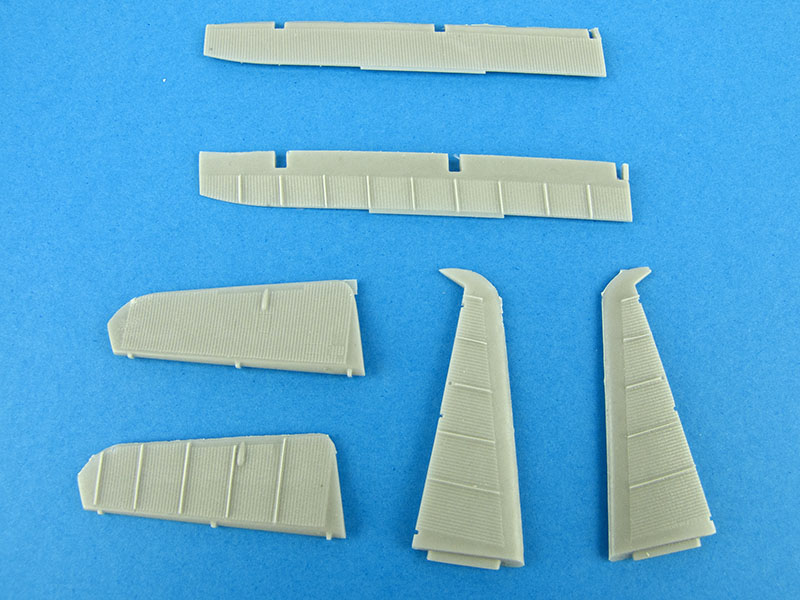 The Fuselage
In typical Silver Wings fashion, the fuselage is cast in left and right halves, and comes taped together: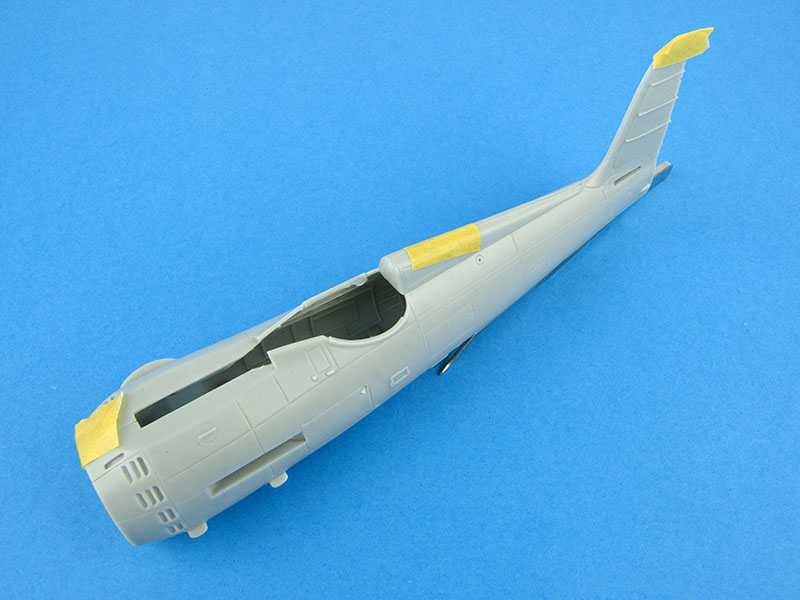 There's some internal structural detailed moulded in place around the cockpit area, and I was amazed to discover that the wall thickness of the fuselage halves themselves is equivalent to a modern injection-moulded kit - perhaps even thinner. And yet, the parts are crisp and robust.
The surface detail is again very good, though the panel lines are slightly heavy, and slightly inconsistent: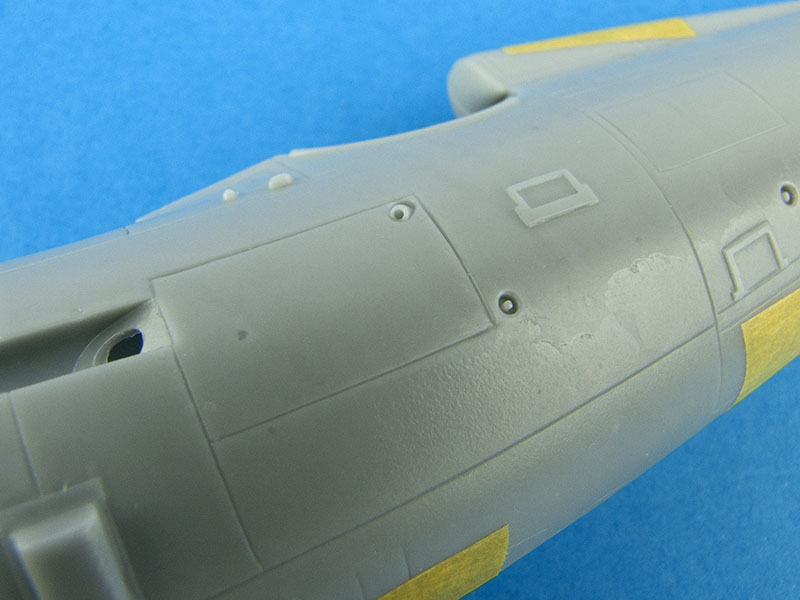 The cooling louvres at the front of the fuselage are very nicely done, though are scooped recesses rather than actual openings:
A dark wash will have them looking very effective I'd imagine.
The rudder also features the same exquisite surface detailing as seen on the wings: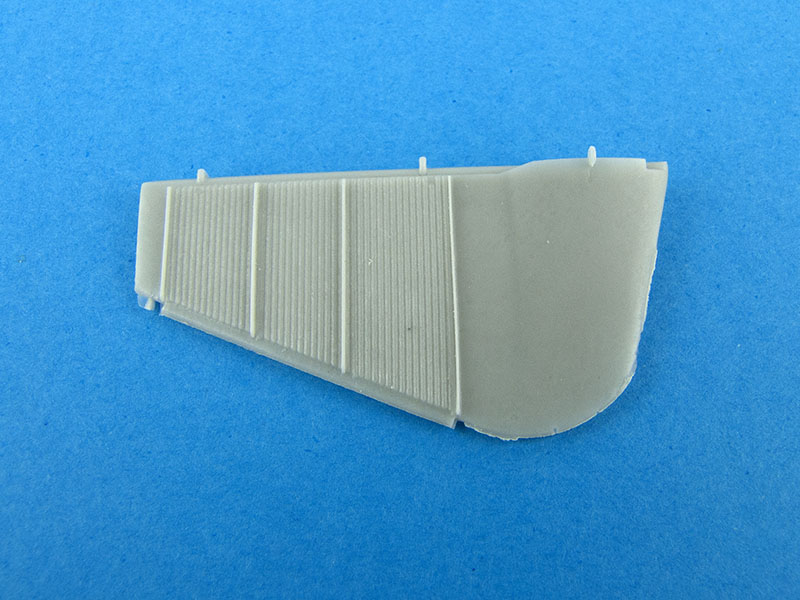 And some really impressive casting, too: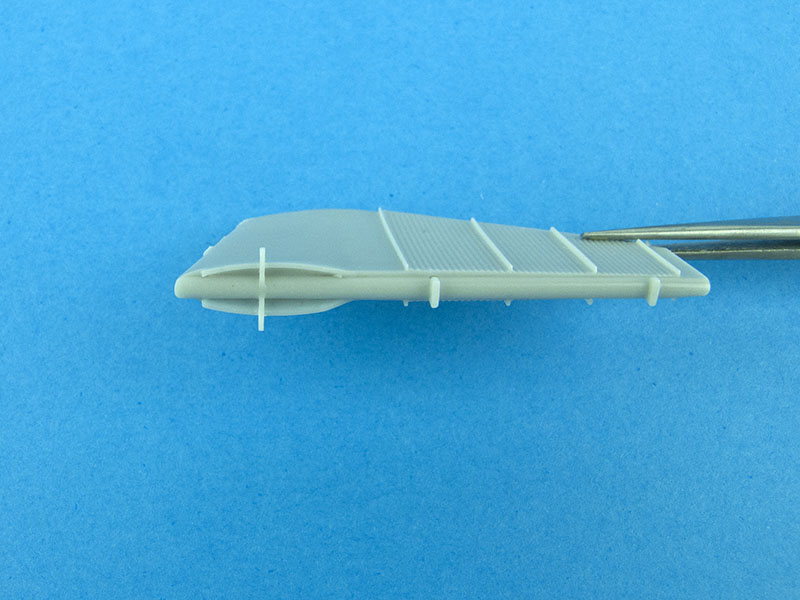 The Engine, Cowling and Propellor
The engine in this kit is especially impressive. Its multi-part breakdown will be demanding, especially since there are no part numbers or locating pins involved, but should produce a spectacular result if handled with due care:
---
The cylinder detail is terrific: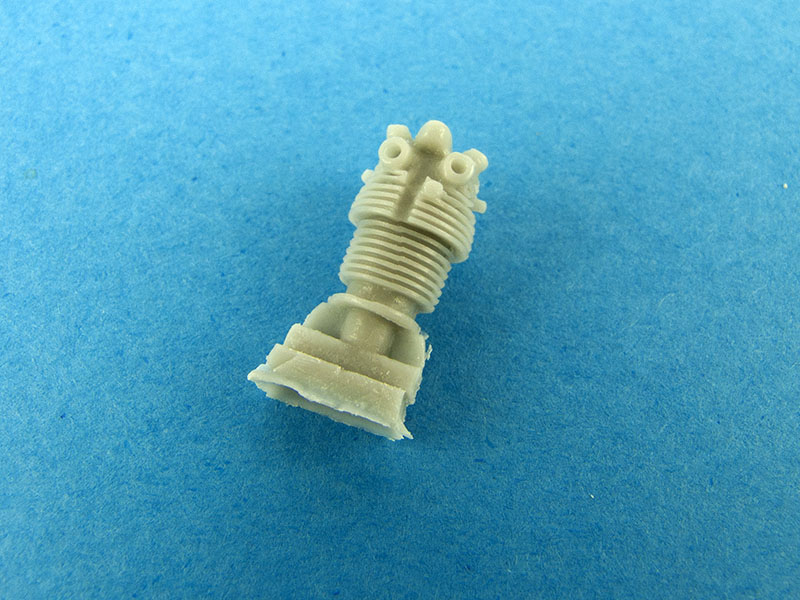 The main cowling part is an impressive feat of resin casting, being amazingly thin, and yet still strong, and crisply moulded: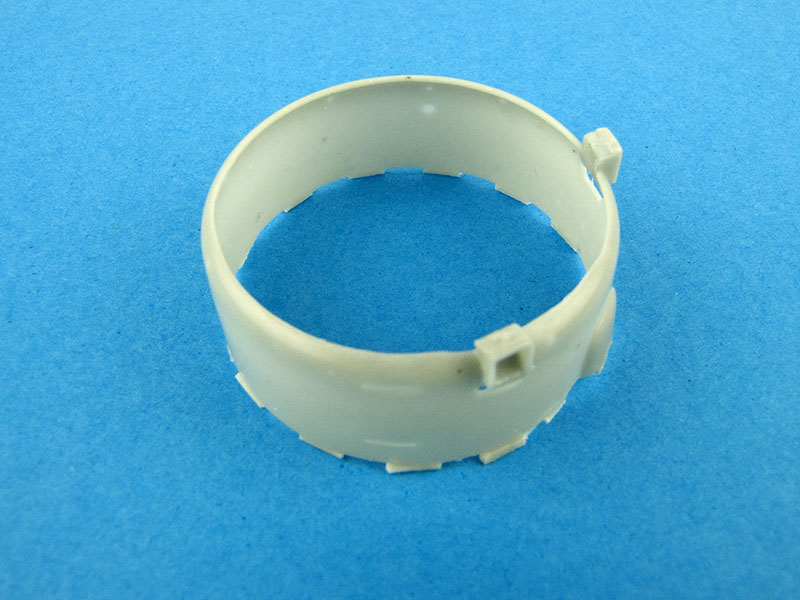 ---
The propellor is the only place where I was able to identify some casting flaws in the kit, so some remedial work will be required here: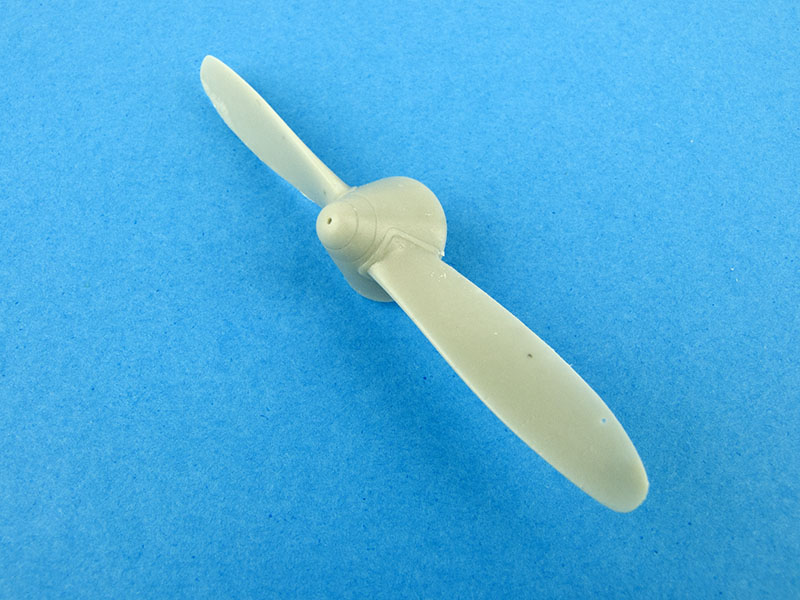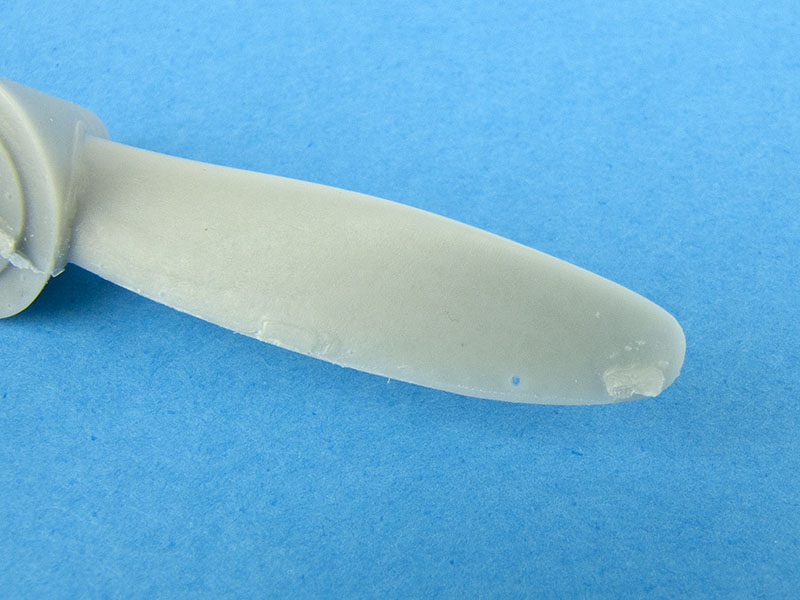 Detail Parts
A large number of detail parts is supplied in the kit, mostly to build up the cockpit and internal details:
---
There's some resin flash in evidence on some of the parts, but that's pretty common for this type of kit, and very easy to deal with.
The support struts for the wings have metal rods moulded integrally for additional strength, which would definitely be required given the weight of the single-piece wings: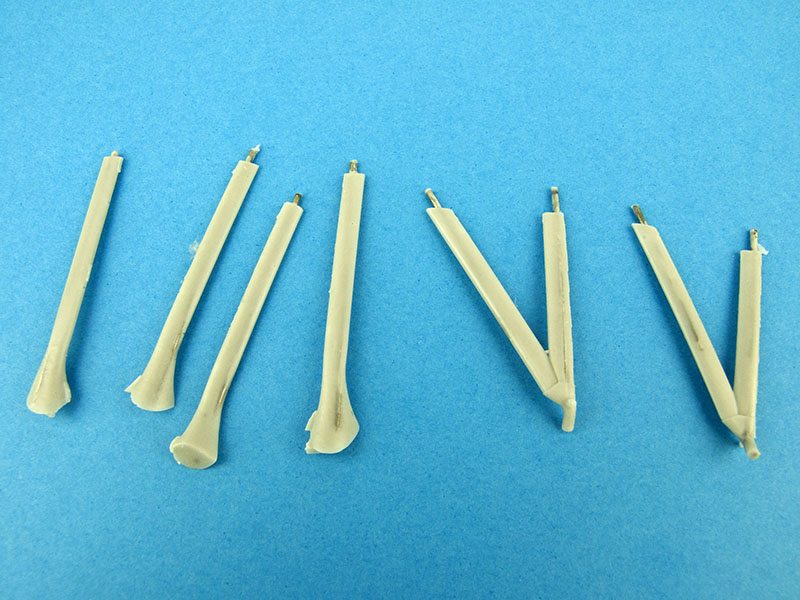 In some spots the metal rods (presumably brass) appear to be exposed, but it's impossible to determine visually if this is actually the case, or simply an optical illusion caused by the natural translucency of the resin. A coat of primer should reveal all, but it's possible some more remedial work may be required here.
Clear Resin Part
As befits the nature of the prototype, this kit features only a single clear part, that being the cockpit windscreen: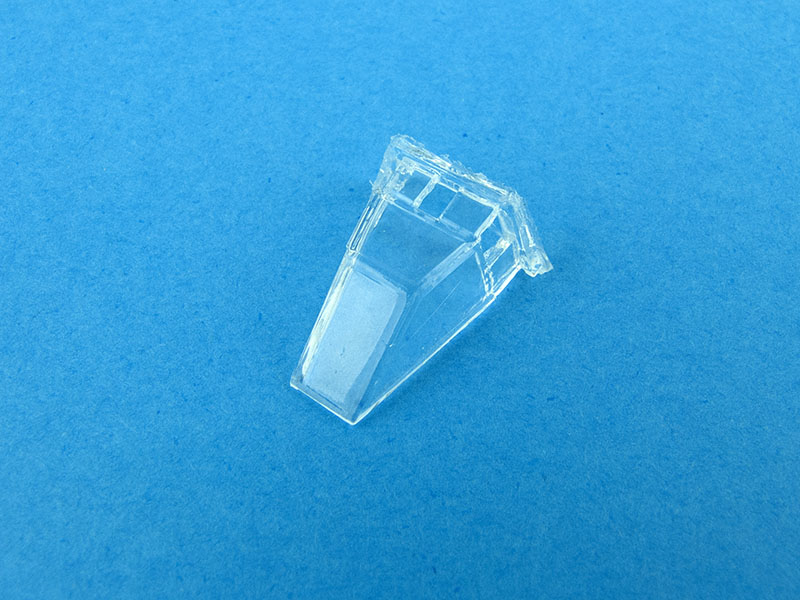 It's beautifully cast in clear resin, and passes the clarity test admirably:
My only complaint would be that it's a little on the thick side, but should be considerably easier to deal with than a vacform part would have been.
Metal Parts
As is common with this type of kit, a small photo-etched fret is included, which contains all those parts for which resin is poorly suited: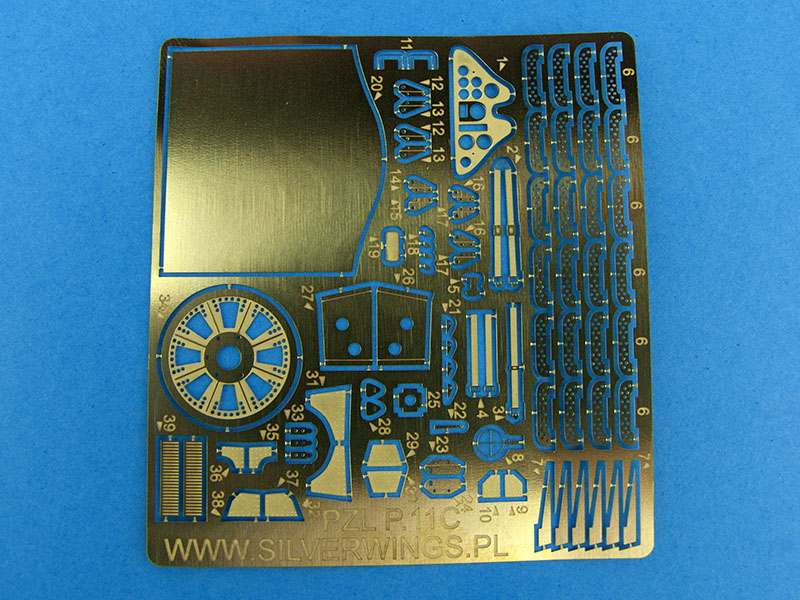 An unexpected bonus is a set of exquisite turned-brass machine gun barrels from Master Model: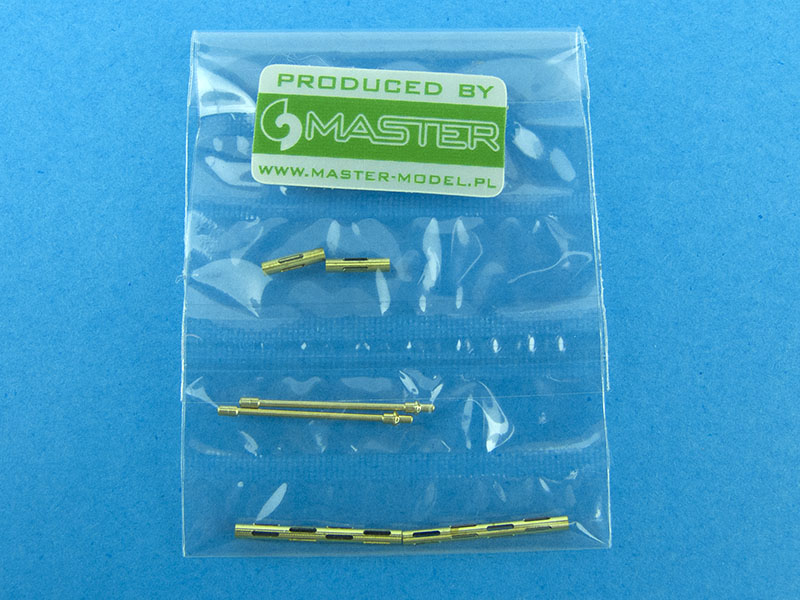 These look superb in the packet, and are a most welcome addition indeed.
Instructions
The 12-page instruction booklet is printed in full colour on glossy paper, and opens from bottom to top - much like a calendar. I would have preferred a more traditional left-to-right style of booklet, but that's just a personal preference. The diagrams contained within are clear and well-rendered, but will need to be followed carefully, especially since the parts are not numbered and will need to be identified visually. The last four pages contain painting guides for the aircraft featured on the kit's decal sheet.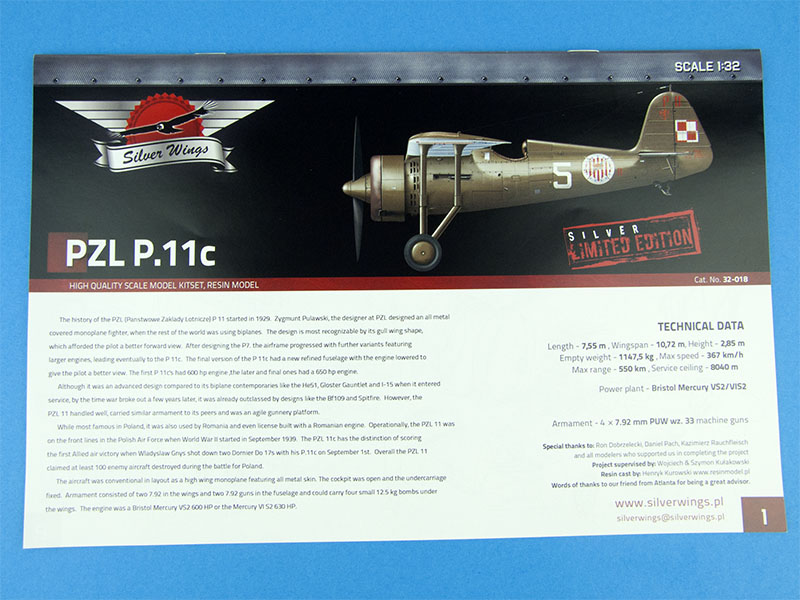 ---
Another unexpected bonus found in the box is two mini-DVD discs containing a wealth of museum photos of the real aircraft, as well as a series of scans in TIFF format of the original constructor's manual. This is really an amazing piece of value-add.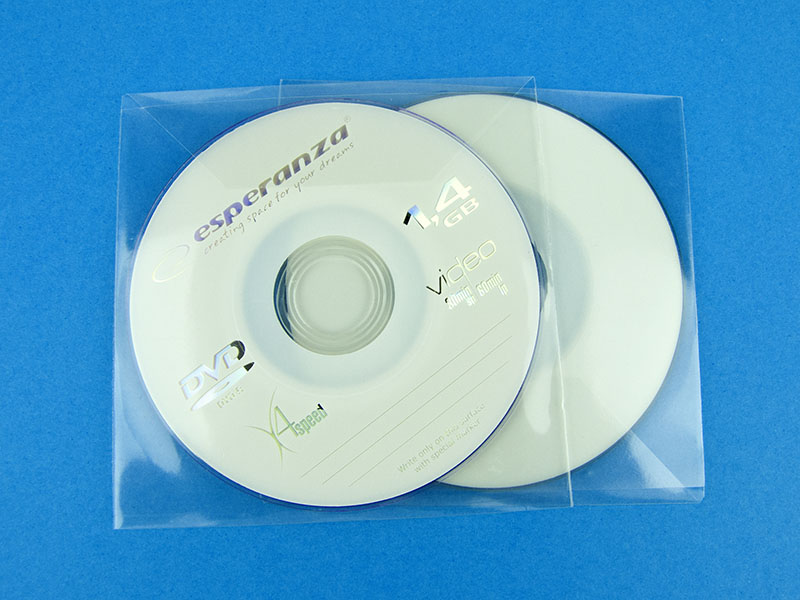 Decals
The decals are provided on a single sheet, which is oddly unprotected at the bottom of the box: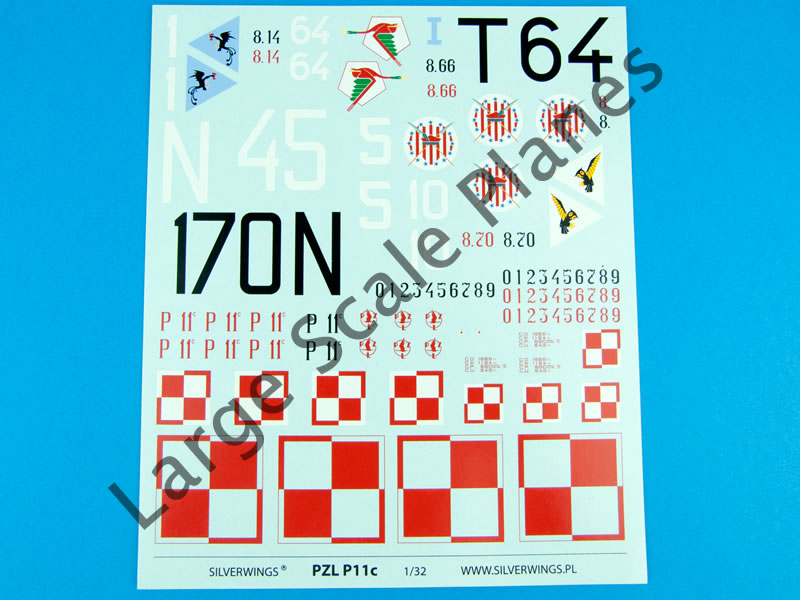 The printing is crisp, registration is perfect, and colour density appears to be good. They appear to be an in-house product, and I couldn't detect any carrier film edges, which suggests they are printed on a sheet of continuous carrier film. This will require some careful cutting and trimming prior to application, but should otherwise pose no problems.
The following schemes are included:
PZL P.11c - number 45-N, 111 Squadron, Warsaw, October 1938
PZL P.11c - number 8.14, 112 Squadron, Warsaw, May 1936
PZL P.11c - number 8.70, 113 Squadron, Warsaw, 1939 (Hieronim Dudwał's aircraft)
PZL P.11c - number 8.66, 142 Squadron, Toruń, June 1938 (Stanisław Skalski's aircraft)
While these schemes are simply a dull olive green over a light blue/grey, each sports a colourful squadron motif on both sides of the fuselage, lifting them beyond the mundane.
Also included is a clear acetate sheet with instrument dials printed on it, and a tiny decal sheet that appears to contain another set of dials: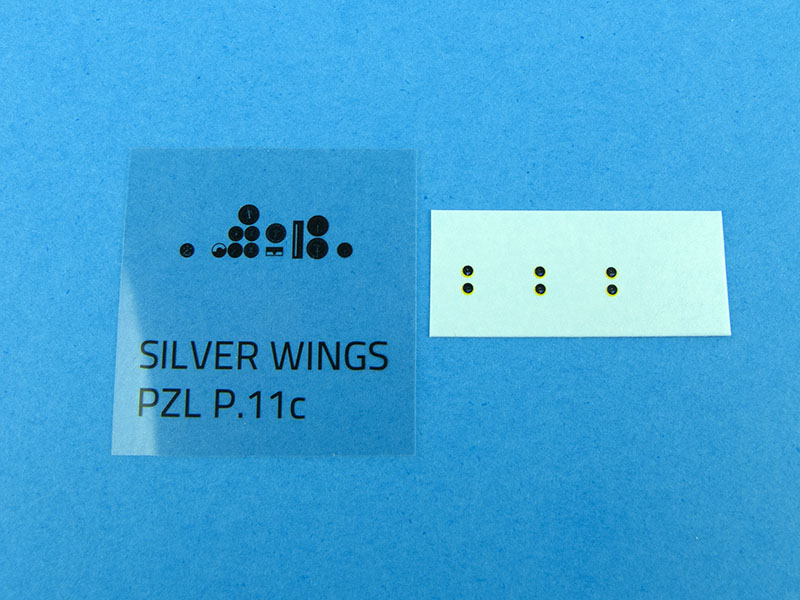 The acetate sheet is crisply printed, but the small decal sheet is a little indistinct, and I couldn't find any mention of them in the instructions.
Bonus Materials
As if all this wasn't enough, the Limited Edition moniker on the box hints at more to come. And so we find a large sticker of the PZL logo lurking at the bottom of the box: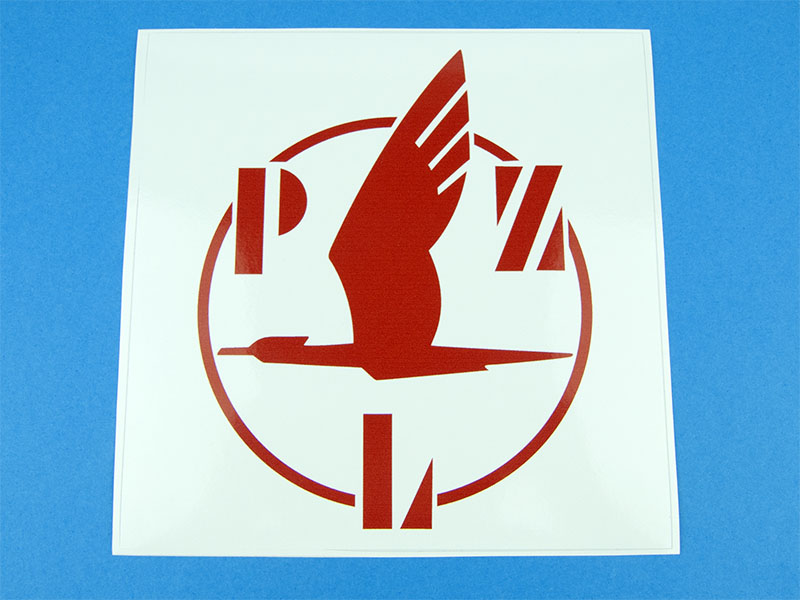 The final surprise in the box is a small poster of the box art, which is a beautifully-rendered digital image printed on glossy paper stock. Good enough to frame, in my opinion. Due to it being tightly rolled up in the box, I baulked at trying to unroll it for photographing or scanning.
Conclusion
This kit is about as good as a resin kit can get. With sharp details, crisp casting, excellent accessories, and an impressive assortment of bonus materials, I'd certainly rank this as the best kit I've seen from Silver Wings. The value packed into the box is incredible, and in the right hands, the resulting model should be equally spectacular. It will have its challenges though, especially with all those small detail parts, so I wouldn't recommend it to inexperienced modellers, or as a first resin kit. But if you're ready for a kit like this, then I highly recommend it, as you won't find many better.
© Kevin Futter 2016
This review was published on Friday, February 19 2016; Last modified on Saturday, February 20 2016