Aviattic | Aviattic Legends Series ATTL01: Ltn. Frank Luke, Jnr
Reviewed by Ray Peterson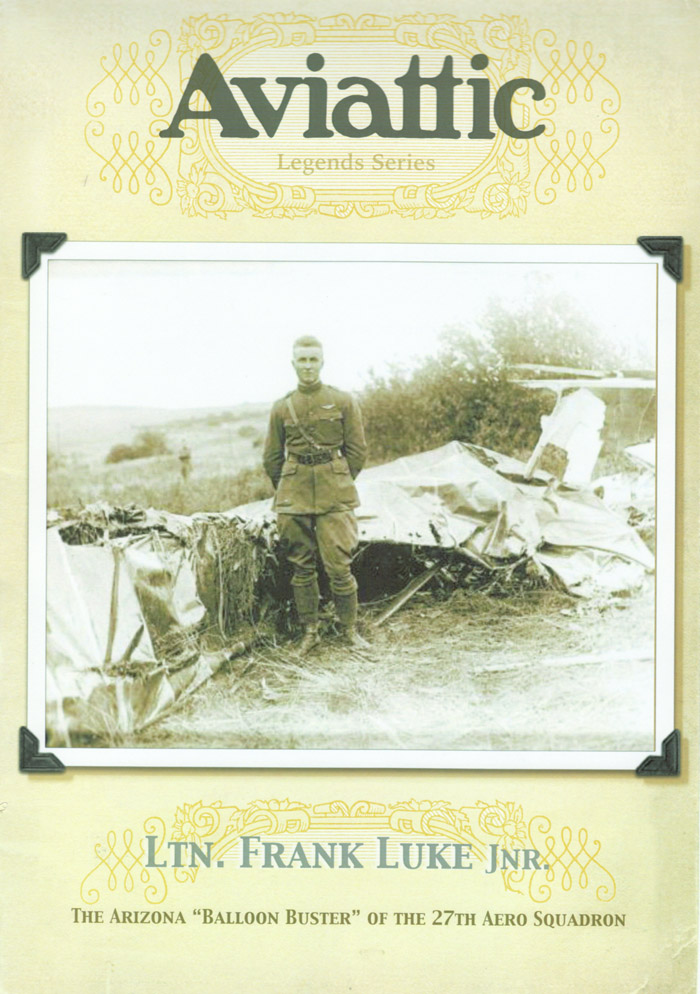 Lt. Frank Luke, Jnr: The Arizona "Balloon Buster" of the 27th Aero Squadron
The first of Aviattic's Legends Series brings us a historical booklet, 1/32nd decals, and a resin figure of Frank Luke. Decals are for three of his SPAD XIIIs, as kitted by Hobbycraft. These kits have been in and out of production, and I am not sure of Hobbycraft's current status, but are usually found on eBay.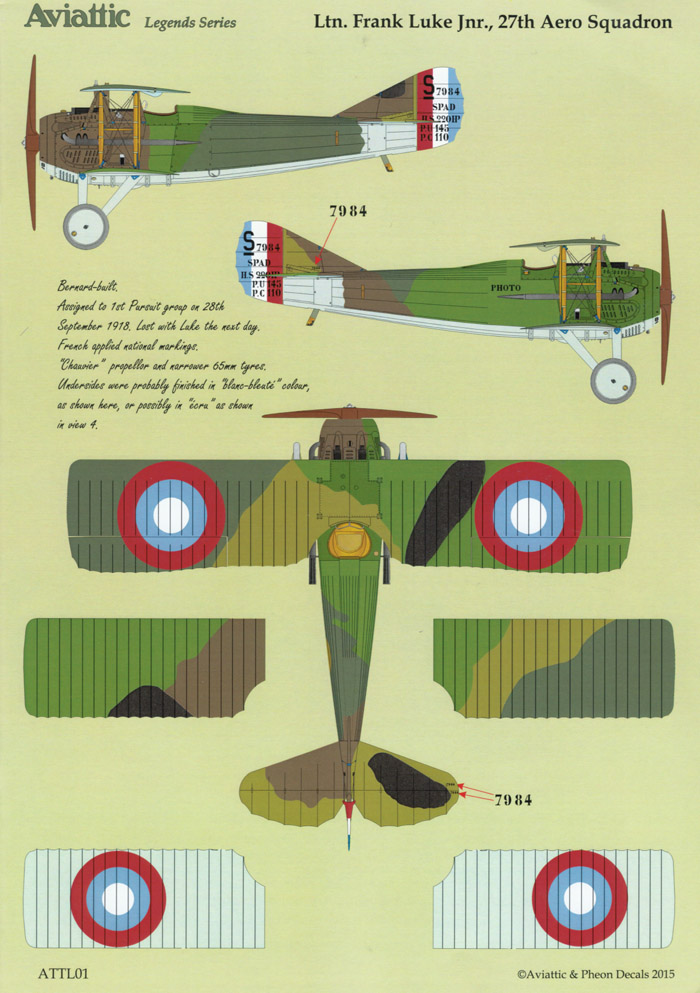 The booklet is 12 pages long, in full color, printed on high-quality heavy satin stock. Included are five pages of Luke's history as well as the list of SPAD XIIIs he flew based on research by Stephen Skinner, author of "The Stand." Color references were done by Alan Toelle and the color profiles were researched by Rowan Broadbent and Richard Andrews, all well known WWI enthusiasts. It includes a few period photos and three profiles, plus an alternate profile for his last XIII with possible different color undersides. The three-view profiles include notes including possible alternative interpretations due to the elusive nature of studying black and white photos. Partial drawings of top and bottom colors of lower wings are also included.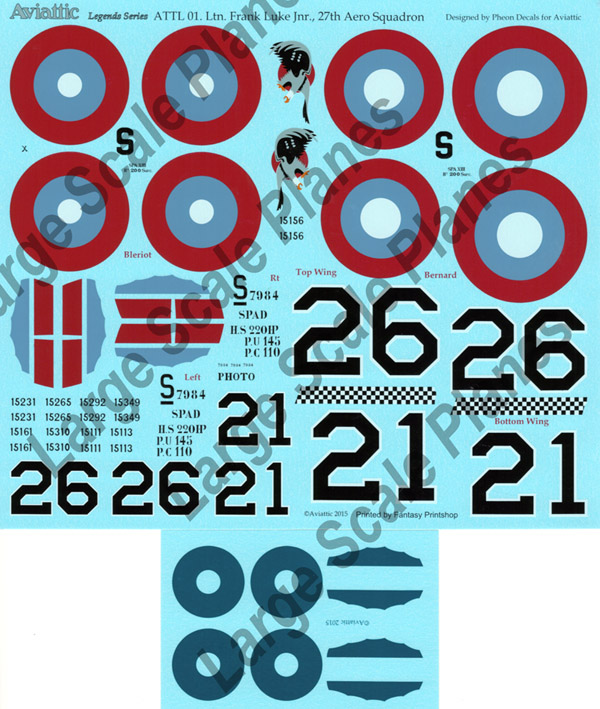 The decals, designed by Pheon Decals and printed by Fantasy Printshop, appear in register and of high quality. They look acceptably thin and have very little carrier film around the markings. They include markings for all the profiles given in the booklet. Two sets of roundels are included, with an additional small sheet providing an optional darker blue. The decals allow for the construction of two of the three profiles.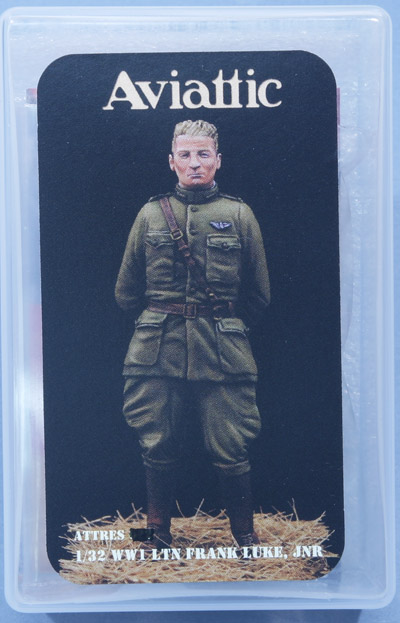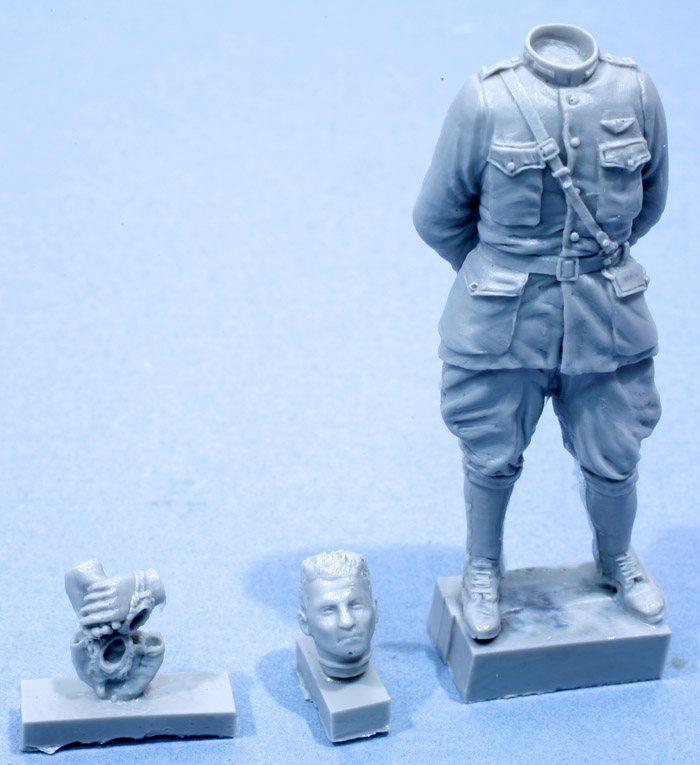 The figure is beautifully sculpted, patterned off the photo on the cover of the booklet. The figure is cast in three pieces; the body, the head and the clasped hands holding a helmet and pair of goggles. The goggles have openings that can be glazed with something like Micro Krystal Klear. There are a few tiny bubbles on my copy, including on the chin and a button or two, that will be easily filled. It appears the casting blocks should not be too hard to remove with a razor saw – just remember to use a dust mask or saw under water!
Highly recommended.
Kit available direct from Aviattic courtesy of my wallet!
Note: This is a limited edition of 150 only, so get yours quick!
© Ray Peterson 2016
This product is available from the following LSP sponsors
This review was published on Monday, March 07 2016; Last modified on Saturday, March 12 2016