Special Hobby | SH32050: 1/32 T-33A T-Bird "Over Europe"
Reviewed by Kevin Futter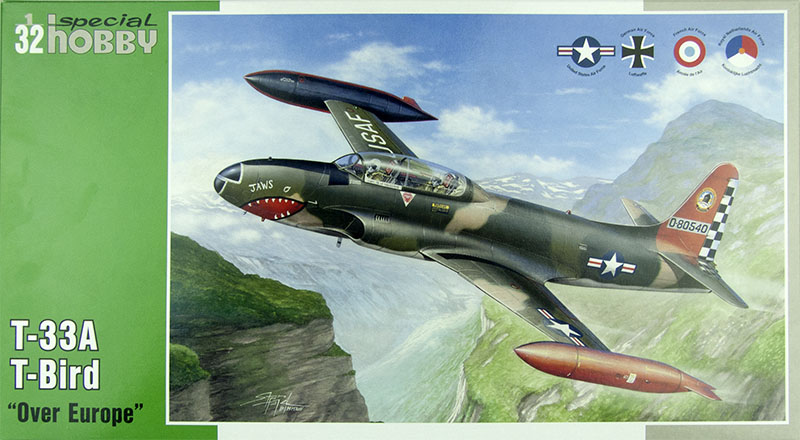 Czech Model first released its original F-80C kit in 2009, followed in 2010 by a two-seat T-33A. Special Hobby re-released the former kit in 2012, and have now followed up with a re-release of the T-33A kit. This kit, labelled "Over Europe", features the original wing and tailplane sprues from the F-80 kit, combined with new fuselage halves and detail parts.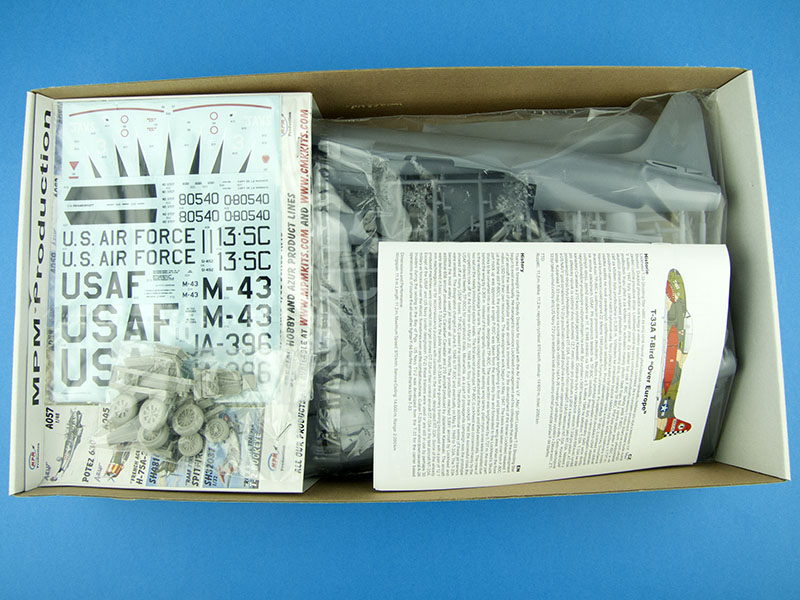 Inside the box we find the following:
5 grey plastic sprues
2 plastic fuselage halves
1 clear plastic sprue
1 bag of resin parts
2 frets of photo-etched parts
1 instruction booklet
3 decal sheets
Plastic Parts
The plastic parts are housed in two separate clear plastic bags:
---
Within the smaller of the two bags is the clear sprue, itself nicely protected in a separate plastic bag. The fuselage halves are provided already removed from their sprues: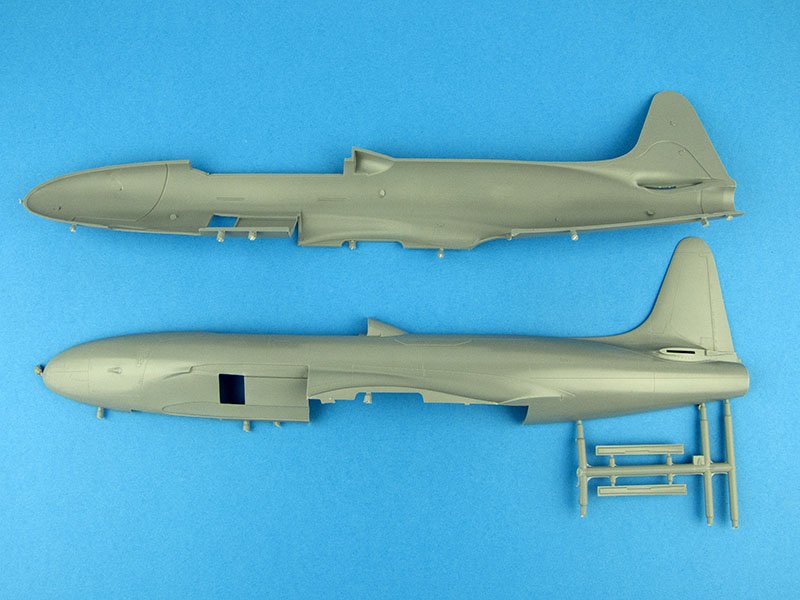 There's a heavy engraved line on the inside of the nose on each fuselage half, presumably to more easily accommodate opening this area up for detailing: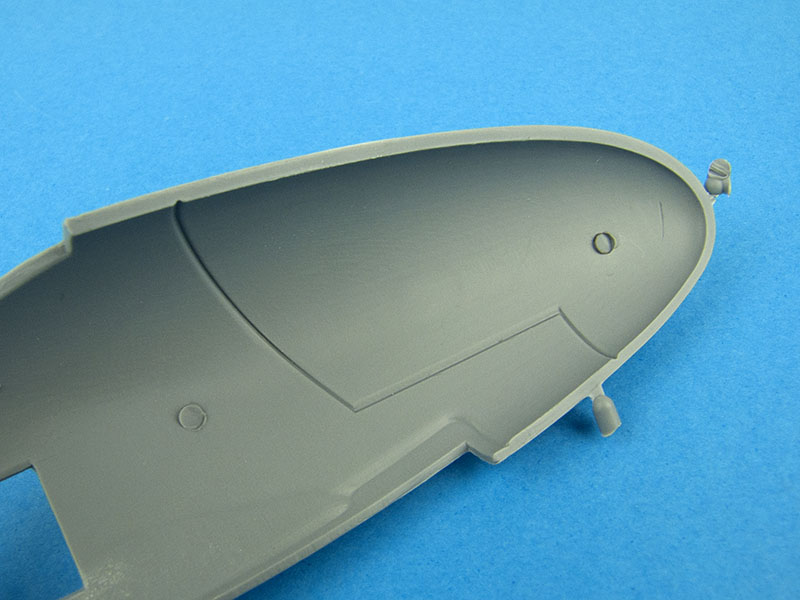 Being a short-run injection-moulded kit, there are no alignment pins on any of the major parts, and some areas lack the refinement of the leading mainstream kits. Having said that, surface detail is petite, and very nicely rendered indeed: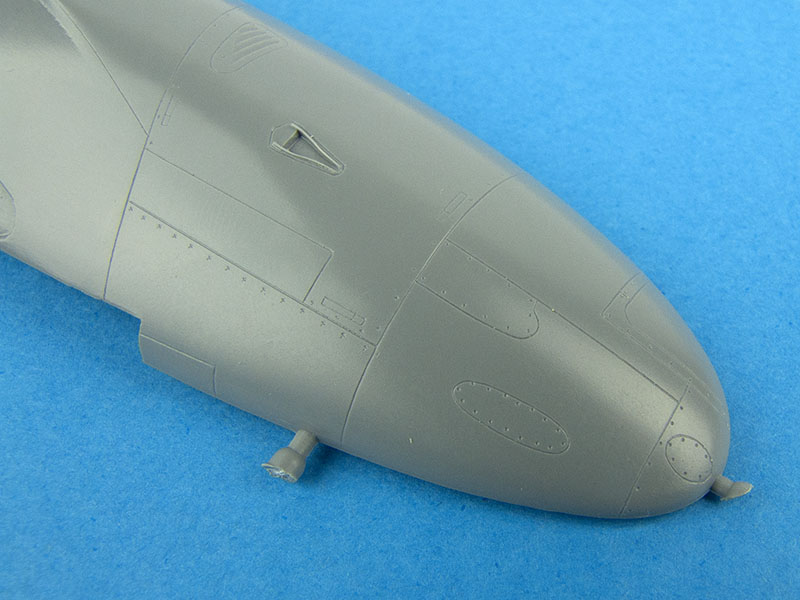 There's a separate sprue to accommodate the two-seat cockpit: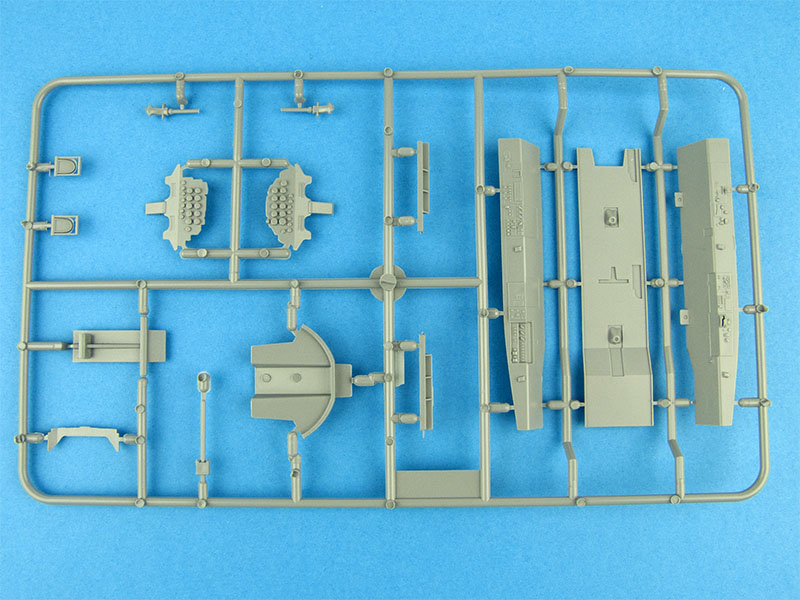 Detail is quite good, and should produce a nice result with some careful painting: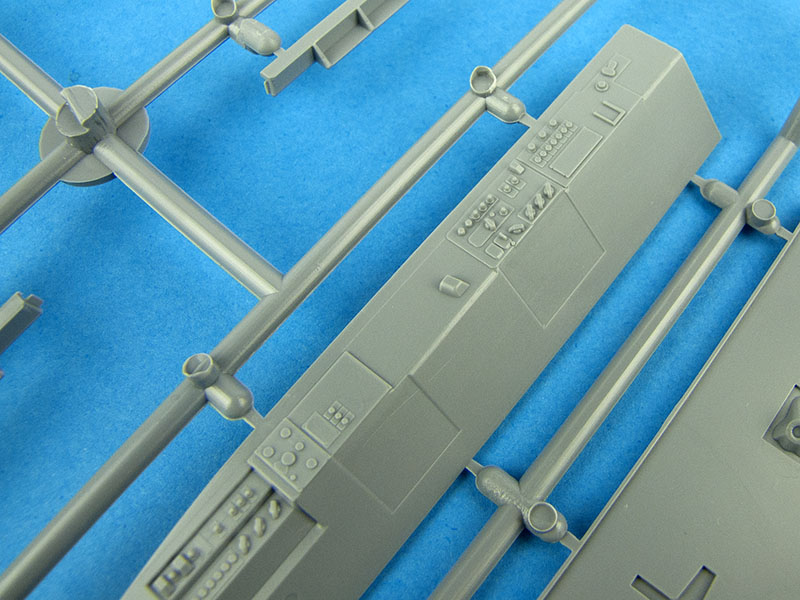 The horizontal tailplanes are provided on a sprue that also contains the original short intakes for the P-80 kit: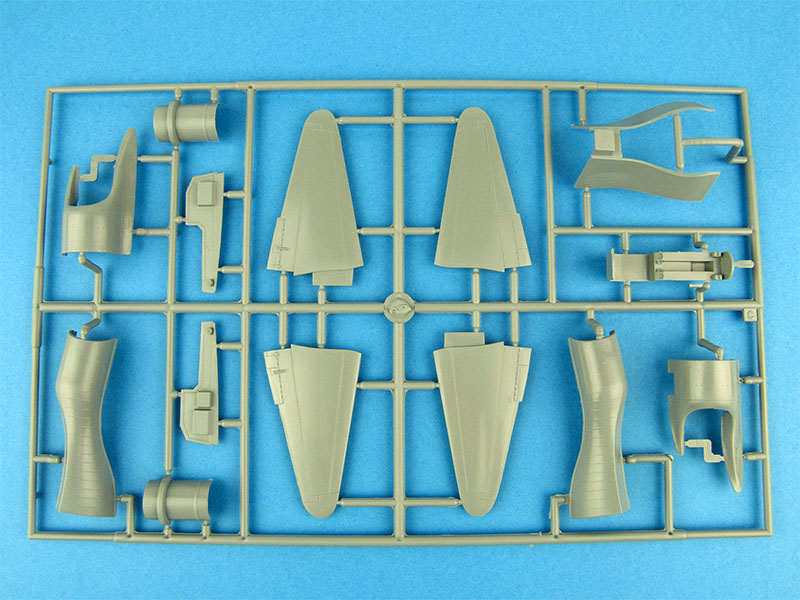 This sprue has been supplemented with one containing the correct, lengthened intakes for the two-seat configuration: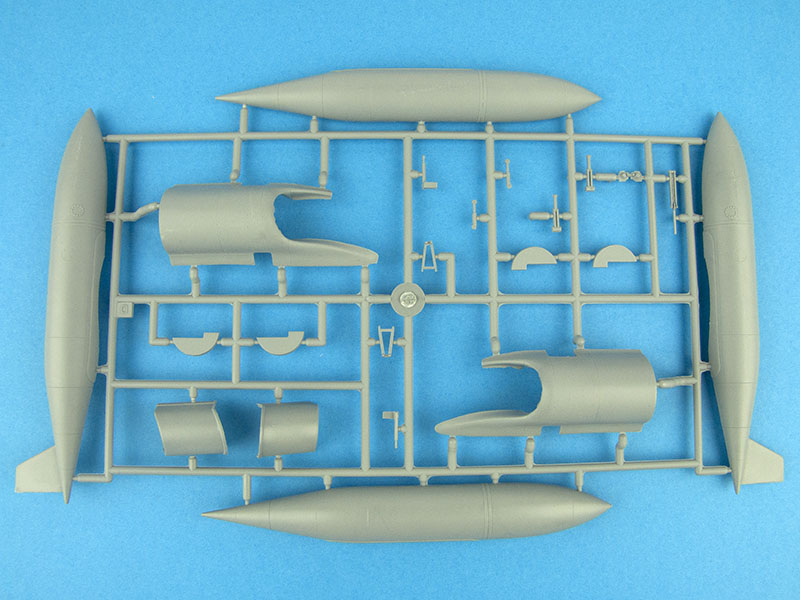 This sprue also contains the larger tip tanks that are a feature of this version. Notice that the plastic is not as highly polished as it is on the other sprues There are also some grungy areas that will need attention prior to assembly: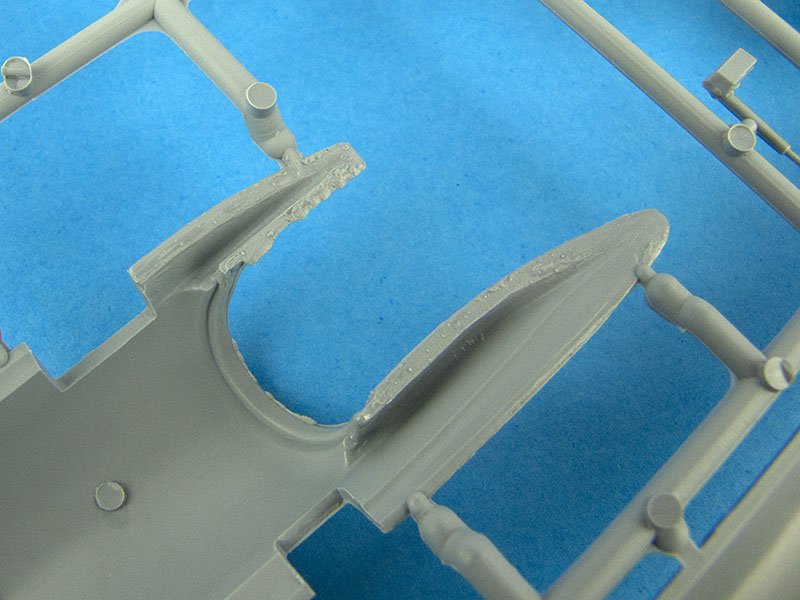 This is typical fare for a limited-run kit, and nothing to be especially alarmed about.
The wing sprues are common to all versions of the base kit so far released: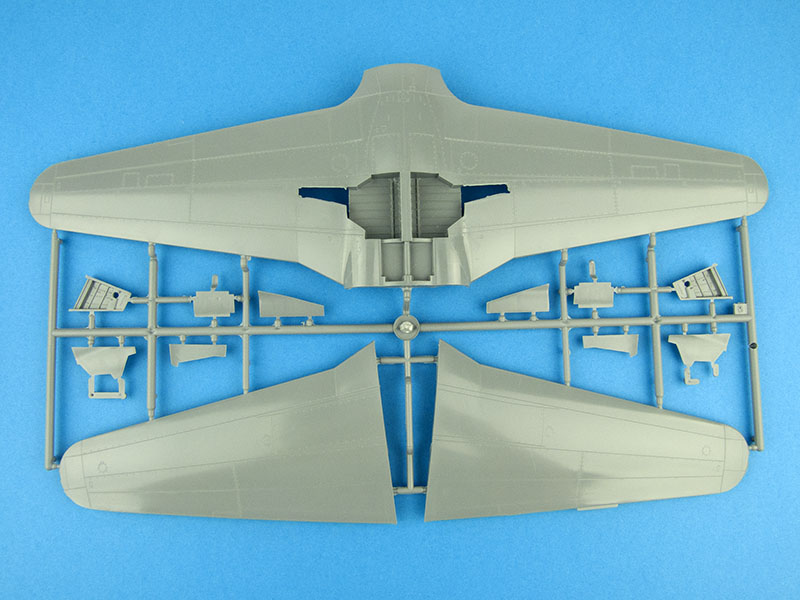 Again, surface detail is impressive, and should look great under paint: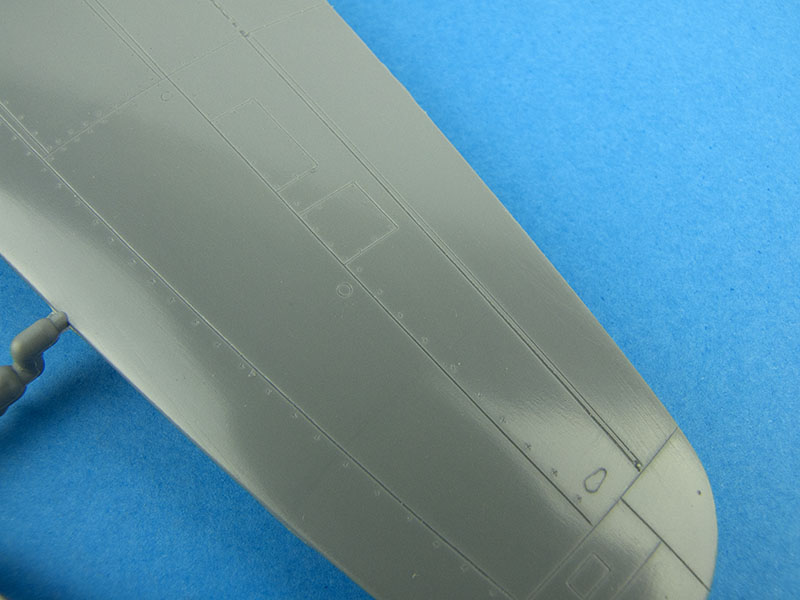 The last sprue is also a hangover from the original F-80 incarnation of this kit, and is included because it contains the landing gear legs: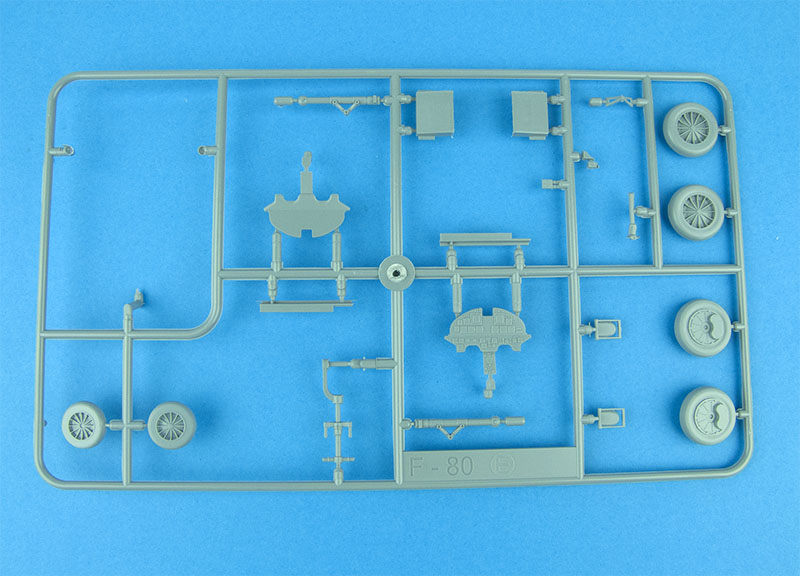 You'll notice it also contains the wheels, but these are replicated in resin, so you have a choice depending on your preference.
Clear Parts
The clear parts consist of a windscreen, rear cockpit canopy, and no less than nine small lights and beacons: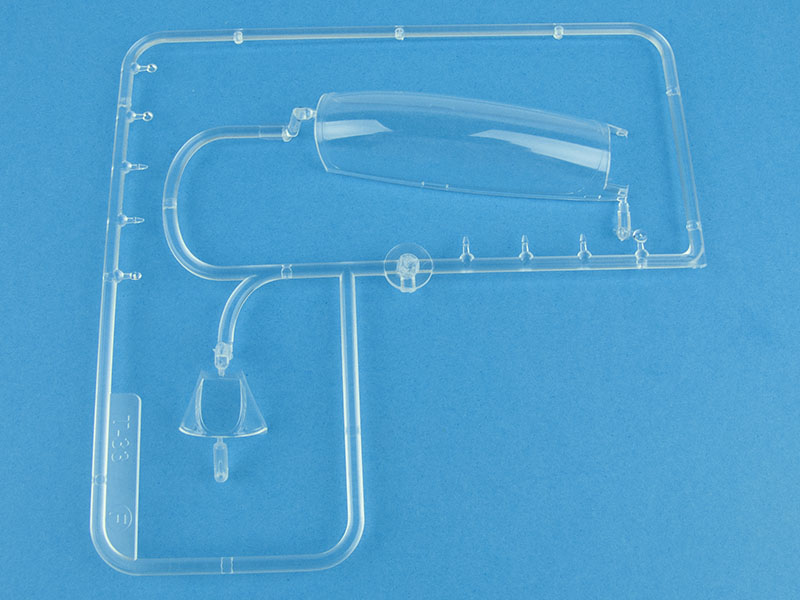 Clarity is impressive for a limited-run kit: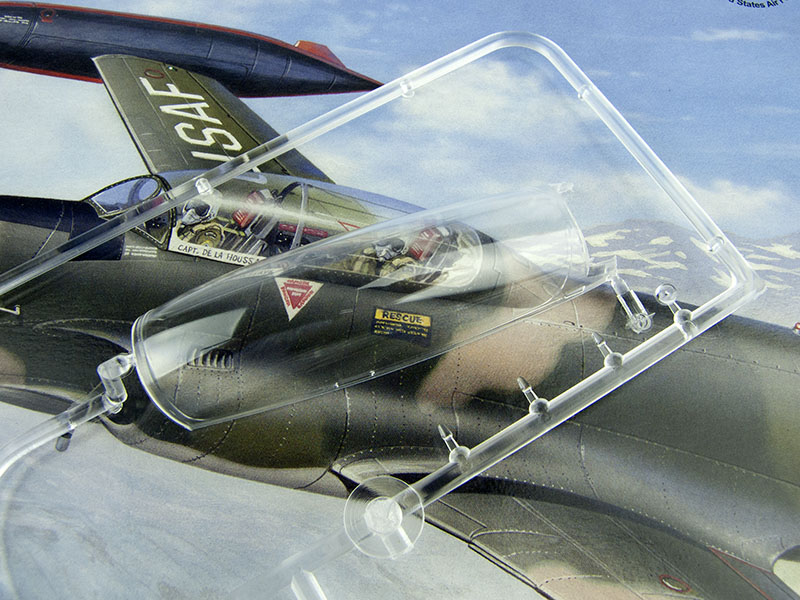 Resin Parts
One of the distinguishing features of many limited-run kits is the inclusion of resin detail parts, for which the limited-run injection-moulded process is often poorly-suited. This kit is no different, and includes a resealable bag of crisply cast resin pieces: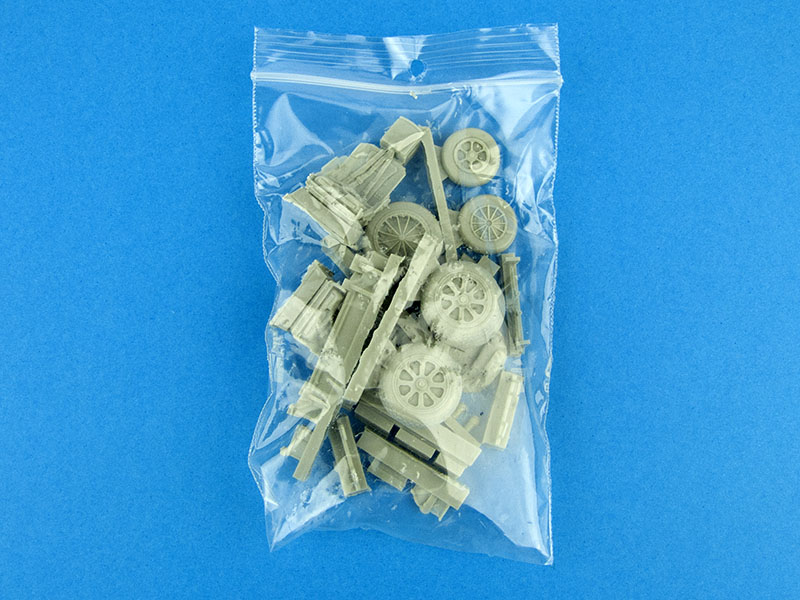 Two types of both main and nose wheels are included, one of which replicates the ones found on the plastic sprues:
---
The ejection seats are nicely done (though the grab handles are broken on one of mine), with just a little bit of resin flash to clean up: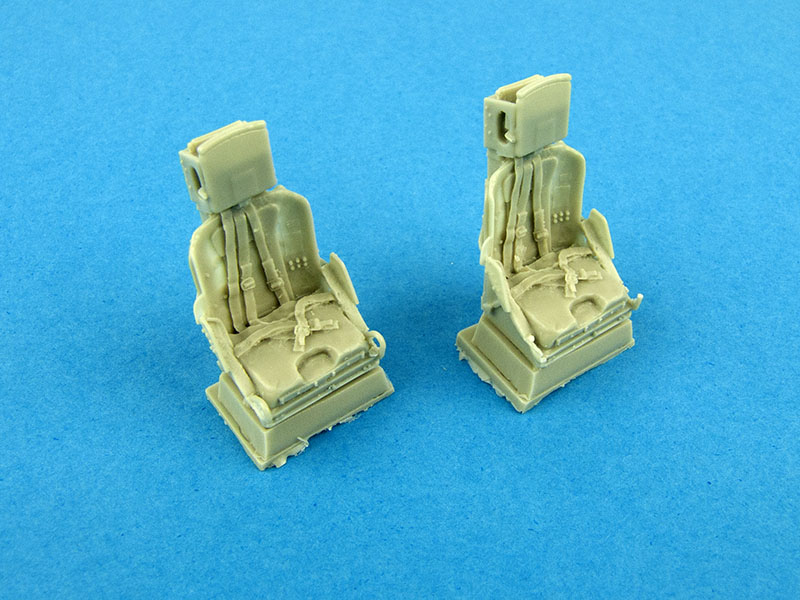 They feature some nice detail to the rear: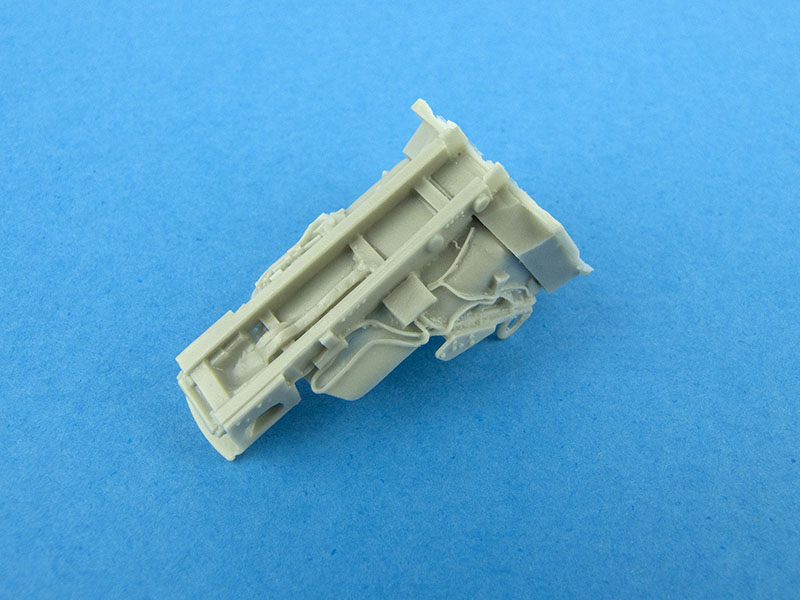 As expected, most of the rest of the resin detail parts pertain to the cockpit:
---
Photo-Etched Frets
Slid into the same clear plastic envelope as the decals, is a pair of photo-etched frets. The first contains a fine framework to fit inside the canopy, as featured all but one of the included schemes: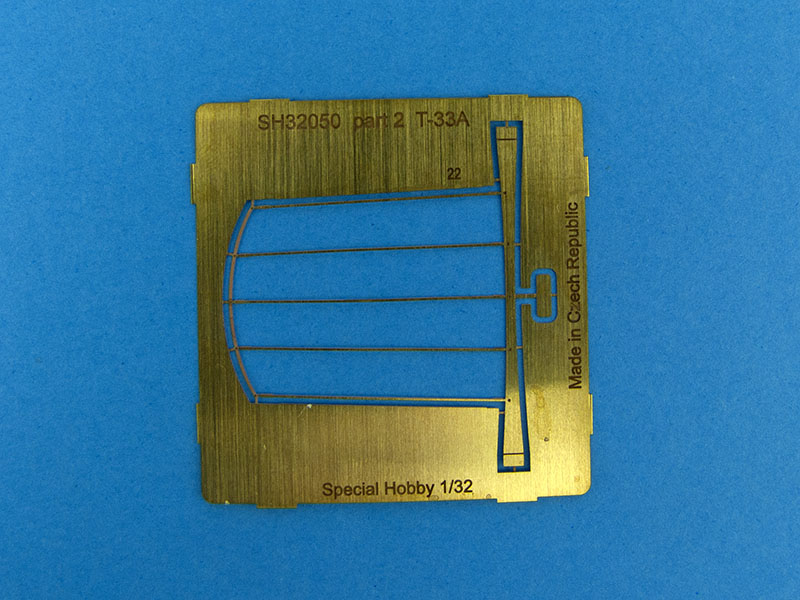 The second fret contains a number of pre-coloured parts for the cockpit, including both instrument panels: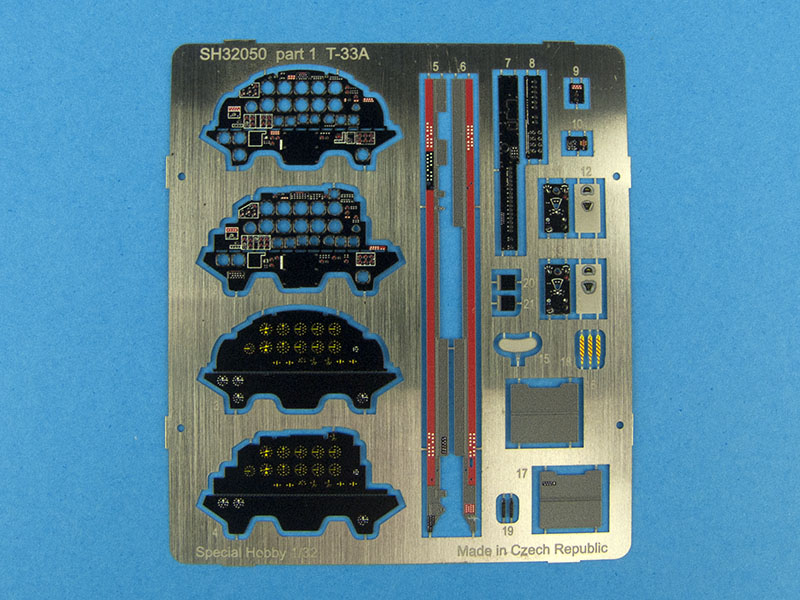 These are very crisply etched, with very finely printed details, and should provide some impressive enhancements to the cockpit.
Decals and Markings
Three decal sheets are included in this kit, covering the five schemes featured:
---
Printing is by Aviprint, and features good colour density, excellent registration, and minimal carrier film. I've not used decals by this printer before, but they look first class on the sheets.
As mentioned earlier, five schemes are provided for:
T-33A "Jaws", 58-0540, 57th FIS, USAF, Keflavik, Iceland, late 1970s (SEA camouflage)
T-33A, 58-0540, 57th FIS, USAF, Keflavik, Iceland, late 1970s (silver with red trim)
T-33A, 13-SC, 41576, Armée de l'Air, Colmar, France late 1960s
T-33A, M-43, 51-4152, Koninklijke Luchtmacht (ex-Belgian AF FT-04)
T-33A, JA-396, 2nd Staffel, JG71 "R", Bundesluftwaffe, Ahlhom, late 1960s
Each of these schemes will make for quite a striking model, and I'd personally have trouble choosing between them! It's nice to see the inclusion of some non-USAFE options, too.
Instructions
The instruction booklet is printed in colour on glossy paper, and saddle-stitched in A5 booklet format.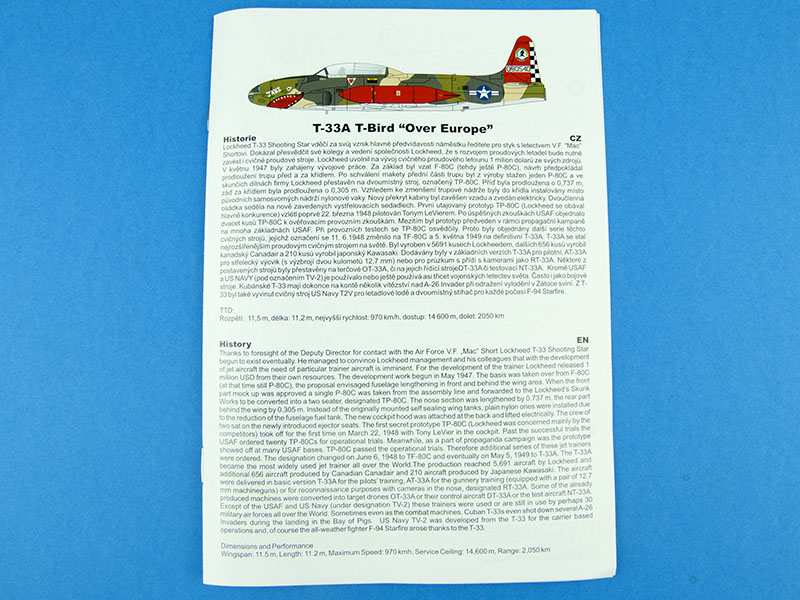 The assembly instructions follow the traditional approach of exploded views supported by explanatory annotations. Text is in Czech and English throughout. Colour call-outs are keyed to the Gunze range, but should be easily substituted for you preferred brand.
---
There's a parts map at the front, and various parts are marked not-for-use as appropriate to the type. Everything looks reasonably straightforward and easy to follow, just as it should be!
Conclusion
Obviously an in-box review of this nature isn't able to assess the overall buildability of a kit, and that's often a make-or-break element with limited run kits like this one. But the collection of parts presented is certainly impressive, and contains everything you need to produce a really fine model. The limited-run nature of the kit means I wouldn't recommend it to a beginning or inexperienced modeller, but modellers with a modicum of experience should have no trouble handling this one. The schemes included are all attractive and striking, and the instructions appear to be easy to follow. I have no hesitation in recommending this kit to experienced modellers, and look forward to building it myself!
Many thanks to HobbyLink Japan for the review kit, which can be purchased at the following link:
Special Hobby 1/32 T-33A T-Bird Over Europe
© Kevin Futter 2016
This review was published on Friday, March 11 2016; Last modified on Friday, March 11 2016