Kinetic | K3208: 1/24 Republic P-47D Thunderbolt "Razorback"
Reviewed by Kevin Williams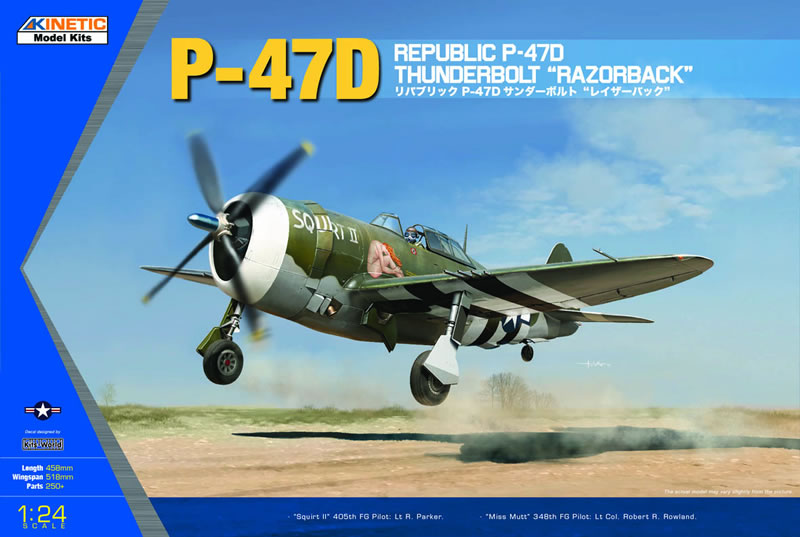 Vintage Fighter Series released their 1/24 scale P-47D Thunderbolt Bubbletop back in 2008. Kinetic gave this model a new lease of life last year, and now they have released a Razorback version with new plastic parts and decals.
I decided at the outset to remove myself from the somewhat typical and lengthy description of the Thunderbolt technical development and operational history. (Since this is more of an in-box review than a build review, I have no photos of assembled sub structures, so this should be considered as more of an overview of the various areas I thought might be of interest.)
Packaging
The kit came in a very large box (measuring 14-3/4" x 10" x 8"), but considering the overall weight and massive number of parts, is actually quite thin and flimsy. All major groups of parts arrive in their own individually resealable clear bags, but I found the clear plastic was easily torn and ripped, so I discarded those early on, all except for the clear parts.
Instructions
---
Instructions are depicted in a sort of pictographic way, making assembly a fairly straight forward process. (My scans don't really do them justice.)
Decals/Schemes
Markings are provided for two Thunderbolts, but no particular units are specified. These are Squirt II, serial no 42-76275 and Miss Mutt, serial no 41-6358.
---
Decals appear to be perfectly in register, quite opaque, and well detailed, with nice stenciling, including prop logos, data tables, etc. Printed by Cartograf (which I quite frankly was surprised to see), they're sure to be excellent.
Fuselage
---
The fuselage halves are apparently new moldings, differing from what were provided in the earlier bubbletop release. Unlike what I've read about the bubbletop kit, the spine and tail are integrated with the fuselage halves here, so there will be no unnecessary seam lines or inserts to clean up. Surface texture is comparatively smooth, and feature crisply recessed panel lines and rivet details The subtlety of the tooling is such that they should not be a distraction from the overall appearance of the aircraft. Molding quality is generally very good. Some of the sprue attachment points are rather large and bulky though, so care will be needed when removing them to avoid damaging the surrounding areas.
Extra Vertical Tail
---
While I'm at it, two complete alternate vertical tail assemblies are included, but these are apparently a remnant of the bubble top kit, and should be ignored. They do contain the two aileron segments though, and those will certainly be required.
Cockpit
---
Not a lot to be said here, save for the notion that if one takes his time, cockpit has the potential to build into a fairly comprehensive and busy facsimile, though purists will undoubtedly want to go nuts here. Again, extra parts are included, as remnants of the earlier offering.
Canopy/Windscreen
---
Clear elements of kit are indeed quite clear and appear to be well molded.
Engine
---
The Engine is another area that seems to be very well detailed, and will look quite excellent on those models where the builder decides to leave it exposed, (I will not). Engine bay and corresponding equipment bay behind it, are extremely detailed, with pipes, conduits, liquid tanks and sundry other details, giving an overall very busy appearance.
Cowlings
---
Cowlings are a multi-piece affair, with some nifty detailing molded on interior faces, should the modeler choose to display them removed. These are also unfortunately peppered with ejector pin dimples, and those would certainly need to be dealt with.
Propellers
---
Four unique styles of props are included, two sets of cuffed and two sets of non cuffed; Hamilton Standard and Curtiss, three of which will be handy extras for the parts box.
Wheel Wells
---
Built as per the instructions, main wheel wells (nice and deep) should offer up a fairly busy appearance, and should please those that are concerned with this type of thing.
Main Wheels/Tires
---
Main wheels/tires are molded in a rubbery vinyl material, with a unique tread pattern the likes of which I've never seen before. My feeling is that these really need to be replaced.
Weapons
---
Bazooka tubes and bombs are both provided (two sets), and appear to be acceptable to me, if not altogether complete, as certain details, especially on the tube aft ends, are lacking.
Wings/Machine Gun Bays
---
Port wing has provisions for open gun bay and ammo storage areas, whereas starboard wing only offers open gun bay. It's highly likely that I'll depict mine with only the port gun bay exposed, assuming all of the other components as provided give a good overall appearance, and I believe they will.
Fuel Tanks
---
Three styles of tanks are offered, one pair of teardrop, one pair of paper, and one flat centerline mounted. The paper tanks in particular, look very appealing to me.
Control Surfaces
---
While it's very difficult to make out on the instructions, it would appear that flaps can be built extended or retracted. Determining what's what, will require extreme scrutiny at the time of assembly.
Miscellaneous
---
The photos above, are a hodge-podge collection of images that didn't really seem to fit anywhere else.
Summation
All things considered, I think this is a great foundation on which to build a truly outstanding model of the iconic Thunderbolt. I can almost see it strafing a German ammo train right now, all eight .50 caliber machine guns blazing away. As it stands, it would also be a great model kit for Joe average, and will undoubtedly be an impressive center piece to any Thunderbolt collection. There is a lot to like about this kit (no pun intended). Despite its size and the number of options, the engineering of Kinetic's 1/24 scale P-47D Thunderbolt Razorback is actually quite straightforward, ensuring that any reasonably competent modeler should be able to manage building this without any real problems. The number of useful alternative options; props, drop tanks, ordnance, open/closed position panels etc., are also potentially very desirable, at least to many.
Overall, while given detail is certainly not bad, there is still plenty of opportunity for adding more, especially in the cockpit, machine gun bays and wheel wells.
I would rate Kinetic's P-47D Thunderbolt as a very good 1/24 scale kit.
If you are a Thunderbolt fan as I am, and have plenty of display space, this one is certainly for you!
Review kit provided by Lucky Model; thanks very much.
Recommended Reading/Reference Material
Squadron/Signal, The Republic P-47 Thunderbolt in the Pacific Theater
---
Squadron/Signal, The Republic P-47 Thunderbolt in the European Theater
---
Kagero, Republic P-47 Thunderbolt, Volume I
---
Squadron/Signal/Periscopio, P-47 Thunderbolt
---
© Kevin Williams 2016
This review was published on Thursday, March 24 2016; Last modified on Saturday, April 02 2016