Squadron/Signal | 5518: F/A-18 Hornet Walk Around
Reviewed by Kevin Williams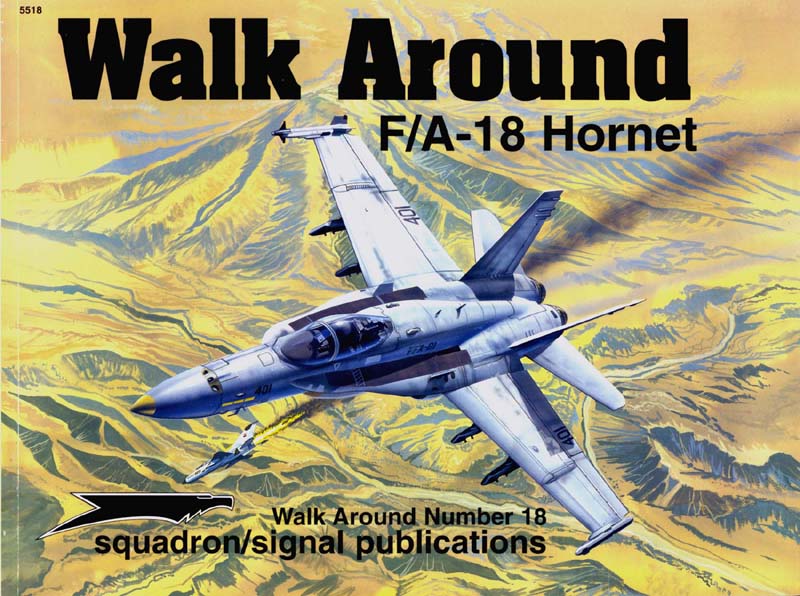 Growing up in St Louis, Mo., I have a particular affinity for McDonnell and McDonnell Douglas products, having seen various examples of their aircraft flying around here most of my life. My father was also a long time Mac employee, so that adds another dimension/connection for me, and this book on the legacy Hornet family, was a welcome addition to my aircraft references.
The walk around series from Squadron/Signal is well know to most by now, and this book follows in the footsteps of its predecessors, offering up a brief development history of the Hornet, starting with the F-18A, and attempting to highlight the differences in subsequent variants.
This publication, like most (but not all) titles, is a nice blend of black & white and color photographs, and as the title implies, is predominantly detail oriented. All books in the series are printed on good quality glossy paper, which I consider to be a big plus in their favor. The book is also interspersed with various component illustrations and color profiles. To me, the brilliant artwork and illustrations by Don Greer are one of the very strong points of many a Squadron/Signal publication, and add a great additional dimension to the overall appeal of the volumes.
Typical Photo Excerpts
---
Certainly one of the strengths of this series, are the detail photographs of various airframe elements.
Line Drawings
---
Not scale drawings in the traditional sense, but most volumes (perhaps all) usually contain very nice line drawings of specific airframes, in this case the F-18C.
Typical Illustrations
---
As stated previously, the artwork of Don Greer is of an unusually high quality, and adds wonderfully to the overall completeness and professionalism of the publication.
Summation
All things considered, I view these walk around books as not only being good value, but see them as making an excellent primary or supplemental reference. While there are, in certain instances, books that cover these subjects better and in more depth, the overall impact and quality of these volumes, makes them quite desirable references unto their own, and are therefore highly recommended.
Thanks to my own anemic wallet for the review copy.
Further recommended reading/reference
Linewrights Limited/Aeroguide 20: McDonnell Douglas F-18A Hornet
---
Daco Publishing: Uncovering the Boeing F/A-18 A/B/C/D Hornet
---
© Kevin Williams 2016
This review was published on Friday, April 22 2016; Last modified on Friday, April 29 2016