Iconicair | Supermarine Seafang F.32
Reviewed by Ray Peterson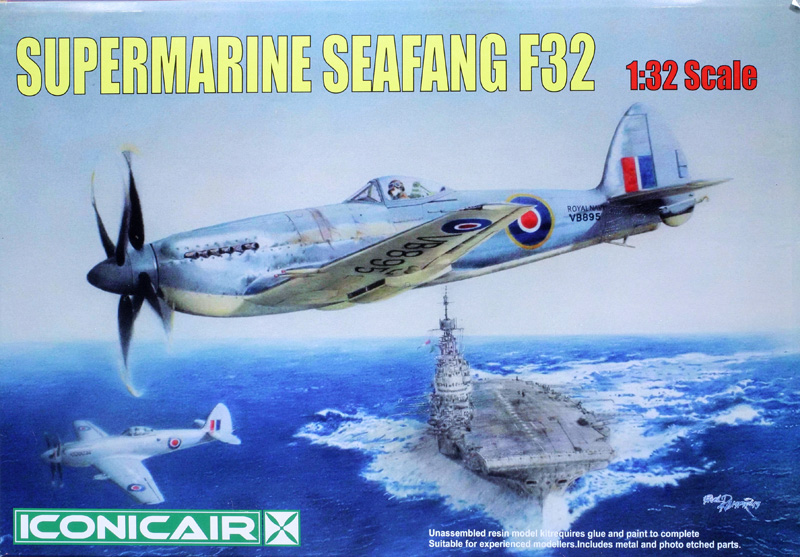 I don't know about anyone else, but before this kit came out I had no clue what a Seafang was. I discovered it was a modified Spiteful which in itself was an attempt to improve the Spitfire with a laminar-flow wing. Think love-child of a Spitfire and a Mustang.
At any rate, the Spiteful was eventually cancelled and all parts were absorbed into Seafang production. Two prototypes, VB893 and VB895 were built and VG471 became the first production model to be used to test deck landings. As it turned out, the Seafire 47 was determined to be the better aircraft. VB895 was then used to provide data on the laminar wings as they were to be used on the new Supermarine Attacker jet aircraft.
So enter Iconicair. They are the first manufacturer to offer the Spiteful and now it's naval sister the Seafang in 1/32nd scale.
Iconair claims they are the first to produce this aircraft off of original data. I have no references on the Spiteful or Seafang so don't have much to go one other than the few pictures that can be found on the internet. Shapes do appear consistent with those pictures. Apparently all original aircraft were scrapped with no survivors so no help from the museums. The kit was produced in CAD and then the original pattern apparently machined or printed as some of the interior, unseen, faces of the parts have tell-tale machine marks.
The kit is presented in a nicely produced 8" x 12" x 2" box with full color artwork on the boxtop. It is a multi-media affair, consisting of 134 parts. These include 105 resin parts, 2 clear resin parts, 13 clear plastic laser-cut parts, 6 white metal parts (landing gear), and 8 PE parts. Also included is a sheet of decals for four schemes, and an eighteen-page A4 instruction booklet.
---
The resin parts are all extremely well cast, most with small casting nubs, which should make construction similar to building an injection-molded kit. Only the smallest parts need the most attention, as they will need care in removing them from their casting strips. Detail includes some rivet and fastener detail which is fine and crisp. Don't forget to sand with water and/or use a dust mask to keep the intake of resin dust to a minimum.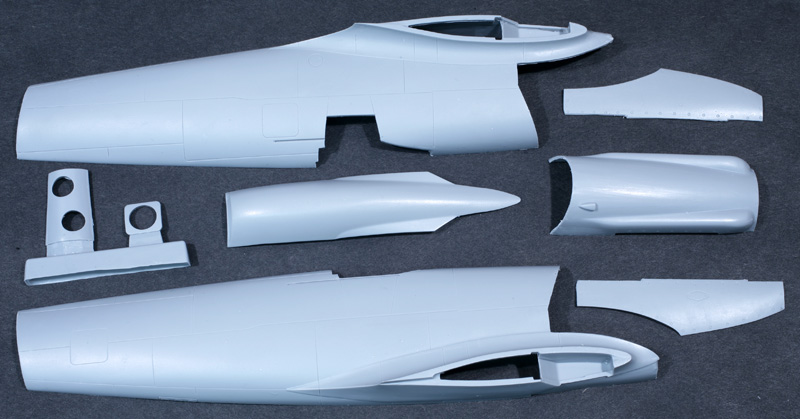 The fuselage is conventionally cast with thin walls. The engine compartment is made up of an inner frame with four panels enclosing it plus two parts containing the twelve exhaust outlets. Separate parts are provided for camera ports if you decide to build VB895.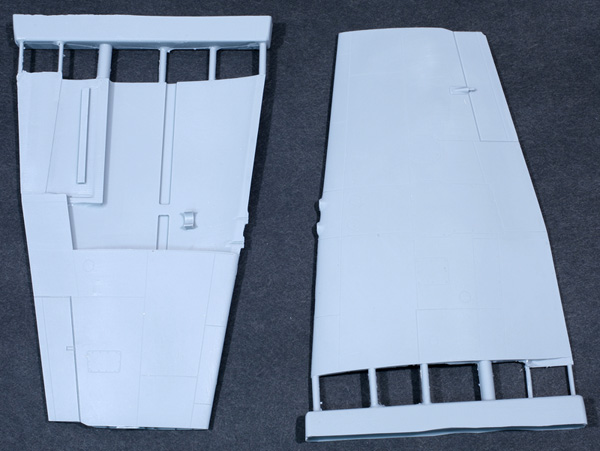 Wings are partially solid, with separate panels at the wheel wells to allow undercuts and detail on the faces of the wing structure. The wingtips are separate and laser-cut clear plastic parts are supplied to allow the tips to be glued in their folded position, although the instructions do not do a good job of showing that. The clear part is shown floating between the tip and wing in the instructions so you are warned. Any plumbing at the join or wheel-wells would have to be added, if you can find any photos to go by? Since the wings are similar, possibly references on the Attacker may be used since they are supposed to have similar wings as previously mentioned. Control surfaces, with the exception of the rudder, are all cast in their neutral positions.
The cockpit is well detailed, made up of about forty parts, plus decals. Again, wiring could be added if you can find or extrapolate reference material.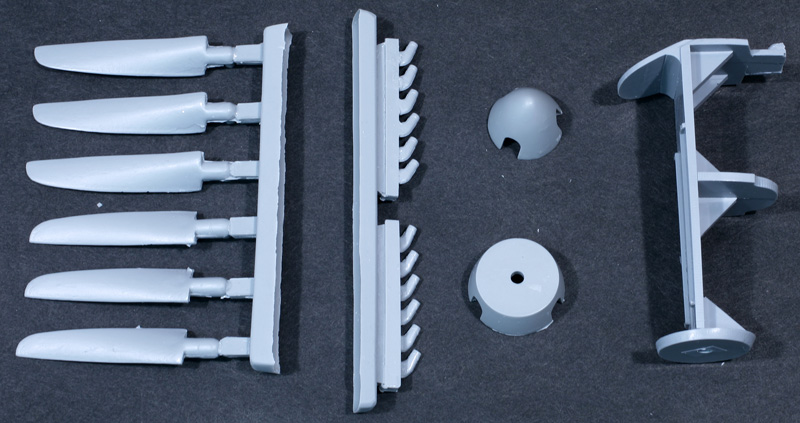 The contra-rotating props are nicely done, and are keyed to the spinners to keep them all at the same angle. If you are careful you can make the two sets of blades rotate separately.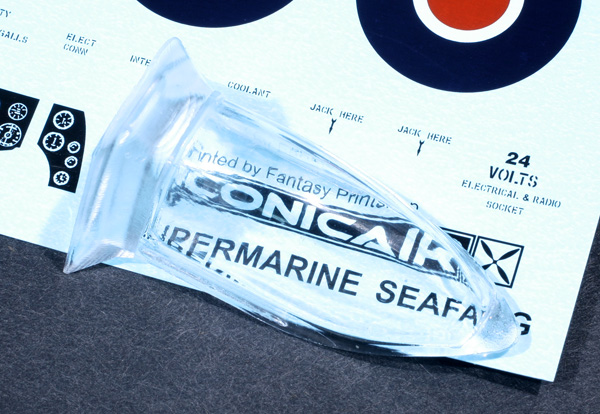 The canopy clear parts are nicely cast and are very clear. They easily pass the clarity test. With a Future bath they should sparkle.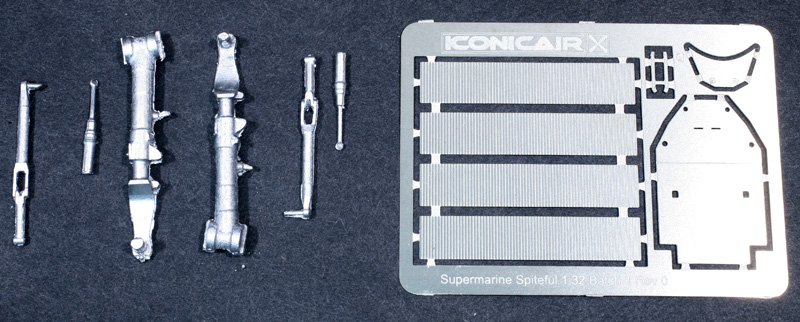 Main landing gear are done in white metal and are well cast with very little pitting and clean up needed. The metal does not appear to be too soft and I think will support the model just fine. The tailwheel is a one-piece resin affair similar to what Hasegawa typically provides, i.e. wheel and fork are one piece. PE is provided for the radiator screen faces and cockpit armor.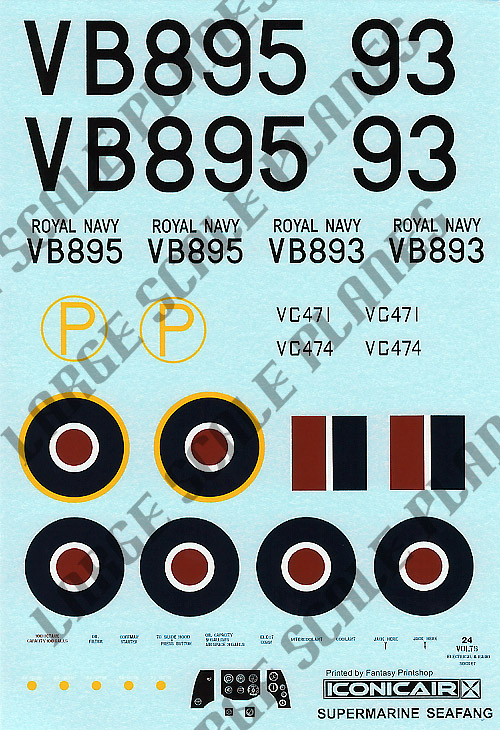 The decals are done by Fantasy Printshop, appear to be in good register and thin. Markings are provided for one of the prototypes, VB895 and one of the first production aircraft, VG471, which took part in carrier landing trials. They also provide serials for two other known aircraft, VB893 and VG474. The prototype is called to be painted Extra Dark Sea Grey over Sky, and the production aircraft in a camo scheme of EDSG and Slate Grey over Sky. Of course, this would be a great kit for what-if markings. Trumpeter, in their 1/48th kit, offers Suez Crisis markings for instance. It would be up to your imagination as to what else could be done.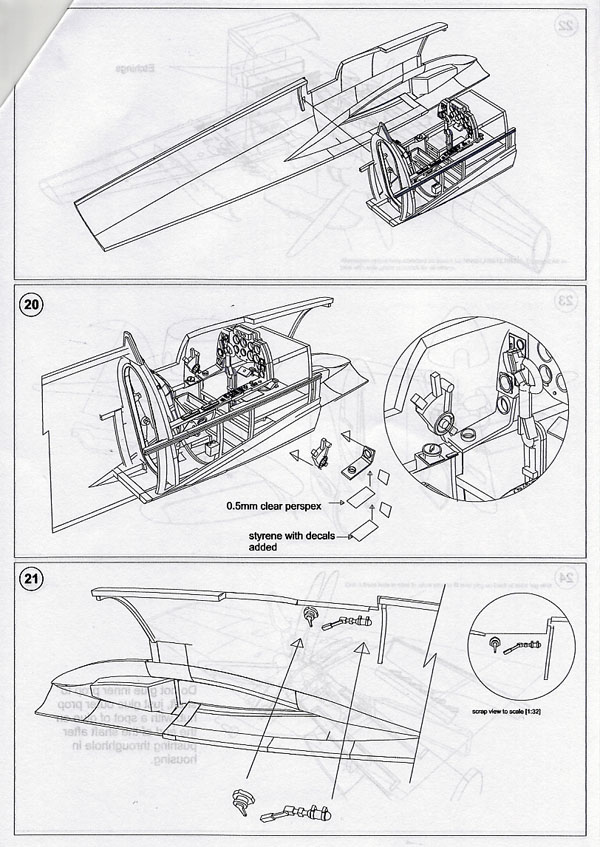 Instructions are in the form of CAD exploded view drawings with notes. Some of the instructions appear to be shared with the earlier Spiteful kit as some notes seem to be left over from that kit. They are pretty minimal but adequate if studied well. As with any resin kit – or any kit for that matter – dry-fitting should be done to catch any problems and familiarize the builder with the assembly.
In summary, this is a professionally done kit of a very esoteric aircraft from the immediate post-war era. Along with a late-war bubbletop Spitfire XIV and its sister kit, the Spiteful, one could make a nice display of the evolution of Supermarine designs. When the Attacker comes out, it would be an interesting display, indeed.
Highly Recommended.
Available directly from Iconicair.
© Ray Peterson 2016
This review was published on Friday, March 25 2016; Last modified on Friday, March 25 2016