Fisher Model & Pattern | A 3237: 1/32 Gloster Meteor T.7 Conversion Set
Reviewed by Max Williams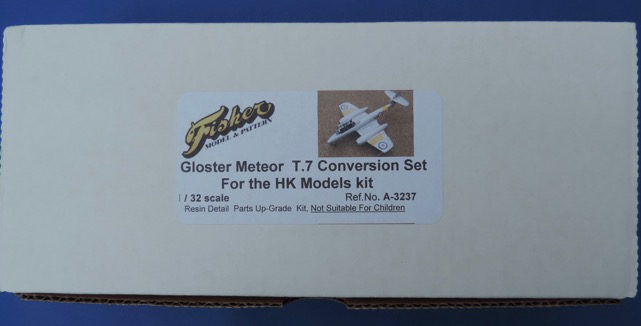 Paul Fisher's after market resin products have deservedly gained a reputation for accuracy, for attention to detail and for quality of mouldings. His latest, the conversion set for the HK Gloster Meteor F.4 to the T.7 trainer version is well up to his usual standard.
The set is securely packaged in a sturdy box (245mm x 110mm x 55mm), each section of the build coming in separate resealable plastic bags.
The main components are the nose section, which has very fine rivet detail and panel lines, the external belly tank and two external underwing tanks, the latter being one-piece items.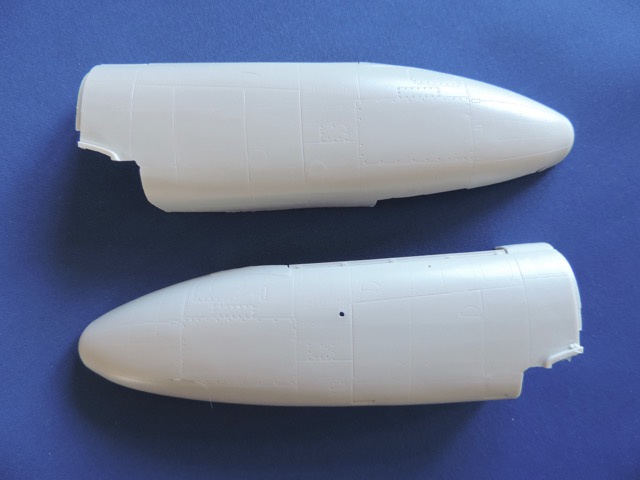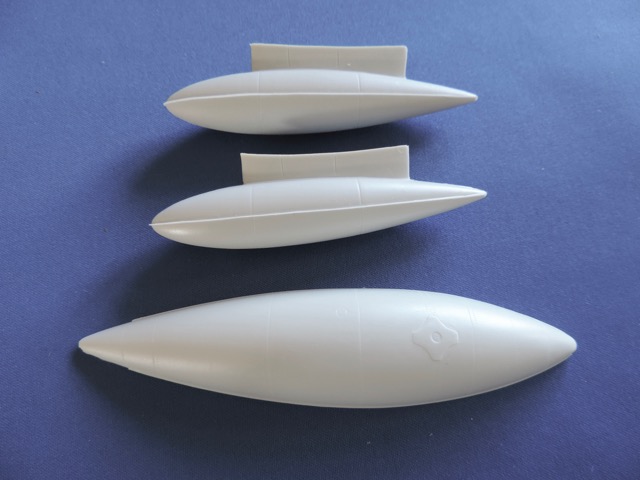 As an example of Fisher M&P's standard, corrected air intakes are included with the set which, though not strictly necessary for the conversion, improve the shape and size of the engine intakes. Since the very front section only of the engine intake is modelled, it should be an easier job to fit than the long chord correction set also produced by Fisher.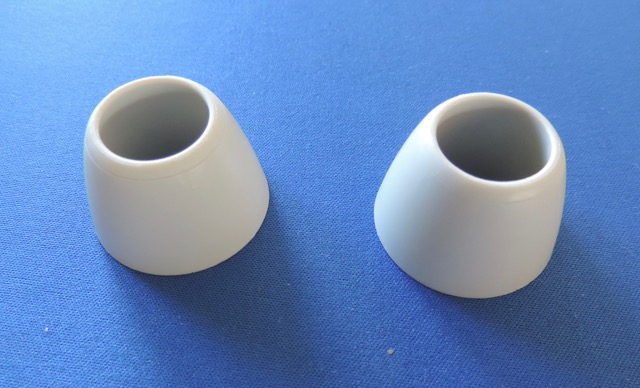 Mouldings for the front and rear "offices" are exquisite, very finely detailed and comprehensive even down to throttles and tiny cast resin "D" shaped pull handles. I found it particularly valuable that the excellent instructions not only identify many of the myriad bits and pieces but also give painting instructions for them..."next add trim wheels to the port sidewall. The trim wheels were made of Bakelite, a reddish brown phenolic plastic". Similarly "the colour for the bulk of the (cockpit) interior is matte black, but it is best to use varying shades of dark grey to enhance the details and give the impression of depth." You just know that these instructions have been written for modellers by a modeller, which inspires confidence.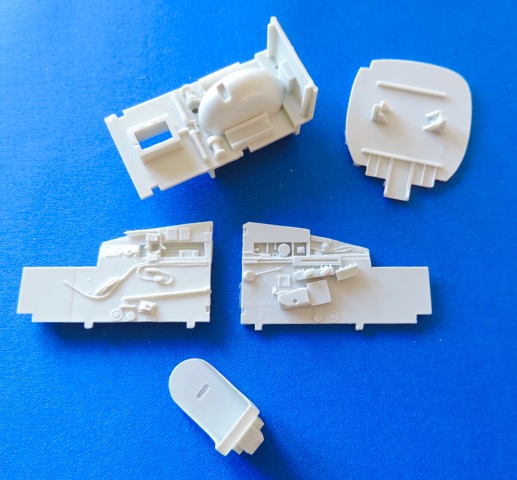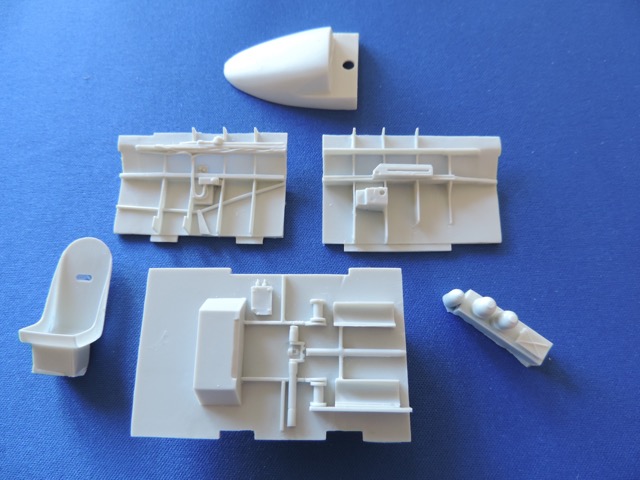 Whilst most of the cockpit is resin, there is a photo-etched sheet which comprises the two instrument panels, seat belts and various levers and handles. The instrument panels are not pre-painted but a printed paper sheet of dials is provided with instructions on how best to fit them. The two-section canopy cast in resin is clear and flaw-free.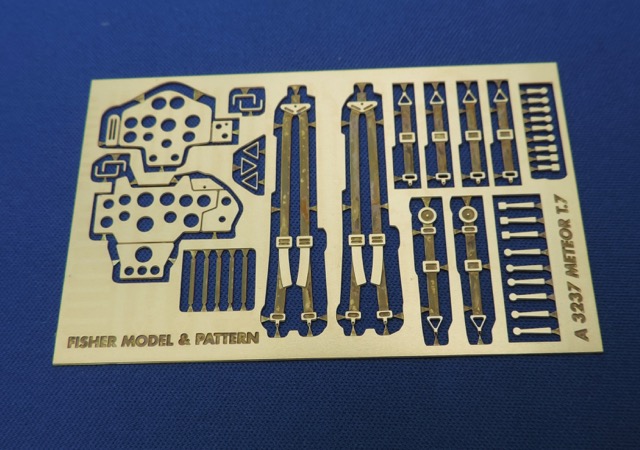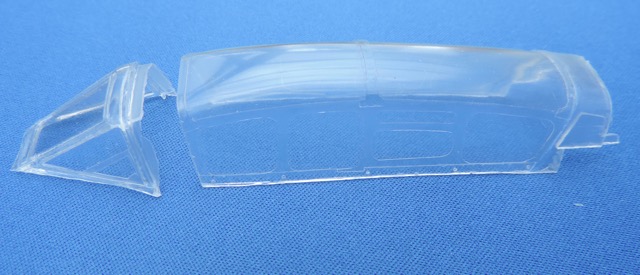 The decals come in two sheets and include stencils for panels, walkways etc. Markings are provided for aircraft of the gloss black and orange dayglo WS103 of Yeovilton Station Flight, camouflaged WL380 of No. 74 squadron Horsham St Faith in February 1958, colourful VW456 Leuchars Target Tug Flight 1958 and classic silver and yellow WS116 of RNAS Lossiemouth. Through an oversight, the decal and stencil placement instructions were not included in my set but will be in future sets.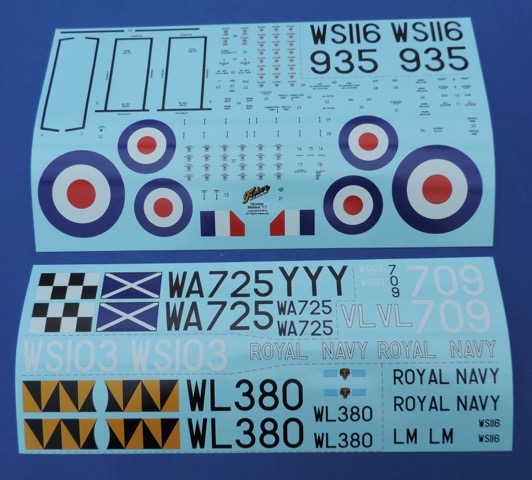 The ten page instruction sheet is a delight; well illustrated with clear black and white photographs and words (now there's a difference from modern often cryptic drawings!) offering friendly tips and words of advice which complement the pictures. I like Paul's conversational style of writing, you know he's talking to you personally..."add any other small details and call it a day, sit back and admire your Meteor T.7."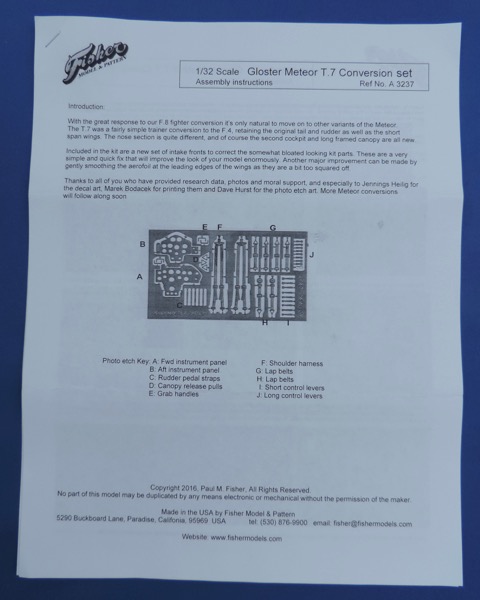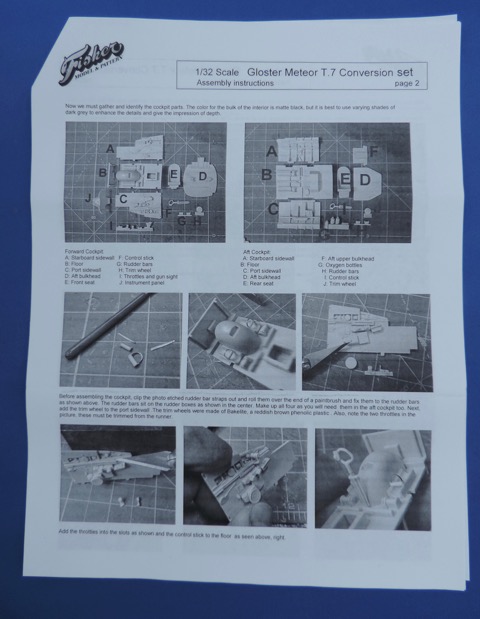 Conclusion
Whilst not perfect, the HK Gloster Meteor F.4 is a good kit. Paul Fisher has already chosen to extend our enjoyment of it with his F.8 conversion and the long chord nacelles, and now the T.7 is another very welcome upgrade for this iconic aeroplane, one which anybody who knows their way around a razor saw, a craft knife and CA glue will find well within their capabilities. Highly recommended.
© Max Williams 2016
This product is available from the following LSP sponsors
This review was published on Friday, March 25 2016; Last modified on Friday, March 25 2016