Aires | 2084: 1/32 Nakajima Ki-84 Hayate Cockpit Set
Reviewed by Kevin Williams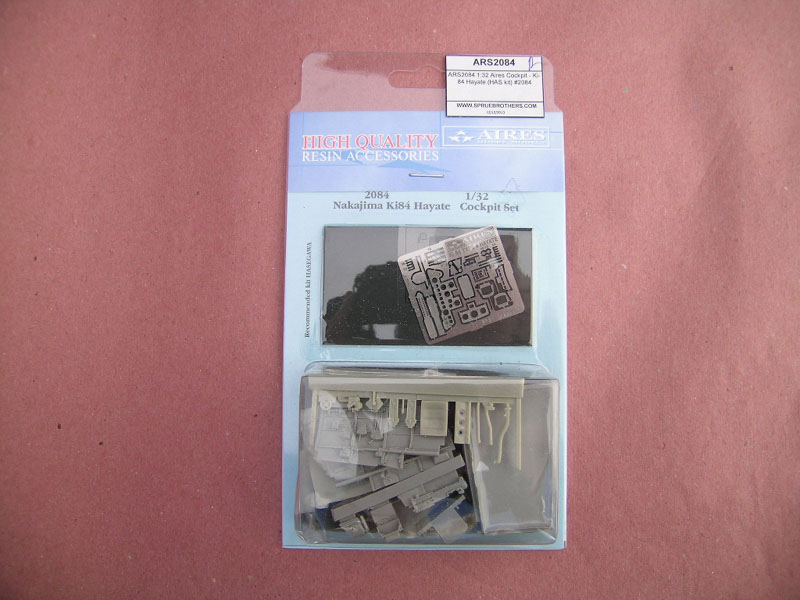 I've heard good and bad about Aires from a variety of sources, but I just love the stuff. Packed in a nice arrangement for shipping (and display) purposes, the resin, photo etch and acetate sheet are all carefully packed in a fairly stout plastic enclosure with some foam rubber where required, ensuring minimum damage.
This set appears to be very complete, offering up new seat, floor, bulkhead, instrument panel, side panels, control stick, seat belts, guns, the works.
Overall, the casting appears to be to the very high standard that I have come to expect from Aires. Delicate details abound, and overall impression of all components once assembled, is quite complete and busy looking, just the ticket for a really nice looking 'pit. Once painted and weathered, this will undoubtedly add a tremendous amount of "wow" factor to your kit.
Instructions
---
The instructions are printed on two sides of one page and include exploded drawings that depict various item locations. Unfortunately, no painting suggestions are included, so references will need to be carefully scrutinized for coloring cues.
Floor/Seat
---
The cockpit proper, consists of a large single piece floor, beautifully cast, with some very nice details. Seat is also very nice, with lightening holes and these are lightly covered with resin flash that will need to be cleaned up. Seat may be a tad out of scale as regards gauge of material, but still looks very nice. With the addition of the provided P.E. belts, it should look great.
Sidewalls
---
Again, sidewalls are very nicely detailed, and add a lot of busyness to an already nice looking cockpit that is well crammed with other good details.
Bulkhead
---
Bulkhead aft of seat would appear to be little more than the kit provided piece, but with all of the ejector pin marks removed, a nice touch that will save the modeler some time.
Instrument panel
---
The instrument panel (with molded integral instrument rears) is a miniature work of art, and should look really snazzy, once painted.
Miscellaneous
---
A number of small resin items, such as beautiful machine guns, control stick, pump handles, electrical boxes, etc., are included as separate pieces.
Photo-Etched Fret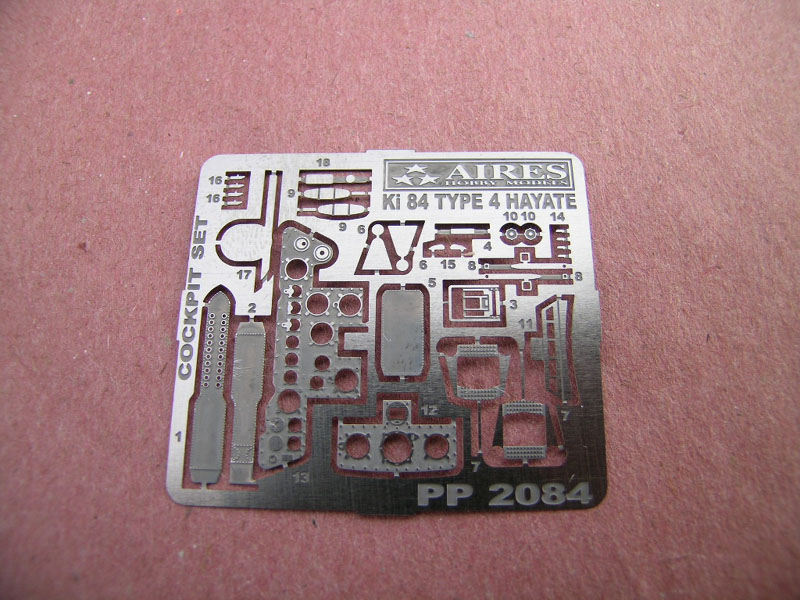 All ancillary items remaining that are needed to complete the cockpit, are included in the P.E. fret, to include belts, very nice instrument panels with gauge faces, rudder pedals, etc.
Summary
My conclusion is very favorable indeed, and I wouldn't hesitate for a moment to recommend inclusion of this set as standard fare for anyone that desires to dress up their Ki-84 Frank.
This product is highly recommended for overall quality and detail.
Thanks to my wallet for the review sample.
Additional recommended reference/reading material
Kagero: Nakajima Ki-84 Hayate
---
Dai-Nippon Kaiga Co., Ltd.: Nakajima Ki-84 Hayate "Frank"
---
© Kevin Williams 2016
This review was published on Friday, April 01 2016; Last modified on Thursday, September 15 2016