Zotz Decals | ZTZ32065: F-4B Phantom II Mig Killers of the Vietnam War
Reviewed by Kevin Williams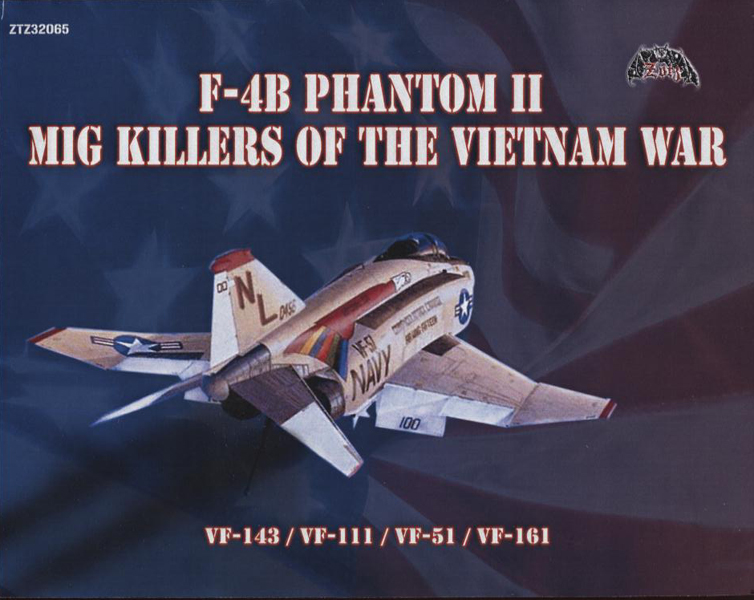 As are many in the world today that have a love of aviation, I too am a confirmed Phantom Phanatic. I can still recall the days when I first began to see the Phantoms flying around here in St Louis, being eventually flown in force by the 131st TFW, MOANG. My initial reaction was, "what an ugly beast", but as time wore on, I learned to love the old girl, and began to really appreciate her unique style. Unbeknownst to me, she was destined to go down in the historical record as a truly remarkable and capable airframe, being pressed into service for fighter, interceptor, reconnaissance, tactical bomber and close air support missions, all roles where she was regularly flown with great success, a truly iconic machine, and one that is easily one of the most recognizable fighter planes in the world.
This set from Zotz, being dedicated specifically to the B model Phantom Mig killers, are a welcome addition to the decal market, as there have been precious few sheets (in my opinion), dedicated solely to the B series versions of this iconic workhorse aircraft.
Three large sheets are included, and they look very comprehensive. Initial reactions are quite favorable, as opacity and thinness seem to be to a very high standard, and printing also seems to be perfectly in register, with minimal carrier film. A fair amount of data stenciling and other miscellaneous bits are also included (but not general airframe stenciling), including fuselage and wing walk areas (black and gray), as well as crew names. Appropriate slime lights will need to be sourced elsewhere, as these are not included.
The instructions are well detailed with research contributions from several sources. These are printed on heavy gloss paper, and are very nice, adding a certain element of class to the overall presentation. General painting, stencil (where appropriate) and decal placement details are included. Information pertaining to individual aircraft and detail notes, are provided where applicable. These markings are bound to be popular for use on the Tamiya kit. With such a huge selection of markings (ten machines), I doubt that modelers will need to look much further for aftermarket decals for their B type Phantoms!
The Sheets
---
Note:
On my copy of the Sundowners tail markings, two of the sun rays are missing the yellow outlines on one side of the rays (applies to both port and starboard). This may mean that the particular aircraft depicted (153019) was marked that way, or it might well be a printing error, I have no easy way to confirm. Since I won't be doing the Sundowners bird, it really doesn't affect me, but others may wish to pay close attention to this area, and consult references thoroughly.
Instructions and Profiles
---
No less than ten different airframes are depicted on this set, those being (in no particular order):
F-4B 153019, VF-111 (Sundowners), USS Coral Sea
F-4B 151444, VF-143 (Pukin' Dogs), USS Constellation
F-4B 150456, VF-51 (Screaming Eagles), USS Coral Sea
F-4B 151398, VF-51 (Screaming Eagles), USS Coral Sea
F-4B 149457, VF-51 (Screaming Eagles), USS Coral Sea
F-4B 149473, VF-51 (Screaming Eagles), USS Coral Sea
F-4B 153020, VF-161 (Chargers), USS Midway
F-4B 153068, VF-161 (Chargers), USS Midway
F-4B 153915, VF-161 (Chargers), USS Midway
F-4B 153045, VF-161 (Chargers), USS Midway
(At this time I must confess that I'm reviewing these without having consulted any references, as I would typically only do that when undertaking modeling a particular subject from the sheets, which I will do when the time comes.)
Summation
Overall, I'd say that if you have a 1:32 F-4, and corresponding conversion set (the GT Resins set is recommended by Zotz), in need of some seriously cool decals, and enjoy the more colorful paint schemes, plus the historical significance of MiG killers, then I can highly recommend using this set as a great addition to your 1:32 Rhino.
Thanks to Eli from Zotz for the review samples.
Recommended Reading/Reference Material
SAM Publications, The McDonnell Douglas F-4 Phantom II, Part 2
---
Osprey Publications, USN F-4 Phantom II Mig Killers 1965-70
---
Osprey Publications, USN F-4 Phantom II Mig Killers 1972-73
---
Daco Publications, Uncovering the US Navy Q/F-4B/J/N/S Phantom
---
© Kevin Williams 2016
This review was published on Monday, April 11 2016; Last modified on Tuesday, April 26 2016