Daco Publications | Uncovering the US Navy Q/F-4B/J/N/S Phantom
Reviewed by Kevin Williams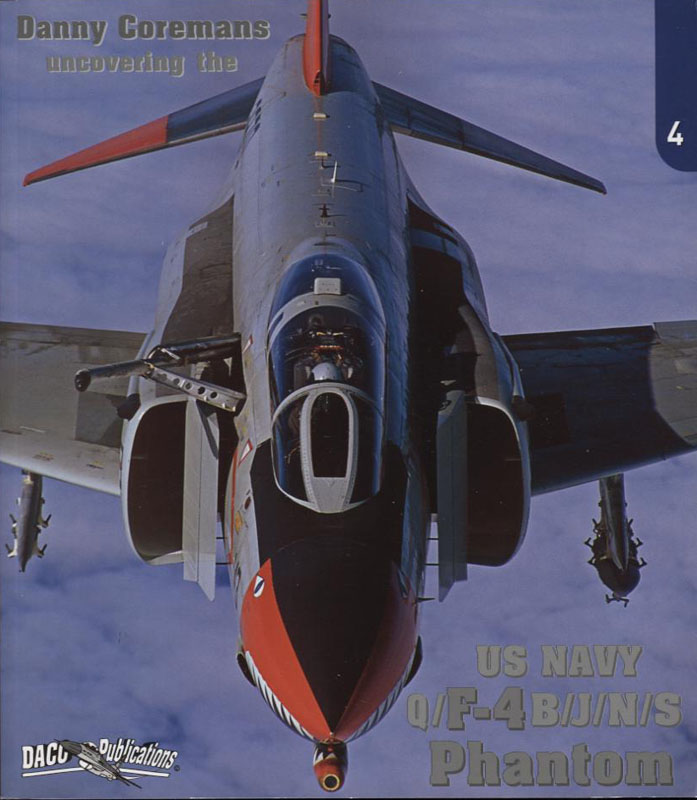 Daco Publications
Danny Coremans
Uncovering the Q/F-4B/J/N/S Phantom
Soft Cover 8" X 9" (Nom.)
176 Pages
ISBN 978-90-806747-9-0
Prologue
While not a new publication (copyright 2009), this book is a fairly new acquisition for me, and as do all of the other Daco publications I've seen to date, this one just shines in it's depth of coverage, this volume dedicated to the Navy versions of the iconic and very distinguished McDonnell Douglas F-4 Phantom II. The Navy J, B, S and N are all covered to one degree or another, and the QF-4 drones as well.
Highly detailed reference materials of this caliber, are the exception rather than the norm, and I rate the Daco publications right up there with the works from Reid Air publications. This particular volume explores the Navy Phantoms in great detail, with sections devoted to landing gear and wells, wing/fuselage/tail details, flying surfaces, pylons, weapons, cockpits, ejection seats, canopy, fuel tanks, engines and bays, RAT, refueling mechanisms, gobs of "beneath the skin" photos, radar, speed brakes, stiffeners, fuselage exterior lighting, general fuselage and wing detailing.
This softcover book by Danny Coremans, contains 176 odd pages chock full of large amounts of crystal clear photographs, all on very high quality glossy paper, of every nook and cranny of the F-4s. It's difficult to imagine that the modeler or aviation buff would have many questions left about details, as this volume seems to address them all. This book is quite highly regarded in my own collection, I can easily say that.
Images
---
They say that photos tell the tale, well then here's a magnificent tale indeed, as this book is a wonderful photo essay of all things Phantom, at least as far as the Navy machines are concerned.
Drawings

Rounding out the book are some very nice fold away drawings by Willy Peeters of various cockpit panels, plus 1/72 and 1/48 scale drawings of the F-4 airframes. My biggest gripe with these, is that they are bound into the book, and having them as separate items would have been preferable, at least to me.
Summation
If you have but even a passing interest in the historically significant Phantom, I can (and do) highly recommend this book, without any reservations whatsoever.
Review copy compliments of my anemic wallet.
Additional Suggested Reading/References
SAM Publications, The McDonnell Douglas F-4 Phantom II, Part 2
---
Osprey Publications, USN F-4 Phantom II Mig Killers 1965-70
---
Osprey Publications, USN F-4 Phantom II Mig Killers 1972-73
---
© Kevin Williams 2016
This review was published on Sunday, April 17 2016; Last modified on Sunday, April 17 2016