Aires | 2093: F-100D Super Sabre Exhaust Nozzle
Reviewed by Kevin Williams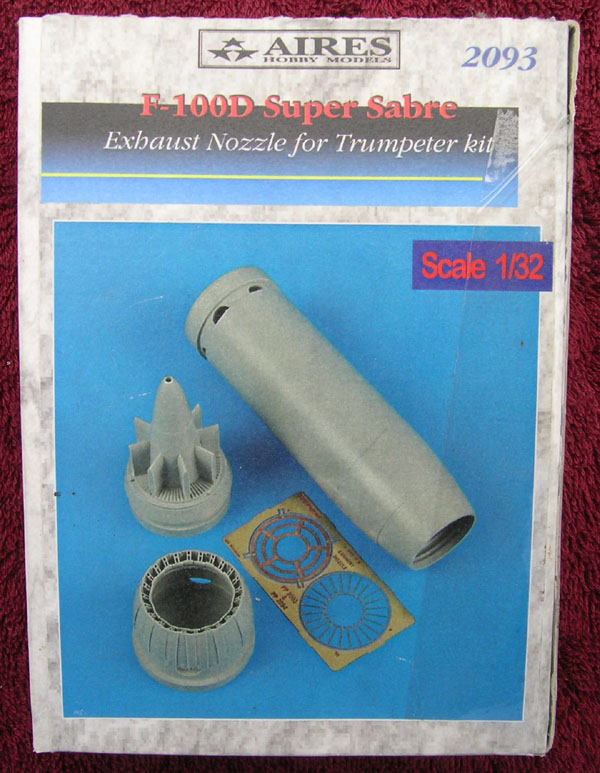 I've heard good and bad about Aires from a variety of sources, but I just love the stuff. Packed in a nice compact arrangement for shipping purposes, the resin and photo etch are all carefully packed in zip lock bags inside a reasonably sturdy box.
This set is detailed to a very high degree, and is quite a bit more impressive than what's provided by Trumpeter. Designed as a "drop in" replacement for most of the Trumpeter exhaust, it does still rely on a few of the kit pieces to make a complete assembly, so don't be too quick to throw any engine parts away.
Resin pieces
---
Overall, the casting appears to be to the very high standard that I have come to expect from Aires. Delicate details abound, and overall impression of all components once assembled, is quite complete and busy looking, just the ticket for a really nice looking afterburn area on your Trumpeter Super Sabre. Once painted and weathered, this will undoubtedly add a tremendous amount of "wow" factor to your kit.
Instructions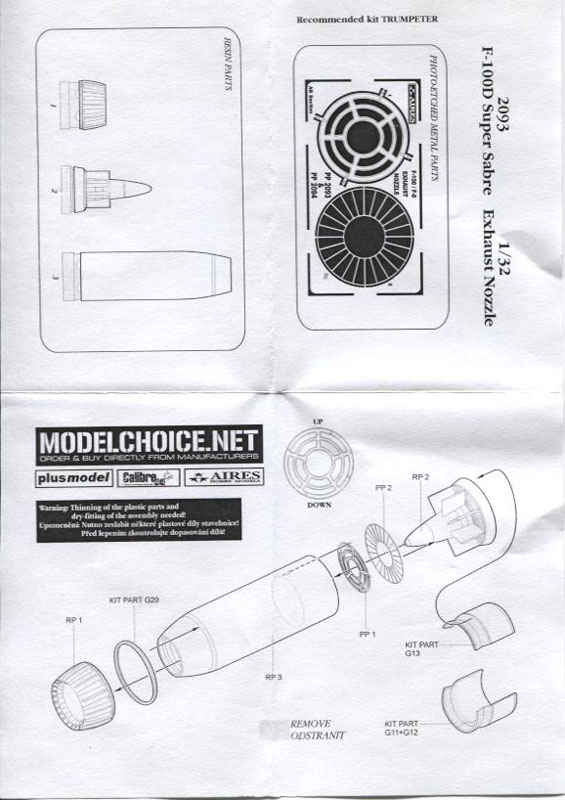 The instructions are fairly basic (there are only five pieces to the entire set) and are printed on one side of one page, to include an exploded view drawing that depicts various item locations. Unfortunately, no painting suggestions are included, so references will need to be carefully scrutinized for coloring cues.
Photo-Etched Fret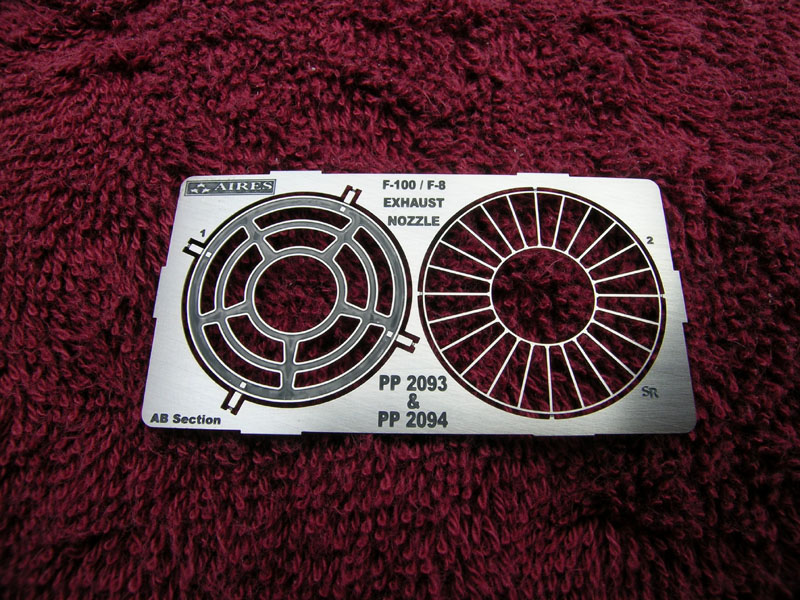 There are but two items of P.E., both for the afterburner area, to compliment the gorgeously detailed resin piece for that component assembly of the set. (Box shows this set as being brass, but is actually stainless steel, though I'd actually prefer brass.)
Summary
My conclusion is very favorable indeed, and I wouldn't hesitate for a moment to recommend inclusion of this set as standard fare for anyone that desires to dress up their big scale Super Sabre (I'll be using this on my ZEL project...one of these days).
This product is highly recommended for overall quality and detail.
Thanks to my pathetic wallet for the review sample.
Additional recommended reference/reading material
Osprey: North American F-100 Super Sabre
---
Detail & Scale: C&M F-100 Super Sabre, Part 1
---
Detail & Scale: C&M F-100 Super Sabre, Part 2
---
© Kevin Williams 2016
This review was published on Thursday, April 21 2016; Last modified on Saturday, May 07 2016