Squadron/Signal | 5564: F-102 Delta Dagger Walk Around
Reviewed by Kevin Williams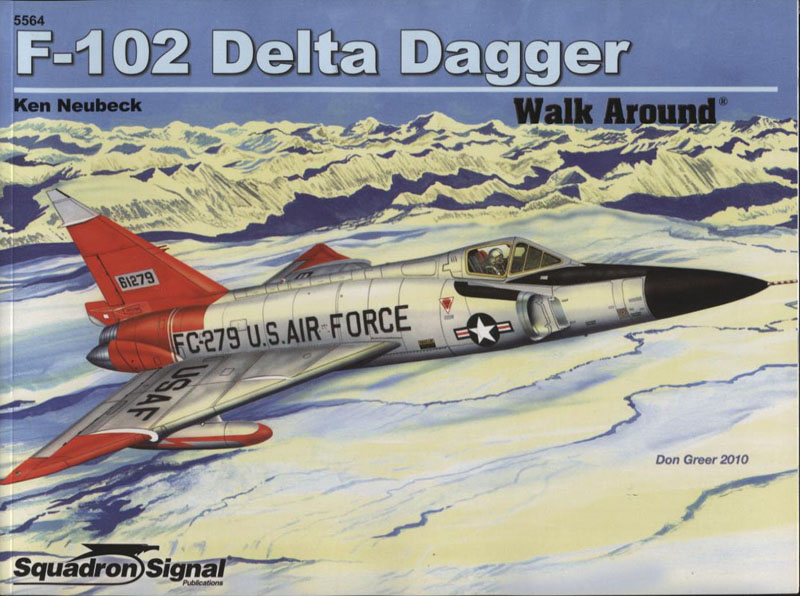 I've been purchasing the Squadron/Signal walk around books as long as I can remember, and probably have almost every one that's ever been printed. One of the latest that I've purchased, is this book on the Convair F-102. Authored by Ken Neubeck, this book, as the name implies, takes a look at the details of this rather spiffy cold war fighter/interceptor. (I've long been a fan of delta winged machines, so this book is right up my alley.)
The walk around series from Squadron/Signal is well know to most by now, and this book follows in the footsteps of its predecessors, offering up a general overview of airframe components and details. The book is rounded out by some typically nice illustrations by Don Greer, who I consider to be one of the best aviation artists out there.
One area that's rather surprisingly sparsely covered, is the cockpit, with but two pages of coverage, one of which is the TF-102 'pit, and only one photo of the Weber Aircraft ejection seat. The Engine, Pratt & Whitney J-57 (mistakenly referred to as the Pratt and Whitley), also has but one photo. Missile bays and Falcon air to air missiles are also only covered briefly.
This publication, like most (but not all) titles, is a nice blend of black & white and color photographs, and as the title implies, is predominantly detail oriented. All books in the series are printed on good quality glossy paper, which I also consider to be a big plus in their favor. The book is also interspersed with various component illustrations and color profiles. To me, the brilliant artwork and illustrations by Don Greer are one of the very strong points of many a Squadron/Signal publication, and add a great additional dimension to the overall appeal and value of the volumes.
Typical Photo Excerpts
---
Certainly one of the strengths of this series, are the detail photographs of various airframe elements.
Typical Illustrations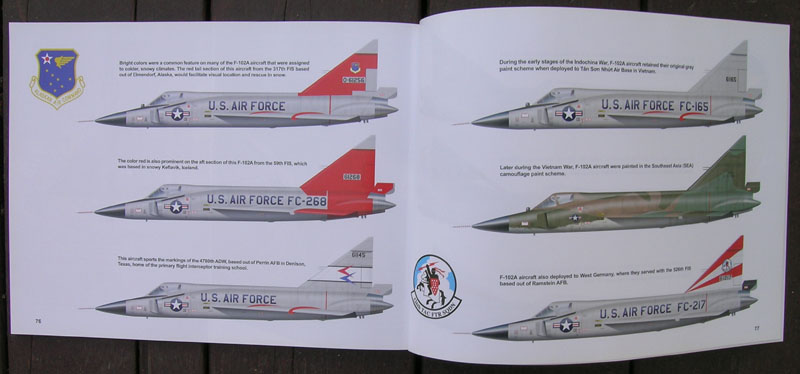 As stated previously, the artwork of Don Greer is of an unusually high quality, and adds wonderfully to the overall completeness and professionalism of the publication.
Rear Cover
---
Worthy of note is the fact that the rear cover illustration, was also used as the cover art (slightly re-worked), for the Encore re-boxing of the Monogram F-102, which I am very fortunate to own one of.
Summation
All things considered, I view these walk around books as not only being good value, but see them as making an excellent primary or supplemental reference. While there are, in certain instances, books that cover these subjects better and in more depth, the overall impact and quality of these volumes, makes them quite desirable references unto their own, and are therefore highly recommended. This particular volume was a bit of a let down for me personally, as I would really have liked to have seen more extensive coverage of the 'pit and missiles/bays/launch rails, but perhaps Daco or similar will come to the rescue there.
Review copy compliments of my own pathetic wallet.
Further Recommended Reading/Reference
Squadron/Signal: F-102 Delta Dagger in Europe
---
Squadron/Signal: F-102 Delta Dagger in Action
---
© Kevin Williams 2016
This review was published on Thursday, May 12 2016; Last modified on Saturday, March 23 2019