Squadron/Signal | 5561: F-89 Scorpion Walk Around
Reviewed by Kevin Williams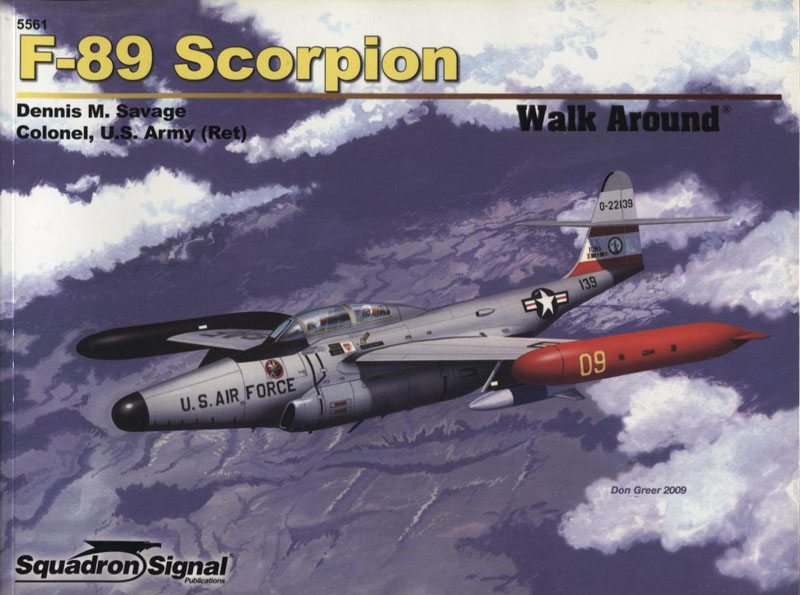 I've been purchasing the Squadron/Signal walk around books as long as I can remember, and probably have almost every one that's ever been printed. One of the more recent that I've purchased, is this book on the Northrop F-89 Scorpion. Authored by Dennis Savage, this book, as the name implies, takes a look at the details of this rather spiffy cold war fighter/interceptor. (I've long been a fan of early straight-winged machines, so this book is right up my alley.)
I have a particular weakness for many of the early straight-winged jets, so the publication of this book, caught my immediate attention, and I knew I just had to have it.
The walk around series from Squadron/Signal is well know to most by now, and this book follows in the footsteps of its predecessors, offering up a general overview of airframe components and details. The book is rounded out by some typically nice illustrations by Don Greer, who I consider to be one of the best aviation artists out there.
This volume (unlike the book on the F-102), has ample coverage of the cockpits, both fore and aft, as well as radar, landing gear, weapons (Genies and Falcons), engines, and various exterior details.
There are more than the usual amount of colorful profiles in this particular release, and I, for one, am happy to see that.
Having so little references on the F-89 previously, I was tickled silly to see this title released, and it is indeed a handsome and handy bit of reference too. I've grown accustomed to the Squadron/Signal approach, and accept the limitations imposed by the brevity of their publications, in this case 80 pages. Still, I consider them all to be great value, and worthwhile additions to my personal library.
This publication, like most (but not all) titles, is a nice blend of black & white and color photographs, and as the title implies, is predominantly detail oriented. All books in the series are printed on good quality glossy paper, which I also consider to be a big plus in their favor. The book is also interspersed with various component illustrations and color profiles. To me, the brilliant artwork and illustrations by Don Greer are one of the very strong points of many a Squadron/Signal publication, and add a great additional dimension to the overall appeal of the volumes.
Typical Photo Excerpts
---
Certainly one of the strengths of this series, are the detail photographs of various airframe elements.
Typical Illustrations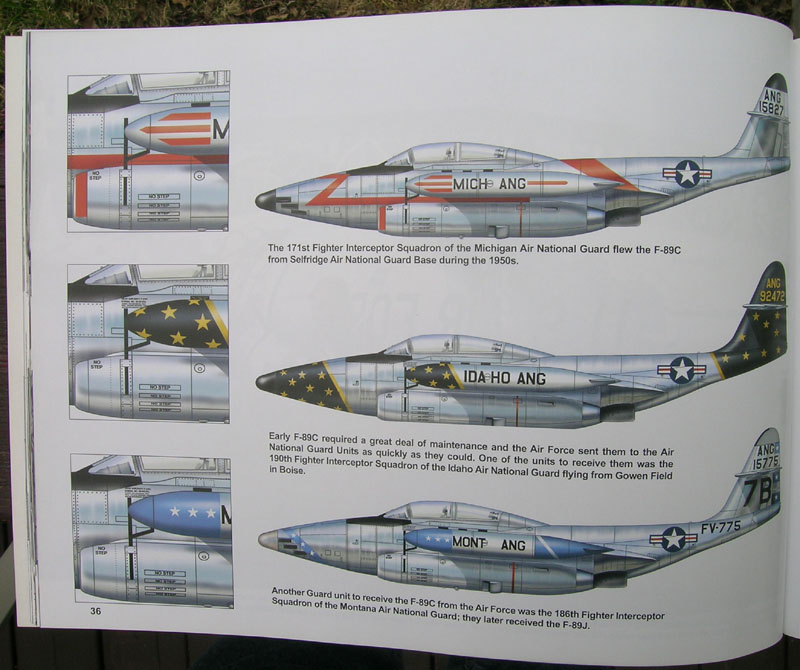 As stated previously, the artwork of Don Greer is of an unusually high quality, and adds wonderfully to the overall completeness and professionalism of the publication.
Summation
All things considered, I view these walk around books as not only being good value, given their (to me) reasonable cost, but also see them as making an excellent primary or supplemental reference. While there are, in certain instances, books that cover these subjects better and in more depth, the overall impact and quality of these volumes, makes them quite desirable references unto their own, and are therefore highly recommended.
If you have even but a passing interest in the Scorpion, I'd heartily recommend this book.
Review copy compliments of my own poverty-stricken wallet.
Further Recommended Reading/Reference
Detail & Scale: F-89 Scorpion
---
Aerofax: Northrop F-89 Scorpion
---
© Kevin Williams 2016
This review was published on Thursday, May 19 2016; Last modified on Thursday, May 19 2016