Squadron/Signal | 5560: Consolidated PBY-5A Catalina Walk Around
Reviewed by Kevin Williams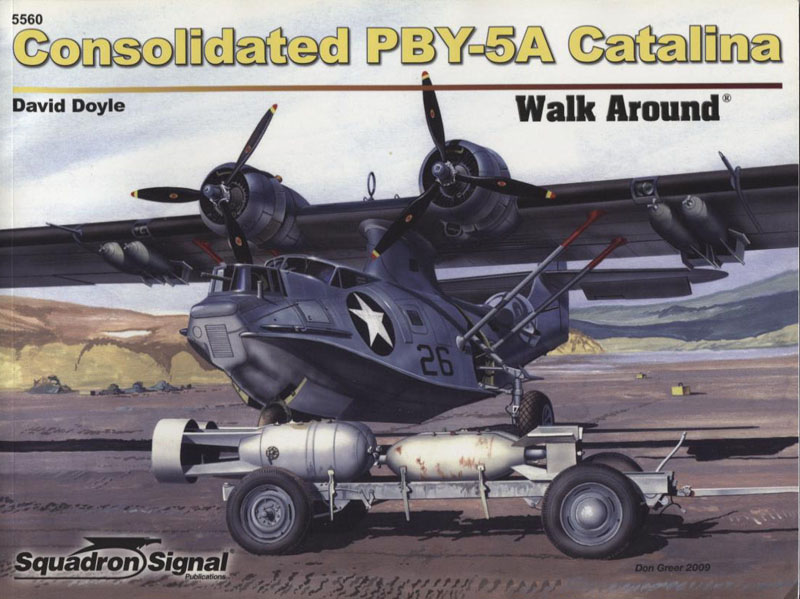 I've been purchasing the Squadron/Signal walk around books as long as I can remember, and probably have almost every one that's ever been printed. One of the more recent that I've purchased, is this book on the Consolidated PBY Catalina, concentrating on the -5A variant. Authored by David Doyle, this book, as the name implies, takes a look at the details of this rather interesting amphibious aircraft. (I've long been a fan of the iconic Catalina, so this book is right up my alley.)
The walk around series from Squadron/Signal is well know to most by now, and this book follows in the footsteps of its predecessors, offering up a general overview of airframe components and details. The book is rounded out by some typically nice illustrations by Don Greer, who I consider to be one of the best aviation artists out there.
This volume has ample coverage of the fuselage interior, many from a cutaway museum example, landing gear (the main distinguishing feature of the -5A), and various exterior details. Oddly missing, are photos of cockpit area, and engine specifics, though there are several images from the exterior. I think what I find the most fascinating, for whatever reason, is the mechanics station inside the cabane strut. The though of sitting in that little seat hanging there in the interior of the cabane, gazing out the windows on either side, seeing the engines purring along, and the vista of the relatively unobstructed view, must have been something indeed.
There are several colorful profiles in this particular release, as well as some interesting detail illustrations, and I, for one, am very happy to see that.
Having so few references on the PBY previously, I was tickled silly to see this title released, and it is indeed a handsome and handy bit of reference too. I've grown accustomed to the Squadron/Signal approach, and accept the limitations imposed by the brevity of their publications, in this case 72 pages. Still, I consider them all to be great value, and worthwhile additions to my personal library.
This publication, like most (but not all) titles, is a nice blend of black & white and color photographs (mostly color), and as the title implies, is predominantly detail oriented. All books in the series are printed on good quality glossy paper, which I also consider to be a big plus in their favor. The book is also interspersed with various component illustrations and color profiles. To me, the brilliant artwork and illustrations by Don Greer are one of the very strong points of many a Squadron/Signal publication, and add a great additional dimension to the overall appeal and value of the volumes.
Typical Photo Excerpts
---
Certainly one of the strengths of this series, are the detail photographs of various airframe elements.
Typical Illustrations
---
As stated previously, the artwork of Don Greer is of an unusually high quality (in my opinion), and adds wonderfully to the overall completeness and professionalism of the publication.
Rear cover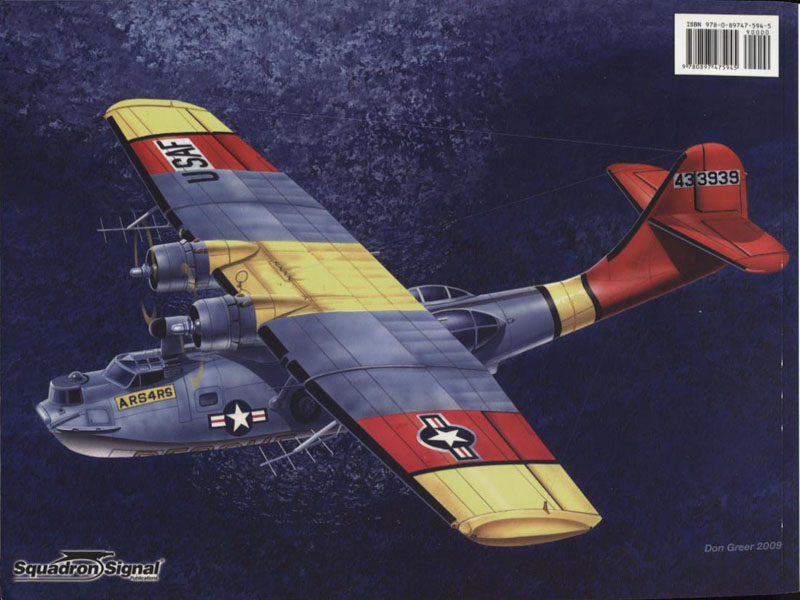 Summation
All things considered, I view these walk around books as not only being good value, given their (to me) very reasonable cost, but also see them as making an excellent primary or supplemental reference. While there are, in certain instances, books that cover these subjects better and in more depth, the overall impact and quality of these volumes, makes them quite desirable references unto their own, and are therefore highly recommended.
If you have even but a passing interest in the big Cat, I'd heartily recommend this book.
Review copy compliments of my own paper thin wallet.
Further Recommended Reading/Reference
AJ Press: Consolidated PBY Catalina cz. 1
---
AJ Press: Consolidated PBY Catalina cz. 2
---
Detail & Scale: PBY Catalina
---
© Kevin Williams 2016
This review was published on Friday, May 27 2016; Last modified on Saturday, August 06 2016