Alley Cat | Vought Kingfisher Windscreen Without Gunsight Tube Slot
Reviewed by Andrew Birnie
Nice though the Kitty Hawk Kingfisher is, it is limiting with the options you can build by the only providing a windscreen with a hole for the telescopic gunsight. I personally have recently bought a set of decals for RAAF Kingfishers by Ronin, now out-of-production, there is another sheet by Red Roo, and all the subjects have the windscreen without the hole in it.
Coming to the rescue is this stunning - the clarity is better than the kit part - full windscreen replacement by Alley Cat.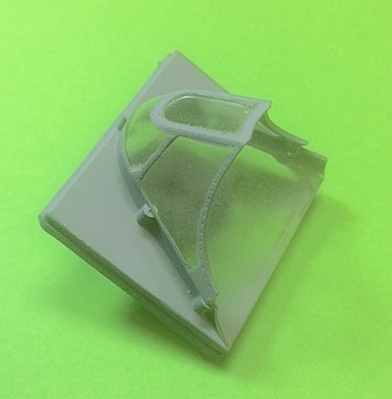 Note these are just the first castings still attached to casting blocks and with a quick spray to show canopy and framework.
I must admit I did provide the original kit part in order to produce this product, but the quality speaks for itself.
Available now from Alley Cat Models.
© Andrew Birnie 2016
This review was published on Saturday, April 23 2016; Last modified on Sunday, December 11 2016