Ginter Books | Grumman F9F Panther, Part Two
Reviewed by Kevin Williams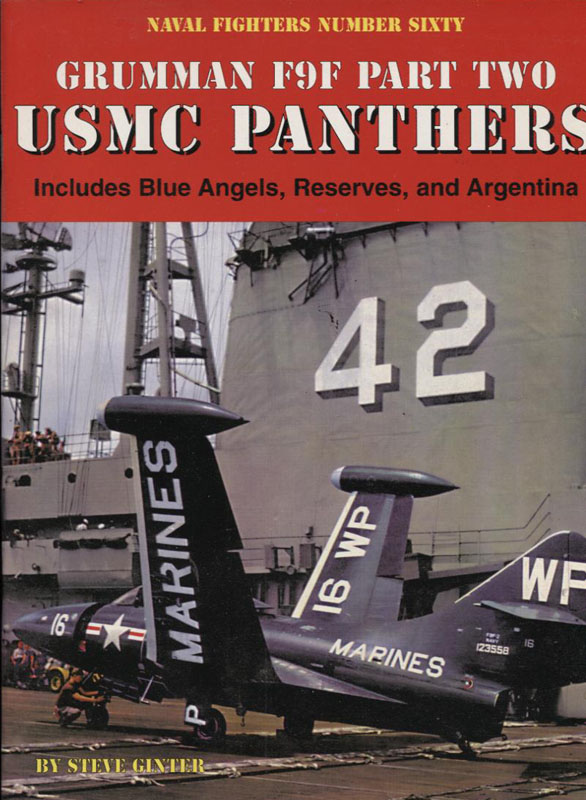 I've long been a big fan of early straight wing jets (F-80, F-84E/G, F-89, etc.), and the Panther is certainly no exception, so this volume from Ginter was something that I just had to have. The Ginter books, to me, are unique inasmuch as that they frequently dwell on and highlight some of the more esoteric and unusual service types, as well as prototypes and experimental aircraft. This particular three part set though, covers the more widely known Grumman Iron Works Panther, used to great effect by both the Navy and Marines in the Korean war. The fact that there are three separate parts (this volume itself being 57 pages long), is indicative of the extent to which this aircraft is covered. This book on the rather spiffy F9F Panther, was a very welcome addition indeed to my aircraft references. (I'm sorry to say that I still have not gotten a copy of part three yet, but I'm certain that I will one day.)
This Ginter publication follows a common enough theme (for this publisher), being comprised of many nice illustrations and mostly B&W photos. While this may be off putting for some, all of the photos are of good quality, and printed on nice gloss stock, so overall quality remains at a fairly high standard. It's difficult to pigeon hole the Ginter publications;while primarily devoted to historical Navy subjects, there is also a dedicated series on Air Force Legends, as well as the odd piece on experimental aircraft, so basically a little something for everybody. This particular volume is number 60 in the Naval Fighters series.
Published in 2003, this book apparently predates the 1:32 Fisher Panther, as there is no mention of it in the kits area.
This publication, like some others in the series, is predominantly comprised of general service history, while at the same time offering up several "in action" shots, creating what I consider to be a nice blend that makes for an interesting and enjoyable experience. The Blue Angels use of the Panther is covered briefly, and I was glad to see that. The various photos of bombed up Panthers are also of keen interest to me.
Typical Photo Excerpts
---
Certainly one of the strengths of this series, are the excellent overview and detail photographs of various airframe elements, where present.
Rear Cover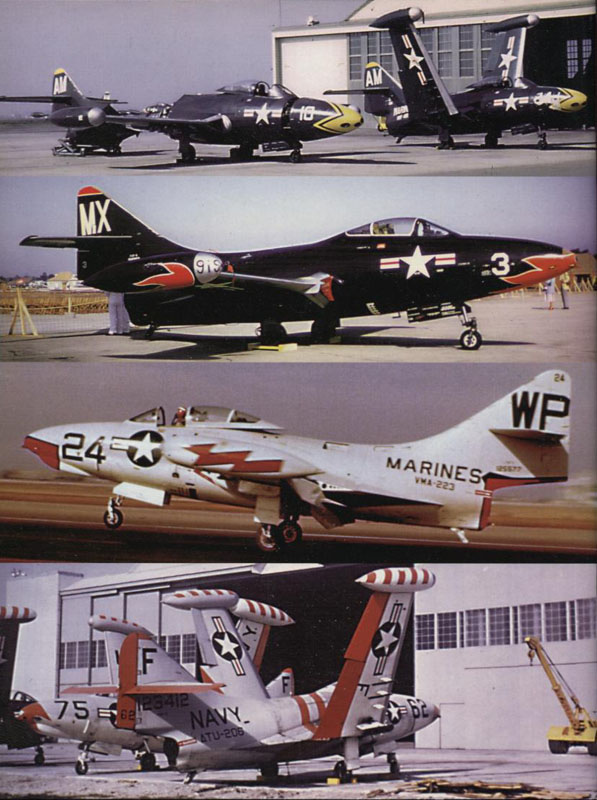 Summation
All things considered, I view all of the books from Ginter as not only being good value, but see them as making an excellent primary or supplemental reference, frequently covering more unusual subjects that are seldom covered to any degree by anyone else. While there are, in certain instances, books that cover these subjects better and in more depth, the overall impact and quality of these volumes, makes them quite desirable references unto their own, and are therefore highly recommended.
Review copy compliments of my own beleaguered wallet.
Further recommended reading/reference
Osprey: F9F Panther Units of the Korean War
Specialty Press: Grumman F9F Panther
Revell-Monogram: Jet Fighters of the US Navy, Part 1
© Kevin Williams 2016
This review was published on Wednesday, May 25 2016; Last modified on Wednesday, May 25 2016