MDC | E32007: 1/32 Junkers Ju 88A Seat Belts
Reviewed by Randy Bumgardner
If you have the Revell Ju88A, then you know how big that canopy is and how the cockpit is very visible. Well, Model Design Construction, MDC, has recently released a set of seat belts to busy, and beautify, that highly visible area. MDC provides a set of rudder pedals on the fret as well.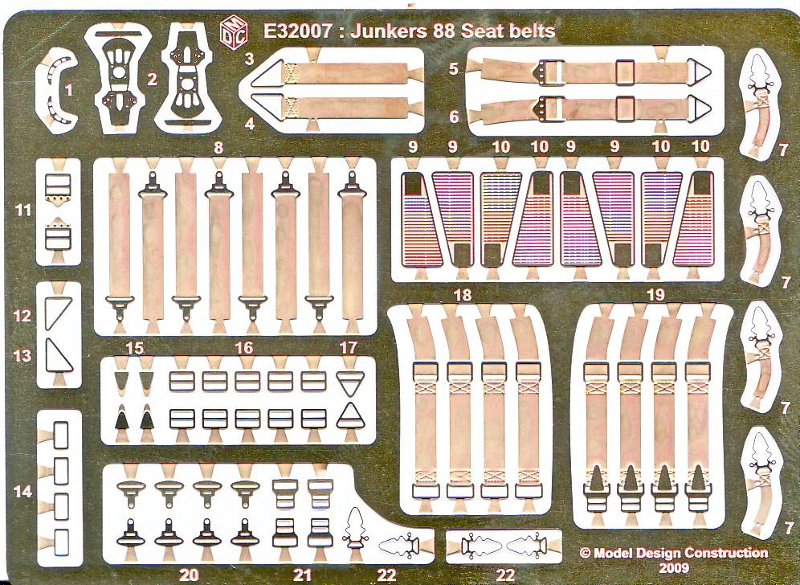 Etched from brass, each set is well done with great detail. There are two methods the modeler can use to build up the harnesses. The first method is via photoetch only. The belts and buckles are etched as a single part, and each harness is a multi-part assembly. This includes the lap belts/shoulder harness for the pilot, and the lap belts for the bombardier, radioman, and gunner.
The alternate method is to use foil for the belts and harnesses and the separate buckles on the fret. A modeler who chooses this route is advised to proceed slowly and with care as the buckles are small and very delicate. MDC also notes that the bombardier/navigator seat may also have used shoulder harnesses that were attached to the seat back. For this case, MDC have provided an extra set of buckles that the modeler can use with foil to construct the shoulder harness.
The instructions are simple and straightforward providing clear illustrations for the assembly and attachment of the harnesses.
Overall, this is a very nice detail that will dress up the very visible cockpit in that big Revell Ju88A.
Review sample courtesy of MDC, "Thanks, Bob!"
This set, and many other fine products, can be purchased directly from MDC.
© Randy Bumgardner 2009
This product is available from the following LSP sponsors

This review was published on Saturday, July 02 2011; Last modified on Wednesday, May 18 2016