Aviattic | Gotha Weighted Wheels Set
Reviewed by Mike Swinburne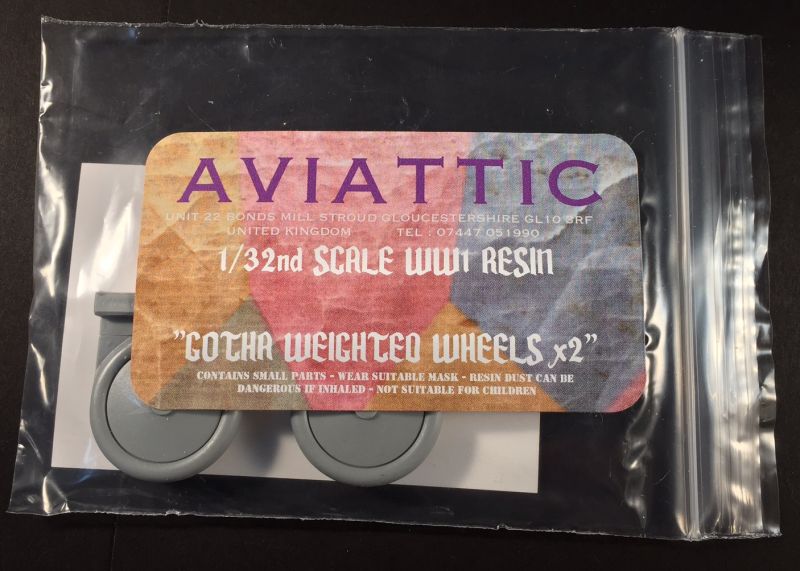 A year or two back, Aviattic released their first batch of resin accessories, all being simple add-on or replacement parts for existing 1/32 WWI kits. A set of weighed Gotha wheels was one of these original releases, destined for the Wingnut Wings Gotha G.IV kit but is also appropriate for some other large single- and twin-engine aircraft. Two wheels are included in this set, so you will need to buy two sets to complete a Gotha or AEG bomber. The wheels have been flattened in different areas, with the access panel located at the bottom of one hub and near the top of the other.
While Wingnut does include weighted wheels in the Gotha kit as an option, the Aviattic wheels have more noticeable deflation/flattening and will allow the builder to realistically depict the aircraft with a heavy load of fuel and bombs. The axle holes need to be drilled out as is common for resin replacement wheels and small starter holes are cast in the centers as a guide. Casting appears very clean with no flash, flaws or air bubbles, and with the exception of an added axle ring, the hubs appear to be identical to the Wingnut parts.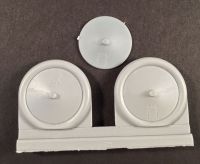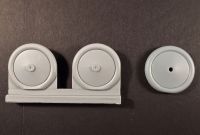 ---
This is a simple replacement for the heavy bomber wheels and is recommended for builders of all skill levels. Set purchased directly from Aviattic.
© Mike Swinburne 2016
This product is available from the following LSP sponsors
This review was published on Sunday, May 01 2016; Last modified on Tuesday, May 03 2016