Tamiya | 60322: North American P-51D Mustang
Reviewed by Kevin Williams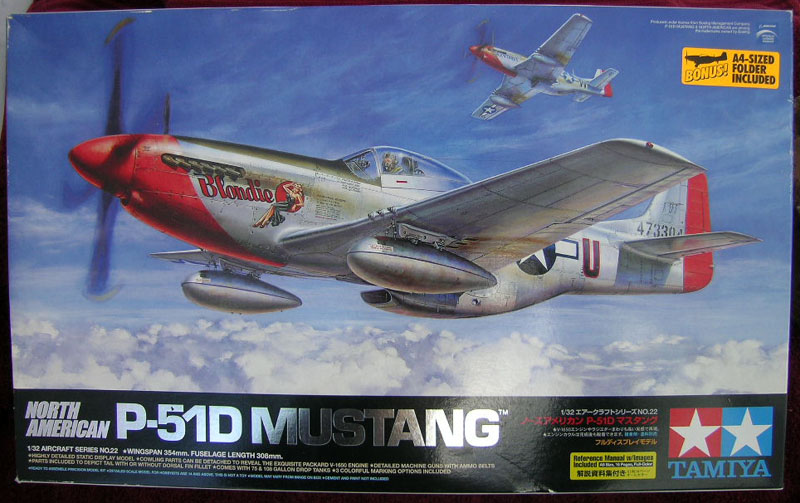 I decided at the outset to remove myself from the somewhat typical and lengthy description of the Mustang technical development and operational history. I will however say that I personally believe that for all the work the Mustang squadrons performed, be it supply interdiction, communications and transportation destruction (both road and rail), as well as the assaults directly against enemy fighter and bomber aircraft, that they deserve to be recognized for the tremendously important role they had to play during the war, and the fact that they performed in that role quite admirably.
While clearly not a new kit by any definition (first available somewhere around 2011, I believe), I just finally got my hands on one, so though I'd provide a look-see as to what's in the box. (Since this is more of an in-box review than a build review, I have no photos of assembled sub-structures, so this look should be considered more of an overview of the various areas I thought might be of interest.) It was also imperative to me at this time to see if the aftermarket parts offered by Barracuda Studios, for the cockpit in particular, are an actual improvement, or just a replacement. From my view, the Barracuda stuff is now certainly seen as an improvement, even if only by a modest margin, and I will definitely be adding some for my build of this kit.
Note: As I begin to dig through the kit, it becomes obvious that there are quite a few extra parts included for different versions. At a minimum, there are two tails, filleted and non-filleted, two different styles of exhausts, two different instrument panels, three different bubble canopies, several rear view mirrors and two different IP coamings, as well as two styles of seat (presumably early and late).
Instructions
---
Instructions are depicted in a sort of typical Tamiya pictographic way, making assembly a straight forward process, similar to what WNW provides in their kits, though not in color. Instructions can be quite vague in certain areas, offering up several options, with no clear definition as to why those options are offered, nor for what scheme they may be appropriate, so the modeler is left to do some verifications of his own, using whatever references he may have available. One thing I find a bit distressing, is the complete lack of a parts chart. Given that there are a jillion parts to hunt down for the various assemblies, that would have been nice. (Perhaps this is an opportunity for a "How to Find Your Mustang Parts" book, he says, tongue in cheek.)
Note: The scans above do not represent the entire set of instructions, but are instead just a random sampling of them.
Decals
---
Markings are provided for three Mustangs:
"Petie 2nd": 487th FS, 352nd FG
"Glengary Guy": 79th FS, 20th FG
"Blondie": 334th FS, 4th FG
Decals appear to be in register, quite opaque, with good coloring and well detailed and also includes plenty of stenciling. I'm really not sure who prints the decals for Tamiya, and though these do not appear to be the same "thick and chunky" offerings I've seen in the past, they still look just a wee thick to me. None of this really matters much anyway (at least to me), as I'll more than likely only ever do one kit, and I already have the decals for that machine.
Canopy masks are also provided, in the form of a self adhesive material that you must cut out, as the set is not pre-cut, and in addition, a nameplate for the display stand. I'll undoubtedly opt for the Eduard mask set in lieu of what's provided in the kit
Note: fündekals also does a complete sheet of stenciling for the wartime Mustangs, though I've never seen them in person. I may yet grab a sheet to use on this kit though.
Miscellaneous Documentation
---
Tamiya has seen fit to include some interesting documentation with this kit, to include a small pamphlet of Mustang history and facts, some self promotional stuff, a large two page poster (in this particular boxing), as well as the typical cautions/warning statements (in 12 languages no less);... don't eat the parts, don't stick an X-Acto knife into your eye, you know, like that.
Airframe/Wings
---
Now that I have the kit "in hand", I can say that the surface detailing, not that I ever had any doubts, is very delicate and refined. As most are aware of by now, Tamiya chose to represent the rivets on large portions of the wings that would have been puttied and smoothed on the real deal, but this is certainly not an insurmountable problem, and still looks excellent, should the modeler choose to ignore that particular deviance from reality.
Tails
---
Two different tail assemblies are included, one (non-filleted) to be used specifically with "Glengary Guy", 79th FS, 20th FG. The option of either style tail certainly gives the modeler a few more choices to pursue than only a single, filleted tail version, so I see this as a major plus.
Flying Surfaces
---
All of the flying surfaces display the same refined and great looking surface detailing that is common to all other areas of the kit. Designed to be operational (think Trumpeter here), using pins and P.E. parts, I think I'll just skip all that and glue mine in a fixed position.
Cockpit
---
Not a lot to be said here, save for the notion that if one takes his time, the cockpit has the potential to be built into an outstanding representation right out of the box. After a careful look-see, I have decided that for myself, spending the extra cash for the Barracuda cockpit upgrades, will be a worthwhile expenditure, as I have every intention of taking my finished kit to the nationals in Omaha next year. (As soon as the Barracuda parts begin to arrive, I'll be doing a side by side comparison with the OOB Tamiya cockpit parts, so perhaps that's something to look forward to.)
Engine & Cowlings
---
The Engine is another area that seems to be very well detailed, and will look excellent on those models where the builder decides to leave it exposed (I will not). When all assembled, this will appear to be as accurate a rendition of the Merlin you may ever wish to own in miniature. If it's at all doable, I'll leave the engine out of mine altogether, for eventual use in a maintenance scene of some sort.
Clear Parts
---
All clear parts are just that, crystal clear, and look just great. Three different bubble type canopies are also provided, giving the modeler some interesting possibilities. Several different styles of rear view mirrors (B16-B20) are also provided, but they are not in with the clear parts. I can find no mention of these in the instructions anywhere either, so a careful examination of the particular machine the modeler intends to depict, may reveal the appropriate type needed.
Propellor/Spinner
---
Kit provides one propeller assembly (Hamilton Standard, four bladed cuffed design), and certainly seems to look the part, catching the curvature and proportions of the spinner very nicely, while cuffs and chord proportions, along with blade twist also look good. As I have a set of fündekals prop logos, I'm all set in that department.
Fuel Tanks
---
Two styles of external fuel tanks are provided, two teardrop style, and two cigar shaped paper tanks, and appear to be of correct proportions, though nose and tail of paper tanks display a rather anemic appearance as far as the ribbing is concerned, but Barracuda has already thoughtfully and neatly addressed that particular issue.
Landing Gear, Wheels, and Doors
---
Main landing gear bay (and tail wheel bay for that matter) are comprehensively detailed, and should really look the business once assembled and painted. I don't generally find myself being too impressed with wheel bays one way or the other, but I believe these will be way more than satisfactory for me.
Main wheels/tires look to also be molded excellently, with authenticity readily captured, though tires are again, another weak point in my opinion, being molded in a soft rubbery material, that quite frankly, is probably the weak link in this entire kit. Why Tamiya chose this particular option is anyone's guess, but mine will certainly be replaced, probably with Barracuda items again.
With kit being designed for two optional display modes, an extra set of doors (closed) is provided, saving the modeler a fair amount of grief in fitting doors in a closed position that one might otherwise normally encounter.
Interior area of inner wheel well doors in particular, are just loaded with amazing details that should really be visible on the finished model, enhancing greatly the appearance of this area (see photos in the instructions section above).
Gun bays and Weapons
---
Both port and starboard gun bays and .50 cal.Brownings, with all pertinent ammo storage and feed chutes are provided. Once again, with some careful painting, these have the potential to be truly eye catching. (Too bad I'll most likely be doing mine with bays closed, but I'll throw them in the spares box for some other project.)
Pilot Figures
---
Two figures are included, one standing and one sitting, and for injection figures, really don't look too bad at all.
Display Stand
---
One display stand is included for "in flight" display, and appears to be a rock solid design, offering up yet another dimension to this very well thought out and engineered model.
Photo-Etched Parts
---
Two P.E. frets (stainless steel) are included, and contain items such as the control surface hinges, scissor links, screens, belts, etc.
Miscellaneous Plastic Parts
---
There were a few portions of the kit that I photographed, but had no specific category for them, so I decided to just lump them all together here, as they are undoubtedly relevant.
Miscellaneous Bagged Parts
---
Several small bags of parts are included, these include screws, screwdriver, hinge rods, poly caps, tires (main) and a small volute spring (I have no idea what that's for).
Summation
All in all, I think this is a fabulous effort from Tamiya, with overall proportions looking good to my eye. I am very pleased with what I've found thus far, and anxiously await the opportunity to begin working on my example. I also expect that the aftermarket folks will jump on when and where needed, to provide us with additional enhancements for this cool kit (and several items have in fact already begun to appear since this kit was released).
My review copy compliments of a really good forum pal, and now..."it's mine, all mine"!
Additional Recommended Reading/Reference Material
Squadron/Signal: P-51D Mustang
---
AJ Press: P-51D Mustang cz.1
---
AJ Press: P-51D Mustang cz.2
---
AJ Press: P-51D Mustang cz.3
---
© Kevin Williams 2016
This review was published on Sunday, May 08 2016; Last modified on Tuesday, March 02 2021