Trumpeter | 02299: Messerschmitt Bf 109K-4
Reviewed by Kevin Futter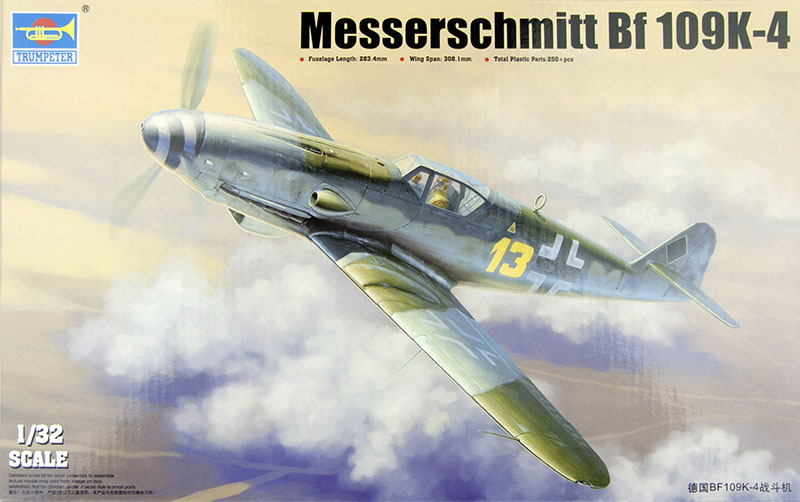 In recent years, Trumpeter has been quietly working its way through the Bf 109 family in 1/32 scale, starting with the Bf 109E-3 in 2010 (sadly, no early versions so far). This latest release covers one of the last versions of this iconic aircraft used operationally by the Luftwaffe: the Bf 109K-4.
The kit itself comes in a satisfyingly sturdy cardboard box of the traditional 'shoebox' style, and is packed full of plastic sprues and multimedia parts:
8 grey plastic sprues
2 clear plastic sprues
1 photo-etched fret
3 vinyl tyres
2 decal sheets
1 instruction booklet
1 full-colour painting guide
The Plastic Sprues
The parts breakdown of this kit suggests that it's based on the company's earlier Bf 109G-10 release, though not having that kit to hand, I can't confirm it. Given the commonalities between the two variants, it would certainly make sense to derive both kits from the same base moulds.
---
As can been in the photos, delicate parts on some sprues have been protected by a cocoon of packing foam (one had already been removed prior to taking these photos). This is a really nice touch from Trumpeter, and I'm surprised I don't see it from more manufacturers. For the most part, each sprue is packed in its own sealed plastic bag.
There's an additional small fret containing the inner landing gear doors and related parts specific to the K-4 variant: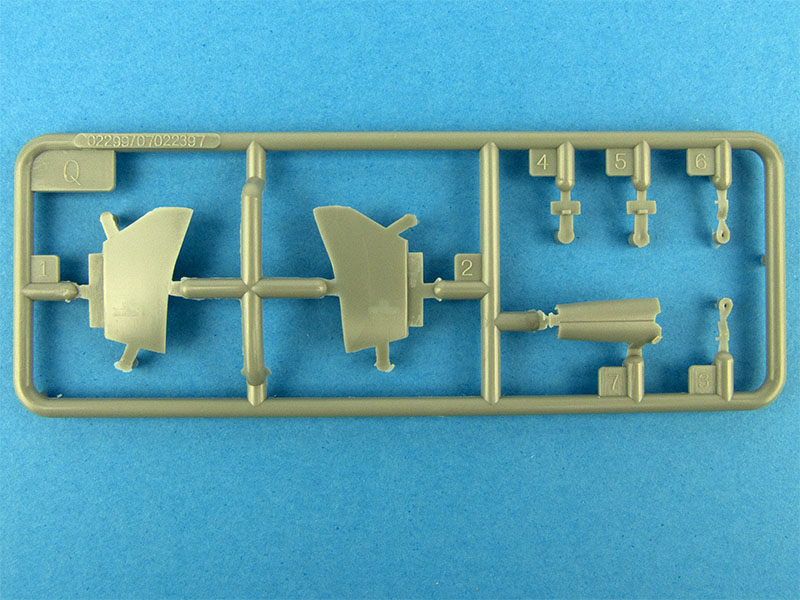 The separate lower forward cowl features some neat internal structural detail for those who which to pose it in the open position: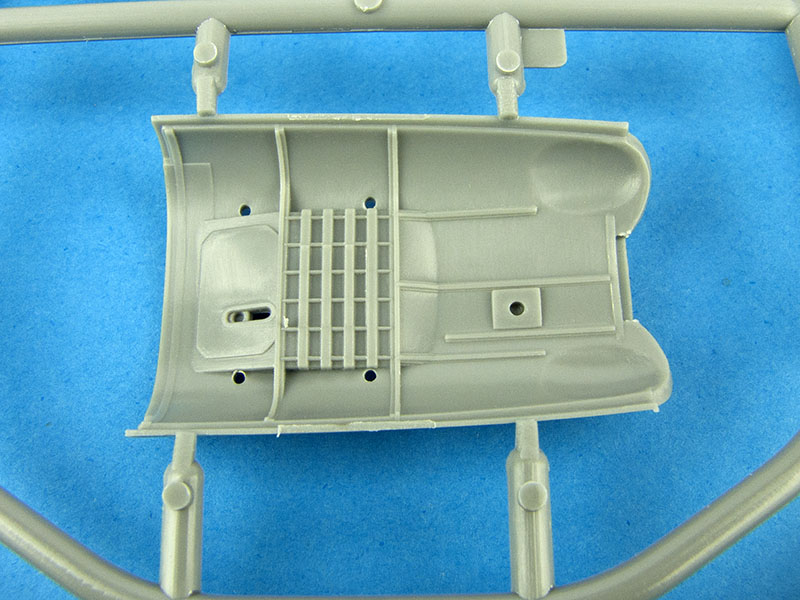 The propellor blades are the late broad-chord style: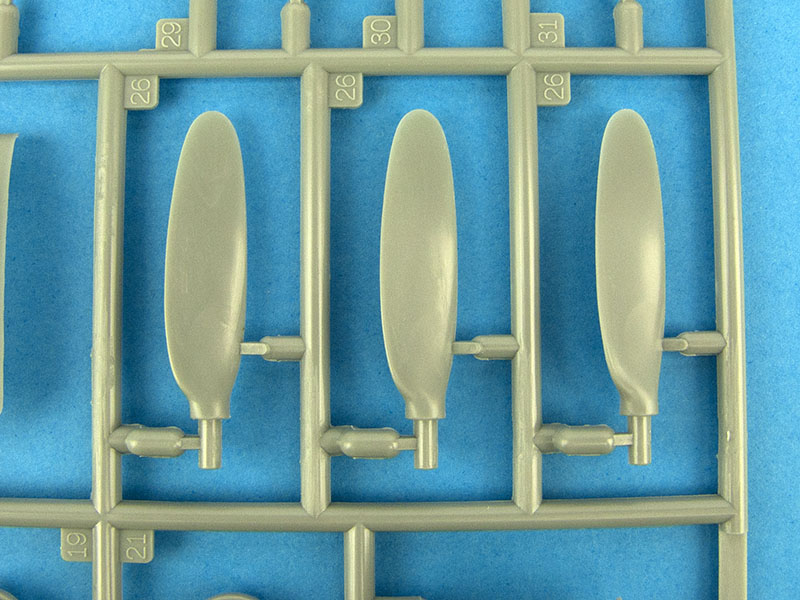 Some rudimentary cockpit side wall detail is present on the port fuselage: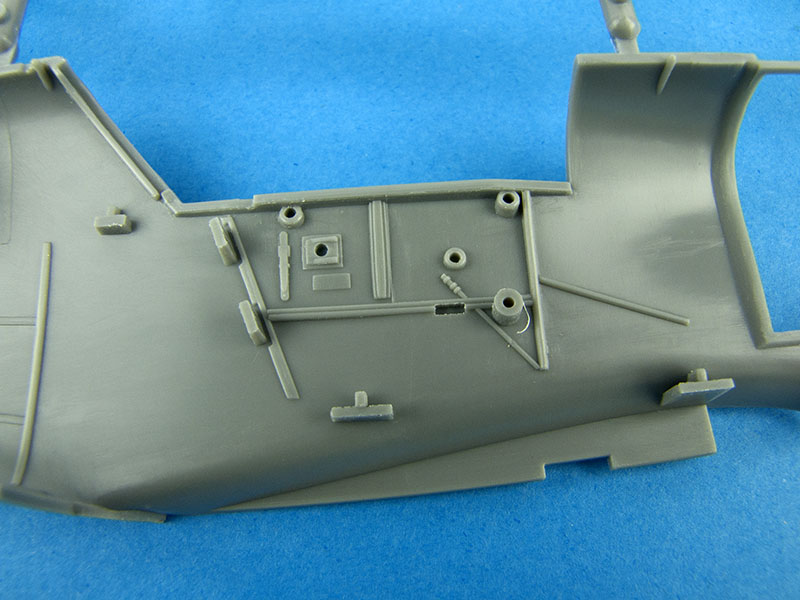 The starboard fuselage, however, sports a cutout for an insert piece: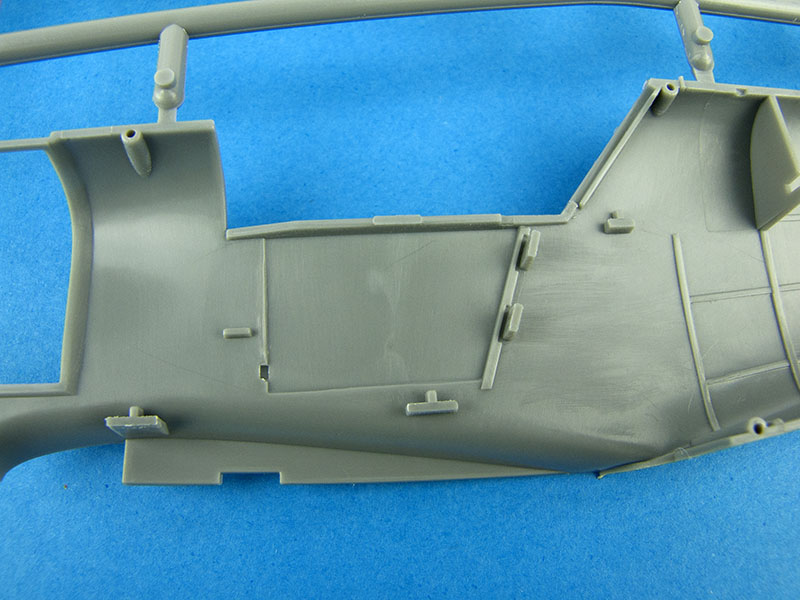 Surface detail is crisp, though I feel the rivet detail is slightly overdone, and there's a visible texture to the surface of the plastic: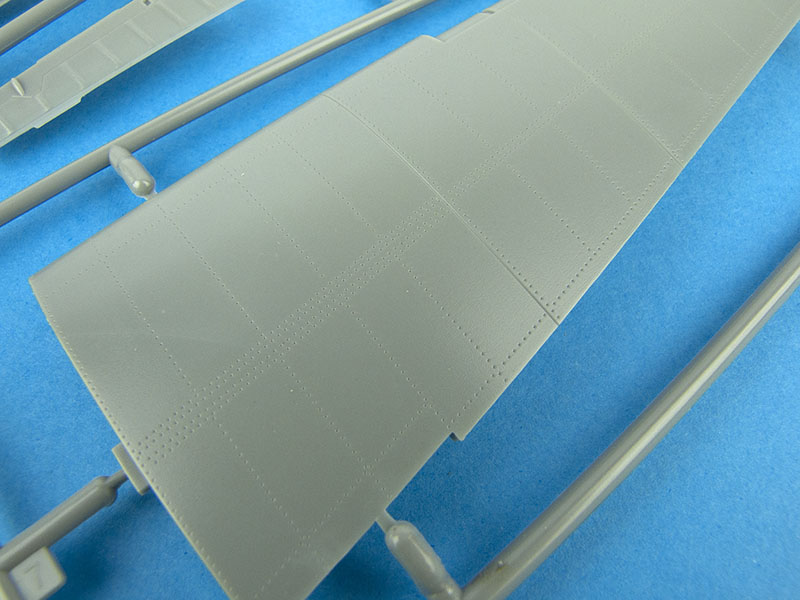 There's nice wheel well roof detail moulded in to the lower side of the upper wings: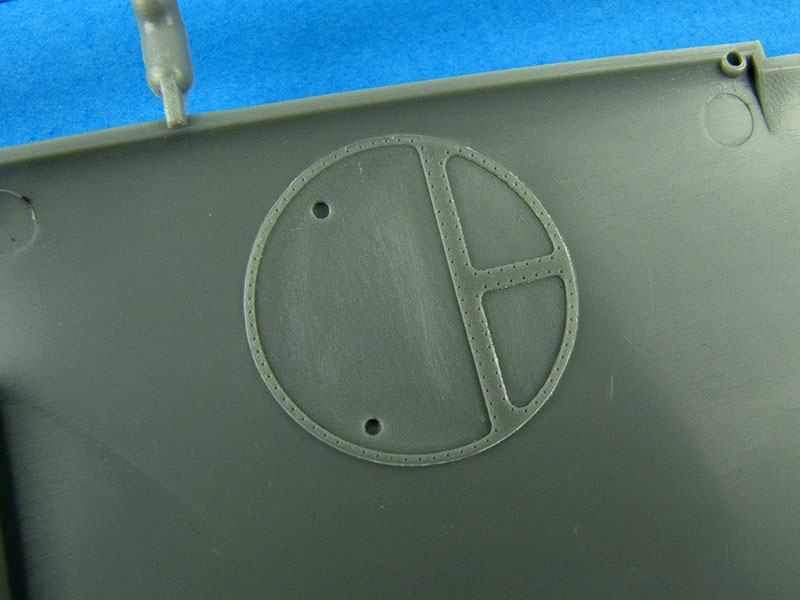 It's a shame, however, that they also feature the locating holes for the upper wing bulges, which themselves are there to accommodate the larger wheels of the K-4. To be accurate, the roof of the wheel well in this area should actually be the roof of the over-wing bulge. Trumpeter has simply opted for the simplest solution in terms of mould design here (and to be fair, Hasegawa takes exactly the same approach with its K-4 kit).
One area that I'm really impressed with is Trumpeter's rendition of the exhaust stacks, which I feel are among the best I've seen in a mainstream kit. They're beautifully and convincingly hollowed-out at the ends, and feature subtle moulded-in weld seams: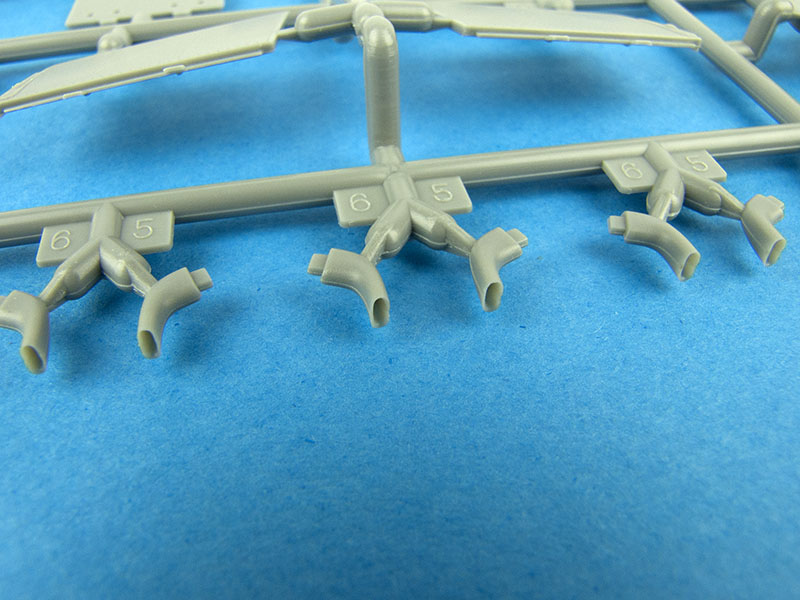 The Clear Parts
There are two sprues of clear parts in this kit, one containing the canopy and windscreen, with the other containing a clear instrument panel and sundry clear parts.
---
Again, the main canopy sprue comes wrapped in some thin packaging foam for protection: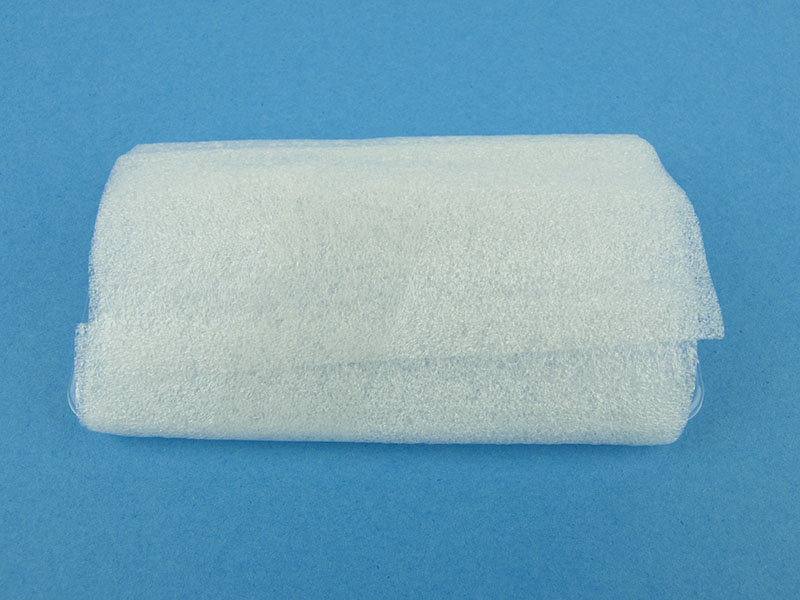 It also passes the clarity test with flying colours: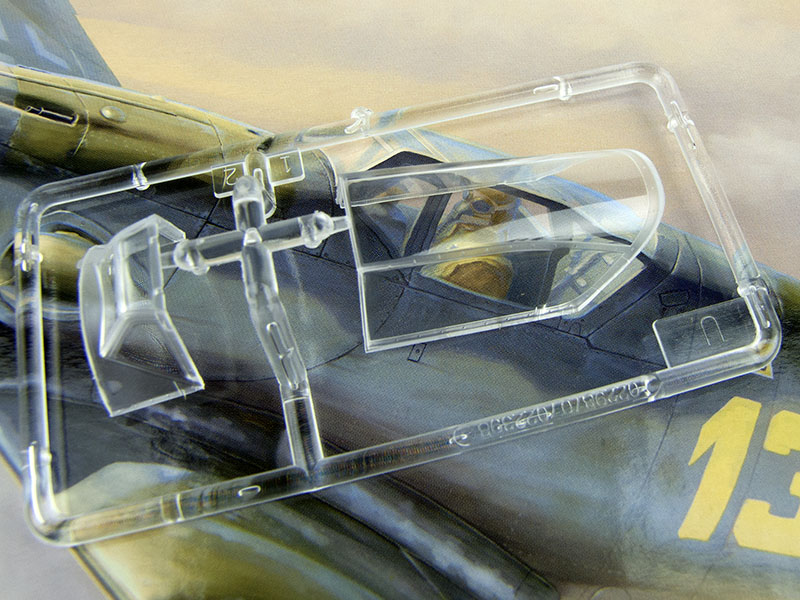 The Photo-Etched Frets
This kit features two photo-etched frets of detail parts, mostly concerned with the cockpit and canopy.
---
These two sheets appear to be generically applicable to any of Trumpeter's Bf 109G/K kits, and feature alternative parts as appropriate. Just read the instructions carefully and use the correct parts!
One element I found a little odd was that the pilot's seat pan is provided as a photo-etched part, which needs to be carefully folded into the correct rounded pan shape. Luckily, it's also represented in plastic on the sprues, as I can foresee producing the correct shape from the flat PE part to be a bit of a challenge.
The Vinyl Tyres
As is standard practice for Trumpeter with its large scale aircraft kits, the tyres are provided in black vinyl: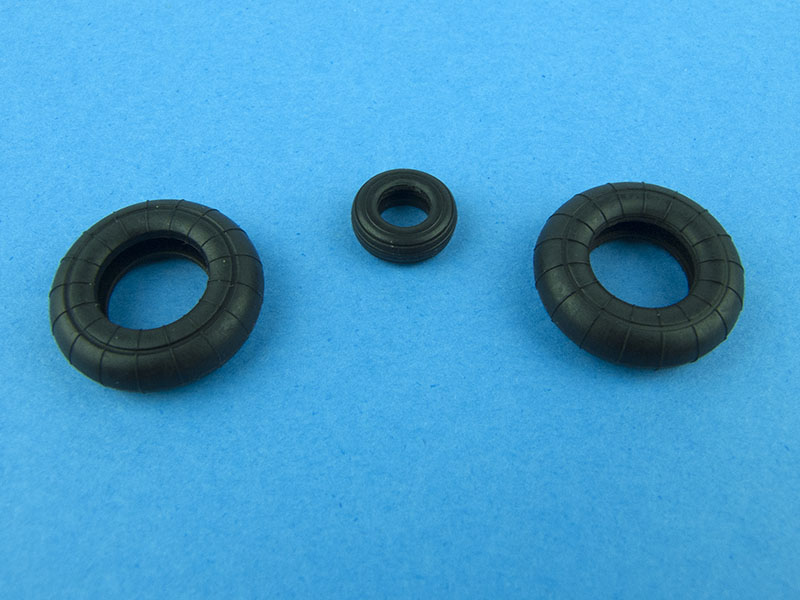 These are designed to slip over plastic hubs provided in the kit. While my preference is for anything but vinyl tyres, I have to concede that they are very nicely moulded, with good detail. They do feature a prominent raised seam line down the centre, which I know from experience to be particularly difficult to remove. Unfortunately, no plastic alternatives are offered in the kit, so I'll be replacing them with a resin set when the time comes.
Decals and Markings
Decals for three aircraft are provided on two small sheets, one featuring the larger national and aircraft markings, and the other containing mostly stencils and smaller markings.
---
The instrument panel is provided as a complete decal, to be used in conjunction with the clear panel part. The decals themselves appear to be nicely printed, with good registration and colour density.
The schemes provided are as follows:
Bf 109K-4 Unknown Unit
Bf 109K-4 Stab, III/JG52, 1945
Bf 109K-4 Wr.Nr. 330176, II/JG76
---
Colour references are provided for Mr. Hobby, Vallejo, Model Master, Tamiya, and Humbrol paint ranges. Thoughtfully, the paint legend also gives RLM designations where appropriate, and colour names throughout. You can't ask for much more than that!
Instructions
There's nothing revolutionary about Trumpeter's instructions, being of the standard saddle-stitched, landscape booklet format, with exploded assembly diagrams. They are, for the most part, large, clear, and easy to follow.
---
Conclusion
I found myself quietly impressed with this kit. It has plenty of detail, including a full engine should you wish to expose it. Parts engineering looks a little fiddly in places, but that's common with highly-detailed kits. Apart from the engine, it's certainly no more fiddly than Hasegawa's K-4 kit, against which I did a cursory comparison. The only area that I would consider the Hasegawa kit clearly superior is in surface detail, as I'm not overly enamoured with the rivet detail on the Trumpeter kit. Overall, though, this kit probably represents a slightly more complicated build than Hasegawa's, especially if you plan to expose the engine.
As mentioned above, the only other criticism I can level at this kit is the lack of plastic alternatives for the vinyl tyres. Happily, this is easy to fix with aftermarket products, so it doesn't represent a serious shortcoming.
Despite these minor niggles, I think this is an excellent kit, and a worthy alternative to both the extant Hasegawa and Revell kits. It's also the best option out-of-the-box for a superdetailing or diorama project. Recommended!
Acknowledgment
Many thanks to HobbyLink Japan for the review kit, which can be purchased at the following link:
Trumpeter Messerschmitt Bf 109K-4
© Kevin Futter 2016
This review was published on Friday, May 06 2016; Last modified on Friday, May 06 2016