Barracuda Studios | BR32164: P-51D Mustang Late Seat With Belts
Reviewed by Kevin Williams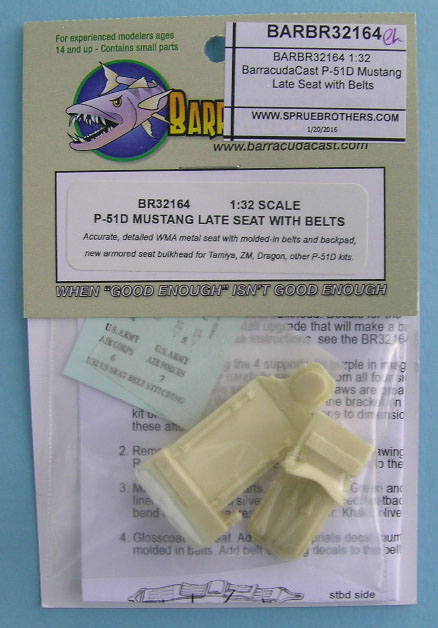 I've never been a real fan of P.E. belts, so when I discovered some time back that Barracuda had taken care of that with a resin seat, I just had to investigate. Having recently acquired the utterly gorgeous Tamiya Mustang, I decided some upgrades would definitely be in order, as I intend to take my finished Mustang to Omaha in 2017 (we'll see how that goes, I guess).
My experience with Barracuda products has been somewhat limited, but what I have acquired, seems to be done to a very high standard indeed. This set is very well detailed, to a very high degree, and is quite a bit more impressive than what's provided by Tamiya, at least to me anyway. Designed as a "drop in" replacement for the Tamiya seat, I foresee no major problems with its implementation.
I decided it would be good to do a side by side comparison of the new resin bits I want to substitute for the Tamiya kit parts, so part of this review will also depict those differences between them, illustrating why I personally believe they are worth the additional expense. I neglected to mention in my Tamiya Mustang review (I missed it completely), that there are also two types of seats included in the kit. This Barracuda product, is designed to replace what they refer to as the late pattern seat.
Comparison Shots
---
(The light gray parts are the Tamiya offerings, the beige the Barracuda stuff.) Overall, the casting appears to be to the very high standard that I have come to expect from Barracuda. Castings are mostly bubble and blemish free (my backplate armor has a tiny hole in it, but the seat will cover it nicely. As stated elsewhere, even though overall this is only a modest improvement, as I see it, it is an improvement nonetheless, and one that will be very visible on the finished model, so well worth the purchase. Note also that the Barracuda seat offers up a different seat cushion, differing from the hard foam cushion supplied by Tamiya. I'd also recommend removing the small lever from the Tamiya seat starboard side, and attaching it to the Barracuda seat. Again, consulting references on this may be advisable.
Instructions
---
The instructions are fairly basic (there are only a scant few pieces to the entire set) and are printed on one side of one page. (Instructions do not mention attaching this completed assembly to Tamiya part number D41, but I'm going to assume it does, unless I find out otherwise.)
Decals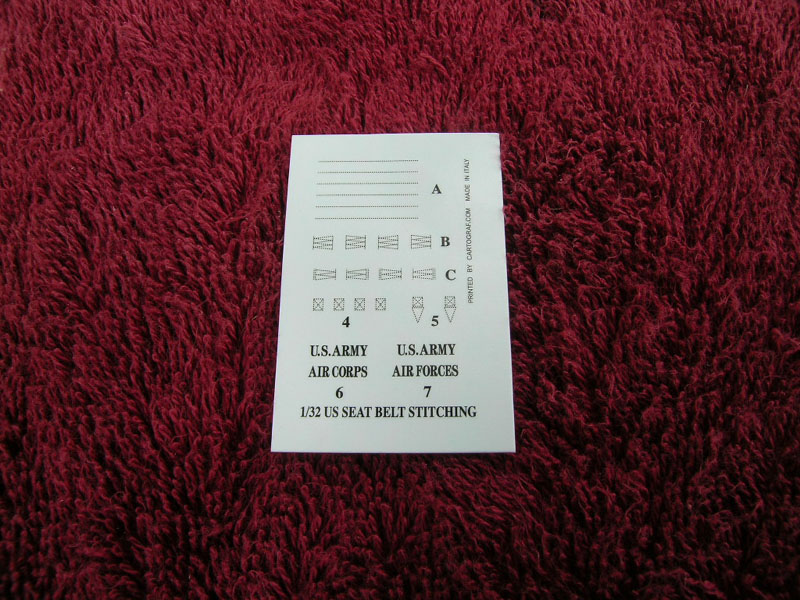 A small set of decals is thoughtfully included that allows for adding data to the seat cushion (two styles). It also has seat harness stitching, so that's a nice touch.
Summary
My conclusion is very favorable indeed, and I wouldn't hesitate for a moment to recommend inclusion of this set as standard fare for anyone that desires to dress up their big scale Mustang (I'll be using this on my own Mustang project, beginning in the autumn sometime).
This product is highly recommended for overall quality and detail.
Thanks to my pathetic wallet for the review sample.
Additional recommended reference/reading material
Squadron/Signal: P-51D Mustang
---
AJ Press: P-51D Mustang cz.1
---
AJ Press: P-51D Mustang cz.2
---
AJ Press: P-51D Mustang cz.3
---
© Kevin Williams 2016
This review was published on Monday, May 16 2016; Last modified on Monday, May 16 2016