Eduard | JX067 Ki-61 Hien (Tony) Mask Set
Reviewed by Kevin Williams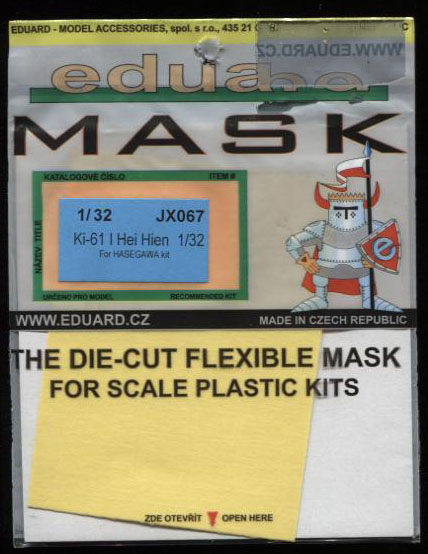 This item by Eduard is a set of pre-cut, Kabuki type (as all later Eduard's releases) mask set for the Hasegawa Ki-61 Hien (Tony) in 1/32 scale. If you're familiar with the Tony, you'll soon realize that a masking set is very desirable, given that the cockpit area tends to be a focal point on most aircraft models, and there are no shortage of glass panes on the Tony canopy portions. This set will come in very handy to help assure a sharp division between canopy glass and frames, aiding considerably in the overall finish. (I'm sort of anxious to see if these work as advertised, as I've not yet ever used a set like this.)
The set comes with masks for all three clear parts of the cockpit, plus the somewhat traditional Eduard wheel hub masks. The adhesive is strong enough to avoid any change of paint bleeding under the mask. Just a matter of pressing them down properly against the surfaces. And once removed, they won't leave any residue.
(Note: I can't say with any degree of certainty that the wheel masks will work with either the MDC or Mastercasters wheels, but I hope they will, as I'll be using one of those sets on my own Tony.)
Instructions/Illustrations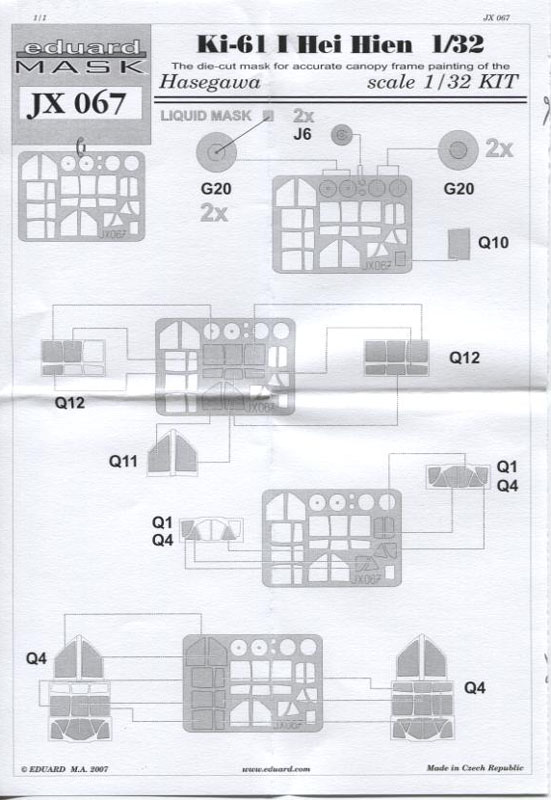 You can use these masks at least a couple of times, if you don't damage them during the removal, and you can even use more times if you apply a coat of Microscale Metal Foil Adhesive (or similar) when you feel that the masks are loosing their tackiness.
Recommended.
Review copy courtesy of my sad, sad wallet.
Further Recommended Reading/Reference Material:
Osprey Publishing: Ki-61 and Ki-100 Aces
---
Model Art: I.J.Army Kawasaki Type 3 & 5 Fighter
---
Maru: Type 3 "Hien" & Type 5 Army fighter
---
Monogram Aviation: Japanese Cockpit Interiors, Part 1
---
© Kevin Williams 2016
This review was published on Friday, June 03 2016; Last modified on Saturday, June 04 2016