Montex | K 32099: Ki-61 Hein Mask Set
Reviewed by Kevin Williams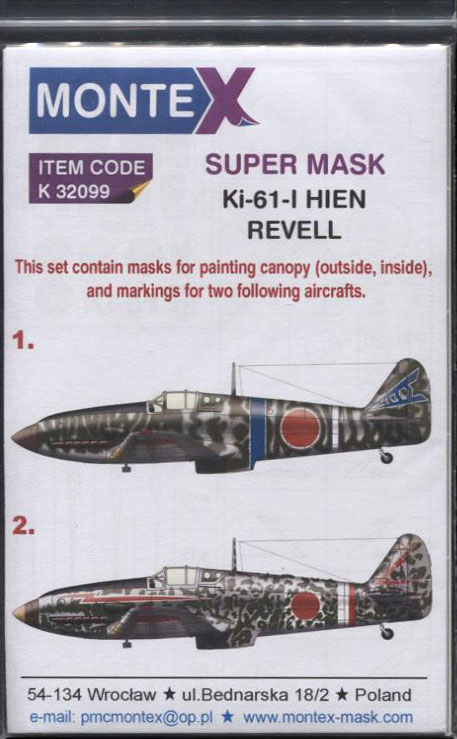 This sheet from Montex, provides all the basics one should need to paint most of the major markings on either of the two chosen schemes. Miscellaneous small stencils for entirety of air frame, are not included, and will therefore need to be sourced elsewhere. I've recently discovered that MDC makes (or made), a complete stencil set for the ki-61, so this may be a very desirable addition to your Tony, should you be able to locate a set.
The two different air frames that are depicted on this set, those being (in no particular order):
Ki-61-I 68 Sentai, New Guinea 1943
Ki-61-I244 Sentai, Chofu, Japan 1945
Mask Chart
---
Nothing too unusual here, just a chart to illustrate what should be present in the set. Good to know, if one were to get a set that was missing a sheet.
Mask sheets
---
Nothing too unusual here. Four mask sheets are included in the set, but I've shown only three, as the black sheet neither scans nor photographs well, just looking like a black rectangle, but includes the canopy and wheel masks. Masks themselves appear to be very thin and flexible, with a fair amount of tackiness to them, so placing them and avoiding paint bleed should be comparatively easy (that and using well thinned paint and low pressure).
Note: No instructions as such are included, but then given the basic nature of the set, combined with the profile illustrations, none are really needed.
Recommended as a splendid way to achieve the painted on look of the markings, without all the hassle of meticulous masking.
Review copy courtesy of myself.
For those with a genuine passion for Japanese aviation subjects, I heartily recommend a visit to J-aircraft.com.
Further Recommended Reading/Reference Material:
Osprey Publishing: Ki-61 and Ki-100 Aces
---
Model Art: I.J.Army Kawasaki Type 3 & 5 Fighter
---
Maru: Type 3 "Hien" & Type 5 Army fighter
---
Monogram Aviation: Japanese Cockpit Interiors, Part 1
---
© Kevin Williams 2016
This review was published on Saturday, June 11 2016; Last modified on Saturday, June 11 2016