Kagero | 9901: Fokker Dr.I, The Aces' Aircraft
Reviewed by Kevin Williams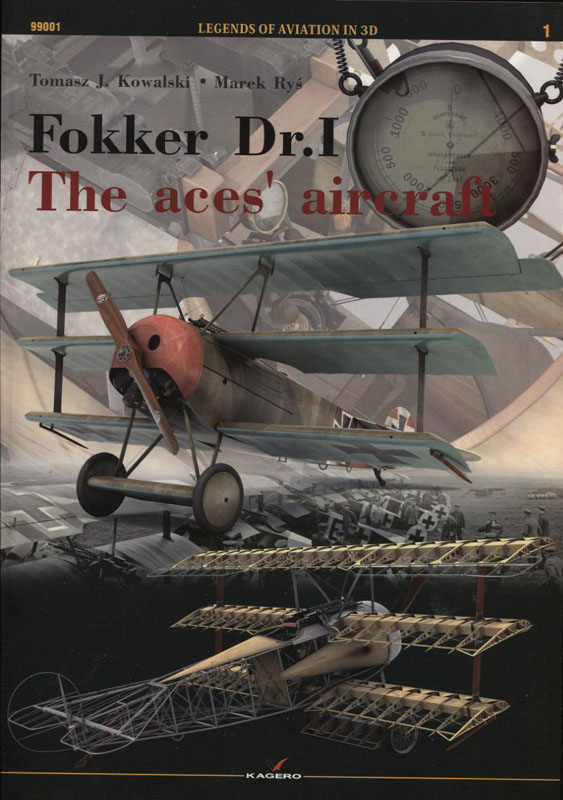 Publisher: Kagero
Author(s): Tomasz Kowalski and Marek Ryś
Publishing date: 2011
ISBN: 978-83-62878-09-3
Kagero has offered up here, the first of what I had hoped to eventually become an expanded series, the "Legends of Aviation in 3D", starting off with the iconic Fokker Dr.I. Unfortunately, since this volume was first published (2011), only one other release (the Fokker D.VII) has seen the light of day. The book is, as one might expect, predominantly driven by printed images of 3-D CAD renderings, with a spattering of photos of real aircraft thrown in, the first 36 pages or so being devoted to history, specifications, charts and what not.
For the most part, I'll let the pictures do the talking, and there are lots of them. Overall, I'd say the folks at Kagero did a pretty good job with the drawings, as most details that I've observed, seem to be very consistent with actual Fokker Dr.I particulars.
The Real Stuff
---
Not much to say here really, standard historical reference photos, all of which have been published elsewhere already.
Two-dimensional drawings, drawn as three dimensional objects
---
The overwhelming majority of the drawings in this volume, are rotated 3-D CAD drawings/illustrations, that while representing three dimensional objects, are in fact still two dimensional drawings. Nonetheless very visually interesting though, I think, but makes me think that the title of the book may be a bit misleading, if interpreted literally.
Actual 3-D stuff
---
Some of the CAD renderings, are offered up in a format that are actually intended to be viewed with 3-D glasses, thereby giving the impression of three dimensions, so glasses were provided with the book (the el cheapo paper variety), but I immediately misplaced mine, so don't recall if one actually gets a realistic three dimensional view or not. What I do know, is that these type of cheap glasses usually immediately cut into my ears, and are very uncomfortable, so I may have just discarded them. (The thought of my sitting in a chair wearing these cheapie glasses, staring at a book, is a rather frightening and laughable image to me anyway.) Viewing these particular images for any extended period of time without the special glasses though, will certainly lead directly to you questioning your own sanity.
(Note: Perhaps I'm just spoiled by other Kagero offerings, that at a much lesser cost, included decals, as there are none to be found included with these two volumes (this and the Fokker D.VII), though they certainly would have been a very welcome addition.)
Rear Cover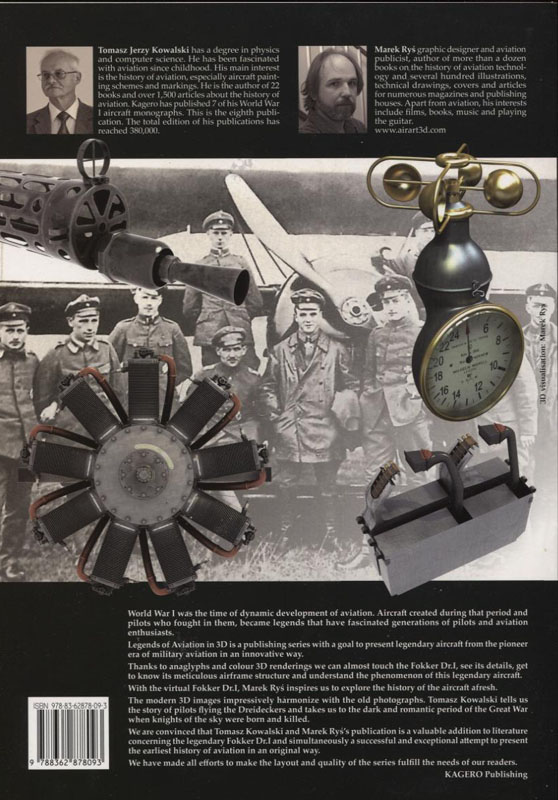 For me to loudly proclaim that these books are a desirable addition to the aviation library, is nothing more than an honest appraisal of what I feel is the great value these books bring to the table, even with the limitations of the approach. If you like slick drawings, this book is a must. If you're looking for more historical content, you're probably better off seeking that elsewhere.
Even if you have only a passing interest in this iconic WWI triplane, you can't go wrong with the purchase of this book. You might just even become a fan.
On a scale of 1 to 10, I'd rate this book as a 10, given the overall apparently high quality of the paper stock and prodigious illustrations, which seem to address every crack and crevice of the air frame. While perhaps not everyone's cup o' tea, it's still a viable additional reference for the aircraft, at least as far as I am concerned.
Further Recommended Reference/Reading Material
Osprey: Fokker Dr.I Aces
---
Albatros Productions Datafile 05: Fokker Triplane
---
Albatros Productions Datafile Special: Fokker Dr.I
---
Arms & Armour Press: The Fokker Triplane
---
Site of Interest
For those that may wish to study more on Dr.I aircraft, I can (and do) heartily recommend Fokker DrI.com, a very handy site for the triplane enthusiast.
© Kevin Williams 2014
This review was published on Friday, June 17 2016; Last modified on Friday, September 15 2017