AOA Decals | 32-015 Trainers No More: Trojans at War - T-28B/C/D Trojans in the Vietnam War
Reviewed by LSP_Paul
AOA Decals New sheet for the Kitty Hawk T-28 brings the large scale plane builder even more colorful and historically accurate markings on this sheet. Let's take a closer look at what this decal set can do for your T-28 project!
What's in the Set
Eighteen marking options included. Although none are specifically marked with the US national insignia, many of these were also US operated/maintained under the disguise of other nationalities as part of the "secret" war outside of Vietnamese borders.
United States - 2 schemes (T-28D-5)
South Vietnam - 5 schemes (T-28B & T-28C)
Laos - 5 schemes (T-28B, T-28C, T-28D, & T-28D-5)
Thailand - 3 schemes (T-28D & T-28D-5)
Cambodia - 1 scheme (T-28D)
Khmer Republic - 2 schemes (T-28B & T-28D)
Two types of full airframe stenciling are also provided - one as the original full decal type lettering and the other as the sprayed/stencil lettering. Two versions of the walkway striping are also provided.
Profiles and Instructions
All markings options are explained in detail on each color profile and any variations for markings specific to an aircraft are called out as well, so read your directions twice. One thing I really appreciate With AOA Decals is that they take the time to list pretty comprehensively what changes if any would need to be made to the kit to help make an accurate model. There is also an extensive set of stencils for the aircraft.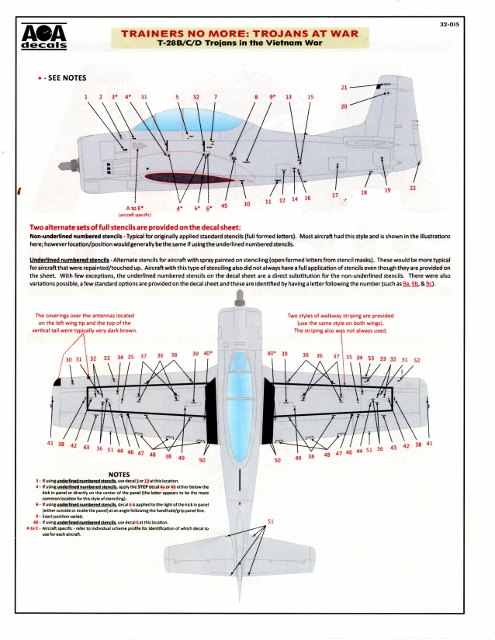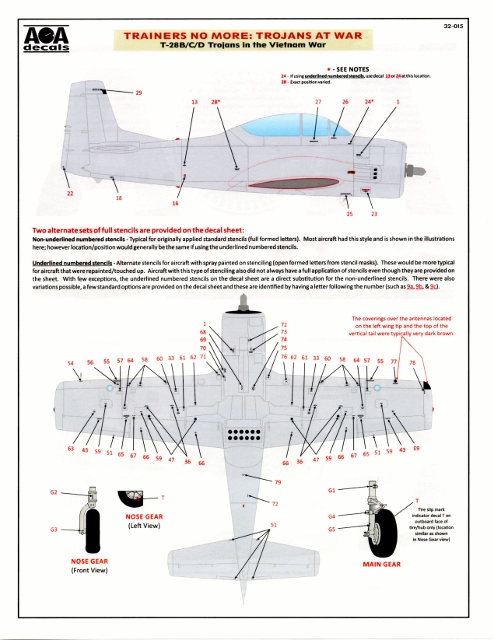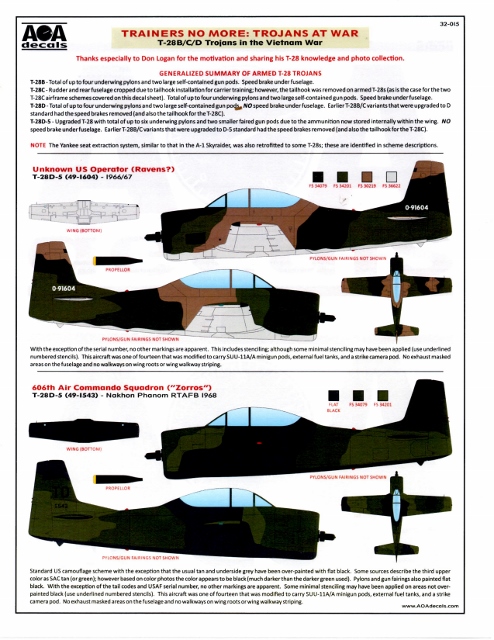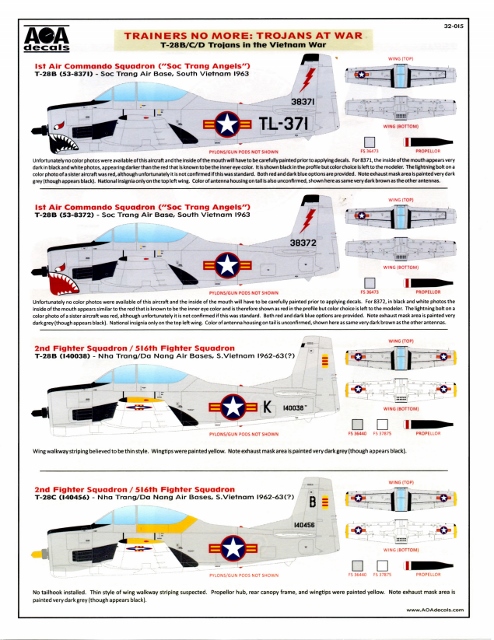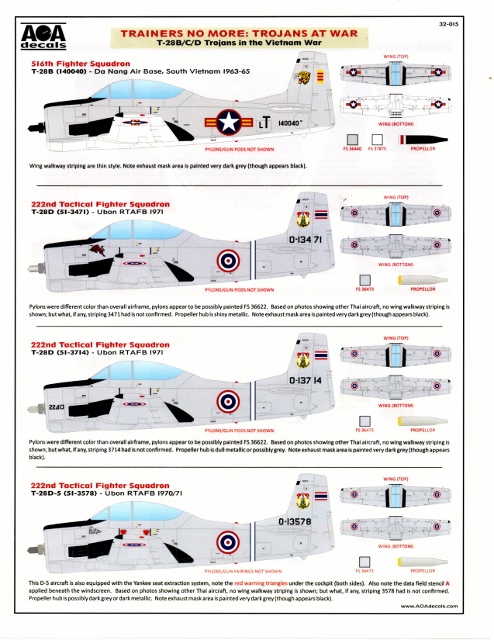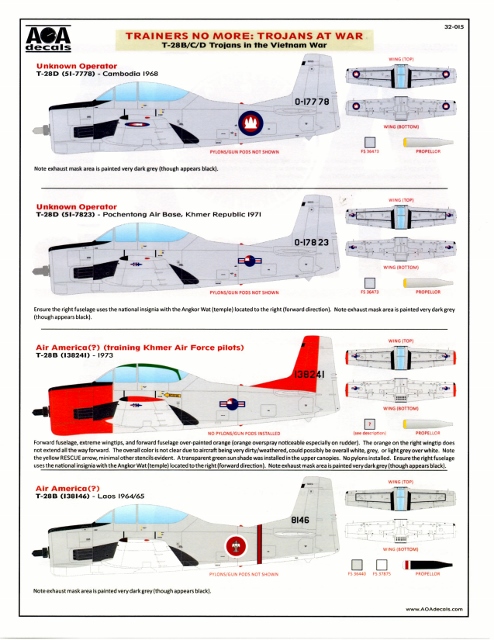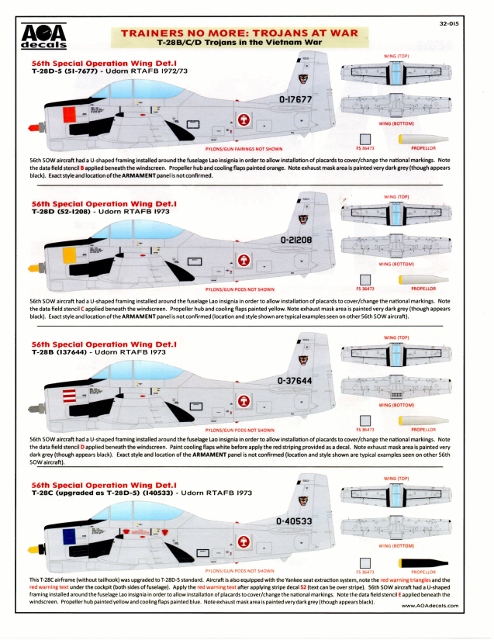 And finally an addendum sheet for one of the aircraft, be careful when opening your decals, it is small and may fall out without you seeing it.

The Decals
The decals are printed by Microscale, are thin, and very sharply defined. The tiny stencils are legible under magnification. The carrier film is so minimal you have to look for it on the backing sheet, really nicely done again AOA.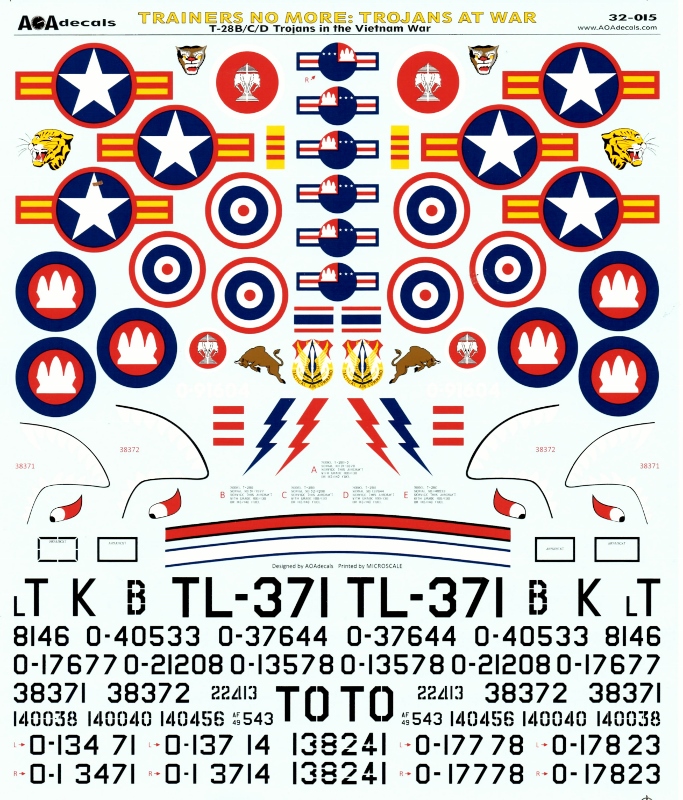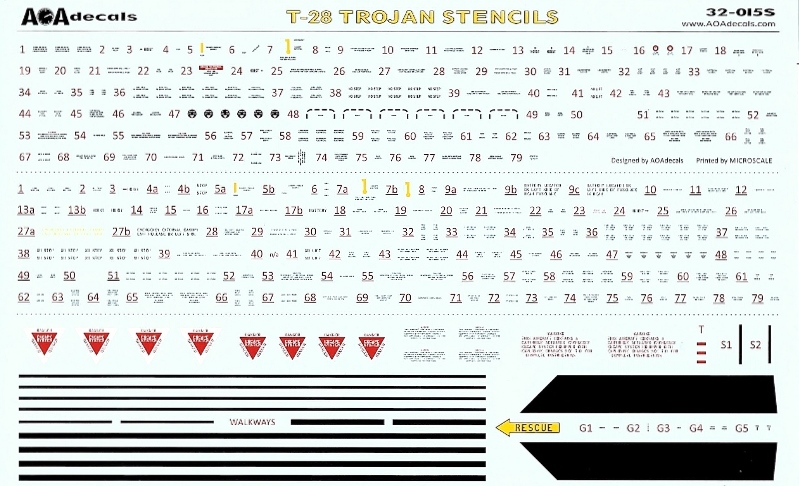 Conclusion
Once again AOA has brought out a set of decals that truly follow the company's standard for excellent research, interesting subjects, incredible attention to detail and an outstanding set of decals. I know a lot of folks were waiting for years for a great T-28 to come along, now we are blessed with fantastic markings options too!
Thank you to AOA Decals for the review sample.
© LSP_Paul 2016
This review was published on Saturday, June 11 2016; Last modified on Saturday, June 11 2016