Wolfpack Design | WD32001: Flying Swallows Part 1, Kawasaki Ki-61-I Hien
Reviewed by Kevin Williams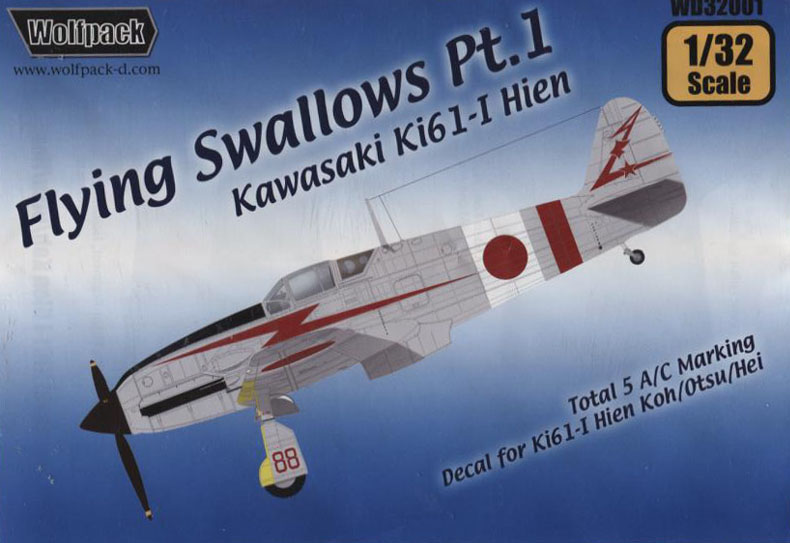 This set from Wolfpack, provides options for doing five different Ki-61 Aircraft. Printed by Cartograf, decals appear to be razors' edge thin, quite opaque, with terrific and vibrant color density. Many small stencils for entirety of air frame, are also included in this set.
The five different air frames that are depicted on this set, those being (in no particular order):
Ki-61-I 244th Flight Regiment, Chofu AB, Japan 1944
Ki-61-I 244th Flight Regiment, Chofu AB, Japan 1945
Ki-61-I Akeno Army Flying School, Mie, Japan 1943
Ki-61-I 68th Flight Regiment, New Guinea 1944
Ki-61-I 56th Flight Regiment, Jeju Island, Korea 1944
Instructions/Profiles
---
A very nice set of decal placement instructions/profiles accompanies this set. Given are paint color recommendations, stencil locations, references used, and a warning not to eat the decals, a shame, as I had intended to have them with my salad tonight, but I guess I can forget that idea now.
Decals
---
Again, very nice markings printed by Cartograf of Italy. Unfortunately, our mailman saw fit to fold these for insertion in our mailbox, and as a result some of the decals seem to have been wrinkled up a tad, but no damage is apparent on the specific markings that I intend to use from the sheet. My experiences with Cartograf have been very favorable so far, so I have no trepidation at all about using them on my project.
Highly recommended as a splendid way to achieve the rather intricate unit markings typically applied to the tails of Ki-61s, and the primary reason I bought the set.
Review copy courtesy of myself.
For those with a genuine passion for Japanese aviation subjects, I heartily recommend a visit to J-aircraft.com.
Further Recommended Reading/Reference Material
Osprey Publishing: Ki-61 and Ki-100 Aces
---
Model Art: I.J.Army Kawasaki Type 3 & 5 Fighter
---
Maru: Type 3 "Hien" & Type 5 Army fighter
---
© Kevin Williams 2016
BB
This review was published on Tuesday, June 14 2016; Last modified on Tuesday, June 21 2016