MDC | RBS32002: Ki-61 Landing Gear (for Revell kit)
Reviewed by Jay Laverty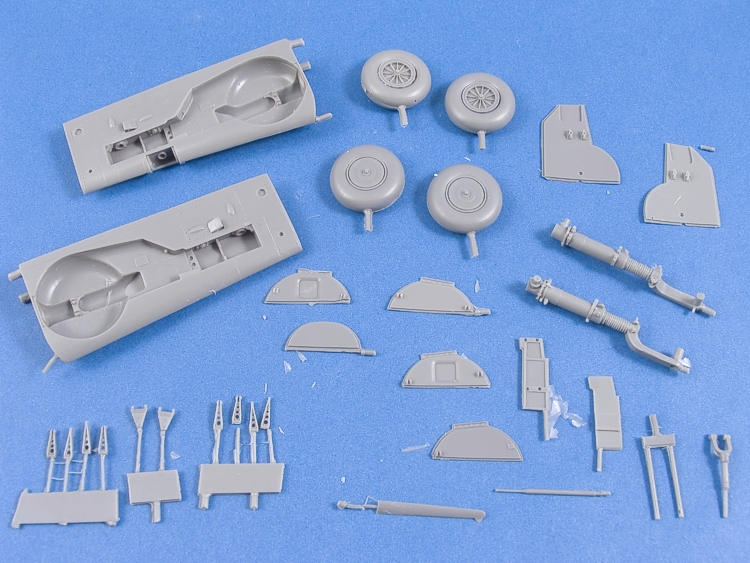 Not wanting to leave the owners of the archaic yet dignified Revell Ki-61 out in the cold with the recent release of the superb complete kit, Radu ad MDC have teamed up yet again to bring us a few detail sets that have been modified slightly for use with the Revell kit.
This set is the Landing gear set, which comprises inserts for the undercarriage bays (cut outs from the MDC produced kit) and resin replacements for the various intricate details for the legs and wheels.
The level of detail represented is nothing short of astonishing, as anyone who has seen any of "Modelbot's" work before will gladly attest to. Being that the Revell kit was incredible in it's day when compared to it's contemporaries, it is definitely showing it's age now and the old grey mare just ain't what she used to be. This set will address one of the poorer parts of the kit, and with the addition of the other detail sets that I will be profiling over the next couple of weeks, those not wanting to part with the older Revell kit ( and for what it went for at times on eBay one can hardly blame them ) will have the opportunity to turn that kit into a modernised masterpiece, letting Radu (or Modelbot as I like to call him) do the hard work.
At £10.60 this set is excellent value for money and comes very highly recommended by me.
Available from MDC.
© Jay Laverty 2007
This product is available from the following LSP sponsors

This review was published on Saturday, July 02 2011; Last modified on Friday, June 03 2016