Barracuda Studios | BR32224: Bf 109G-2 thru G-10 Seat With Belts
Reviewed by Kevin Futter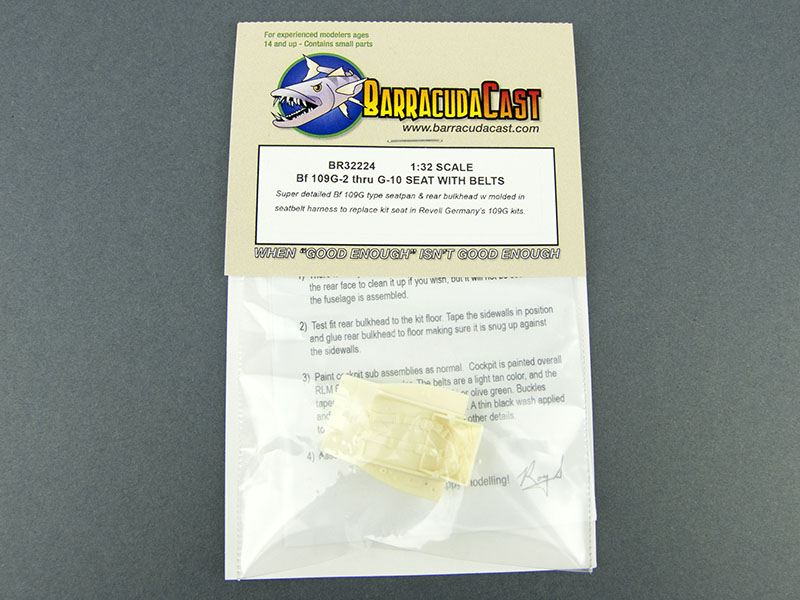 BarracudaCast, out of Roy Sutherland's Barracuda Studios, has just released a selection of resin upgrade items aimed primarily at Revell's new Bf 109G kits. Here we take a look at set BR32224, which the packaging describes like so:
Super detailed Bf 109G type seatpan & rear bulkhead w molded in seatbelt harness to replace kit seat in Revell Germany's 109G kits.
This is a very simple upgrade set, consisting of only a single resin part: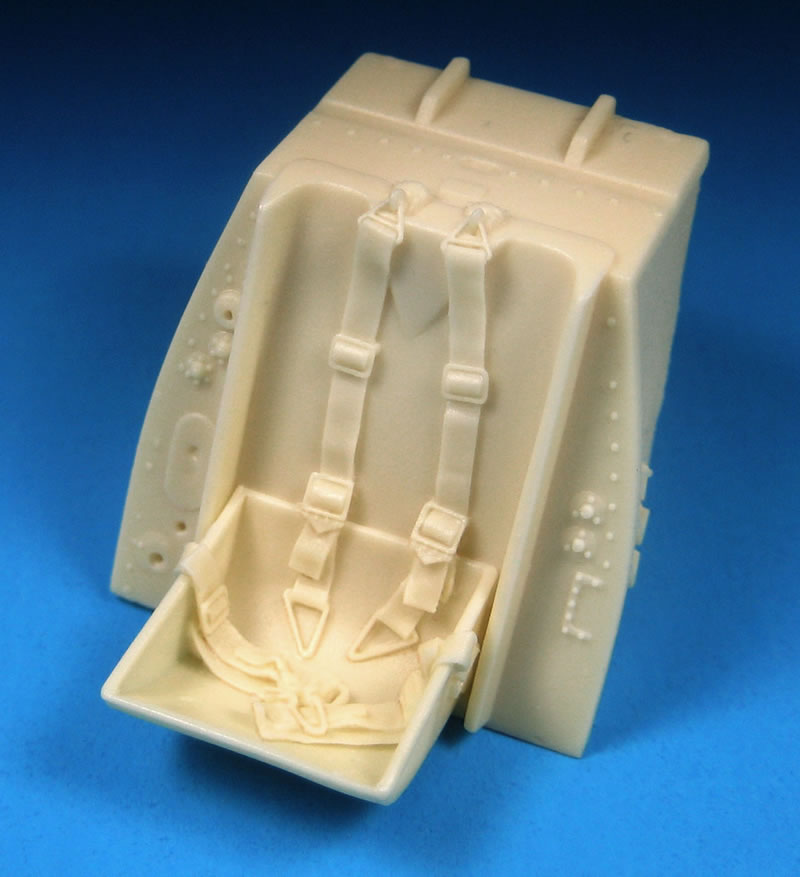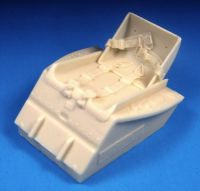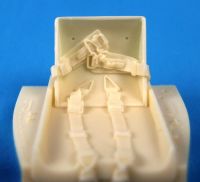 ---
Those of you who are familiar with the target Revell kits will know that the seat comes with some decidedly poor moulded-on seat belts: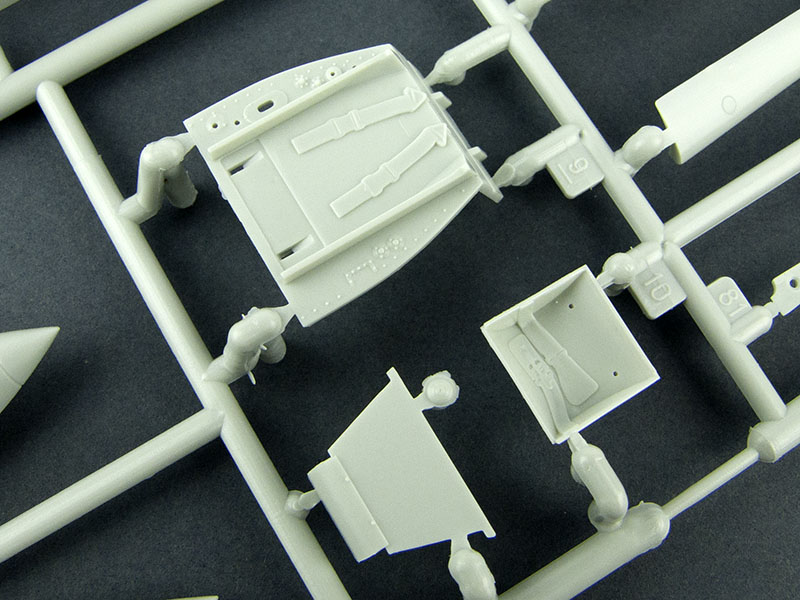 While they can be removed with some effort, this replacement part from Barracuda saves you the trouble, replacing them completely with some of the nicest moulded-on resin seat belts I've seen. The drape and position of all the harness elements is very realistic, and in no way suffers in comparison to the more fancied textile-based sets on the market.
Casting is also flawless, being crisp, precise, and free of blemishes.
The new resin part appears to be based on the kit parts, so I did a quick test-fit against the kit's cockpit floor: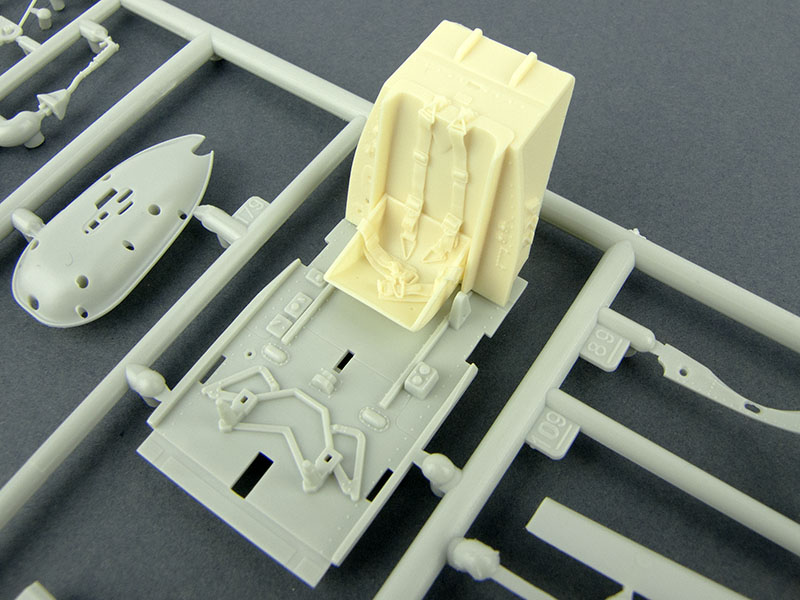 Even though the part is only held in place with some Blu-Tack, you can see that it fits pretty nicely. It lacks the locating rails of the kit bulkhead, but makes up for it with a generous contact area between the two mating surfaces. Some care will need to be taken with alignment, however.
One of the neat things about this particular resin upgrade part is that the substantial pour block behind the part can be happily left in situ; there's no requirement to remove it prior to installation, and if you've worked with resin parts before, you know how fraught this removal process can be! Nice one, Barracuda.
The instructions consist of a small folded sheet, printed in colour, with a brief description of the installation process, and a selection of photos: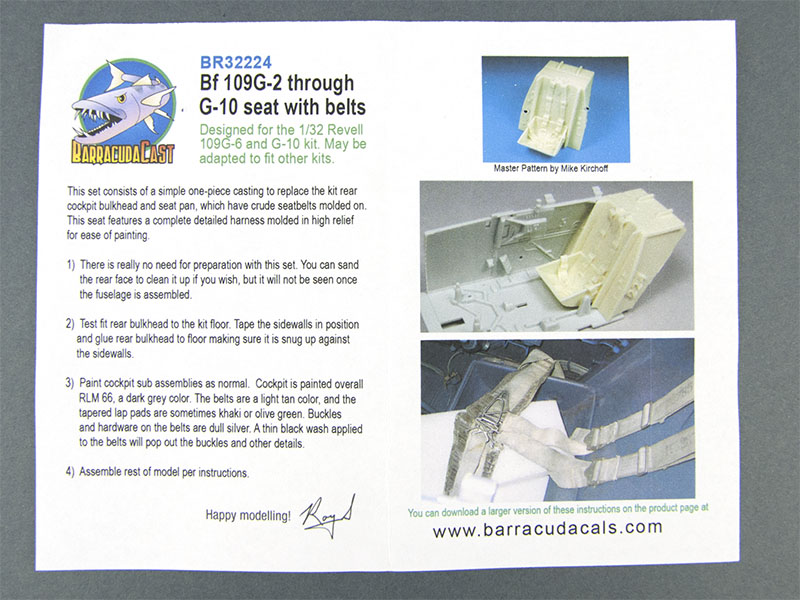 Note that if you don't feel up to the challenge of painting those moulded-in seat belts, there's an alternative version of this set (BR32223) that does not include them.
Conclusion
This replacement seat is about as plug-and-play as a resin upgrade set can get. While it offers some minor detail improvements over the original kit parts, its real value lies in the sheer utility and convenience of having those awful moulded-in seat belts dealt with for you. It's a simple upgrade that solves an ugly problem, and as such, is highly recommended!
Thanks to Barracuda Studios for the review sample and product photos.
© Kevin Futter 2016
This review was published on Monday, July 18 2016; Last modified on Monday, July 18 2016