Fly | 32013: Hawker Hurricane IIC Trop
Reviewed by Andrew Birnie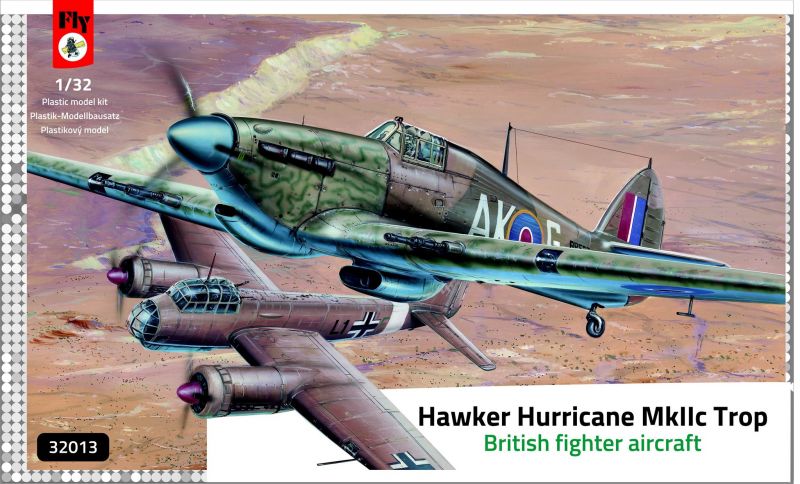 The Hurricane Mk.II utilised the RR Merlin XX which had a new two-speed supercharger, which resulted in the fuselage being lengthened by four inches from the Mk.I.
The Kit
The Fly Hurricane IIC is the first true kit of this mark in 1/32 - there was an earlier Revell boxing purporting to be a Mk.IIC, but this retained the Mk.I fuselage from their previous releases, and this new kit is light-years in advance of that. I'd say this is the finest kit of the Hurricane released so far, the wing detail with its raised rivets - perhaps a benefit of HpH sharing their Hurricane kit (now shelved) development with Fly - is better than even Tamiya would have done.
Predominately moulded in a light tan plastic of which there are thirty-seven parts, there are thirteen clear plastic parts, twenty-three resin pieces, 7 film parts, and rounding it off nicely are fifty-seven etch parts.
---
The detail throughout is superb, and of course there is room for those that want to go the extra mile. There are no locating tabs, which will require a little extra care when joining the various parts together, as is also the case when affixing the cockpit details as there are no locating positions, but Hurricane cockpit references are readily available on the internet.
The guns provided both in styrene and resin are of the earlier type. You can purchase the later type, in resin, from Fly, so it's best to decide which particular aircraft you wish to make, together with a little bit of research, so you know which type to use.
There are a couple of vents on the lower fuselage sides, which were introduced sometime into the production run, so once again, a little bit of research is required to determine if your aircraft of choice had them.
Decals and Markings
There are four marking options:
No. 1 Royal Indian Air Force - part of No.167 Wing RAF, SEAC
No. 213 Sqn RAF, North Africa, 1942
No. 1 Sqn SAAF, pilot Cpt. J. H. Gaynor, North Africa, 1942
Flying School Armee de l'air, Morrocco, 1945-6
---
Conclusion
Very highly recommended. Review model very kindly supplied by Fly.
For those wishing to depict their kit in alternative markings there are a couple of sheets, all RAF, from Xtradecal, a sheet with a couple of Portuguese options from Colorado, another from Techmod - with four RAF and a Turkish option, and finally one from Lift Here featuring a Yugoslav Partisan aircraft.
For those wishing to model an aircraft equipped with the long range fuel tanks these are available from Grey Matter Figures.
Fly have a Mk. IID kit due for release in the not to distant future and a couple of boxings of a Mk.I.
© Andrew Birnie 2016
This review was published on Friday, July 22 2016; Last modified on Friday, July 22 2016