Model Point | 3200: .50 Browning Machine Gun M2
Reviewed by Jay Laverty
As a company Model Point have been around for years producing their own range of high quality barrels for a variety of 35th scale subjects, and to be honest I am surprised it has taken them this long to enter into the market of 32nd scale accessories. I am very glad Dmitry chose to.
I saw the preview posted on Hyperscale and sent an e-mail to Dmitry letting him know LSP was here and this would be the perfect place to let everyone know about these new products.
While I was at it I ordered three sets of the newly released .50 Brownings. Barely a week later and they were on my doorstep. Superb service!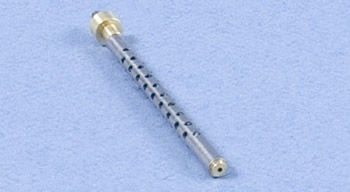 The barrels themselves come in a small packet with a single sided, simple and easy to read instruction diagram. Broken down into four manageable pieces, it will not take long before you have one very convincing barrel. Turned on a CNC lathe they are very spectacular to look at.
At an individual price of $7.60 USD these aren't the cheapest aftermarket accessories you will buy this year, but they are worth it, if you want to add this type of detail to your model. the only suggestion I would make to Model Point is to sell them in pairs.
I was extremely pleased with the barrels when I opened them to have a look and am quite anxious to see them on a finished model. therefore I have no hesitation in heartily recommending these new barrels to everyone and anyone who asks. I for one am very pleased to see CNC barrels make an appearance at an affordable price, and I look forward to seeing this range expand.
Highly Recommended.
Ordering:
© Jay Laverty 2006
This review was published on Saturday, July 02 2011; Last modified on Wednesday, May 18 2016