Revell | 04922: 1/32 Arado Ar 196B
Reviewed by Kevin Futter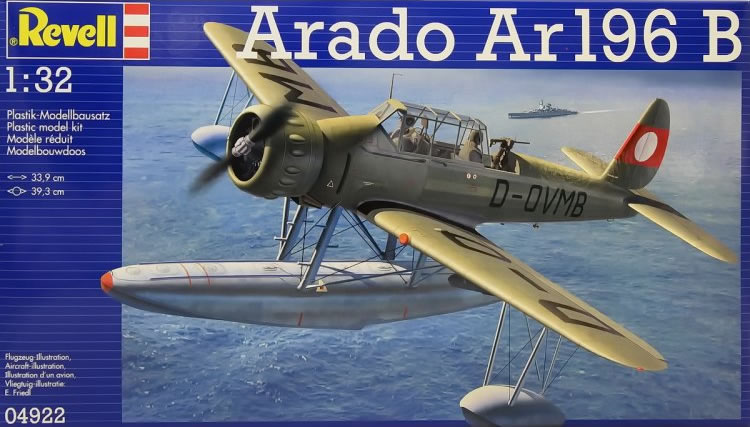 When Revell (Germany) released the Ar 196A-3 kit back in 2010, many of us thought it was an unusual—and slightly risky—subject choice for 1/32 scale, but were grateful all the same. Little did we expect that the company would follow it up with the single-float Ar 196B, which never entered service, with only six-to-ten pre-production machines being completed. There's a saying in modelling circles that if you slap a swastika on it, it will sell, and perhaps this release epitomises that mantra, but there's no denying that it remains an interesting subject, whether sporting one float or two.
The Plastic Sprues
There are 13 grey plastic sprues in this kit, with three that appear to be dedicated to this version of the aircraft. (The plastic in the photos below varies in colour only due to some white balance issues with my camera; in reality, all the plastic is the usual mid-grey colour.)
---
A new sprue contains the replacement parts for the single float, as well as the new twin-blade propellor applicable to this version: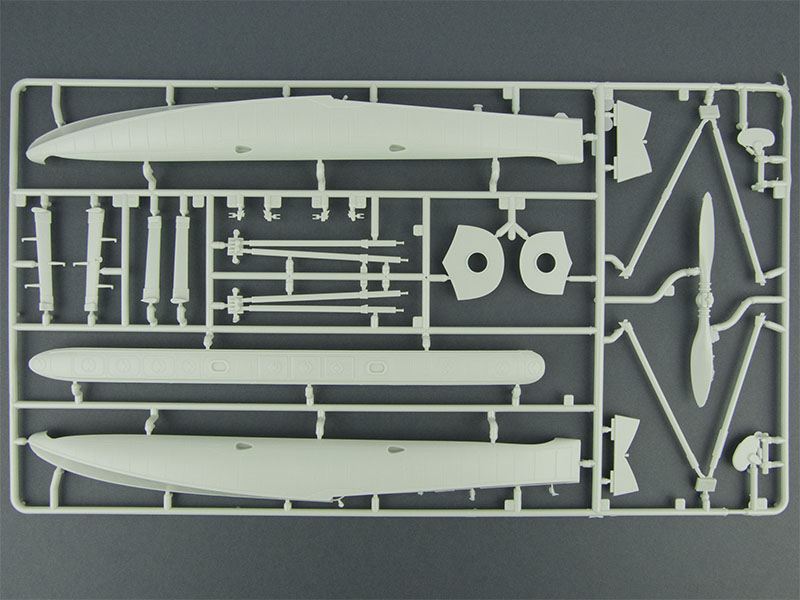 The parts are generally well-defined and crisply moulded, but I was struck by the extent of the flash present on what should still be relatively new moulds. The engine is a prime example - great detail, and a generous helping of flash: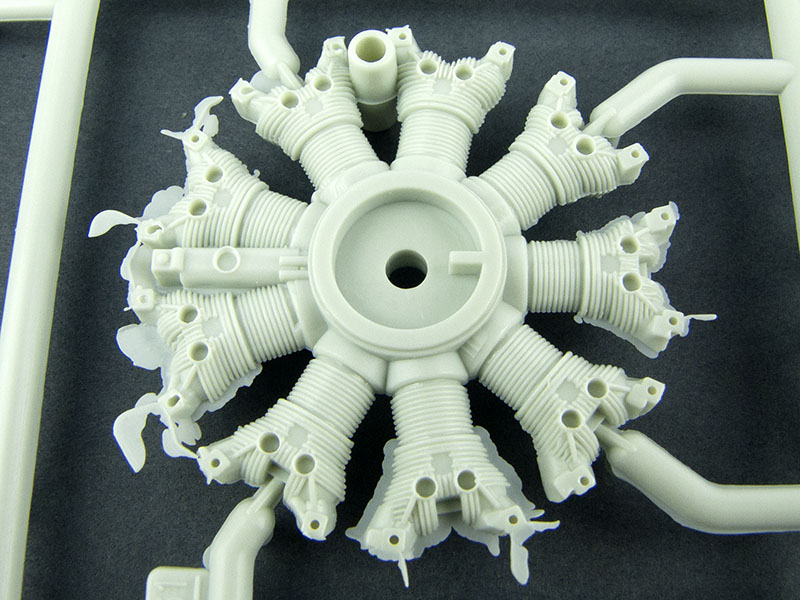 On the other hand, the part containing the push rods and ignition harness is much less afflicted: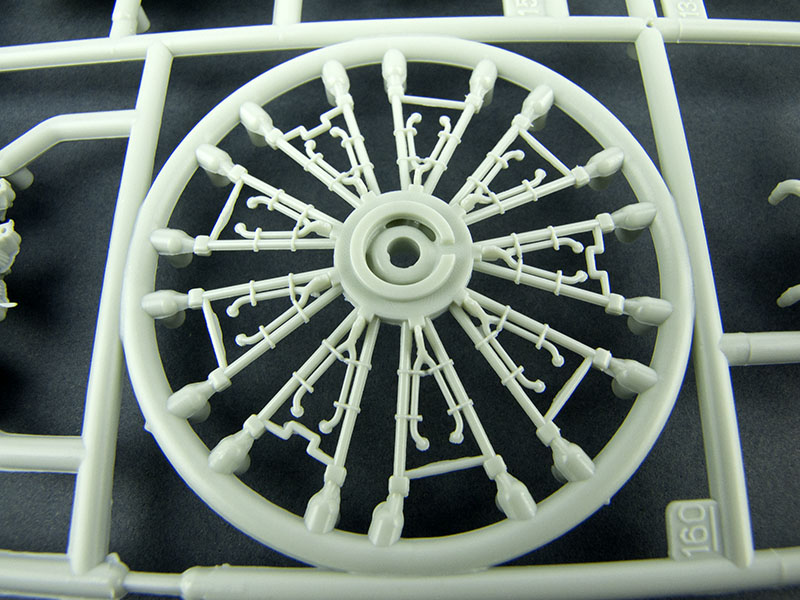 I also appreciate the fact that the entire assembly is moulded as a single piece, as this provides significantly more strength than a series of smaller, more fragile components that can be difficult to remove from the runners without damage.
The new propellor also exhibits a disconcerting level of flash, given that it's a new tooling for this new release: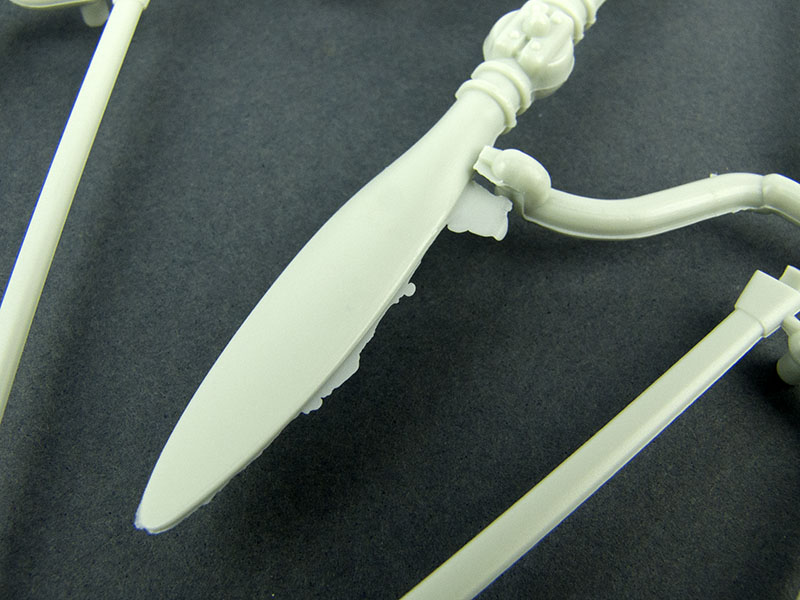 And a little more to deal with on the wing tips: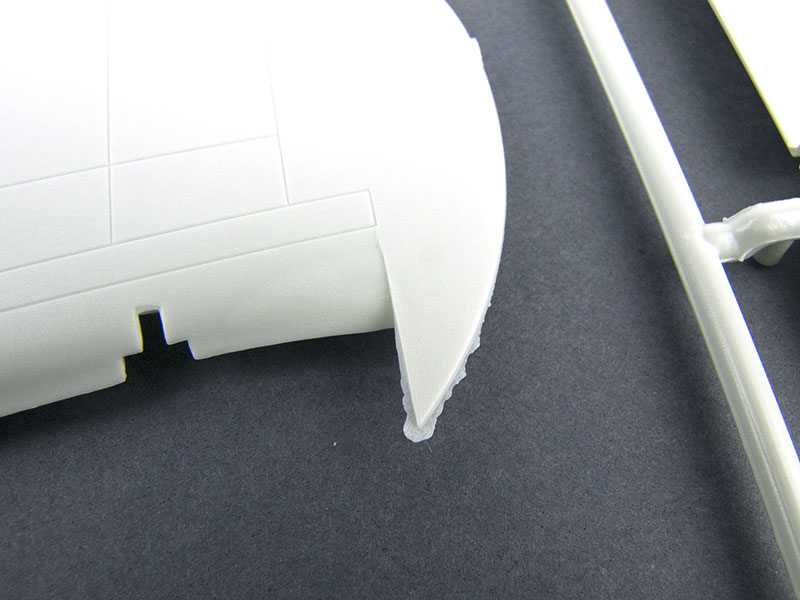 None of this represents an insurmountable problem, but it is a little surprising to find this much flash on a relatively new kit.
Elsewhere, the level of detailing is quite nice. The instrument panels have raised dial details, which can either take the supplied decals, be augmented by airscale's fine examples, or painted if you're skilled enough: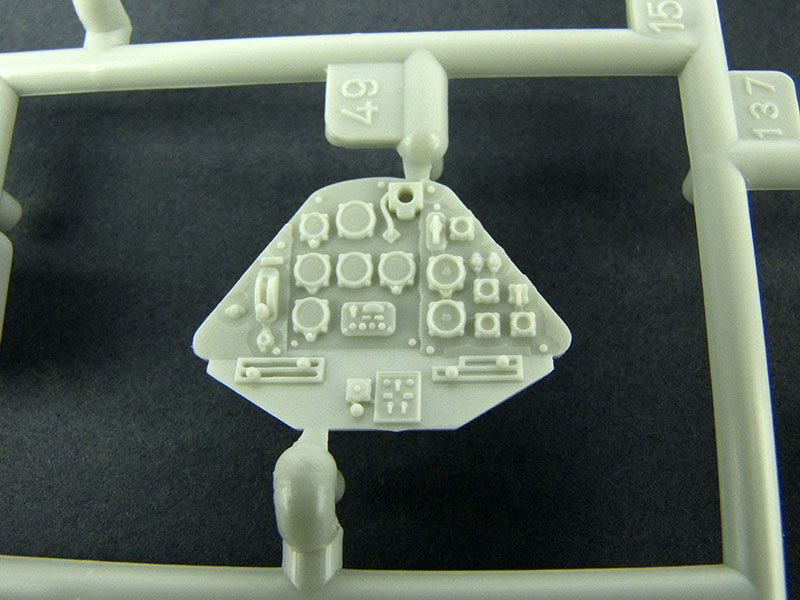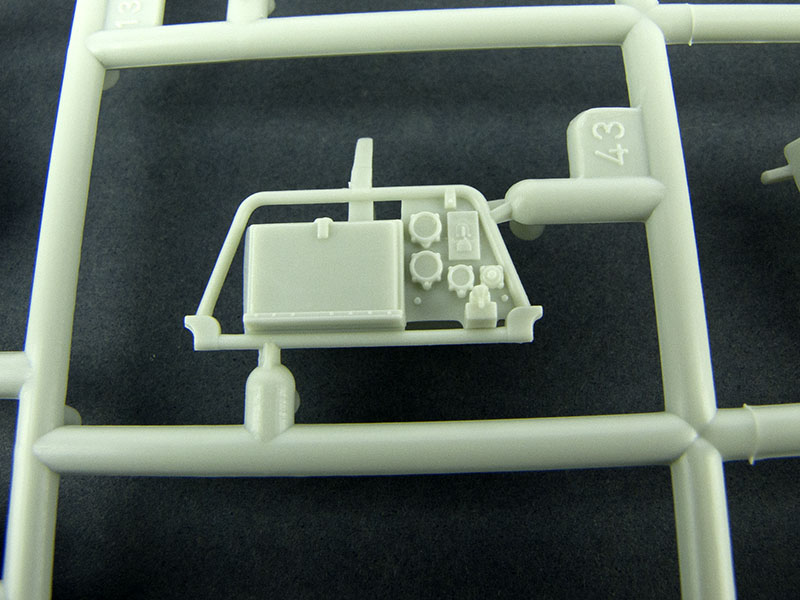 The surface detail on the fuselage is very nicely done, and appropriately confined to those areas that were metal, with the mid-section of the fuselage being fabric-covered: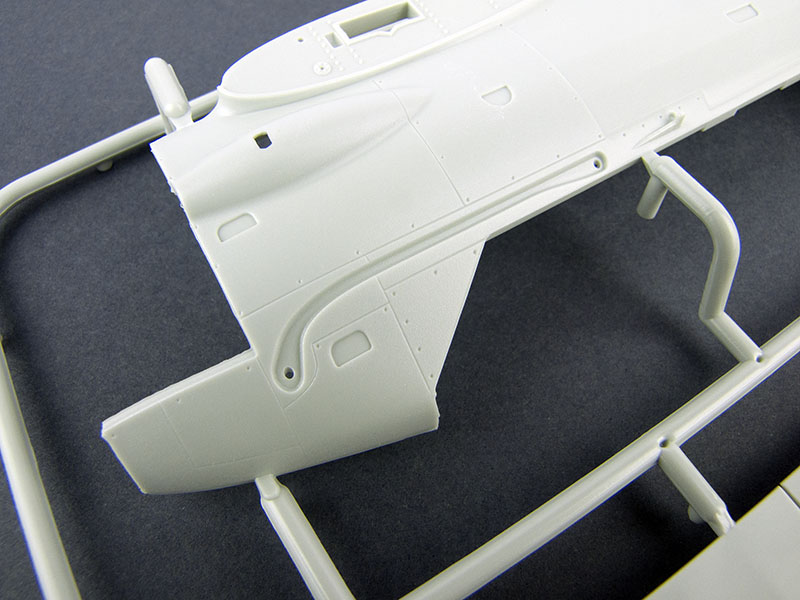 On the other hand, the recessed panel lines on the wings appear to be a little heavy: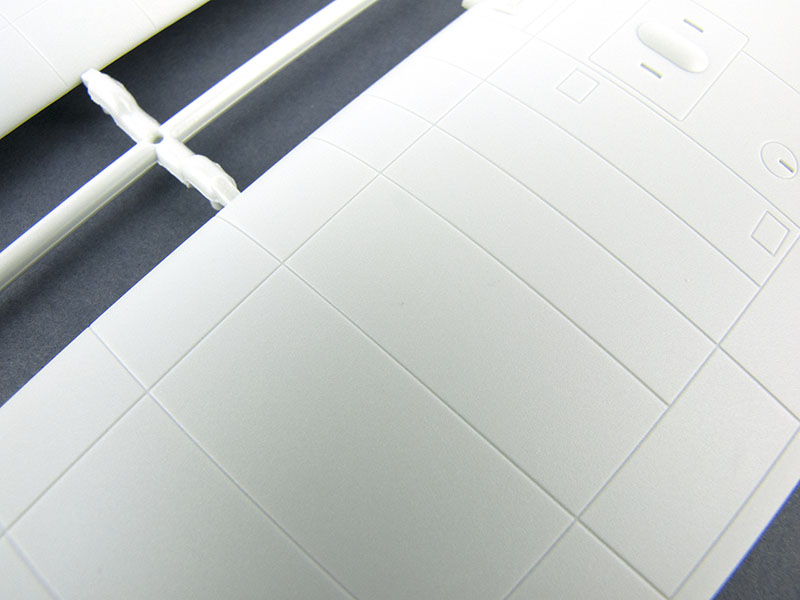 In common with Revell's Bf 109G-6 kit, this kit features seats with moulded-in seat belts: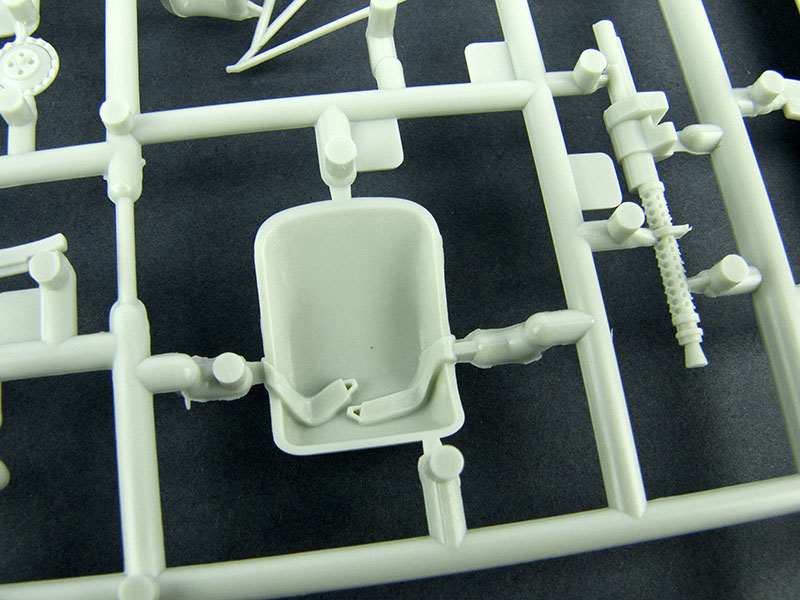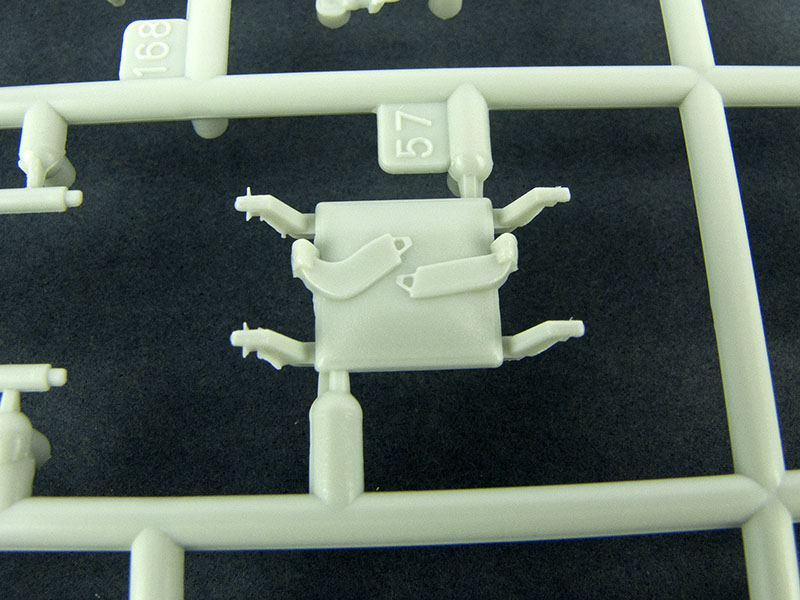 As you can see, they're none too convincing, though careful paint work might render them passable. They look a little tricky to remove from the main pilot seat, too, but HGW produces a replacement set that features a pair of resin seats and accompanying seat belt sets. They're pricey, however, so your alternatives will probably come down to making the best of the moulded-in belts, or attempting to remove and replace them with a generic or scratch-built set. It's not a show-stopper, but certainly disappointing.
The kit also comes with a handy circular display stand, which neatly solves any display conundrums this otherwise unwieldy beast might present. It's also worth noting that one or both wings can be assembled in the folded position (though I found the instructions a little confusing in that regard), and the engine panels can also be assembled in the open position.
Clear Parts
I was a little puzzled by the clear parts sprue at first glance, as it contains mainly flat panels: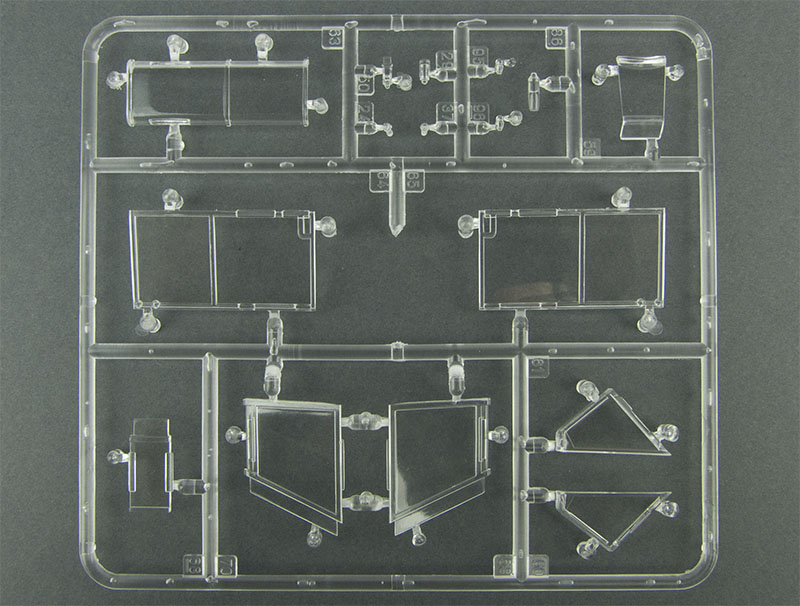 Glancing at the relevant section in the instructions reminded me of the consternation surrounding the assembly of the canopy on this kit when its twin-float predecessor was released: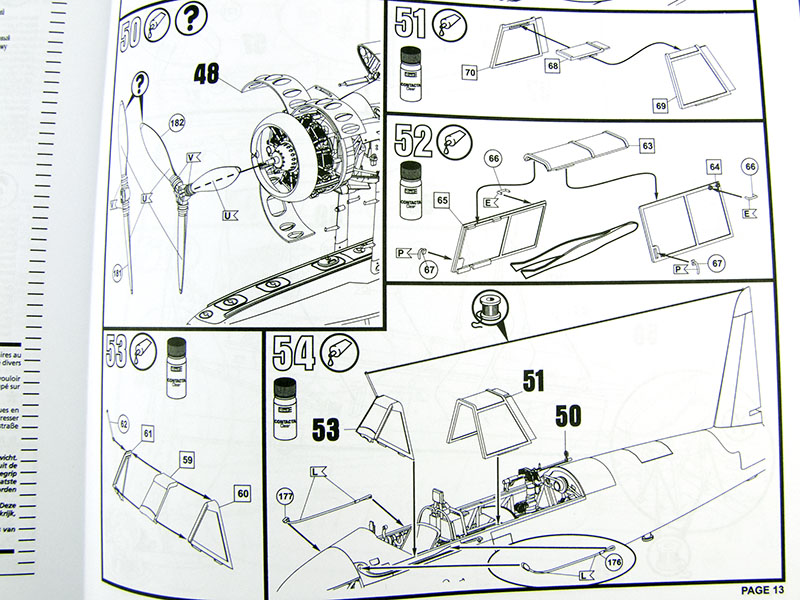 It's actually assembled from the very flat panels featured on the clear sprue, by way of small tabs moulded in to each part. Not only does this make for a very fiddly—and potentially troublesome—assembly, these tabs are likely to be quite obvious on the completed canopy. This is a real shame, as the large glasshouse canopy of this aircraft is one of its notable features - much as it will be on the finished model. Both HpH Models and Alley Cat Models market replacement sets in clear resin, which, at a cost, will solve this problem very neatly indeed.
If you do decide to stick with using the kit canopy, rest assured that the constituent parts are very nicely moulded, and very clear: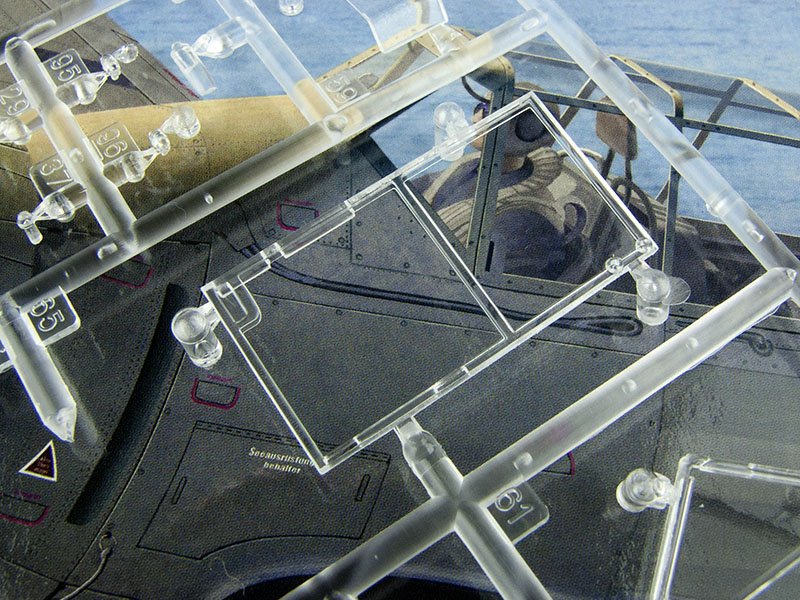 Decals and Markings
This kit is marketed as a Ar 196B, but does in fact represent the V4 machine. This is tacitly acknowledged in the markings guide, which describes the only supplied scheme as "Arado Ar 196 B, V-4, D-OVMB, 1938".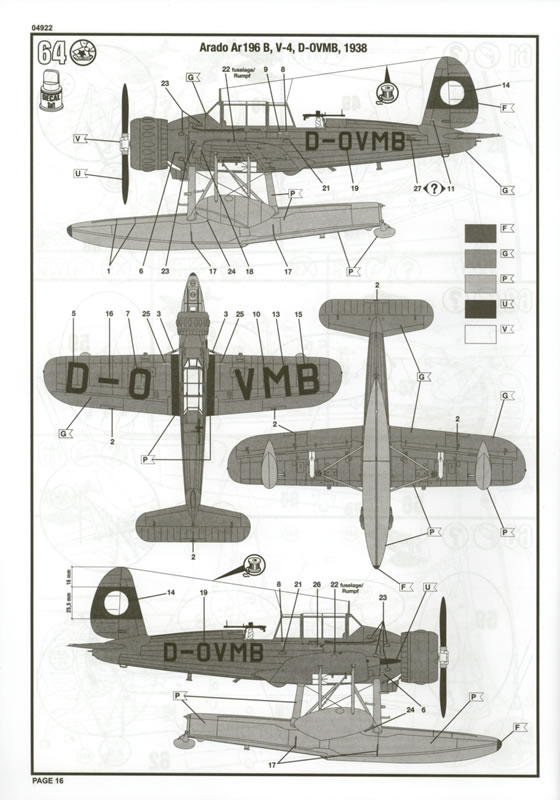 According to the Valiant Wings book on the subject, this aircraft initially featured a two-bladed propellor, but later adopted the more familiar three-bladed type. Luckily, this is also supplied in the kit, and given as an option in the instructions at step 50. Drawings in that book, however, suggest that V4 did not feature the side extensions to the rear section of the canopy, which were instead introduced with V5. Being similarly configured, a minor conversion to V5 should present no problems, but you could also remove the extensions from the clear parts, or simply ignore them.
Whichever route you choose, both V4 and V5 featured an attractive scheme in overall RLM 02, with silver floats.
The decals themselves are nicely printed, though a little matt. The large M on my sample has suffered some slight damage in its travels.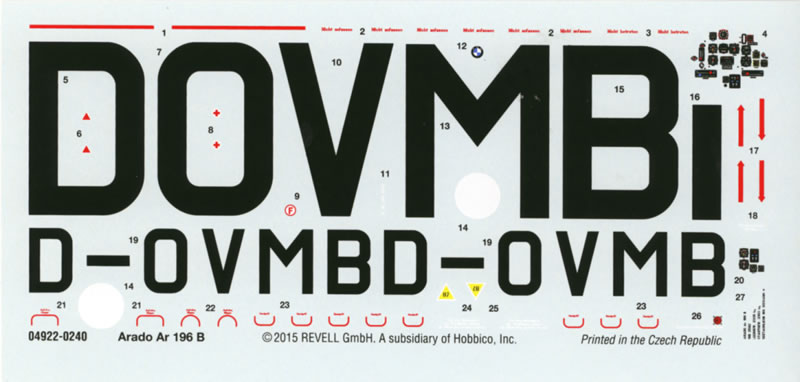 Given that it features only a single scheme, the sheet is necessarily simple, with only the required registration codes and a handful of stencils. A pair of instrument panel decals is also included, though they would be a challenge to conform to the raised details on the plastic parts. I personally would be tempted to cut them up and apply them individually. There's also a neat little BMW logo for the engine. Nice touch!
Note that no swastikas are supplied, not even in the usual broken format. White discs are supplied to go under them, but you'll need to source the swastikas themselves from either the aftermarket or the spares box.
Instructions
Given what some of the market leaders are supplying as instruction manuals in their kits these days, Revell's can best be described as merely serviceable.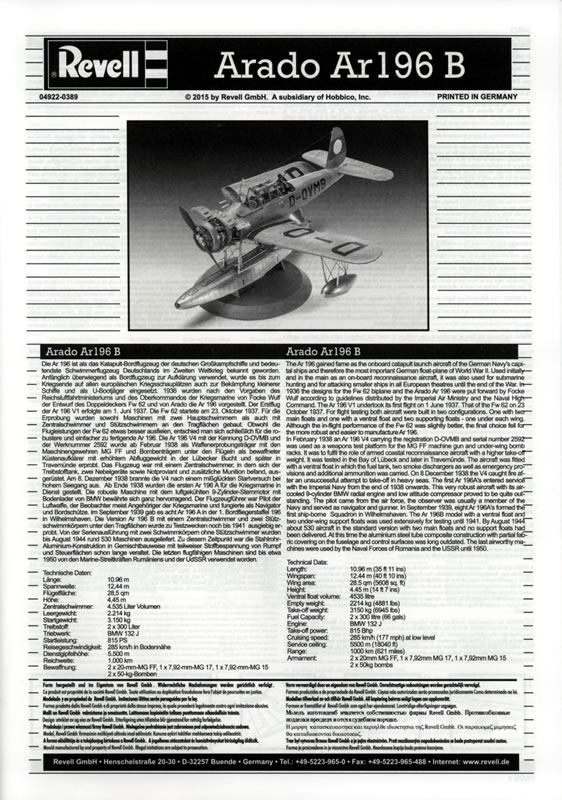 The assembly sequences are shown using the usual series of exploded line drawings, with colour call-outs and additional helper diagrams included. They're certainly not flashy, and feature no colour at all, but otherwise seem completely functional.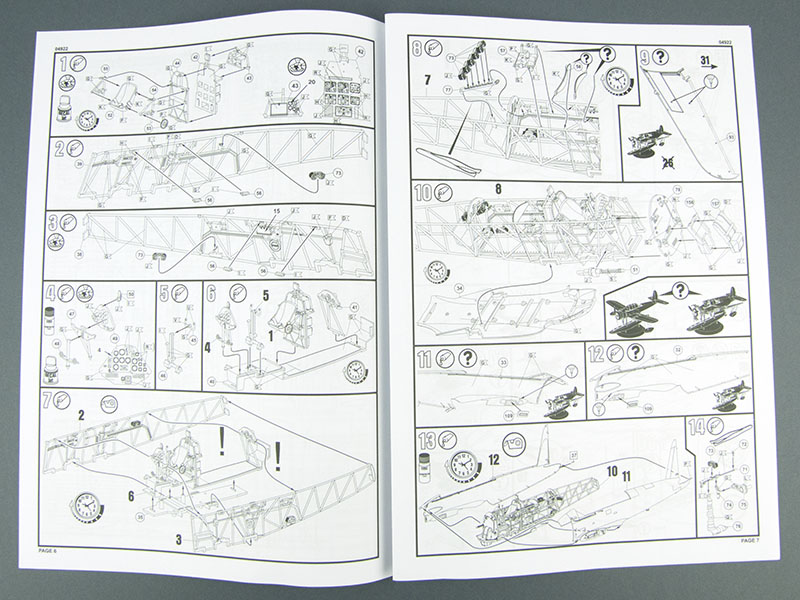 They're quite busy, however, so careful attention will required to keep things on track.
Conclusion
In most important ways, this is quite a decent kit. It offers plenty of detail out of the box, with plenty of scope to take it further should you desire to. It's a large model of an interesting subject, and will be an attention-grabber in any setting.
On the other hand, the level of flash is disconcerting, though hardly difficult to deal with. The moulded-in seat belts seem like a real throwback to the 1970s, while the nature of the canopy assembly seems poorly designed and inadequate for the task in such a large scale.
Still, these problems are relatively minor, and the basis for a show-stopping model is all here. I also think it looks eminently buildable straight out of the box, and with the previous caveats taken into consideration, I'm still happy to recommend this kit to any modeller interested in the subject.
Many thanks to HobbyLink Japan for the review kit, which can be purchased at the following link:
© Kevin Futter 2016
This review was published on Tuesday, August 02 2016; Last modified on Thursday, November 16 2017