Scale Aircraft Conversions | #32101: P-39 Airacobra Landing Gear (KH)
Reviewed by Ray Peterson
Another release from Scale Aircraft Conversions is this accessory set for the Kitty Hawk 1/32 P-39 Q/N kit. The set includes the main landing gear and nose gear as well as linkage and scissor links.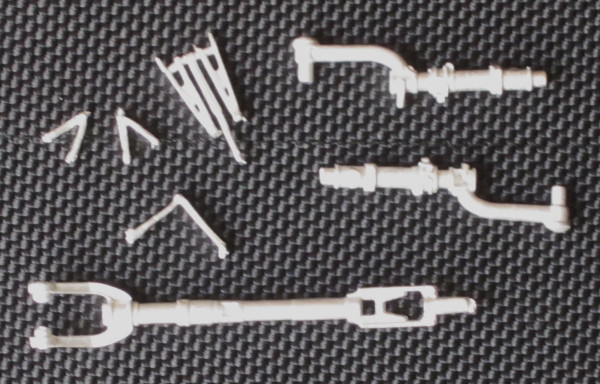 This set is simply a direct replacement for the kit's plastic landing gear, providing the modeler the option to go with white metal instead of plastic. While the casting is quite good, most of the details are unchanged and any defects of the kit parts, such as molding seams, are therefore replicated on the SAC parts.
I am not sure these parts help at all with strength, as the kit gear is not that bad. The set would be useful as replacements for broken gear as you could probably easily swap out any broken parts for SAC ones, although I think the small scissor links are basically useless due to their size and the amount of cleanup they would take.
I am not happy with the softness of the alloy used. The SAC parts bend quite easily, and I would worry about them staying straight over time, especially if the part had to be straightened during assembly. The kits scissor links should be used to reduce the amount of cleanup.
Only Recommended if needed to replace broken kit parts.
Thanks to Scale Aircraft Conversions for the review set.
© Ray Peterson 2016
This product is available from the following LSP sponsors

This review was published on Wednesday, August 03 2016; Last modified on Friday, August 05 2016