Osprey | B-26 Invader Units Over Korea
Reviewed by Kevin Williams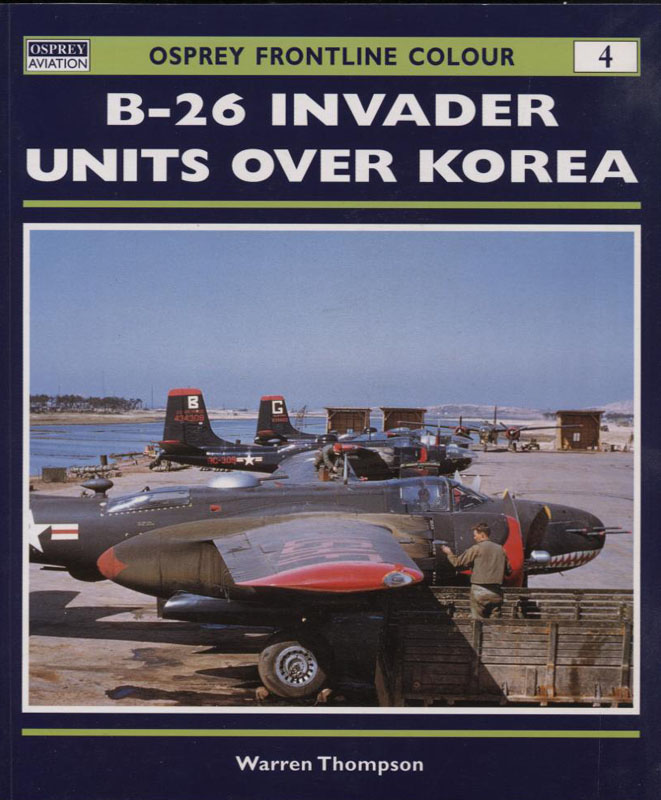 Publisher: Osprey Publishing
Author: Warren Thompson
Publishing date: 2000
ISBN: 1-84176-080-3
Volume 4 in the "Fronline Colour" series
The Book Itself
One of several volumes from Osprey that explores Korean War aviation, this, the Frontline Colour series, brings us many, many photos (all in color), of US aircraft involved in that conflict. To the best of my knowledge, there were only (unfortunately) six total books in the series, two on the F-86 (fighter wing and fighter-bombers), the F-80, F-84, B-26 and F-51. The discontinuation of this particular series, is certainly a letdown for me, as more volumes (F4U Corsairs and Skyraiders for example), would have been very welcome in my home library. Still, what has been provided here by Osprey, is a wonderfully entertaining look at the machines from the era in color.
The Invader was quite a capable aircraft, and seemed to excel at truck and train busting chores as well as general bombing duties. Both hard nosed and glass nosed versions of the Invader are covered in this volume, offering up a splendid "feel" for the wartime environment in which these machines operated.
Any book is welcome in my library, as long as it lives up to a certain minimum standard, and this series certainly does that, covering (for a modest price), the somewhat Iconic Invader, offering up plenty of display and diorama ideas, as well as various views of typical support equipment scattered about. It's the next best thing to being there.
Typical Photo Quality/Presentation to be Found Throughout
---
As can be seen above, there is a very interesting selection of photos included in this volume, all in color (with the exception of one, two page cutaway illustration), and reflect the overall quality of field photography of the period, some photos being amazingly clear and sharp, as if they were just taken yesterday.
All in all, there are 128 pages in this one volume, each one seeming more interesting than the next, and go a long way toward making my Korean War aviation references that much more complete.
Summation
For me to loudly proclaim that these books are a desirable addition to the aviation library, is nothing more than an honest appraisal of what I feel is the good value these books bring to the table, and make for an interesting overview of the types of schemes found on these machines.
Even if you have just a passing interest in Korean war aviation in general, you can't go wrong with the purchase of this book. You may even just become a fan.
On a scale of 1 to 10, I'd rate this book as a 10, no question about it. At 128 pages, a fair amount of great photos are packed into this volume.
Though the entire series is now long out of print, they can still be readily found at Amazon and other online book retailers.
Note: To the best of my knowledge, there is at present, no 1:32 scale Invader kit, but perhaps we'll see one one day.
Review copy compliments of my ever shrinking budget.
© Kevin Williams 2016
This review was published on Thursday, October 13 2016; Last modified on Thursday, October 13 2016