Trumpeter | 02204: 1:32 MiG-15 bis
Reviewed by Kevin Williams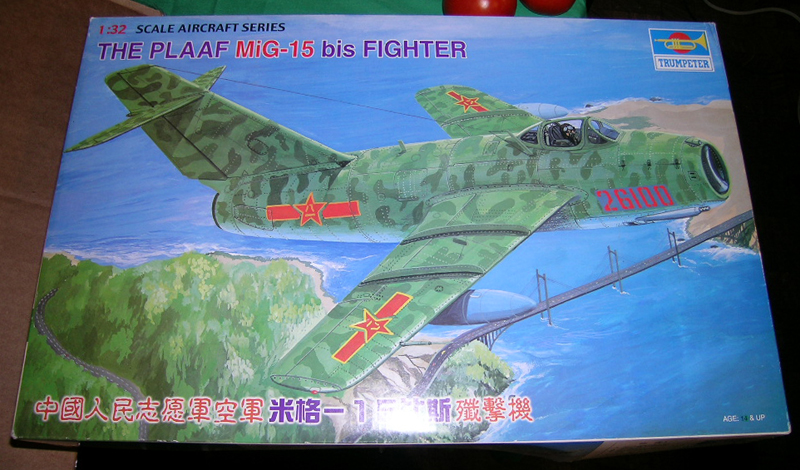 I received this kit recently (a gift from a very good friend), so decided to review it here, even though it's far from being new. One of the first (if not the first) Trumpeter 1:32 kits, this model definitely shows its age, but in my opinion, is still a perfectly valid kit, especially considering the only other options (that I'm aware of), are the HpH resin, Combat or I.D. vac kits or the nearly impossible to find Tac Scale Dynamics kit. Of these choices, my preference would be for the Trumpeter kit, for reasons of economics, if no other.
I decided at the outset to remove myself from the somewhat typical and lengthy description of the MiG-15 technical development and operational history. The Korean war was noted for a few firsts, one of them being the introduction into combat, of the iconic Russian swept wing jet fighter, the Mikoyan-Gurevich MiG-15. At a time when much of what was fielded by the U.S. were earlier straight winged jets and propeller driven aircraft, the MiG-15 and its impressive performance and firepower, came as a bit of a shock to many in the west, or so the history books tell us.
(Since this is more of an in-box review than a build review, I have no photos of assembled sub structures, so should be considered more of an overview of the various areas I thought might be of interest.)
Instructions
---
Instructions are depicted in a sort of pictographic way, making assembly a straight forward process. Instructions are provided (black and white) on plain bond paper, but are more than adequate to illustrate parts assembly, especially given the overall small parts count of this kit.
Decals
---
Markings are provided for two PLAAF (People's Liberation Army Air Force) MiG-15s:
2249: MiG-15 bis of the PLAAF
4115: MiG-15 bis of the PLAAF
Decals appear to be in register, quite opaque, if a bit on the thick side. I'll be replacing mine with some old Aeromaster sheets, but the kit decals may work out well for some. Both fuselage insignia are provided in two pieces, so that the speed brakes may be posed open. It may just be me, but the red on the sheet does not look right.
Note: Though the scheme of 4115 calls for outlined letters (presumably white outlined in black, the instructions are rather vague on this point), there are none on the decal sheet of my example.
Airframe/Fuselage
---
Fuselage (and indeed the rest of the air frame), is what one might expect from a newly introduced kit of this nature and time frame; rivet and panel lines both being a bit overdone, but certainly not so bad as to render the kit useless.
Wings/Flying Surfaces
---
The same comments that apply to the fuselage, also apply to the remainder of the air frame. To my eye, wheel wells (main) look pretty consistent with reality, even if in need of some additional detailing.
Cockpit
---
Again, cockpit is rather simplified. Modelers with a desire to dress up this area, will need to add a lot of detail, or dump in an AM cockpit set, and several have been produced over the years.
Canopy/Windscreen/Miscellaneous Clear Parts
---
The single largest error on this kit (as far as I'm concerned), is the windscreen. As can be seen above, the rear edge of the windscreen framing, is set back considerably from the flat glass framing, when in reality, the windscreen framing should abut the flat glass framing, as pictured above on the wrecked MiG. On no MiG-15 photo that I've ever seen (MiG-17 either for that matter), does this type of framing arrangement exist. The solution is to either chase down a Squadron vac canopy, or grind off the excess plastic and add a new frame from thin plastic strip. I chose the latter for my first MiG-15, and it turned out great. For a closed canopy though, the vac canopy is probably the better option. Another possible option, is to use the HpH windscreen, if you can get your hands on one.
(By my calculation, roughly 3/16" needs to be removed from aft portion of windscreen to look correct.)
Engine
---
The engine is another area that seems to be only moderately detailed, with the exhaust cone being particularly incorrect. It really should be basically just a tube, with slight horizontal and circumferential seams. OOB it (the engine) would probably look acceptable to some, but would really need a lot more detail to make it actually look correct. Also, if displaying aft section of fuselage removed to show off engine, be advised that fuselage interior has no appreciable detail at all in this area, but would of course be chock full of structural elements on the real deal.
Fuel Tanks
---
Two under wing fuel tanks are provided, and appear to be of correct proportions, though straps may be a tad heavy handed.
Landing Gear, Wheels and Doors
---
Both gear and doors are simplified, yet beefy, with ejector pin marks peppering the doors, as seems to be a Trumpeter trademark. Probably fairly easy to clean up though, and with just a little extra detailing, should look quite acceptable.
Miscellaneous Parts
---
Photos above illustrate, among other things, intake splitters, intake rings, boarding ladder and rubber tires. While tires generally look OK, in my case, the tires/wheels will absolutely be replaced.
Weapons
---
There are no weapons as such, save for the three cannon barrels. These too (particularly in the case of the 37mm) really need to be replaced with suitable AM, if one wants to capture this aspect of the aircraft.
Summation
All in all, I think this is a commendable effort from Trumpeter, even if somewhat lacking in the detail department. After all, it is an injection molded 1:32 scale MiG-15, and therefore the most viable game in town, save for the HpH example. When measuring affordability, ease of construction and complexity, my personal preference would absolutely be for the Trumpeter kit.
Review sample compliments of a great friend.
© Kevin Williams 2016
This review was published on Tuesday, September 20 2016; Last modified on Saturday, March 25 2017